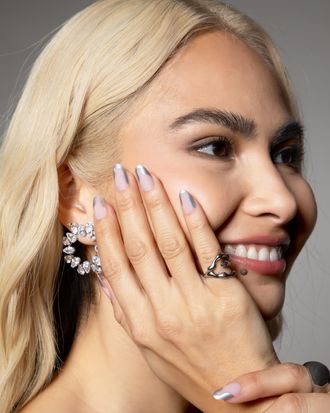 If you've recently hit a nail-inspiration wall, take one look at Kim Truong's page for a jolt of creativity. The Los Angeles–based nail artist is known for the work she's done — cherry-print claws and square purple tips included — for the likes of Viola Davis, A$AP Rocky, Kerry Washington, and Kim Kardashian. "I love that no day is the same. I love meeting new clients and going to new locations," the Vietnam native tells the Cut, such as Capri, which she visited with Katy Perry.
Nail artistry has been a big part of Truong's life since she was a teenager. "My mom taught me and my sister how to do nails. By the time we were old enough to get our licenses, we passed with ease," she says. Naturally, she worked in her mother's nail salon all throughout high school and college. After graduating from the University of Maryland with a biology degree in 2012, Truong moved to Los Angeles to study dental ceramics.
Simultaneously, she was working at a nail salon on the Sunset Strip, where she was introduced to a client who did makeup for the Kardashians. That client recommended that Truong do Khloe's nails. "Khloe referred me to Kim and Kylie, and it took off from there," Truong says. "Each client would refer me to their friends or family, and I was able to build a list of clientele." After building her roster of clients and shoot bookings, Truong decided to become a manicurist full time in 2016. Since then, she was named Lottie London's artist in residence and created the Lottie London x KimKimNails Stay Press'd Press-On Nails and so much more.
When she's not working, Truong leans into relaxing morning showers and soothing body oils. "If you think about it, my job is servicing my clients and taking care of them," she says. "So it is really important to take time for myself to reset my mind and body and have a healthy work-life balance."
.

Here, Truong's a.m. routine:
8:00 a.m.: I'm a morning-shower type of person. On days when I wash and condition my hair, I use Paul Mitchell Clean Beauty Hydrate Shampoo and Conditioner. Since the top layer of my hair is bleached blonde, I like to use the Ouai Thick Hair Treatment Masque once or twice a week. I brush my teeth and wash my face and body as I let the hair treatment sit.
I exfoliate my face with SKKN by Kim Exfoliator. It is a super-gentle exfoliator that becomes slightly warm when you activate it. I find that whenever I use it, my skin isn't dry or flaky.
8:30 a.m.: After I get out of the shower, I like to moisturize my body with Kora Organics Nourishing Hand and Body Lotion mixed with the Kora Organics Noni Glow Body Oil. It is the perfect blend and keeps my body soft all day.
8:35 a.m.: I moisturize my face with Cerave Facial Moisturizing Lotion. It is super-gentle and doesn't break me out.
8:36 a.m.: Next I apply SKKN Eye Cream around and under my eyes to reduce puffiness. Lastly, I apply the SuperGoop! Play Everyday Lotion SPF 50 lotion on my face, neck, hand and arms.
8:38 a.m.: I like to air-dry my hair, so I just clip it back with a hair clip. I don't typically wear much makeup, but I will definitely curl my lashes with the Surratt Relevee Lash Curler. I've tested dozens of lash curlers and found this one to be the best one for my super-stubborn straight lashes. It curls them and keeps them curled all day.
8:41 a.m.: For a rosy cheek, I love using Milk Makeup Lip + Cheek Cream Blush in the shade called Muse. I moisturize my lips with Dior Addict Lip Glow in 001 Pink.
8:44 a.m.: Finally, I spritz myself with Gucci Flora Gorgeous Gardenia Eau de Parfum.
.

Truong's p.m. routine:
9:00 p.m.: For my nighttime routine, I keep it pretty simple. I skip exfoliation and instead use a gentle cleanser to wash my face.
9:02 p.m.: I use the same Cerave Facial Moisturizing Lotion with the SKNN Hyaluronic Acid Serum and Eye Cream. 
9:04 p.m.: Lastly, I use the Laneige Lip Sleeping Mask Ex in Berry. 
.

On the beauty industry:
In the beauty industry, I am proud of the inclusivity that I have seen recently — inclusivity in shade range for skin colors, gender-neutral makeup, and catering to individuals regardless of their gender, age, skin tone, etc. I am also proud of the consciousness toward environmental impact and more options for clean beauty. Something in the industry that I hope will change is to make beauty more accessible via price point. I think a lot of quality makeup and skin care is priced very highly.
.

On the beauty trend she can't stand:
I personally do not like the ten-pumps-of-foundation trend on TikTok.
.

On skin-care ingredients:
I try to read the ingredient lists on products and check out the clean-beauty rating on the EWG Healthy Living app.
.

On the beauty staples she swears by, outside of products:
I think it is important to feed the body from within by drinking lots of water and having a clean and healthy diet. Your skin will glow when you treat your body and mind right.
.

On her routine when she's in a rush:
I would definitely make time to use moisturizer, SPF, and a lip treatment.Oh, and my eyelash curler. It makes such a difference for bigger and brighter eyes.