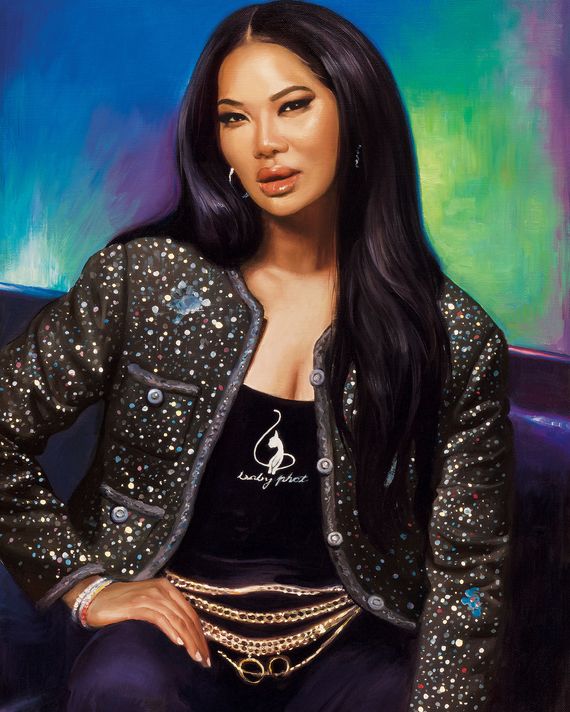 This story was originally published August 20, 2019. In honor of the Cut's yearlong celebration of hip-hop's 50th anniversary, we're looking back at stories featuring artists who changed the game, plus sharing plenty of new ones. You can find them all here.
Kimora Lee Simmons spots someone at the table across from her. She's at her usual haunt, sitting with legs crossed in a plush, poppy-colored armchair in the opulent lobby restaurant of the Hôtel Plaza Athénée in Paris. She makes eye contact with an older black gentleman sipping a beautiful drink in a crystal glass. He gives a smile and a nod of recognition; she returns the nod in kind.
Simmons, the onetime model and onetime mogul, loves it here. She has spent stretches of the summer in Paris since she was 13, when she was plucked from a modeling school in a St. Louis mall, signed to an exclusive Chanel contract, and selected to wear the coveted last look in Karl Lagerfeld's 1989 haute couture show: a wedding gown for the fashion industry's child bride. Success and money led to frequent stays at the Plaza Athénée like a barely adult Eloise. She threw her children's birthday parties here. (Once, there was a Marie Antoinette theme.) She spent time here with her ex-husband, Def Jam co-founder Russell Simmons, whom she met when she was 17 and he was 35.
Now, at 44, Simmons rents an apartment just around the corner but comes to the Plaza Athénée lobby several times a week, talking for hours and ordering snacks for her four children, three of whom are here today — Aoki Lee, 17; Ming Lee, 19; and Kenzo Lee, 10. (Her 4-year-old is at home napping.) Here, everything you touch is of lush velvet, the sounds are of spindly heels tapping on a marble floor and a harp playing, the smells are of the most delicate florals, and the tastes are of fresh white truffle sprinkled on pasta.
Does she know the man across the lobby? "Not really," Simmons says. They've never talked. But they are both often here, sitting in the lobby, having snacks, she explains out of the side of her frozen smile, lips barely moving, as if she were her own ventriloquist. He's probably someone important because everyone here is somebody. "He's probably like the king of Zimbaaaabwe or something!"
There's no king of Zimbabwe. There's a president. It is not that man. But sure. In the flashy, bedazzled dimension Simmons created for herself long ago, there has always been a different sort of possibility. After all, a five-star Paris hotel where Elizabeth Taylor stayed is her kids' Chuck E. Cheese's.
The unapologetic consumerism of the early-aughts hip-hop fashion scene can be summarized in the image of a six-foot-one Simmons walking down the Baby Phat runway in a precariously low-cut white jumpsuit, Ring Pop–size diamonds on her fingers and ears. She was the loud-voiced, big-egoed high priestess of a particularly campy version of bling. Baby Phat, the clothing brand Simmons ran from 1999 to 2010, was a billion-dollar company built on the lifestyle she embodied. The popularity of the brand — which started with bedazzled-logo baby tees the Simmonses passed out to model and musician friends like Lil' Kim, Naomi Campbell, and Christy Turlington — helped turn streetwear into a movement. Baby Phat brought the attitude and style of hip-hop to the mainstream. It meant a lot to people, especially to female fans of streetwear, who hadn't had a line to call their own, really, before that. Baby Phat didn't dismiss their desire for more, and Simmons personified the promise of upward mobility through purchasing power.
In several weeks, Simmons is relaunching Baby Phat. She announced it in March, on International Women's Day; she tells me she's leaning into her legacy as a "woman of color in a creative ownership position." She wants to collect on some of the credit she feels she's owed for the work she did for the culture. In some ways, her timing is good. There's rampant early-aughts nostalgia, with a definite soft spot for Baby Phat and Simmons in particular. (The vintage purveyor and fashion historian Gabriel Held reports selling his entire archive of the brand to Rihanna last year.) If Paris Hilton would have worn it to pose vacant-eyed in front of a party photographer at Bungalow 8, a designer is bringing it back in 2019. But then again, Baby Phat is being reborn into a world still reeling from a recession while anticipating another, a world that has reckoned with the ugly sides of celebrity and consumption and inequality.
In June, Simmons surprise-dropped a Baby Phat x Forever 21 collaboration as a sort of pilot program. The clothing was on-trend — cropped tees, spandex miniskirts, and leopard-print bike shorts to be worn under huge T-shirts or with matching tube tops. But they all had the Baby Phat logo, that delicate line-drawn cat image based on Simmons's own pet Siamese, Max. The collection sold out in a day.
Simmons perks up and straightens her shoulders as an attractive, dark-haired man comes over. "Oh, hi! Julien, no one will come see me. How have you been? I'm back," she says. He's the hotel's concierge.
"Today I walked all over the city," she says to Julien, who is kneeling next to her chair, rapt. "I took the train. I feel very French, française. I've got on flat shoes" — she gestures to her pearl-bedecked Prada slides, which have slid halfway off to reveal the fading butterfly tattoo on her right foot. She's dressed to match her lifestyle à la française, in red pedal pushers, a simple white silk button-down, and only one large canary-diamond ring.
We were all supposed to meet an hour earlier, at the Musée d'Orsay, where an exhibition called "Black Models: From Géricault to Matisse" was in its last days, focusing on overlooked and anonymous figures who appeared in artworks from 1758 to 1956. She'd been excited to walk through the show with me and her children and discuss the legacy of other models of color. (Simmons is of Japanese-Korean and black ancestry.) "I wanted to talk about all the old girls," she said. "Not like I was one of them, but I can appreciate it." But the Métro she was on broke down and she was stuck in an unair-conditioned car. The hotel was nicer.
Simmons is the first to admit that her modeling career, which tapered off at 21, did not have the same longevity as that of "the old girls," though she's talking more about Naomi Campbell. Instead, there were marriages. Kids. Baby Phat, of course, which was a spinoff of Phat Farm, the preppy take on streetwear her then-husband had founded in 1992. And there were also her more expensive lines: Kouture by Kimora and the KLS collection of high-end sportswear (think $1,000 tropical-colored sheath dresses). During the era when the Going-Out Top reigned supreme, she had a beauty line and half a dozen fragrances and hosted a couple of talk shows. She threw the best parties at Cipriani Downtown with stacked guest lists and giant ice sculptures.
Aoki excuses herself to go to the bathroom. If Ming touches her dessert, she will end her life, Aoki threatens as she leaves.
"I'm not going to touch her dessert," Ming snaps back, and shows me her favorite picture of her mother, taken backstage at a Baby Phat show in 2002.
" 'I will end your life,' she said," Simmons repeats, and laughs to herself. "She said, 'I won't touch it.' She said, 'I will end your life.' That's my Aoki."
Simmons waves down a passing waitress to order Aoki another dessert to preemptively avoid an act of sororicide, even though Ming hasn't touched her sister's parfait. The waitress, frazzled by the number of requests coming from the table in English, misunderstands something about the order.
"Yeah. Don't make me hit you in the knee," Simmons says to the ­waitress's departing back in a quiet, singsongy voice. She adds Splenda to her whipped cream and turns back to us. "I'm very aggressive … There was a thing years ago, you remember, at Vanity Fair? I said one time I'd beat a bitch's ass, and she printed it on every page. And only now my kids have seen this article."
That profile, by Nancy Jo Sales, came out in 2005 when Kimora and Russell Simmons were a power couple, before their very public divorce was finalized in 2009. Her life then involved fielding good-luck phone calls from Hillary Clinton before fashion shows. She slept on a bed purchased from Sotheby's Gianni Versace estate sale for $200,000 in a ten-bedroom, 11-bathroom, $23.9 million house decorated in gold with gold accents. There were solid-jade toilets in every bathroom, recalls former Vogue writer-at-large André Leon Talley. Once, she asked him what color Bentley to buy. He suggested navy or maroon, like the "queen of England." Whereupon she declared, "I'm young. I don't want to have a car like the queen," and instead got a platinum-gray model with custom mink carpet. She wrote a book, Fabulosity: What It Is & How to Get It (part chatty memoir, part her version of The Artist's Way), which broke down the five key tenets of fabulosity: confidence, uniqueness, independence, luxury, and generosity. She starred in a reality show, Life in the Fab Lane, the trailer for which included footage of "Boss Kimora" making men cry and ended with a 30-second supercut of her saying variations on "Can we make this more about me?"
But now things might be a little more about the next generation. Her daughters have long been part of the Brand of Kimora, appearing by her side on the runway and in Baby Phat ads to reinforce her image as mother-mogul-model. This time around, they're helping her with business decisions — after all, she needs to target their generation more than hers — and are functionally the faces of the brand. For the backdrop of the first set of official Baby Phat campaign photos, Aoki and Ming rented a dilapidated mansion in upstate New York and a blue Lamborghini. Aoki wore thigh-high boots and no pants; Ming posed on all fours with a cat on her back. Simmons does not like how sexy her daughters looked. "Don't show me that," she says as Ming hands me the phone to look at outtakes.
For the Forever 21 shoot, a roller-disco concept, Aoki and Ming gathered their friends and people they admire from social media, including Charli Howard, a "mid-size body-confidence activist," and D'Lila and Jessie Combs, P. Diddy's twin daughters. Simmons, who posed alongside her daughters in short-shorts, calls it the "legacies" shoot, a nod to the hip-hop spawn who are grabbing the torch from her hand.
Aoki is more interested in business strategy than design, though she'd like a preppy Baby Phat collection — blazers and skirts she could wear on campus this fall at Harvard. (Simmons proudly announced her daughter's college acceptance on Instagram, writing, "She really did it on her own merit and we're really so proud because Aoki can't row or anything like that," which was seen as a dig at the actresses embroiled in the Varsity Blues scandal.) Aoki plans to be a senator and then president, she tells me. Ming, a sophomore at NYU, goes to the midtown office most days and is hands-on with the creative design. It was her idea to have an anorak, pants, and a miniskirt made out of reflective "anti-paparazzi" fabric that also looks really cool on Instagram.
Aoki peppers her conversation and her social media with inspirational quotes and historical and literary references, and she prefers captions that alert people to her civic engagement and activism. Ming prefers selfies showcasing her glossy pout, long lashes, and outfits. Her bio reads, "(insert whatever inspirational quote my sister has in bio)."
One afternoon, I visited the KLS offices in midtown Manhattan and took a tour of the line. Part of the collection was time travel, accessing 2002 through iconic velour tracksuits and stretch-denim jumpsuits. The rest is a mishmash of trends driving the market: athleisurewear, miniskirts designed for colt legs, mesh shirts, oversize hoodie dresses cribbed from Ariana Grande's wardrobe. Prices range from $85 to $450.
"I feel like that age range today is a lot more sophisticated than it was 15 years ago," Robin Givhan, the Washington Post fashion critic, says, noting that there's also so much more competition in the space Baby Phat seeks to reoccupy. "It didn't evolve past the particular period," Givhan says of why the line didn't last the first time. "Can she make people want her brand when it's not clear what it stands for at this point?"
But Kimora now is different from Kimora then. For one thing, people wonder if she's still rich. (She withdrew $2,707.36 in 2017 from her son's trust, and the Daily Mail rang the alarm.) She doesn't like to go out, really, anymore. Fashion parties aren't as fun now as when she was throwing them. In her new phase — one she's calling either Fabulosity 2.0 or Fabulosity Reloaded, she hasn't decided yet—she's been paying attention to how everything's different, wondering if she has changed enough or if things have changed too much. She's amazed that "influencer" is a job, not quite recognizing the irony.
Yesterday, Simmons went shopping and tried on a puffer coat. "Girl, it was so cute. I was on the phone, trying to talk to the doctor in Germany to get my stem cells in my back because my back hurts, when they put the coat on me. I'm thinking, How much is it, $1,200? I'm happy to say I have no qualms asking, 'How much is that?' It's not true that if you have to say how much it is, you can't afford it. It means you have some sense," she says. "I signal to Sabrina — she's my shopper and my assistant and everything, my stylist, all in one. She asked the shopgirl, 'How much is that?' "
She pauses and reveals the price like she's Bob Barker: "Fifteen thousand."
Simmons mimics what her face must have looked like in the moment, searching for an excuse that wasn't about money. "Girl, I said, 'It's tight in the arms. I can't get this.' "
She didn't buy it. But it got her thinking — and now she isn't trying to take more credit than is due — about how she put puffer coats on the map back in the day. The coat was a staple of '90s New York streetwear, but it wasn't fashion. Baby Phat designed a version that was cropped, almost like a puffy bolero with fur around the hood, and sent it down the runway. Now someone can charge $15,000 for one.
At the height of Baby Phat's reign, David LaChapelle shot Simmons as Madame President (or maybe the First Lady, since her hair was styled in a Jackie O. bob) stepping off a fake Air Force One with her two daughters, the presidential seal replaced by the Baby Phat cat. That's what she was selling: the illusion of a seat at the highest table, on your terms, wearing your streetwear.
So much of what Simmons did — the melding of fashion and celebrity and music, size inclusivity, diversity on the runway — has become common practice, though Simmons argues that brands are not genuine now in the way hers was. It's also true that the newer streetwear lines have been elevated in a way Baby Phat wasn't. Virgil Abloh's brand, Off-White, is now considered high fashion and priced accordingly. (A mention of Alexander Wang gets a "Who?" and then a wave of her hand — "You'll just have to tell me all these other designers later.") It used to irritate Simmons that Baby Phat, Phat Farm, and similar brands like FUBU weren't sold in the same area of Macy's as brands like Tommy Hilfiger and Ralph Lauren. This time, she wants Baby Phat to be a heritage brand. She wants it to be Chanel.
"I never really thought that the clothes were particularly great or particularly all that interesting," says Givhan, who sees something beyond prejudice as the reason Baby Phat never became high fashion. "My recollection was that at a certain point the shows really weren't attracting the core of the fashion industry," because of the unremarkable clothes and celebrity-filled guest lists that were impossible to corral, a gladiator pit of egos.
"People complained, myself included, about the Kanye West show on Roosevelt Island," says Givhan, referencing the September 2016 presentation where the audience and models waited so long in scorching heat that people passed out. "Those things in my memory just pale in comparison to my recollections of the Baby Phat shows."
One editor recalls waiting almost an hour for a show to start, only to realize that the production had been held up to wait for Ice-T and Coco to arrive. And what was on the runway was about celebrity too, musicians-as-models sneering in diamond grills but shirts that didn't fit well. Simmons was both proto-Kanye and proto-Kim.
In 2004, Russell Simmons stepped away from Phat Fashions and sold it to Kellwood, a St. Louis–based apparel company, for $140 million. Kimora stayed on as creative director and president, expanding the brand into cosmetics, home décor, children's clothing, shoes, and toys, but even that success couldn't protect her from declining sales and CEOs who were unhappy with the astronomical costs of her shoots. In 2010, according to Simmons, Kellwood declined to renew her contract, and she released a statement via one simple, disgruntled tweet: "DEADWOOOOD!!!! :0."
Kellwood's Baby Phat kept going without her as long as it could, but by 2016 the company had sold its holdings to a private investor in Hong Kong and the brand had disappeared. Meanwhile, Simmons launched other fashion lines and started amassing a large portfolio of businesses that had to do with her own personal interests, positioning herself as a venture capitalist. At present, she invests in Codage, a French spa and bespoke-skin-care line that "Victoria Beckham loves"; Celsius, a metabolism-boosting naturally caffeinated fitness drink; Pellequr, a Beverly Hills spa "Victoria Beckham once Instagrammed from," which offers CBD massages using products from PureForm, a CBD company Simmons also invests in; AVP America beach volleyball, because Aoki loves volleyball; Screenbid, a company that allows people to bid on memorabilia from movies and TV shows; and an AI company. In 2018, Simmons finally tracked down the Baby Phat license and bought it back — from whom, she doesn't know, and for how much, she won't say. This time she's officially adding "By Kimora Lee Simmons," as if slapping a name label on her lunch box so nobody steals her food.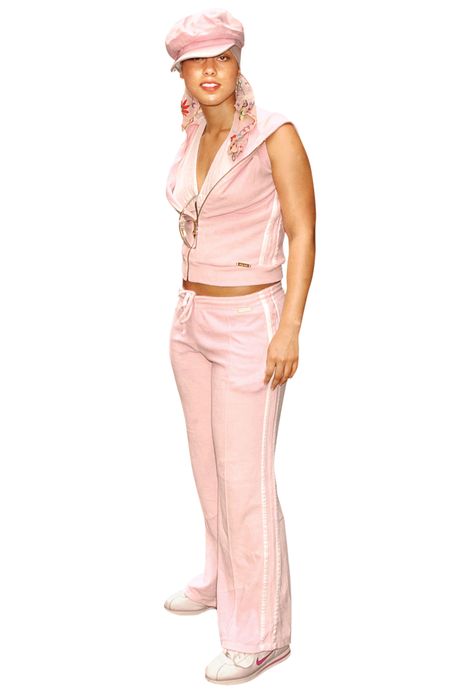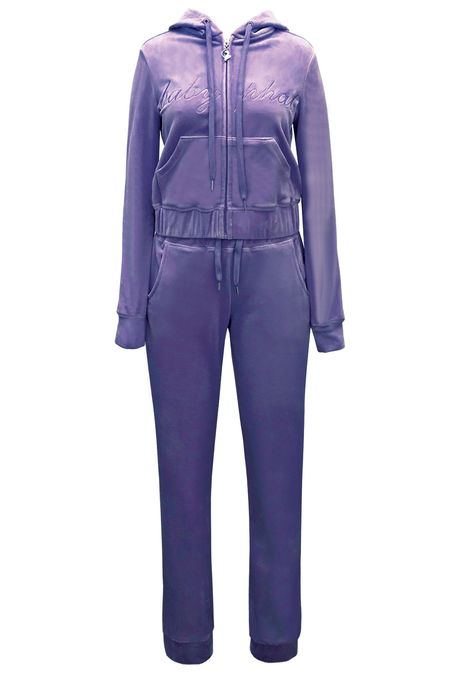 The next day, Simmons is on set, hunched over an ancient dining table, having a catered meal with the crew and her family. She's shooting a spread for another magazine, modeling a few of the new Baby Phat pieces against the backdrop of a formerly glamorous but now mostly gloomy mansion that overlooks the Champs-Élysées. The shoot was supposed to begin two hours ago, but she's listless, slow to start. Tomorrow she might have to fly to Switzerland so she can fill out the détaxe forms that allow her, as a non–European Union citizen, to get back the taxes on all the purchases she has made in Paris. (Rich people fly to Switzerland to detox; the truly, ridiculously rich, to détaxe.)
She is dressed down again today — tight jeans, sneakers, a leopard-print T-shirt, and a Baby Phat necklace. She wears her hair the same length and in the same severely straight style as she always has, an eternally thick curtain. "This is all mine, can you believe it?," she says to the stylist. "Not a weave. Feel!" Simmons instructs the white assistant on how to check for a weave: Don't touch the ends of the hair; inspect the scalp, she says, taking her hand and plunging it into the tar pits of her roots.
Simmons is called into a dressing room to start trying on clothes, when her third and current husband, 47-year-old Tim Leissner, FaceTimes her. She turns the phone so I can introduce myself to a blue-eyed German banker sporting a very dense beard. Eight years ago, they were seated next to each other in first class on a flight to Hong Kong. They had some friends in common, they discovered. They landed, went on a date, and the rest was marriage. Leissner has never watched Life in the Fab Lane, and Simmons doesn't want him to. He's more of a homebody. "He helps me a lot with business. He's supersmart, and we're very close. I feel like everybody doesn't really know that," she says.
They finish the call and toast each other through the screen with their matching cans of Celsius. I notice, among the many bracelets on Simmons's arm, a tennis bracelet with a ruby heart and diamonds that spell out the initials TL and KLS and a date, her wedding anniversary with Leissner, and another tennis bracelet that's a rainbow of multicolored diamonds. "Is that from Tim?" I ask. "Of course," she responds, with narrowed eyes and a duh in her voice.
In 2016, Leissner left Goldman Sachs in the wake of one of the biggest scandals in the bank's history, the multibillion-dollar defrauding of the Malaysian government. Last August, he pleaded guilty to charges that he had conspired to launder money and admitted to bribing officials in Malaysia and the UAE. He forfeited $43.7 million, is barred from the banking industry, and paid a fine of $1.4 million.
Simmons has little to say about her husband's criminal charges, except: "It's not easy to fight a firm when they make you the scapegoat." However, she has plenty to say when it comes to the accusations that Leissner has funded any of her fashion brands, a story the New York Post printed shortly after he departed Goldman Sachs. The paper had to both retract the item and issue an apology.
"Believe you me, I've been all up and down the wazoo checked. I'm not in that. Don't just attack me because it's just cute that day," Simmons says, still talking to the invisible Post reporter who wronged her. "It's like when people say to me, 'Oh, you got this from Russell.' I would say, 'Working on my own, and quite successfully, when I met Russell.' "
The way Simmons's legacy is wrapped up with the men she has chosen to partner with is complicated. Her other ex, the actor Djimon Hounsou, has just recently filed for joint custody of their son, Kenzo, in what seems like a messy battle (TMZ has been covering). There were the men in boardrooms at Kellwood who decided she was too expensive, too flamboyant, too frivolous to continue to run the company that became successful because of her. And then there is Russell, whose now-tarnished last name she still carries professionally: More than a dozen women have come forward with rape and sexual-harassment allegations against him since November 2017. Simmons released a statement defending her ex-husband.
She tries to explain it again now. She's loyal — to her friends, to her brand, to her fans.
"And that's not to say even that I'm letting Russell off the hook. He had a lot of things coming up from before I was born. He's never had a case brought against him," she says. They still co-parent. Aoki just visited him in extradition-free Bali, where he often stays.
I ask Simmons how much of the new chapter of Baby Phat is about reclaiming her legacy. "Reclaiming" isn't right, she says.
She starts talking through it at Autobahn speed. Zooming through possible motivations for everything she does until she crashes into it: fear. "Even though I've been married for most of my life and have four kids, it's always like, What if you're not married? What if you're alone? I've been all these things. I don't want to wait for people to not need me. I would rather go out on the top. I think that's better."
And yet the reasons she wants to relaunch Baby Phat are still sort of unclear — money, surely, a return to glitzy relevancy, perhaps.
"Mommy, what's enough?" Simmons's youngest, 4-year-old Wolfie Leissner, asks while he eats his lunch. Wolfie has her hair — it's longer than his tiny wingspan — and, apparently, her philosophy on excess.
Simmons pauses, contemplating how to explain the concept of enough to someone who is just beginning to speak in full sentences. And is there even such a thing when you have a black AmEx card to throw down? When you don't get the respect you deserve, when the world has taken your work and relegated you to period-piece curio? What is enough?
But, as she'd told me, she doesn't want to raise jerks, which requires boundaries. She settles on: "Just eat what's already on your plate, baby."
*This article appears in the August 19, 2019, issue of New York Magazine. Subscribe Now!
More From the fall 2019 fashion issue
See All