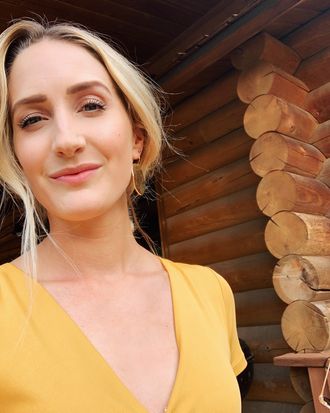 Photo: Courtesy of Nichole Powell
Nichole Powell's skin-care philosophy evokes a certain song by the Strokes. "I will try just about anything once," she says. Great products can be found at any price point, Powell believes, but she's willing to splurge to test out the hype around luxury products. "It's important to educate yourself on ingredients so that you can read an ingredient list and know when a pricey product is made with filler ingredients and the hype is just marketing, or when it's made with incredible ingredients that explain the cost."
Powell is particularly familiar with ingredients as the founder and CEO of Kinfield, a "clean" skin-care trio — a cooling mist, a DEET-free bug spray, and a universal moisturizing balm — formulated with the great outdoors in mind. Below, take a full look at Powell's skin-care routine, which includes a rice exfoliator also beloved by Meghan Markle, the face cream she's relied on for four years, and the $7 face peel she uses as a spot treatment.
The Cleansing Oil
"I use this to take my makeup off, or any time I need to refresh my skin — it's wonderful after a long flight in dry airplane air! The formula is super soothing and removes every last bit of makeup without leaving a residue. I've tried to switch to other cleansing oils so many times, even trying things like coconut oil (!), but I always come back to this one because it's the only one that's light on my skin but still able to take off my makeup, and rinses clean. My skin doesn't feel greasy or dirty afterward, the way it does when I use some other cleansers."
The Exfoliator
"After cleansing, or as a first step if it's the morning, I'll use Tatcha's The Rice Polish in 'Calming' to gently exfoliate and prep my skin. I went through a period where I had run out of this and had forgotten to get more, and my forehead started breaking out. My aesthetician at Heyday told me it was because I wasn't exfoliating my face well enough, so I ordered myself a new tub of this Rice Polish stat, and haven't let myself run out since then (turns out Tatcha has a subscription option!). It's gentle on sensitive skin, but the rice lather exfoliates for a really satisfying clean."
The Face Mask
"Environmental contaminants are real, and they definitely stress my skin out! I can always tell when I've been in the city all week, or if I've been traveling, my skin tends to start looking dull, and I'll start getting breakouts. If I'm on vacation or able to spend time out of the city (like when I visit my family in Minnesota!), I've noticed that my skin is visibly clearer. To combat that, at least once per week I'll use my favorite mask, Cocokind's Chlorophyll Mask. It's genius — the mask starts as a powder, and you can mix it with any "carrier" that you want to customize your level of hydration. I leave it on for about 20 minutes and then rinse it off. If my skin is dull after running around a city for meetings all week, this is the one thing I know that will brighten it back up again. I have dry skin, so I like to mix mine with an oil like the MARA Algae Moringa Universal Face Oil (below)."
The Face Oil
"I try a lot of skin-care samples. I love samples. MARA Algae Moringa Universal Face Oil is the only product in recent memory that I tried the sample of and immediately went to buy the full size — it's that good! It's a medium-weight oil that sinks really well into skin. It feels juicy! It's hard to describe, but this oil is so nourishing and rich, but it manages to sink quickly into skin and leave it moisturized rather than greasy. I think of it as my 'fixer' oil — it's what I use when my skin is flaking or weather­-beaten (N.Y. winter, looking at you!) to help course­-correct back to normal."
The Peel
"I love The Ordinary's AHA 30 Percent + BHA 2 Percent Peeling Solution, but it's a bit too much to use on my full face. Instead, I'll use it as a spot treatment, then use the Cocokind Chlorophyll Mask over the rest of my face. It's a strong formula, but it definitely helps clear up any acne problem areas, and helps keep my skin clear."
The Mist
"My usual routine starts with lightly misting my skin with True Botanicals' Nutrient Mist in 'Calm' or Josh Rosebrook Hydrating Accelerator. I like that they prep my skin and give the rest of my moisturizing products something to grab on to. I'll also keep spares in my bag so I can re-mist throughout the day or during flights."
The Eye Cream
"Next, I'll pat on Tatcha's Ageless Revitalizing Eye Cream. I've tried so many eye creams, but this is the only one that manages to be super hydrating without creating any of the build­up that can lead to milia."
The Face Cream
"My moisturizer of choice is Tatcha's Indigo Cream. I've been using this moisturizer for four-plus years, and I swear by it. I have light rosacea on my cheeks and redness that appears around my nose that gets aggravated by dry winter weather or sun exposure (read: all year round), and this indigo cream soothes redness while keeping my skin calm and hydrated.
As much as I would love to splurge on some of the $200-plus face products that I see on the market, I find the price tags hard to justify in my budget. So while I know that Tatcha products are still definitely on the pricey side, I think they're well­ priced relative to other luxury lines, and the quality of their ingredients and formulas are the same as products that are 2­3 times the cost. I first started using Tatcha while I was in San Francisco, which is where they're based, and was introduced to the line by Modern Citizen founder Jess Lee. At first, I loved just being able to support another female­-founded, San Francisco­–based company, but when I saw the difference that the products made in my skin, I was hooked. I trust their formulas and know that they won't freak my skin out — which is a lot of the value in sticking to one or two favorite lines. You start to figure out that certain brands play well with your skin, and you expect that products within the same line will work well together. At this point, I've tried a lot of Tatcha products, but if I had to pick two favorites, they would be the Cleansing Oil and the Indigo Cream."
The Finishing Oil
"After I moisturize, I press a few drops of facial oil into my skin. My two favorites are Cocokind's Chia Facial Oil, which is awesomely nourishing and rich, and True Botanicals' Pure Radiance Oil 'Calm' (below), which is lighter and gives my skin a great glow. I tend to reach for the Chia Facial Oil on travel days, or during winter because it's slightly heavier.
Without getting too technical, a moisturizer contains both cream and water, which is great at adding hydration to your skin, while oils are actually better at sealing in existing moisture to your skin. When it comes to hydration and my Sahara-­like epidermis, I need all the help I can get, which is why I rely on the combo of both moisturizers and oils."
The Balm
"By this point, my skin looks like a bit of an oil slick. As a final hydrating boost that also seals and mattifies my skin, I end with Kinfield's Waterbalm, which helps take my glow from oil slick to something closer to "dewy" territory. So: (1) Cream moisturizer. (2) Face oil. 3) Seal it all with this balm. I've noticed that makeup tends to slick off my skin if I apply it directly over the top of an oil, so Waterbalm helps to create a slightly tacky layer that's great as a transition step between skin care and makeup. The sodium hyaluronate in the formula also helps everything else absorb more deeply, so it makes my skin care more effective while also creating a smooth canvas for makeup.
The green tea and yuzu scent is so delicious, and the sodium hyaluronate in the formula acts like a boost to my other moisturizers, helping everything penetrate deeply into my skin. Plus, it has colloidal oatmeal! Definitely a moisturizer that plays well with others."
The Sunscreens
"Last but certainly not least: SPF! My dermatologist told me to look for something with 20 percent zinc oxide, which is tough to find without getting a weird white cast. I've been using Suntegrity's "5 in 1 Natural Moisturizing Face Sunscreen" for years, and have gotten multiple friends hooked on it too! It has a little bit of a tint to it, so I mix Light and Golden Light to get my perfect shade. I wish they had a broader shade range; that's my only complaint. If I want something untinted, then I'll use Juice Beauty's SPF 30 Oil-Free Moisturizer (below)."
"On the days when I don't want to use something with a tint, I use Juice Beauty's SPF 30 moisturizer. I went on a tear last summer and ordered every clean, physical (meaning 20 percent zinc oxide or above) sunscreen that I could find — literally every sunscreen that Credo, Follain, the Detox Market sold. You name it, I probably ordered it. I must have tried 15 different face sunscreens, and this was my favorite of them all. It has a little bit of a pink cast when you first apply it, but that fades within minutes, and the formula itself spreads easily and is lightweight."