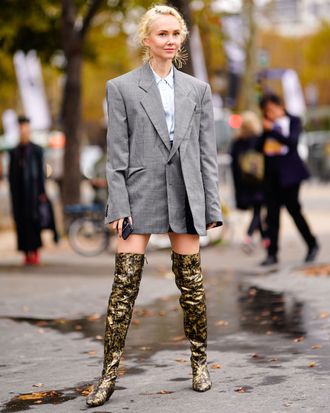 Photo: Edward Berthelot/Getty Images
There are two kinds of people in this world: Those who love living in slip dresses and slide sandals all summer long, and those who don't think you can really dress until the temperature dips below 60. If you're in the latter camp, you get a little thrill when it's time to dust off your chunky knits and leather jackets — and wear them with the real MVP of this season, over-the-knee boots.
What makes OTK boots so great? Well, tall boots will keep your legs warm when you don't want to wear pants. And once it gets really cold, you can layer them over skinny jeans for that cozy my-pants-are-wearing-pants feeling. The only challenge is knowing how to style them, which is why we asked 11 stylish women to show us their favorite knee-high boots outfits. Read on for lots of inspiration, as well as suggestions for the best tall boots out there.
Nnenna Echem, Content Creator
Instagram: @nnennaechem
How she wears her boots: I love the ones from Liu Jo. They're the perfect length, with an unusual heel — but they are, of course, a bit pricey. Mango and Zara usually have cool over-the-knee boots in a more reasonable price range. I often style them with long skirts and a coat, but they also work with slim jeans and a blazer for a more relaxed look.
Stephanie Moreno, Fashion Director and Consultant
Instagram: @steph
How she wears her boots: Over-the-knee boots are a dream; they replace pants, they suck in imperfections while offering comfort, and they make me feel powerful. I wear them as a replacement to trousers with oversize tops and/or knits, under my printed dresses to bring some edge, or with Levis shorts to give them a longer life into fall. I think OTK boots should be as close to a second skin as possible, which is why I always rely on Chanel, Ann Demeulemeester, Saint Laurent, and Chloé to make the best versions.
Instagram: @humidityistheenemy
How she wears her boots: Most of the pairs that I own are from Steve Madden because of their great prices, comfort levels, and quality. I have big calves so wearing boots over jeans is usually problematic for me. I usually style my OTK boots with skirts and dresses. My favorite pair that I own are burgundy velvet — the color is just so rich.
Channing Hargrove, Fashion Writer at Refinery29
Instagram: @chan_inthecity
How she wears her boots: I'm pretty petite so it took me a while to come around, but now I wear over-the-knee boots almost as tights or leggings under sweater dresses, midi skirts, and even miniskirts with chunky knits on top. The pair getting the most love in my closet right now is from Marc Fisher (they're on sale now!). They're substantial enough to keep my legs warm and fall into a cozy slouch after I've had them on for a bit.
Hélène Heath, Fashion Writer and Social-Media Expert
Instagram: @heleneisfor
How she wears her boots: There's something intrinsically badass about over-the-knee boots — you just can't help but feel a sense of power when you wear them. Here I am in a pair from the Altuzarra x Target collection, which I love because the heel height is sensible enough and they've got a timeless toe and heel shape. If I reach for these boots, my outfit has to be all about balance. Because they're quite sexy and make a pretty bold statement, I always try to tip the scales with something more casual or masculine. This particular look involved a vintage blazer with an apropos '80s power-suit vibe and made me feel like a boss.
Anaa Saber, Creative at @oursecondskin and Contributing Editor at WhoWhatWear
Instagram: @oursecondskin
How she wears her boots: Over-the-knee boots are my footwear of choice for the days I have no clue what to wear. It's the easiest hack to dress-up an outfit and add a little extra kick (pun intended). These boots from Georgian designer the Situationist are one of my favorites at the moment.
Nadia Aboulhosn, Model and Creator of by Nadia Aboulhosn
Instagram: @nadiaaboulhosn
How she wears her boots: I usually wear thigh-high boots with a cute pair of shorts or a minidress. I know it's sort of a trend now to layer longer pieces of clothing over them, but I love showing that little bit of skin before my hips. A few of my favorite brands for over-the-knee boots are Missguided, Pretty Little Thing, and Aldo.
Camilla Ackley, Founding Editor of Into the Fold
Instagram: @camillaackley
How she wears her boots: I love OTK boots with a strong heel — something about them makes me feel like I've actually got my shit together, even if I definitely don't that day. They are a power shoe, if ever there was one. I usually wear my suede pair with a wrap midi-dress for work. If I want to go full out for a party, I'll pair them with a vintage black velvet minidress that my mum used to wear in the '90s. It feels very Austin Powers and I'm here for it. Obviously Stuart Weitzman is the king of OTK boots, but & Other Stories always deliver strong options for a less hefty price tag.
Sharee Burns, Fashion Blogger at Ro$es are Red and Freelance Stylist
Instagram: @___vixen
How she wears her boots: As a curvy woman, it can be hard for me to find cute over-the-knee boots. Luckily, a lot of popular online retailers are becoming "fit-inclusive," with various styles of boots for women with different leg sizes. ASOS and Jeffrey Campbell are two of my favorites. I cannot live without these ASOS Design Kera pointed thigh-high boots. They make me feel so sexy. Plus, they're comfortable. I wore them to an event one night with my boyfriend and all night I felt as if I was walking on air! They didn't droop or fall down every time I moved. For the fall, I am excited to wear with skorts and turtlenecks for a Parisian vibe.
Noor ElkHaldi, Content Creator at @noore
Instagram: @noore
How she wears her boots: I'm obsessed with white over-the-knee boots right now. Amina Muaddi's Olivia 95 leather ones are the perfect pair, but Sam Edelman also does an amazing white OTK boot as well. A good pair of black OTK boots are an absolute staple in my FW wardrobe. I love these Kalda black patent leather boots — I think they would look so cool with a more feminine mini dress. I'm very into pairing a silk midi skirt and OTK boots at the moment. I just love the way the skirt moves and the boots seem endless underneath — it's a very elevated layered look.
Jessica Tran, Brand and Partnerships at Dagne Dover and Owner of Ghost Vintage
Instagram: @jessglistening
How she wears her boots: Stuart Weitzman makes reliably solid OTK boots — the Hilines are my go-to for winter nights out. But Mango makes trendy, more affordable alternatives. My favorite way of styling them? Always with a miniskirt and an oversize sweater or jacket and a beret.
And Few More OTK Boots, in Case You're Still Not Satisfied:
If you buy something through our links, New York may earn an affiliate commission.