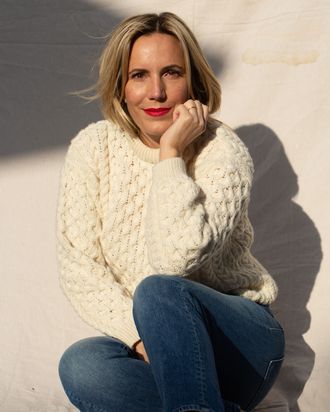 Photo: Michael P.H. Clifford
"I'm really fascinated by the science of things," says Cayli Cavaco Reck. "And when my skin was having an issue and I was not getting the answers that I wanted, I was like, I cannot be the only person with this problem." She dove in to clinical studies and sought out experts to understand exactly what her skin was doing. Today, Cavaco Reck owns beauty boutique Knockout Beauty, which has locations in Los Angeles and Bridgehampton, New York, and frequently goes live on Instagram, both alone and with beauty experts, to explain the latest product offerings and innovations.
When it comes down to it, Cavaco Reck just wants to be informed. "If I'm really, totally honest, when I was little, I had a lot of trauma, and people wanted to shield me from things and not share things with me," she says. "I had this sixth sense that I knew something, and that trauma created the desire to know, to learn — it calms me. To read a case study about someone who has breast cancer when my mother had breast cancer, that was really interesting to me, like how could she maybe live? What would that do? I've never actually talked about that, but that was the first time I remember reading about case studies."
Her approach to beauty is now just as education-focused. She's an advocate for "conscious" beauty, which she says is not to be confused with "clean" beauty. "It's not about green or being organic," she explains. "It is about being aware of what we put on our largest organ, being mindful of overall ingredients and efficacy." For example, she says, if someone has gotten Botox, which is a toxin, people might wonder why they would care about "clean" skin care. But it's precisely because they have already "spent their toxic load" on Botox that they'd want to minimize toxins elsewhere in their routine. Ultimately, it's about looking at all products and ingredients with nuance and considering everything you're applying and doing to your skin within the context of a larger picture.
As for her own routine, Cavaco Reck always opts for clinically vetted formulas for her melasma-, rosacea-, and acne-prone skin, although her routine changes all the time. Some of her products are quite expensive, but she wants to be clear: That's not a requirement here. "You can get lactic acid from Paula's Choice. You can get your vitamin A from Differin, which you can get from Target. I completely support that. All that I care about is that you do the research, and make sure you have the ingredients that you're going after," she says. "But there's so many ways to do this. I'm 44 years old, almost, I own a beauty store, and that's my joy. The way I look at it is: Some people like shoes and clothes. I like beauty."
Below, she walks us through some of her favorite products. Read on for the toner she uses for every skin concern, the moisturizer she calls "nature's Botox," and the serum that's worth every dollar — along with her recommendations for more affordable alternatives.
The Cleanser
"This is a really interesting cleanser because it's in a powder form. It removes the excess sebum and excess lipids, but it doesn't hurt the lipid barrier, which I think is really cool. It reduces impurities, it stimulates cell metabolism, it activates the regeneration process because of the enzymatic action, and it refines the surface but in a micro way, so it's not like you're using a peel. Your skin feels super soft after using it. Honestly, I would describe it as more of a treatment — it's not just a regular cleanser.
We were carrying this cleanser in 2017, in the first round of curation for Knockout Beauty. At the time, I was doing my Instagram Lives every day at eight o'clock — no matter where I was, I would stop what I was doing. If I was at someone's house, I'd be like, "Sorry, can I wash my face?" in the middle of dinner. I'm not kidding. People were like, "Uh, sure." I'd go back to dinner all snatched up with my face massaged, and everyone would be like, "What did you do?!" One time, we were about to move into Bloomingdale's, I was packing things up, and there weren't a lot of samples left on the shelves. I went to wash my face in the basement with this MBR cleanser, and I experienced it on IG Live in real time. Now, mind you, it's a $227 face wash. So I'm washing my face, and I was like, "Wait, you guys. This is amazing." My face was so soft that I couldn't stop touching it. The next day, we sold out of all of the cleansers.
When we stopped carrying the brand because they had a change in distribution in the U.S., I stocked up and bought ten bottles. Then, when we started carrying MBR again, I was on my last bottle of the cleanser. I have a lot of pigment — I have melasma — and it's gentle enough that it doesn't cause my skin to be sensitized, nor does it make my skin sun-sensitive, but it does give me that level of exfoliation and that enzymatic action without creating a problem."
Her alternative: "Tatcha's Deep Rice Polish is great and comes in a travel size for $15."
The Toner
"First of all, I think toning is the hero of all skin care. I'm aging and acneic so finding something that can help with a variety of different concerns is key to me. I have so many other steps that I want this particular step to be the B3 food that my skin needs, that niacinamide kick.
Did you ever see that movie My Big Fat Greek Wedding? The dad who's always with the Windex? That's me with the B3. It's like, oh, you have a problem? B3. I've always joked that it's like, rosacea? B3. Boyfriend problems? B3. Taxes? B3. It's so effective and problem-solving — it helps with rosacea, it helps with acne, it helps with melasma, it helps with sun damage, and it also helps with just generally keeping the skin calm. In my experience with Knockout Beauty, people will pay $75 in shipping to get it overnight, and it's a $40 product."
Her alternative: "Good Molecules Niacinamide Serum, which costs around $14."
The Serums
"I am absolutely in love with growth factors — they stimulate collagen production — so I've used a lot of them. This one has collagen-boosting peptides, lactic acid, hyaluronic acid, and basically, it's nurturing the process of cellular turnover. It sort works like you had baby filler. It's very smoothing, and then obviously, the way the light interacts with the skin, you look dewier.
The reason I like Epi.logic is that the brand has such integrity. The founder of Epi.logic, Dr. Chaneve Jeanniton, is an oculoplastic surgeon, so for her, a growth factor has got to work, right? The way that she developed it, it plays nicely with other ingredients that I love, like retinol. It penetrates quickly. And you see a visible difference when you use it, so it keeps the promise that it makes.
A friend of mine sent me the product in the middle of what I referred to as the mid-quarantine uglies. I looked tired, like dried out, I did not look good. And at that point I was like, I'm gonna try this thing, I'm going to give it a go. So I tried it, and I was like, Okay, I think that worked. That was after one night. A week later, someone said to me, 'You look like you got Botox.'"
Her alternative: "The Ordinary Hyaluronic Acid 2 percent + B5 costs around $7 for one ounce. Nothing really replaces a growth factor, and they all come at a price — in order for them to work, they need to be as pure as possible and as stable as possible, so you get what you pay for — but a great hyaluronic acid is still going to give you a juicy plump that is worth it."
"Not all vitamin A's are retinols, but all retinols are A's. I always have vitamin A in my routine, and from Environ, there's retinol 1, 2, or 3. I still use 1. There's no need for me to go any higher. I live in California, and the sun is shining. I don't need that aggression to my skin. I just need that little bit of micro-exfoliation that comes with it.
I've been on retinol for years at this point, but if you do retinol correctly, you won't have the retinol uglies. They're a result of going too hard, too fast, too strong. Vitamin A is the great educator of the skin. You can use it to tell the skin what to do. But because it's such a strong educator, if you're not careful, if you come in swinging hard, you're going to create problems. The best way to begin to incorporate retinol, I feel, is to also use it in an oil form and that goes at the end, so you start to slowly get retinol in.
Anything that's peeling the skin, whether it be a peel or retinol, it's like a fast for the body. What's important after you've fasted the body is the refeed, what you put on after — obviously antioxidants, but also consider your sunscreen and sun exposure."
Her alternative: "Differin Gel costs $13. This is actually adapalene, which is a little different. It's not retinol, but I'm still into it."
"This corrective serum is just really good. It is so expensive, but here's the truth of it: I've tried every vitamin C, and I'm aging and acneic, which is not the cutest look on the planet. This is a 10 percent vitamin C so it's a strong vitamin C, and it's in a very stable form, which I think is a key element to it. It's very fast-acting, and I don't use it always. (In the summer, I use the Agent Nateur Holi C, which is in a powder form.) Again, it's more a treatment situation: It helps with collagen production, it helps with brightening, and it's got a lot of peptides in there. It's in a cream form, but it penetrates deeply, which is great. Also, when you're layering vitamin C in, you want to make sure it plays nicely with others. I don't want the vitamin C uglies — the redness or a rash that people get — or what I refer to as 'the halo,' where everywhere you've applied it is brighter and then everywhere else is darker. With this one, the molecule is so small, it's not just like a fixed area and actually kind of bleeds a little bit, which gives you a more of a diffused brightening."
Her alternative: "Honest Beauty Vitamin C Radiance Serum for $27."
The Eye Cream
"I don't always use an eye cream, but here's the thing: If you're going to use a cream on the eyes, use one that's for the eyes, right? Like, let's use one that is formulated for the eyes and that has ingredients that are not going to be in your face cream. For instance, the Regu-age® in this product is a clinically proven, anti-aging peptide that is proven to lighten the under-eye dark circles and also minimize puffiness, and that's not happening from your regular face cream. This one is sort of a hybrid between a gel and a cream, so you get kind of a cooling effect. And then there's beta-glucan, which we know helps wrinkles and fine lines."
Her alternative: "This has patented peptides, and there is not a true alternative. If you have bags, I recommend icing spoons and using them under the eyes. If you have dark circles, make sure you apply hyaluronic acid under the eyes if it's not from pigment. If it's from pigment, you can use the teeniest amount of Differin Gel ($13) mixed with hyaluronic."
The Moisturizer
"I love Victoria, the founder of Lacrème Beauté. She's zany and great. She's English. She's hilarious. And at first, I was like, I don't need a rich cream. I was 38, and I was like, Who needs a rich cream at my age? But I was breaking out, and this has a high level of tamanu oil in it, so it allows you to have a very rich cream that won't break you out. It's very smoothing. It's very hydrating, and it gives you a gorgeous glow. This cream is nature's Botox. It literally stops the mimic lines. It's so good. It is an addiction, and it's just one of my absolute favorite products. What I love about it too is that no bees are harmed during this process, and they've actually created more apiaries to satisfy the need for the bee venom in the cream.
I don't have an alternative to this. To be honest, I have never tried anything like it. A rich cream with vitamin A can get you halfway there, but there isn't a swap for this extraordinary formula."