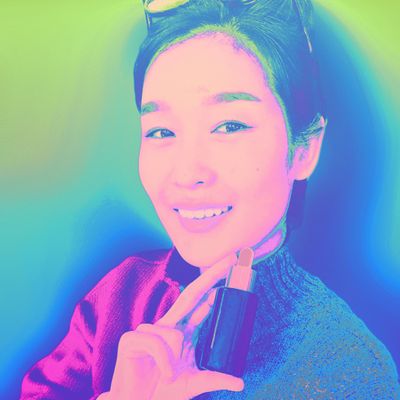 Photo-Illustration: by Stevie Remsberg
Charlotte Cho is a Korean skin-care expert. A California native, Cho became immersed in the world of K-Beauty after moving to the South Korea after college to work for Samsung. Inspired by her experiences, four years later, she and her husband, David, founded Soko Glam. Throughout the years with trial and error and knowledge, Cho has carefully honed her routine to effectively treat her hormonal acne and hyperpigmentation. In her own words, here's what she's learned and why it works.
Even though I'm the co-founder of a skin-care start-up, I too deal with acne. I've always had pimples here and there, but on the day of my 30th birthday I woke up to cystic, painful acne along my jawline. It's been clockwork ever since. Every month, I get inflammatory acne on my chin that also leaves behind marks. My skin concerns changed from reducing fine lines and brown spots to also battling hormonal acne.
Hormonal and cystic acne can occur in anyone and is actually more common in adults than teens. Fifty percent of women ages 20 to 40 are dealing with adult acne, according to the nonprofit organization, American Academy of Dermatology. These are caused by a combination of factors: bacteria, excess sebum, dead skin cells and hormones. I've also found that my diet would greatly affect my breakouts. While on the Whole 30 diet a while back, I actually didn't experience hormonal acne the entire time, and was able to focus on healing the marks previously left behind from my other hormonal breakouts. Through my own skin-care journey, I've learned to create a holistic approach to reduce my breakouts and has allowed them to heal faster as well. Here's the skin-care routine I've found to be the best for clear, bump-free skin.
I began double-cleansing when I was 22 and just discovered the world of Korean skin care after moving to Seoul from Southern California. I never used to think about cleaning my skin regularly, let alone cleaning it twice, two times a day! However, once I learned that oil cleansers effectively deep-clean pores, remove excess sebum and acne-causing bacteria, I was sold. I've used a lot since then, but after developing hormonal acne, I began using the Hanskin Cleansing Oil & Blackhead
. This cleanser is specially formulated with polyhydroxy acids (PHAs), a gentle acid suitable for sensitive skin types, to lightly exfoliate and help keep my blackheads and dead skin cells at bay. It removes all oil-based impurities such as makeup and pollution. The tea tree oil in it also helps fight breakouts while jojoba, olive, grapeseed oils and aloe vera extract hydrate skin.
After I rinse off the oil cleanser, I use the Dr. Oracle A-Thera Cleansing Foam for my double-cleanse. Dr. Oracle is a well-known skin-care brand founded by dermatologists and sold in over 70 clinics in Korea for its effective results. This water-based cleanser foams into a rich lather and uses salicylic acid, green tea extract, and tea tree oil to deep-clean my pores and get rid of bacteria and excess sebum that cause blemishes. It's really gentle and doesn't strip my skin of moisture. The combination of green tea and sage extracts helps soothe my skin and also fortifies my skin barrier, which is very important when dealing with cystic acne.
This double-cleansing pairing is very gentle for sensitive, acne-prone skin, especially adult or hormonal acne because of their powerful cleaning and soothing properties. It's a great way to prevent more breakouts and the results are evident after daily use (morning and night)!
This step is crucial for when I'm dealing with a hormonal acne breakout. If I have new painful, cystic pimples, I actually put an acne treatment on before toner so it can directly treat it. I open a packet of the Dr. Oracle A-Thera Tea Tree Peeling Sticks and apply the unique stick soaked in a 6 percent AHA and BHA solution, directly onto my problem areas. It's shaped like a huge cotton swab and allows me to precisely target any nooks and crannies.
AHA and BHA, powerful acne-fighting acids, effectively clear my pores and blackheads. Lactic acid gently lifts dead skin cells while glycolic acid works to exfoliate and resurface the skin, smoothing bumpy skin texture. A blend of tea tree extract, lemon extract, and bamboo extract work to naturally exfoliate without irritating my skin. I've seen a huge difference after using these sticks on a weekly basis. I've noticed my blemishes disappearing faster when I incorporated this into my routine. This is also TSA-approved since it's a non-liquid and I travel one-third of the year for work, so this is always in my bag for any trip! It makes it easy for me fight breakouts while on the road.
After the peeling stick treatment is absorbed into my skin, I use a calming, skin balancing toner. The Dr. Oracle A-Thera Toner [Editor's note: This is sold out, but ACWELL Licorice pH Balancing Cleansing Toner is similar] instantly calms my inflamed hormonal acne with its main ingredient, bamboo extract. It is full of antioxidants to help my skin heal faster and stay hydrated. Plus, it's free of artificial fragrance, parabens, and mineral oil! I like using this with a cotton pad and sweep it across my face. This toner is great for sensitive skin types and has a pH level of 5.5 to balance skin.
To double-treat my cystic acne, in addition to the treatment sticks above, I will use the COSRX Acne Pimple Master Patch. They are acne stickers that come in three different sizes and are super affordable at $5 a packet, with 24 patches. When I have inflamed pimples, I put the patches on them to draw out impurities. They are thin clear hydrocolloid patches that feel similar to a hydrogel sheet mask in texture and strongly stick to my skin — I never have to worry about these sliding off my face!
They treat breakouts by eliminating infection and bacteria, which are what causes them in the first place. The patches breakdown debris from blackheads and absorb gunk from whiteheads overnight, so there are no harsh dry patches from using these. The patches are great for cystic acne, like mine, because they flatten them fast. I've also found that using these with the Dr. Oracle Tea Tree Peeling Sticks actually make them work even better!
To follow up, I use the Dr. Oracle A-Thera Emulsion [Editor's note: This is currently sold out, but Beauty of Joseon Glow Serum is similar], which treats acne-prone skin while hydrating it. Even oily and acne-prone skin need moisture too in order to prevent pores from over-producing oil. The formula also includes bamboo extract and green tea extract. Lighter than a moisturizer and more substantial than an essence, this emulsion leaves my skin plump and moisturized without causing additional breakouts.
For my daily moisturizer, I use the Dr. Oracle A-Thera Cream. This moisturizer soothes and nourishes my inflamed skin. It's mineral-rich and contains Celtic mineral water, to help fortify skin barrier, while bamboo extract locks in moisture and provides anti-aging benefits by boosting collagen production. This is my favorite moisturizer for when I'm dealing with acne, because it's calming.
Even though this doesn't help the hormonal acne around my jawline, it's still always part of my routine! I am loving the Benton Fermentation Eye Cream. It contains fermented and anti-aging ingredients to keep the eye area hydrated and soft. Bifida ferment lysate and galactomyces ferment filtrate are in it — fermented ingredients are well-known in Korean skin care to help repair skin damage. The formula contains ceramides, hyaluronic acid, aloe, and panthenol to deeply hydrate the skin. Also, beta-glucans and adenosine plump and smooth my eye area for brighter-looking eyes!
During the day, I always apply Missha Mild Essence Sun Milk SPF 50/PA++++ [Editor's note: This product is currently out of stock, but Cho recommends the Thank You Farmer Sun Project Light Sun Essence, which is similar], my last skin-care-routine step. I've been wearing it for years! It's a lightweight sunscreen that provides powerful broad spectrum UVA/UVB protection. And the essence formula nourishes and hydrates my skin as well. I love how it doesn't leave my skin with a greasy feeling or white cast as well.
When my hormonal breakouts heal, they like to leave reminders behind on my face. To do deal with the acne marks, I use the COSRX Triple C Lightning Liquid [Editor's note: COSRX discontinued this product, but Cho recommends this product, which is similar] twice a day. I actually collaborated with COSRX to develop this because I knew how badly it was needed. Dealing with acne is frustrating, but healing the marks left behind is whole another ball game.
This serum contains 20.5 percent of pure vitamin C, a known ingredient that treats dark spots. It's powerful in restoring radiance back to the skin and also treats and prevents pigmentation. It's infused with 72 percent black chokeberry too, an ingredient that works to stabilize the vitamin C and hydrates the skin. It's always fresh because it's made in small batches and constantly flown from Korea to the States. I like keeping mine in my fridge to maximize its effectiveness and to make it last longer!
This article was originally published March 9, 2018. It has been updated throughout. If you buy something through our links, New York may earn an affiliate commission.