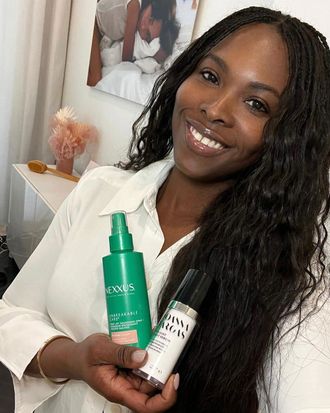 Unilever stylist and celebrity hair artist Lacy Redway has been doing hair for as long as she can remember. "I used to always do my dolls' hair," the Jamaica-born, Jersey-raised hair guru says. "And by the age of 11, I started doing kids' hair at school." These days, you can find her working with the likes of Tessa Thompson — most recently doing all of her hair looks for the Creed III press tour, hairstyling for British Vogue's latest cover, creating more diverse and textured hair looks for the Sims 4 game, and being the lead hairstylist at Fashion Week's biggest shows, such as Christian Siriano and Laquan Smith. "I love that my job allows me to travel and experience different cultures," she says. "I love meeting new people every day. I love learning from others. That's the most beautiful part of the experience for me."
"My own personal hair memories were sort of traumatic in a way," she shares. "Growing up in the '90s, there weren't a lot of product options and our parents didn't have the same knowledge that we have today," she adds of what led her to getting a chemical relaxer that ultimately damaged her hair. "My hair ended up falling out," Redway says. This experience became her ammunition to create change within the hair industry. She continued doing hair throughout high school and eventually worked in a salon throughout college to help pay her tuition. "I would do hair for photo shoots on the side as well. Being immersed into the creative field in this way helped me understand that I really wanted to do this as my career, and not just as a hobby," she says. She later attended the Aveda Institute to further her knowledge in hair.
"At the time, I was still pursuing my career, so I did night school and freelanced at Bloomberg Television during the day to pay my bills, while other times I would be on set for photo shoots doing hair," she says. "I think I would sleep three hours per night on average during this time. It's definitely prepared me for the fast-paced career I have today," one that takes her around the world, working with Hollywood's biggest stars, including Zoe Saldana, Zazie Beetz, Keke Palmer, and more. That said, she has definitely learned the importance of having a solid self-care practice, too. For Redway, this shows up as facials with celebrity aesthetician Joanna Vargas, jade rolling, and consistent workouts with her trainer. "It's so important for me to make space for self-care," she says. "It really helps me to get back on track. I really need that alone time to recharge."
.

Here, Redway's A.M. Routine:
6:00 — Sometimes I grab my phone right away, and that's not the way I really want to start my day. I want to try looking at my phone only after I've done things for myself first. But in general, I try to start the day by simply relaxing in bed for a little bit. I try to say little things I'm grateful for to myself.
6:15 — I usually do most of my beauty routines at night unless I have somewhere to go that day. But I start with cleansing with the Joanna Vargas Vitamin C Cleanser for brightening.
6:17  — Then I follow up with the Joanna Vargas Daily Serum. It's great because it helps with hyperpigmentation and wrinkles, and provides moisture.
6:19  —  I love using the MAC Cosmetics Lip Pencil in Chestnut for a '90s lip look.
6:21  — To complete that look, I love the MAC Cosmetics Whitney Houston Collection Lipstick in Nippy's Moody Nude. I use it as the base color for my lips..
6:23  — To finish the lip, I swipe on the Fenty Lip Gloss in Hot Chocolate — I literally take this with me everywhere.
6:25  —  For my protective braids style, I like to keep the ends loose and pump up the volume using the Nexxus Unbreakable Care Root Lift Thickening Spray. I focus the product on the loose section of my hair. It allows me to style much easier, and my hair becomes more malleable, plus it adds shine.
6:30  —  If it's a weekday, I have to take my son to school. I usually go downstairs, turn on  some Aretha Franklin, and then start making breakfast and help my son get ready until we have to leave to get him to school.
.

Redway's P.M. Routine
9:00 — On nights when I'm washing my hair, I use the Nexxus Unbreakable Shampoo and Conditioner if my hair needs a boost. It addresses underlying causes of breakage. Other times, I'll use the TRESemmé Pro Infusion Fluid Smooth Collection, which offers a lot of hydration to my hair.
9:30 — After cleansing my face, I like to follow up with the Joana Vargas Twilight Night Cream for extra hydration.
9:05 — To finish, I love using the Topicals: Faded Under Eye Mask to take down any puffiness. At night, I'll usually jade roll as well.
.

On how she hopes the industry will change:
I am seeing changes happening, but part of me is a little concerned that, post-pandemic, sets seem to be going back to how they were in the pre-pandemic days. I remember being the only person of color on sets a lot of the time and would have to bring an assistant with me in order to have more diversity on set. But that's also why I'm excited to work with the Future Stylists Fund, which is an extension of TRESemmé's ongoing commitment to elevate the Black community in beauty and fashion, and advocate for diverse representation and equitable treatment of hairstylists.
.

On the beauty trend she's loving right now:
I loved creating this bun called the "rosy twist" during this past fashion week at the Christian Siriano show. And I've been seeing in some TikToks people re-creating this bun. It's been really exciting to see that. It's so great that any hair texture can also do it as well. I think it's definitely in line with the current ballerina-core trend.
.

On the ingredient she avoids:
This isn't necessarily related to beauty, but I'm lactose intolerant so I definitely avoid milk products. I basically eat like a vegan for the most part.
.

On the ingredients she loves:
I'm noticing a lot of ingredients that were traditionally in skin care now being in hair care products too. I love collagen and biotin for that reason; they definitely promote hair growth and thickness. They generally strengthen the hair.
.

On the hero product in her routine:
I would say the Fenty Hot Chocolate Lip Gloss. It's my go-to, whether someone else is doing my makeup or I'm doing it. It's always with me at all times. Is lip-gloss application considered a routine? If so, and if I'm in a rush and I only have time to do one thing, I would definitely choose my lip gloss!
.

On her self-care go-tos:
I try to make appointments to see Joanna Vargas at her spa to get facials. I also work out regularly with my personal trainer — this has really helped me with my mind-body-soul connection. I try to read a lot for fun.