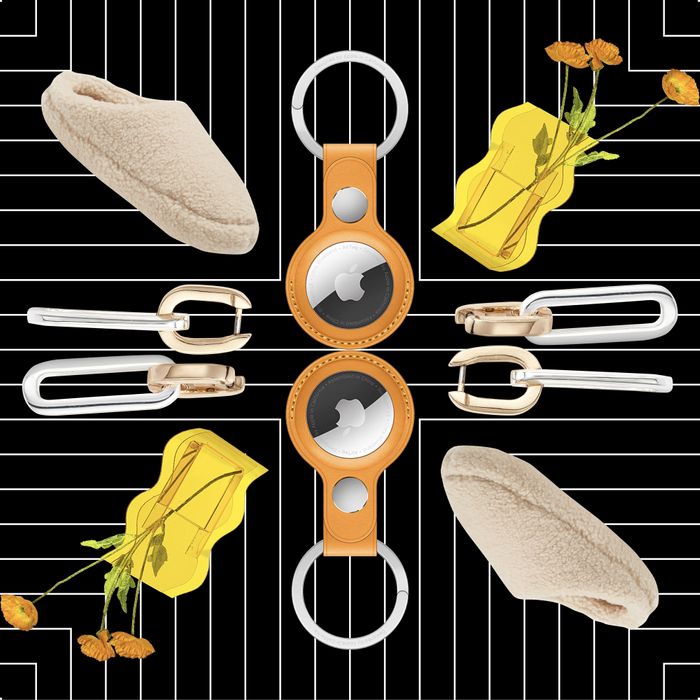 Photo-Illustration: by The Cut; Photos: Retailers
It's a recognized fact that the pandemic has messed with our perception of time — it lags then flies. So you'd be forgiven if the holidays have snuck up on you once again this year and left you scrambling for gifts. Whoops. Procrastination can get the best of anyone, but you don't want to spend the last few weeks of 2022 stressing about presents arriving on time. Lucky for you, we've curated 35 gifts that will work for your whole list and ship quickly.
Read on for some last-minute gift ideas from home décor and comfortable pajamas to subscriptions and stocking stuffers that don't even require wrapping.
For the person who always needs more closet space …
They're either a hoarder or they love fashion. You decide! They truly love shopping for clothes, bags, and shoes while complaining that they have no room to fit it all. You're brave getting them a last-minute present that requires proper sizing, but you've made up your mind. Godspeed.
Impress them with your trend knowledge by gifting them a plaid pleated miniskirt.
It's basically a JW Anderson Bumper bag at a fraction of the cost.
They can channel their inner Olivia Rodrigo with these edgy lug-sole mary janes.
A versatile camel-toned cozy sweater is worth a splurge if they're obsessed with knits.
For the person who loves #content …
Subscriptions are the ultimate last-minute gift. It takes seconds to sign up and there's something for fashion lovers, cinephiles, basketball enthusiasts, New York Mag fans — you name it. How to present it, on the other hand (i.e., to print or not to print the confirmation)? A mystery entirely. We'll leave that up to you.
Movie buffs are obsessed with the Criterion Channel for its curation and how it offers hard-to-find films you can't easily get on other streaming platforms.
The voracious readers out there will love a book membership. Each month, about seven books are curated, and they can choose one or more that will be delivered right to their doorstep.
A style newsletter that industry folks follow is a great gift for someone who asks questions like "Is swag genetic?" and enjoys A-list interviews with the likes of Lorde, Jerry Seinfeld, and Tyler, the Creator.
For the person obsessed with tech gadgets …
They might not even know what they do exactly, but boy, do they like figuring it out. They're someone who can't help but tinker and fiddle with buttons, wires, Bluetooth capabilities — you get it.
AirTags are so in thanks to more-chaotic-than-usual airports and lost luggage. If they've already stockpiled on ones for their carry-on, give them a leather key ring to slip into their "personal item."
Wireless charging has never looked better with Courant's sleek designs.
They'll love to clip this top-rated, waterproof speaker to anything and everything.
If they constantly complain about their jarring alarm noises, the Loftie will effectively wake them up in a gentler manner each morning.
For the person whose true passion is lounging …
They're most content nestled up on their couch watching The White Lotus, reading a book, or taking a nap in their comfiest pajamas and fuzzy socks. (Us — you're gifting us.)
The gold standard in PJ sets. You can't go wrong with this crowd-pleaser.
Cashmere? For socks? They could come with a warning not to run in the house while wearing, but your giftee wouldn't do that anyway.
Slippers so cute they might just want to wear them outside.
Like a wearable weighted blanket, this absolutely heavenly loungewear piece is no mere "robe." Once they put it on, they won't want to take it off. It ships in two to five days, and as a very last-minute gift, you can also get the express air option for $25.
For the HGTV enthusiast …
Nothing makes their heart flutter more than the word interiors. They always have design ideas for every room in their place, and they live for curating bookshelves with glassware and trinkets.
This extremely plush blanket has almost 30,000 ratings and 4.6 stars, so it makes a pretty fabulous gift.
How chic are these two-toned velvet pillow covers? And you should definitely get the pillow inserts.
Dried flowers are one of the best gifts. They're already dead — so no need to worry about upkeep — and they add a mood-boosting pop of color to any corner of a room.
To go above and beyond on your last-minute-gifting spree, you can pair the above bouquet with a funky vase like this bold acrylic one.
For the person who binged The Bear …
Yes, chef. They may be newer to the cooking world but were inspired to learn the art of mincing, braising, and searing, or they may already be a pro in need of a couple of new tools. Either way, they'll appreciate these gifts.
Channel Carmy in a navy-blue apron with lots of handy pockets.
This versatile chef's knife is one they'll have forever. The higher carbon content in the steel ensures it stays sharper for longer.
It's soup season, baby. They can blend up all the homemade bisques they want with this mess-free blender. It also helps make sauces, batters, and any other purees.
If they already cook a lot, odds are they already have the cult-status Always Pan, so opt for this gift to cover their baking needs.
For the person with an extensive beauty routine …
They spend a lot of time on their skin care, hair care, and makeup — and are definitely one of those people who text, "On my way!" while they're still getting ready.
This inexpensive skin-care set has a cleanser, mask, moisturizer, and a serum that are some of the TikTok-backed brand's best sellers.
This new lipstick from Freck has a 4.7-star rating out of 5 and comes in a slim tube that can fit anywhere.
The Olaplex hype is real. This set, which features a serum, oil, and smoother, works for any hair type. They won't be able to stop running their fingers through their silky soft strands.
This fancy last-minute gift will be the highlight of their whole life. The price tag is certainly a lot, but if you're in panic mode and are willing to drop some cash on one thing for a beauty fanatic, the Dyson Airwrap will not disappoint.
For the person who considers a 5K a warm-up …
They will go on their nightly run no matter how many people's schedules they ruin. "I'll just meet you at the restaurant!" they say. "Fine," you reply, simultaneously annoyed and jealous of their commitment. These gifts are for the endorphin chasers out there.
Our friends at The Strategist recently highlighted this half-beanie half-headlamp for nighttime runners. Now that the temperatures are dipping, it will keep their heads warm while safely lighting their way.
Combat sweat after a workout with this award-winning clearing clay and mist that soothe inflammation and clear breakouts.
This inventive tool featured on Shark Tank turns any single dumbbell into a kettlebell so they can get different types of strength workouts in while cutting down on equipment.
If they haven't felt the magic of Bombas socks, they will be obsessed with this gift. And if they're already a fan, they would never turn down another pair.
For a stocking you need to stuff …
When you're truly in a panic, just buy a bunch of tiny things to stuff inside their stocking the night before Christmas — no wrapping required.
This is formulated without palm oil and has less sugar than other hazelnut spreads — all without compromising on taste.
A luxe black-truffle-infused hot sauce, ideal for sprinkling over Christmas-dinner leftovers.
Two-tone earrings can be paired with any outfit and can detach the links to wear in more than one way.
A set of trendy reusable shopping bags that fold conveniently into tiny pouches is a great gift.