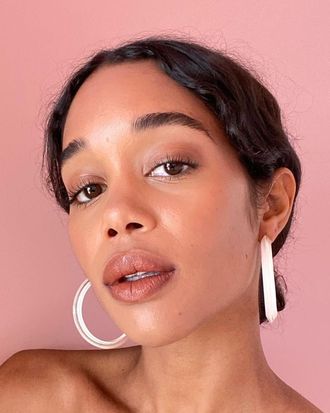 Photo: Courtesy of Laura Harrier
Like the rest of us, the actress Laura Harrier has been stuck at home throughout the COVID-19 pandemic. But unlike the rest of us, the star of Netflix's Hollywood and BlacKkKlansman (and former Cut cover star) has celebrity-favorite aesthetician Shani Darden on speed dial to walk her through the woes of maskne. "Shani is my OG facialist and has taught me so much about skin care — I love her classic facial," Harrier says. "She works with my skin and knows what it loves and, more importantly, what it doesn't."
Harrier's skin skews dry, and she is no stranger to the occasional stress breakout. With friends like Darden and the facialist and eyebrow specialist Carrie Lindsey, whom Harrier credits with helping her simplify her routine, the actress built a regimen that can withstand just about anything — including long hours under hot lights while wearing layers and layers of makeup for the cameras. "I find that when I am investing in the right products, I don't need to put 15 different things on my face," she says. "I'm way more intentional with what I put on my face and body than I was when I was younger. It's just like how I don't eat as much junk food or burgers as I did as a kid and never go to sleep in my makeup — there's a tip for young Laura: I know it's 3 a.m., but don't you dare get in that bed before washing your face!"
Growing up in Chicago, Harrier says her skin would be perpetually "dry, red, and cracked" during the city's harsh winters. Now that she's living in Los Angeles, she doesn't deal with long, cold months anymore — or changing seasons at all — but she's still focused on hydrating her skin properly. Part of that, Harrier says, involves layering products in the right order. "For example, locking the moisture into your skin by following a serum up with a good moisturizer and always working with a clean base," she explains. The other key is how you apply them: "Now I pat the products into my face instead of rubbing. Who knew!"
Below, a breakdown of Harrier's skin-care essentials, including the serum she'll "never not use," the "beautifully sheer" sunscreen she wears every single day, and the face mask she grabs after plane rides and long days on set.
The Cleanser
"My skin LOVES this cleanser. I've been using it for years. It lathers without stripping it dry, which is a feeling I hate. My face is clean and moisturized after washing, as opposed to a tight feeling that sometimes follows cleansers. It's a perfect base for the rest of my products, and the fact that it also removes makeup is a bonus."
The Toner
"My advice to my teenage self would be: Step away from that harsh toner, girl! When I was younger, me and my girlfriends would put on the harshest of toners that were so drying. No idea why, we probably just thought that was what we were supposed to do. I honestly had such toner trauma. I just got over it.
That said, I'm really not much of a toner girl. I really have to listen to my skin to see what she wants that day. Some days she's chillin' and others she needs a little extra attention. For example, sometimes my skin is super dry or has too much buildup and gets a bit angsty. We all have days where our skin can be a bit difficult or challenging. Usually when that happens, toner and some extra moisturizer does the trick.
I started using the Isla Toner recently and really like the way it completely gets rid of any leftover dirt or grime while smoothing my complexion. No biting or peeling like past middle-school toner trauma! It's a bit citrus-smelling and very fresh, and I usually apply it with a reusable cotton pad."
The Serum
"This is by far my favorite product right now. Not sure how my skin survived before I was using it. It's a fountain of youth with an amazing smell — I cannot really describe it well, it just smells fresh, but not in a way that feels forced. Some products are over-scented, and it becomes overbearing. I like that this is is subtle but also refreshing.
It has turmeric, which helps with aging signs, but I think it's the combination of all 21 plant-packed ingredients, like banana, oat, avocado, goji, and kiwi, that really makes the formula incredible for my skin. I have been using it for the past ten months, and I've noticed a huge improvement in my skin in terms of clarity and pore size. I'll never not use it."
The Moisturizer
"Probably one of the best moisturizers I've ever used. It pairs beautifully with the Double Serum [above] and has a smell that's wonderfully sweet and floral without being overpowering. Pretty awesome way to start the day, if you ask me."
The Eye Cream
"Another forever staple in my arsenal. I pop this guy on with my pinkies morning and night, and it keeps fine lines and dark circles at bay. A friend till the end."
The Mist
"Rosewater is a great top off that I use to lock in my whole routine. I love the smell and the dewy finish it leaves on my face. I either get it from my local health-food store or use this Fresh Floral Toner."
The Sunscreen
"SPF are probably the most important three letters when you live in L.A. — or just live. I'm a huge fan of this sunscreen because it's beautifully sheer and doesn't leave a gross white film or ashiness on your face like some other sunscreens tend to. I wear sunscreen EVERY DAY. I won't leave my house without it! Apply it even when you're not going anywhere, which, unfortunately, is all of us right now."
The Lip Balm
"The OG lip balm. I can't remember how I discovered it, but it's a gem, and when you know about, it you know about it. Everyone who uses this knows it's magic in a tube. Cannot recommend enough."
The Face Masks
"This is the mask that I reach for the most. I travel a lot, and, unfortunately, my skin sometimes reflects that. This stuff works like a dream. It completely reversed my skin from dehydrated and worn out to glowing and happy. I'm a forever fan. A friend recommended it a few years ago, and I think I'm on my third tube. I usually apply it after a long day on set or when I'm back from vacation — it saves my skin from harsh sun rays and airplane air."
"Manuka honey is amazing for your skin; it has natural antibacterial properties. I usually use this mask when I'm breaking out, and it clears it right up. It has saved the day on more than one occasion."