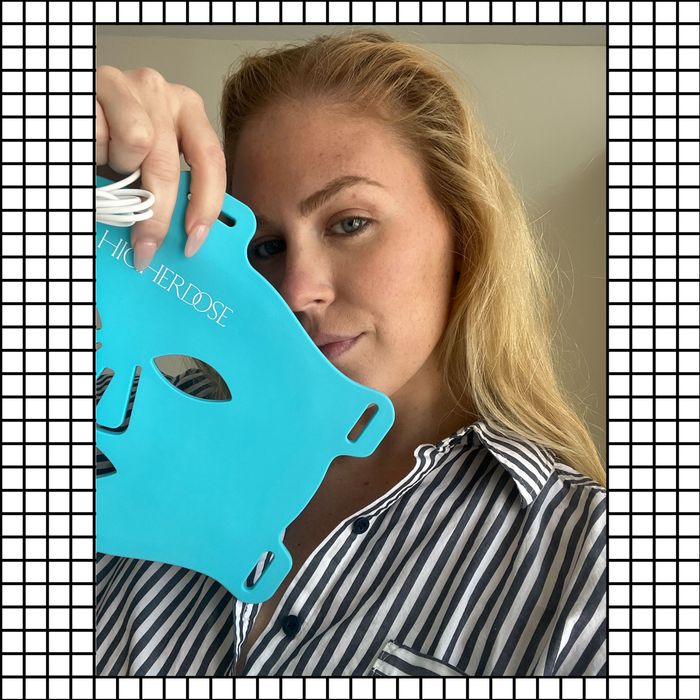 Looking glowier already!
Photo-Illustration: by The Cut; Photo: Hanna Flanagan
For more of the Cut's favorite fashion, beauty, and home finds, sign up for the weekly Cut Shop Newsletter.
Gone are the days of waiting for your next facial to experience the magic of high-tech skin-care gadgets, since at-home skin-care routines have really leveled up. And no device is more intriguing than the LED light-therapy mask. There are now several regular-person versions available online, meaning anyone can harness the power of LED light from the comfort of their own home (and without a fancy dermatologist's supervision).
FAQs
What are the benefits of using LED light-therapy masks?
LED light therapy works wonders on short- and long-term skin concerns — it can help minimize the appearance of fine lines and wrinkles, improve circulation, stimulate the skin's natural rejuvenation process, and reduce blemishes, inflammation, hyperpigmentation, and sun.
What is the difference between the types of light?
Red light: Deeply penetrates the skin to promote cell regeneration and collagen production, which helps reduce fine lines and wrinkles.
Blue light: Helps kill acne-causing bacteria and soothes the skin.
Green light: Targets dark circles and pigmentation and helps even out the skin tone.
Yellow light: Penetrates deeper than blue light to alleviate redness and rosacea and boosts circulation to reduce inflammation.
When should I use LED light-therapy masks?
LED masks can be used morning or night, but make sure to cleanse beforehand so your skin can fully absorb the light. Most of them should be used on a regular basis (5- to 20-minute treatments about five to seven times per week) and followed up with your favorite serum or moisturizer.
Below, we rounded up the best LED light-therapy masks to purchase in 2023. Keep scrolling to shop our top picks, after testing several best-selling masks myself and reading hundreds of five-star customer reviews.
This under-$100 option offers seven different light-therapy modes to help reduce wrinkles, improve skin texture and firmness, reduce inflammation, regenerate and repair skin cells, and smooth the skin. It also helps prevent breakouts and heal existing ones faster. Another major benefit? It's completely clear (unlike other options on the market), so I can walk around, get things done, and actually see what I'm doing while wearing it. If you want to dip your toes into the world of LED light-therapy masks without spending a fortune, add this one from Beauty ORA to your cart.
Pros: Affordable, lightweight, long battery life, clear design
Cons: Doesn't cover the under-eye area
Most LED face masks feature a hardshell design that simply sits on the face like a helmet. But this one from HigherDose is made from flexible, medical-grade silicone, so it molds and adapts to your unique face shape for a perfect fit every time. It emits red light to target fine lines and wrinkles while enhancing my natural glow and boosting my overall mood. I end my daily ten-minute sessions looking and feeling refreshed and rejuvenated.
Pros: Has multiple head straps, lightweight and portable, easy to clean, available at several major retailers, including Amazon, Revolve, and Bluemercury
Cons: Only has one-light therapy mode
The Colorful One That Gets Your Neck Too
This wireless mask features seven different color options to address every issue imaginable on the face: red and blue (the usual suspects) along with green (for discoloration), yellow (for fine lines and wrinkles), purple (for scar reduction), light blue (for a more soothing acne treatment), and white (which tightens and penetrates the deepest). It also comes with a bonus attachment for the neck, arguably the most overlooked part of skin-care routines (sad).
Pros: Affordable, covers face and neck, has five levels of intensity, comes with a one-year warranty
Cons: Heavy, has to be worn while lying down (because it doesn't have a strap)
The Speedy One
If you have things to do and places to be, strap this baby on. Using two different wavelengths of red light, it focuses all its energy on firming and evening everything out. Stick to ten-minute treatments three to five times a week, and you'll look generally glowier and healthier in just four weeks.
Pros: Lightweight and easy to use, flexible design, delivers noticeable, long-lasting results in just one month
Cons: Tends to slide around a bit on the face
The Flexible One
This soft, silicone mask is less hockey goalie and more like an actual face mask that molds to your face shape for a more comfortable treatment. If you have overall rejuvenation in mind, this pick delivers red light and near-infrared 830-nanometer light, considered one of the most powerful of the wavelengths, to stimulate healing and improve blood and lymph circulation while you kick up your feet, sit back, and relax.
Pros: Suitable for all skin types, comes with a storage bag and three global power adaptors, flexible enough to use on the neck and chest, helps with hydration
Cons: Expensive
The Popular One
This LED mask from Dr. Dennis Gross is one of the more fashionable ones on the market. It comes with gold accents, 162 LED lights, and three treatment options to choose from: red-light therapy, blue-light therapy, or red- and blue-light therapy. Each treatment only takes three minutes, so if you like to keep your skincare routine short and sweet but still want to try an LED mask, add this one to your cart. Plus, it's lightweight and completely hands free.
Pros: Dermatologist-created, convenient and efficient, automatically shuts off when your three-minute treatment is complete, has adjustable straps
Cons: Some testers say the acne-fighting mode (blue light) is more effective than the anti-aging mode (red light)
The One That's Under $100
If you want to harness the power of LED light without dropping half a grand, this millennial-pink mask is a good place to start. You'll have to wear it around longer than most models to reap the same benefits (15 to 30 minutes compared with the typical three to ten minutes), but it's wireless, comes with three different wavelengths (blue for acne, red for anti-aging, and orange for a nice overall glow), and has a price tag that isn't in the triple or quadruple digits.
Pros: Affordable, lightweight and cordless, several testers say it noticeably evened out their skin tone in just a few weeks
Cons: Should be worn for 15–30 minutes
The Celebrity Favorite
You've probably seen this haunting creation creeping on your Instagram feed thanks to celebrity aesthetician Shani Darden, who uses its whopping 770 LED lights on her celebrity clients. It will set you back $1,900, but you'll probably end up looking like January Jones, Jessica Alba, Nina Dobrev, or a Kardashian in terms of skin texture.
Pros: Has four different wavelengths and six different settings, easy to clean, purchase includes a custom neck piece and handheld controller, comes with a limited two-year warranty
Cons: Not as comfortable as some of the other masks on this list
The One That's Clear
This mask is like those weird Kanye glasses except it's for your entire face and you can actually see out of it without lines obstructing your view. It's designed to be very wearable and suitable for when you're on the go (the mask is set on a glasses frame so it won't slip or fall off should you travel from room to room), so you can continue doing whatever you're doing while treating your skin to red, blue, or yellow lights.
Pros: Clear design, automatically shuts off at the end of each 15-minute session, cordless and hands-free
Cons: The nosepiece is a bit uncomfortable; has a pretty short battery life
The One to Keep on Call
If your skin is temperamental, it's nice to have a well-rounded, high-performance mask on call. Designed to replicate MZ Skin founder Dr. Maryam Zamani's in-office treatments, it comes with five different light settings (red, blue, green, yellow, and white) so you can focus on anything from inflamed breakouts to the annoying scars and discoloration those pimples sometimes leave in their wake.
Pros: Features a unique yellow light to reduce redness and boost circulation, you'll start to see results in as little as two weeks, comes with an adjustable head strap
Cons: Might leave marks around the eye and nose area, depending on your face shape
The Renowned, Wireless One
The CellReturn mask is one of the best-selling masks in Korea, where skin care reigns supreme, and its stats shed some light on why. Made with NASA-developed technology, an impressive 690 LEDs, three wavelengths of light (red, pink, and blue), zero cords, zero wires, and no control panel (you tap your forehead to switch wavelengths), it simply becomes one with your face. You'll notice plumper and dewier skin after just one use! Then, overtime, it will help improve elasticity, reduce blemishes, and diminish the appearance of fine lines and wrinkles.
Pros: Helps boost the efficiency of your other skin-care products, features an ergonomic design for maximum comfort, also targets the ears and neck, comes with a storage bag
Cons: (Very) expensive
The One for Targeted Areas
Photo: Retailer
This is definitely not a mask, and it isn't a razor either (even though it looks like one). While it's not conveniently hands-free like the majority of the products on this list, the small tool from Solawave is ideal for those who want to reap the benefits of red-light therapy, micro-current, or a warm facial massage, in targeted areas. I simply glide it for five minutes per day while watching my favorite show, scrolling through TikTok, or reading a book.
Pros: Affordable, convenient and efficient, portable and travel-friendly
Cons: Has a pretty short battery life
The One That's Customizable
This might look like an actual UFO, but before you say "nope," hear us out. The Foreo UFO 2, alongside its accompanying app, offers customizable 90-second LED-light sessions that will de-puff, heal, and rejuvenate your skin. Simply make sure to apply a face mask or serum before kicking off your at-home treatment.
Pros: Ideal for all skin types, made from ultrahygienic silicone, instantly gives the skin a healthy-looking finish, available in three cute colorways
Cons: Pairing it with the app can be a bit of a hassle