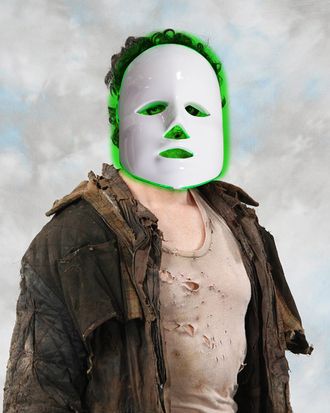 Photo: Solent News/REX/Shutterstock, Getty Images
Since everyone is obsessed with skin care these days, regular at-home routines have really leveled up, especially in the tool arena, and no skin-care gadget is as intriguing as the LED light-therapy mask.
Celebrities are no longer the only ones who get to wear luminescent masks and haunt the public's dreams by Instagramming their LED selfies. There are now several regular-person versions available online, meaning anyone can harness the power of LED light — usually of the blue (bacteria-killing) and red (collagen- and elastin-stimulating) varieties — without a fancy dermatologist's supervision.
Now anyone can reduce inflammation, acne, wrinkles, and discoloration at depths that topical products can't, and look like a sociopath ascending from the depths of hell while doing it. Here are nine LED light-therapy masks that will make you look glow-y on the inside and upsetting on the outside even when it isn't Halloween.
The Anti-Aging One With Embellishments
This LED mask from Dr. Dennis Gross is one of the more fashionable ones on the market. It comes with gold accents, 162 LED lights, and three treatment options to choose from: red-light therapy, blue-light therapy, or red and blue–light therapy. This mask is lightweight and completely hands free so you can carry your chainsaw, machete, or ax with ease.
The Sleek, K-Beauty One
If you're a K-beauty fan, there's a Korean LED face mask just for you! This one comes from LG, maker of things we cherish like flatscreens, refrigerators, and cellphones. All that appliance expertise has been channeled into a mask that hits the skin with red and infrared LED light in quick, nine-minute sessions focused on improving skin elasticity and brightness; both important ingredients for all those dewy skin looks K-beauty introduced us to. The lack of a mouth hole or slit make this a great option if you're going for a Jason Voorhees vibe.
The Celebrity Favorite
You've probably seen this haunting creation creeping on your Instagram feed thanks to celebrity aesthetician Shani Darden, who uses it on her celebrity clients. It boasts a whopping 770 LED lights and you can own it too! It will set you back $1,900 but you'll probably end up looking like January Jones, Jessica Alba, Nina Dobrev, or a Kardashian in terms of skin. The very slight upward curvature of the mouth slit on this model makes it a solid pick if a Strangers look is more your style.
The One That Comes in a Bunch of Colors
Want to hit your skin with everything you've got? This mask features 150 LED lights, five intensity settings, and seven different color options: red and blue (the usual suspects), along with green (for discoloration), yellow (for fine lines and wrinkles), purple (for scar reduction), light blue (for a more soothing acne treatment), and white (which tightens and penetrates the deepest). This one is the most smiley mask of the bunch, making it a good option for a Purger look.
The One That Gets Your Neck, Too
Similar to the Dermasmoothe Pro, this mask comes with seven different light colors to treat every skin-care issue imaginable on the face. Project E's mask goes a step further with a bonus attachment for the neck, arguably the most overlooked part of skin-care routines (sad). In addition to being more inclusive, the neck portion on this model gives the whole look a straitjacket feel, making this one a good option if you're looking to channel Hannibal Lecter for the holiday.
The One That's Clear
This mask is like those weird Kanye glasses, except for your entire face and you can actually see out of it without lines obstructing your view. It's designed to be very wearable and on-the-go, so you can continue doing whatever you're doing (like holding prolonged eye contact with strangers to make them uneasy) while treating your skin to red, blue, or yellow lights. The fun line designs on the red setting are a nice ode to that creepy puppet thing in the Saw franchise. Bonus: Since the mask is set on a glasses frame, it won't slip down or fall off while you ride your tiny tricycle around in the darkness.
The Flexible One
Do you value personal comfort while lurking and skulking? This soft, silicone mask is less hockey goalie and more like an actual face mask that molds to your face shape for a more comfortable treatment. This mask's goal is rejuvenation via red light and near-infrared 830-nanometer light, considered one of the most powerful of the wavelengths, to stimulate healing and improve blood and lymph circulation. Due to its more contoured nature, this pick can help emulate the chiseled cheekbones of the Scream mask. Take advantage of the headbandlike strap to keep bangs tucked away so you can slip your hood on and off with ease.
The One to Keep on Call
If your skin is temperamental, it's nice to have a well-rounded, high-performance mask on call. Designed to replicate MZ skin founder Dr. Maryam Zamani's in-office treatments, it comes with five different light settings (red, blue, green, yellow, and white) so you can focus on anything from inflamed breakouts to the annoying scars and discoloration those pimples sometimes leave in their wake. The nice gold finish on this mask makes it versatile in the disguise realm, as well. Strap it on for some techy cyborg assassin vibes or perhaps a more modern take on Goldenface from Threat Level Midnight.
The Renowned, Wireless One
The CellReturn mask is one of the best-selling masks in Korea, where skin care reigns supreme, and its stats shed some light on why. Made with NASA-developed technology, an impressive 690 LEDs, three wavelengths of light (red, pink, and blue), zero cords, zero wires, and no control panel (you tap your forehead to switch wavelengths), it simply becomes one with your face and makes it firmer, plumper, and younger-looking. Funnily enough, its rotund shape also does this to your face while you have it on, making it perfect for the nefarious chubby baby look, like in Happy Death Day.
This article was originally published October 17, 2018. It has been updated throughout. If you buy something through our links, New York may earn an affiliate commission.