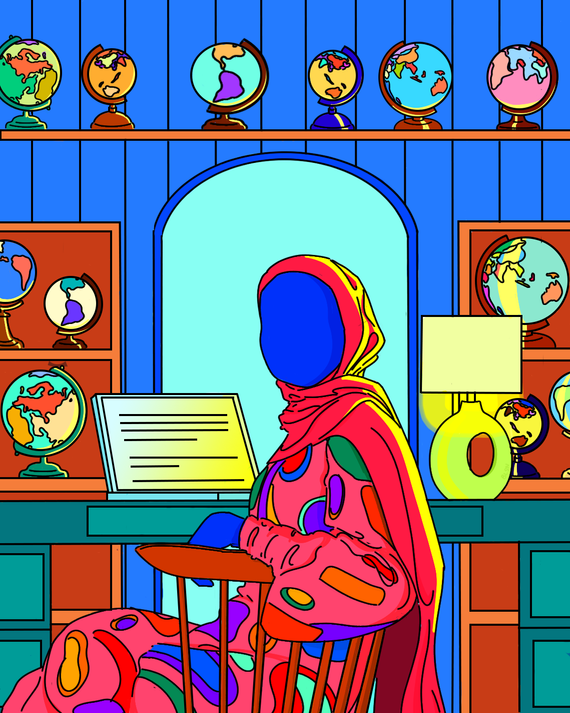 Illustration: By Blacksneakers
Being able to move abroad is often a symbol of money and privilege. It can also indicate a degree of freedom, a sign that one need not be constrained to a certain area of the world or lifestyle, and as such it's a move that's become increasingly attractive to Black professionals in the U.S. As an expat who has lived in Europe, Asia, Africa, and Central America, I often meet a lot of people who are considered "digital nomads," who work mostly internet-based jobs from anywhere they please around the world. And yet, when I travel, I notice a pervasive assumption about who is meant to move on their whims or chase a faraway opportunity (read wealthy white people). When people encounter me — a Black Muslim woman from PG County, Maryland, who wears a hijab — abroad, I can see that their curiosity about what I'm working on also comes with an unspoken air of "but how are you doing this too?"
White people often do it to "see the world" or "explore" in ways that may include backpacking through Europe or taking a gap year from their studies. I was a college-educated woman working three jobs, living on food stamps, and trying to navigate a career in broadcasting that forecast a very unpromising future. And then there was Sandra Bland — a Black woman who died in police custody after a "routine traffic stop" — which exacerbated my anxiety to a level that I refused to continue to live through. Her murder, on top of all the others at the hands of police or racist vigilantes, was merely the straw that broke the camel's back.
When I booked a one-way ticket out of America, I was trying to live. And meeting my husband in Cairo, Egypt, was the confirmation that I needed to know that this lifestyle was possible. My husband, who is also Black American, and I never lived together in the States but instinctively knew that we couldn't start a family there. Leaving was a salve for the anxiety and heartbreak we felt watching the ceaseless police brutality and our effort to protect our Black son's future. For the last several years, I've found work as a freelance writer and my husband has coached American pro football abroad.
Since getting married, we have also lived in Poland, Malaysia, two cities in China — including Wuhan, the original epicenter of COVID-19 — and now Mexico. White Americans are often celebrated as "global citizens" for being able to successfully maintain careers abroad, and yet I have never fully received that worldly designation as a Black mom who birthed a son in another country, now a 3-year-old who can speak three languages. And while Black expatriation may have just landed on some people's radar, Black artists like Maya Angelou, James Baldwin, Josephine Baker proved a generation ago how much escaping America's brand of racism freed them to create their seminal works.
When the coronavirus took hold in China, my family was displaced from our home in Wuhan. As the pandemic spread throughout the country and the world, me, my husband, and our son bounced among hotel rooms in Malaysia, trying desperately to figure out how we'd continue our nomadic lifestyle as the world locked down around us. After the pandemic began, we journeyed from Malaysia to Singapore to the Czech Republic, where my husband received a new contract. We were in search of a place to ride out an unprecedented crisis. All of which took a toll on our finances.
We knew that if we returned to the U.S., there was no place we could afford because my husband would not be able to work.
I decided to interview for some full-time remote positions in hopes that we could sustain ourselves no matter where we were. When I applied for a travel-writing position, I knew that I was qualified — I had the skills, a résumé stacked with all the travel publications around the world that I'd written for, and a lot of stamps on my passport. I made sure to tell my future editors that I had been living abroad for years and that I intended to continue to do so.
Around the time I was supposed to start work in March, my husband and son had gone ahead to the Czech Republic to get set up while I continued interviewing for jobs. When I went to meet back up with them, I was denied entry due to the borders closing. COVID-19 had spread everywhere, and it felt like our life was hanging in the balance. I ended up onboarding from a hotel in London, quietly stressing out about the already two-week separation from my husband and child.
But all I could think was that I had to be on point. There was no way to convey, this early in my employment, that I was crying every few minutes due to missing my son and not knowing when I would see my family. I had been used to 9-to-5 jobs where my bosses kept a watchful eye on me. And I knew that as the only Black employee at the site, I had no room to mess this up.
Within days, however, my husband was notified that his season would be canceled, which led us back to the U.S. for three months. To be clear, we did not want to come back to America. But because no other countries were allowing any travelers who had been in the United Kingdom, we made our way back — to Atlanta, Georgia. It was May, right around the time that George Floyd (and so many others) were brutally murdered and protests ignited across the country — reminding us why we chose to leave in the first place. Upon our arrival, COVID was disproportionately claiming the lives of Black people en masse, and the renewed focus on police brutality reignited my anxiety to the point that I made an appointment to get an EKG after experiencing chest pains so severe that I believed I was having a heart attack. I began researching which countries were accepting travelers so that we could leave.
Our whole reason for living abroad was to extend our lives. I just couldn't continue to be in America while trying to function as a full-time employee, a sane mother and wife. When I found out that there were no restrictions on flying to Mexico, I booked flights immediately, and in early June, we landed in Cancún. But within a few days of my family's arrival to Mexico, I was informed by my boss that human resources was attempting to rescind my employment because the offer was supposedly U.S.-based and that they could not "support an international employee."
Two weeks later — after days of back and forth with my union reps and the company's HR — I received an email from human resources that I'd been terminated, "effective immediately," and within ten minutes, my Slack, work Gmail account, and MacBook had all been shut down before my editor-in-chief or union rep had been informed of the decision. It felt like treatment you'd dispense to an employee who stole something from the company.
I felt gaslit and angry, like I'd been set up. When I interviewed, my living abroad was celebrated and my editors seemed to think that it added value to my role. And yet I was seemingly fired for the same reason I was hired, for traveling and living internationally.
When I meet non-Black people abroad who are considered digital nomads, they are often employed by companies that support their decision and trust them to get the job done. The running vote of confidence that I often hear is, "As long as I have Wi-Fi, I can work from anywhere." My initial thought, hearing this as a freelancer with no salary or benefits was, Must be nice. The Black digital nomads that I know are entrepreneurs and almost always work for themselves, having tired of being told by former employers that they were not allowed to be out of the office.
What happened to me is an extreme scenario, but Black women are often made to feel that they are not trusted to perform the basic functions of their job. Netflix's newly minted global chief marketing officer, Bozoma Saint John, recently admitted via Instagram Live that she had to get emergency surgery but hesitated to tell her boss because she didn't want to seem like she was unequipped to do her job, which she had just started that same week. This anxiety is a testament to what Black women continue to endure to prove their integrity, even if that means compromising their safety and sanity.
We are in the midst of forceful reckoning around race and inclusion in American workplaces, yet the power structure of racism and white supremacy continues to show the world that Black women are disposable despite the fact that we create, nurture, and lead everything that is popular in all societies around the world. At the moment, I'm still unemployed. But going into any new position, I will continue to be unapologetic about my lifestyle, safety, and livelihood as a Black American woman. No company is worth compromising my safety for. As long as Black men and women continue to be killed by police on the streets, in their beds, and at their jobs, I will not live in this country. I know it's not safe to come home.