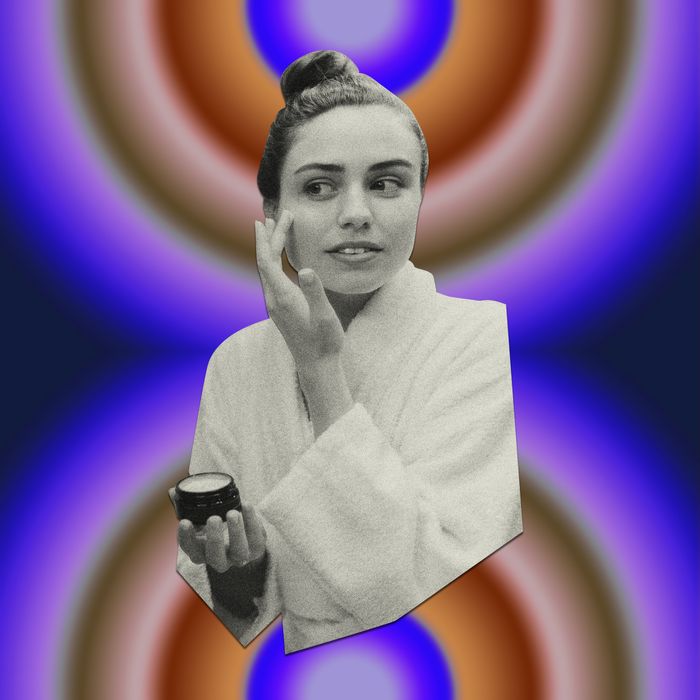 Photo-Illustration: by The Cut; Photo: Getty Images
Hey, Jenn,
I'm in need of some serious beauty help. I am religious with my SPF and rely on self-tanner for my bronzed body glow. The problem, however, is my face. It looks ghostly white in the summer compared with the rest of my body. Self-tanner may be the obvious answer, but the problem is that I'm also an oily girl who relies on glycolic acid and benzoyl peroxide to keep acne away. Liquid exfoliants and self-tanner don't really go together, do they? Any suggestions? I haven't tried using them together yet because logic tells me 1+1=0. But maybe I'm wrong? Thoughts and anecdotes, please! 
Much love, 
Kylie  
Self-tanners and exfoliants don't typically play well together, but the problem isn't as simple as 1+1=0 (which would mean nothing happens when you use them simultaneously). Something will happen. You'll get a blotchy-looking bronze. But you can solve this problem in three ways: stick to an alternating schedule of self-tanning and acne upkeep, try one product that doubles as an exfoliator and a self-tanner, or bronze yourself with makeup. Each has its pros and cons, so let me walk you through them.
First, let's start with the alternating schedule. The active ingredient in most self-tanners is dihydroxy acetone, which reacts with the amino acids in the outer layer of your skin to form melanoidins, or brownish pigments. Benzoyl peroxide and glycolic acid (an alpha hydroxy acid) are very different ingredients, but you're right that they both act as exfoliators, meaning they can "wipe out the pigmentation from the top layer of your skin, leaving you with a weird, uneven color tone," says product formulator Mary Berry, CEO and founder of Cosmos Labs. Her suggestion: Use your anti-acne products at night; then, in the morning, wash your face with a non-active cleanser (i.e., one that doesn't contain acne medications or exfoliating acids) and apply a self-tanner that will develop the same day, such as St. Tropez Self Tan Purity Vitamins Face Serum ($35). You'll have a "tan" for the day, and then if your nighttime exfoliating removes any of the color, the next morning's application of self-tanner will even things back out.
Sounds great, right? I think it's worth a try. But in my experience, this strategy isn't sustainable. I've tried this skin-care roller coaster. It worked for a few days at a time, but inevitably the exfoliator does more exfoliating than the self-tanner does tanning (or vice versa) and things start to look patchy. Hopefully, you'll have better results.
If things don't work out, your second option is to use a product that's an exfoliator and a self-tanner, like Dr. Dennis Gross Alpha Beta Glow Pads for Face ($39). "This is one of my absolute favorite brands," says Berry. "They've encapsulated the self-tanning ingredients, which means the AHAs have the chance to do their thing first and the self-tanner kicks in later." I love this idea! Not only have I used and liked this product, I recently talked about your question on my podcast and several listeners called in to suggest the same thing.
The only problem you may run into with the Dr. Dennis Gross pads is if the exfoliating ingredients aren't enough to manage your oily skin and acne. The pads contain two AHAs (glycolic and lactic acids) as well as an oil-reducing BHA (salicylic acid, a well-known anti-acne medication). But they don't contain benzoyl peroxide, which you mentioned has been working for you. Still, I think it's worth trying them out to see if they're enough to manage your oiliness. And if the blemishes return, you can just revert back to your regularly scheduled anti-acne regimen.
Finally, your third option is to match your face to your body with makeup. If you wear foundation, try going a shade deeper for the summer; even if it doesn't match your body perfectly, you'll at least bring the two skin tones more in alignment. Not into foundation? Then liquid bronzer is the way to go. You can wear it alone, all over your face, or mix it into your moisturizer. Since your goal is to look like you have a natural tan, I'd suggest something without shimmer, which is actually hard to find. (For some reason, the beauty industry loves to add shimmer to bronzing products, as if we're vampires from Twilight who sparkle when the sun hits our skin.) But two I can vouch for are Perricone MD No Makeup Bronzer ($35) and Dr. Hauschka Translucent Bronzing Tint ($29). You could also experiment with the bronzers designed for men, which are almost always shimmer free. (The beauty industry also seems to think men should be matte. I don't make the rules.) Tom Ford for Men Bronzing Gel ($45) is one of the best, but the pigment is concentrated so use it sparingly.
Hopefully, one of these strategies will work for you. And don't forget there's also another option: Get comfortable with the way your skin looks in its natural, unbronzed state. It may take some time to get used to seeing yourself without a fake tan, but I'm sure you can get there. Email me to let me know how it goes!
.

Products to Try
Jennifer Sullivan answers all your beauty-related questions with practical advice and zero judgment. Send your questions to AskABeautyEditor@nymag.com. (By emailing, you agree to the terms here.)