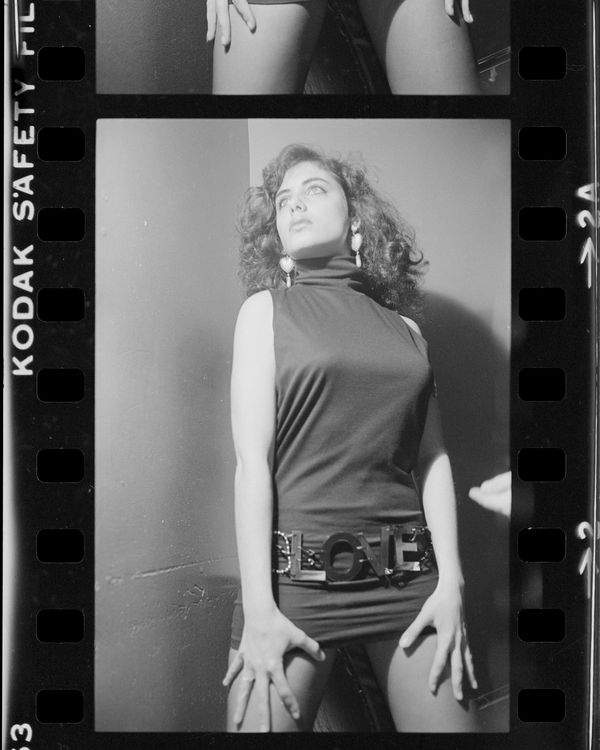 "Lisa Edelstein, a nice girl from a New Jersey suburb, is explaining how she got to be Lisa E., New York's reigning Queen of the Night, Girl of the Moment, new Edie Sedgwick and top 'celebutante' of 1986. 'Being a celebutante means you're famous for not really doing anything,' the 20-year-old says. 'You just try to get to know as many people as you can, so that you know everybody.'" — Maureen Dowd, "Lisa in Wonderland," New York Times, 1986
I met James St. James in an elevator at the dorm at NYU in 1984, when I was a freshman, and I fell in love with him immediately. James and I were really on a mission to take ourselves from obscurity to having a presence in the world. He'd scour Details magazine cover to cover, memorizing who everybody was. Our first task was just getting into AREA. There were huge crowds outside, so we would just dress fabulously. Why were we picked out of the crowd? I can't tell you, but we were. James had this whole thing where we'd go into a club, and we'd go in the opposite direction in a really crowded room, and we'd each ask if anybody had seen the other one. Nobody knew who we were — but we'd pretend they did know us, so we'd say, "Oh, did you see James? Did you see James?" And then we'd get to the other side of the room and we'd go around together and we'd be like, "Oh my God! Found him!" "I found her!" So that was his way of getting everybody to know our names. It was a very intentional experience. I was like a whirling dervish. Like, I didn't know who anybody was. Really. All I remember is being shoved in this direction or that in very tight dresses and being super-enthusiastic. Boy George would be there or Madonna would be there or whoever.
I had terrible clothes. I was still wearing stuff that I wore to synagogue when I was 15. I hit puberty on the club scene. I was an A-cup when I started and then I was a double D. All of a sudden, I had these big boobs and this big butt, and so I had three tight dresses that I wore over and over and over again.
Little by little, Patrick McMullan started taking my picture and putting it in the paper. Then we got on shorter and shorter lists in terms of the events that were happening, and we were used as a way to describe a party — like, we were on a list as part of a descriptive explanation of what happened that night. We were in the social columns. I didn't even know NYU knew anything about it until The New York Times Magazine profile came out about me and the dean called me to his office to discuss my future.
After it came out, because my phone number and my address were in the phone book, I had about 40 men stalking me and jerking off on my tape-recording answering machine. So I'd be trying to get my messages, and I'd have to wait for somebody to come to just get to the next message. And, you know, I'm young. I had men just waiting for me in front of my apartment. I had men trying to marry me. All of it was very disgusting. And I didn't have anybody to talk to about that stuff because I don't come from a showbiz family. I just sort of held it in and got really depressed. The people in the club scene were really resentful, and I can understand why. I hadn't earned the attention in their minds. They hadn't seen me do anything. And I was in a community of people who were doing a lot of things, really interesting people. And a lot of really interesting people who were dying of AIDS, left and right. And what happened from the resentment was that people started making up stories about me. So I realized that with celebrity, you lose power over your own reputation. I learned that celebrity was not my goal. I learned that it was actually a place of less power in some situations. I also realized that the character "Lisa E." that I had been playing for two and a half years, at that point — I needed to graduate from her. So I actually stopped going out. I mean I went out occasionally. Those were all the people I knew in the world. But I would take jobs where I would work in bars where I knew nobody went. I just wanted to retreat. I was always compared to Edie Sedgwick. And I was like, 'But Edie didn't make it.' She had a very sad ending. And that's what I mean! I think that ultimately that's what it's for — it's not for happy endings.