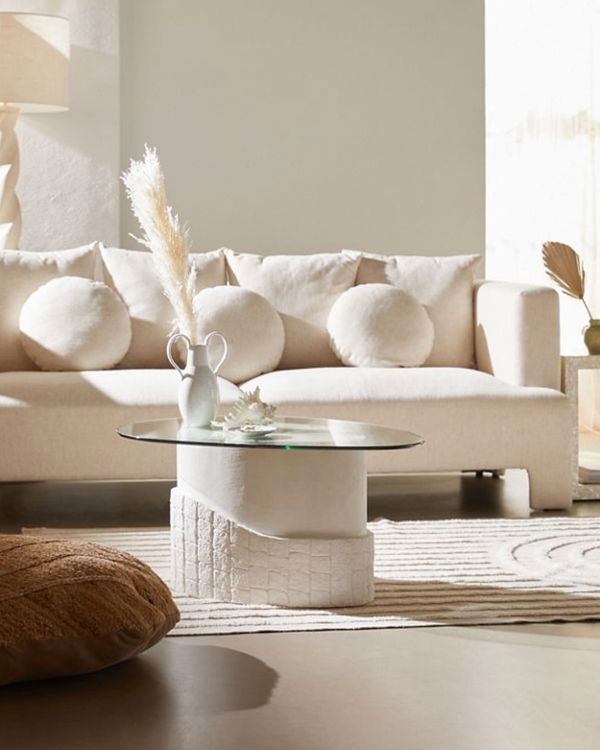 Photo: Courtesy of the vendor
Kate Greene spent four months living in a geodesic dome and pretending to be on Mars for a NASA experiment in human isolation. Back in March, she offered Slate her advice for coping with the loneliness and monotony of the coronavirus lockdown. One tip: Rearrange your furniture. "Changing your environment is one way to interrupt boredom," she explained.
If you've been spending a lot of time in your living room, this might be welcome advice right now. But decorating — whether you invest in new furniture or just move around some art — works best when you have a plan, and a plan requires inspiration. To help, we've created a virtual mood board by pulling 30 of the best living-room ideas from Instagram. Scroll down for tips and tricks to make your living room more interesting.
1. Uncoordinated Accent Chairs
You don't have to color coordinate your living room down to the curtains, chairs, and throw pillows. Actually, sometimes it's better if you don't. Take editor Clara Cornet's airy Parisian home: The similar accent chairs in different colors are a pleasantly unexpected choice.
2. Industrial Details
A polished concrete coffee table offers a more affordable alternative to the omnipresent marble coffee table. It also lends a utilitarian edge without feeling too cold and is an ideal platform to showcase a sculptural vase or glossy coffee-table book.
3. A Trendy Abstract Rug
If you're over the Moroccan shag-rug craze, might we suggest something punchy and abstract, like the rugs from cool-kid décor brand Cold Picnic? Its signature blobby shapes give each rug a ton of personality, but they come in shades that are just muted enough to go with a range of furniture.
4. Some Thoughtful Decorative Objects
So you already have a couch and a coffee table that you love, and you're not looking to change much else. Decorative pieces are like the icing on the proverbial living-room cake. Adding an interesting vase, candle holder, or shiny magazine rack takes your living room to the next level without the hefty expense of brand-new furniture.
5. A Color-Blocked Couch
The modular couch is making a comeback. A simple way to make an off-the-shelf version look custom is to take advantage of the build-your-own option at stores like Urban Outfitters. Try mixing up your modular sofa by choosing different colors for each part: the couch below comes in four pieces and eight different shades.
6. Black Pieces to Add Contrast
Neutral living rooms can look summery and fresh, but you never want to hit the point where it looks like you're living in a box of saltines. The judicious use of a strong, authoritative shade like black can offer some contrast. In the room above, the black coffee table, side table, frames, and lamp play off the room's serene, light-colored palette.
7. Double Coffee Tables
Break up the monotony of a single coffee table and introduce two smaller ones. They can even be different shapes, as seen above.
8. Multifunctional Books
It's the oldest trick in the interior designer's playbook, but it makes good use out of a pile of old magazines and books (which you might already have). Aesthetics matter here, so avoid torn, distressed, or ripped issues.
9. Spider Pendants
Black, leggy-looking, Alexander Calder–y "spider" pendants like these are trending on the design scene, so get the jump and order one now.
10. A Wild Card (or Two)
On the other hand, sometimes it's more fun to forget about trends and just throw together some stuff you love. Take a cue from designer Ellen Van Dusen, whose vibrant Brooklyn apartment boasts a large tulip statue, a lime-green geometric bookcase, and prints galore.
11. Leaning Wall Frames
Figuring out how to secure artwork on your walls can be risky business for renters. Leaning your art against the wall is not only easier, but it allows for more flexibility should you get bored and want to reconfigure your space. Stick with larger pieces of framed work for an intentional effect.
12. Monochromatic Art
We still enjoy a good Matisse, but monochromatic art is a nicely understated alternative.
13. Carve Out Mini-Spaces
If you're trying to get more use out of a living room in a smallish apartment, try breaking it up into smaller vignettes. Add a small table and ottoman to a corner for a new place to drink your morning coffee, or add a big cozy chair and lamp for a makeshift reading nook.
14. A Soothing Palette
Nothing soothes the senses more than a palette of dreamy neutrals. Just make sure you're not someone who spills a lot.
15. This Danish Favorite
Ikon København is a Danish interior-design company founded by two sisters in 2016. Its flagship design is a table constructed out of tiles in black, white, or happy-go-lucky shades like pastel blue and pink. The tables are a favorite of the subset of fashion Instagram that's obsessed with Scandinavian style.
16. A Long, Slinky Chaise
Chaises are about as necessary as whipped cream on a latte — you don't need one, but it feels so decadent. Lie on it for a lazy afternoon nap, or use it as a place to Zoom with friends.
17. A Low, Chunky Sofa
Sofas are expensive, but a good one is worth it for three simple reasons: Visually, it'll anchor your living room. It's where your butt will be 90 percent of the time. And the sad truth is that hard, uncomfortable sofas really do suck. These chunky, legless couches are having a moment. With typically deeper cushions, you'll get a nice, cozy, sunken-in feeling.
18. Tons of Plants (Like, Almost Too Many)
Not everyone is cut out to be a minimalist. More books, more plants, and more small, unique side tables give this space a cozy, lived-in feeling that doesn't look messy.
19. A Fun, Fanciful Mirror
Ettore Sottsass's "Ultrafragola" mirror should have its own Wikipedia page by now. Beloved by Bella Hadid and Frank Ocean, it was also the co-star of a Domino magazine cover, ushering in a new wave of whimsical mirrors. Gustaf Westman's wavy mirror is another designer favorite, but if you don't have "made to order" money, Urban Outfitters is a more affordable iteration.
20. Primary Colors
When painting is out of the picture, liven up white walls with a theme of bold primary colors. Architect Giancarlo Valle does this subtly with yellow accent pillows and a red table.
21. Pampas Grass
Pampas grass is the lazy person's freshly cut flowers: It'll make your home look more chic and deliberate, but you never have to worry about keeping its alive. Stick it in a simple Ikea glass vase or a ceramic pitcher.
22. Printed Throw Blankets
Don't wait for the colder months to pull out your favorite throw blanket; use a graphic patterned throw to break up a boring couch.
23. Textured Pieces
Texture can make a monochromatic living room feel less flat. Notice how Athena Calderone uses marble, velvet, and ceramic to add complexity to her warm, modern living room above.
24. Sun-Enhancing Accents
The key to a good Instagram photo is natural sunlight. If you don't have much of that available, you can mimic it with coastal Mediterranean shades like blush, terra-cotta, and cerulean. Sheer curtains also won't hurt.
25. A Sofa that Matches Your Plants
Even if your green thumb fails you, your couch will make up for it.
26. A Statement Coffee Table
If a sofa is the foundation of a living room, and the rug ties everything together, then the coffee table is the center of attention. You'll want a commanding, unique piece that can house coffee-table books and other tabletop décor with style.
27. Colorful Furniture
Should your senses require a little more stimulation. That doesn't simply mean choosing random colorful objects and sticking them together. You'll want to go for décor that evokes Memphis design, meaning vibrant colors and geometric shapes.
28. A Vintage Couch
If Instagram is any indication, millennials are diving into vintage furniture headfirst, and websites like Chairish, Etsy, and 1stdibs are there to help. It's not a cheap endeavor, but it'll let you find furniture that's truly one of a kind, plus it's a more sustainable way to shop. Michel Ducaroy's Togo and anything Milo Baughman are especially coveted.
29. Pink
Yes, the color has been everywhere for years now, but it still can brighten up a room and make you feel happy like no other color can.
30. Rustic, Earthy Influences
Wood and earthen accents feel warm and inviting and add a way more personal touch. Opt for handcrafted pieces from smaller designers rather than going the mass-produced route.
If you buy something through our links, New York may earn an affiliate commission.