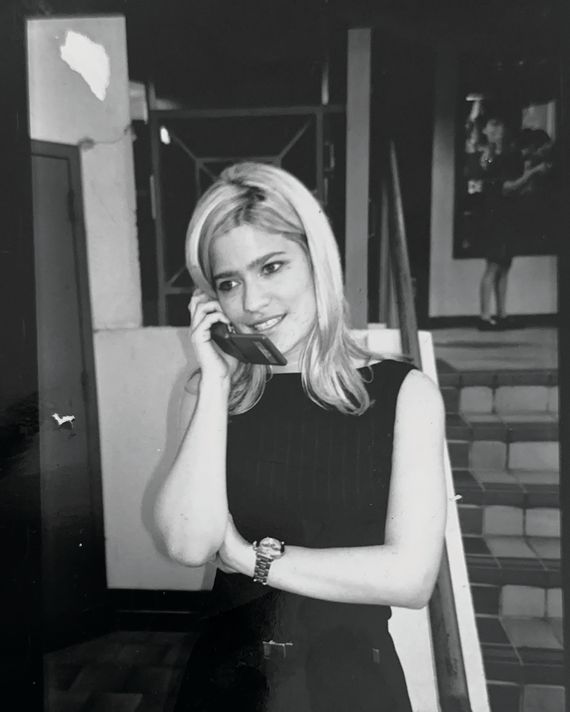 Photo: Courtesy of the Subject
I'm very apprehensive about doing media because of several reasons in my history," says Lizzie Grubman, who met me for lunch at the Grill off Park Avenue. She orders the tuna ravigote and says, rather convincingly, "I'm not a big eater." She's dressed all in black — she's got on knee-high Dior boots and a Prada jacket — her hair is as blonde as ever (she says she gets a blowout five days a week), and her voice is raspy. "How old are you?" she wants to know. "Tell me your history. Then you can ask me any question. Let's get to know each other."
I already know a lot about her. Way back in 1998, when she was 27, Grubman was one of three "Power Girls," along with Lara Shriftman and Ally b. (the b. was for Bernstein), photographed wearing little black dresses at then–hot spot Moomba for the cover of New York Magazine. Grubman was clutching a flip phone and grinning mischievously. The story, written by Vanessa Grigoriadis, told how a pack of young publicists (seven altogether) ruled Manhattan's celebrity promotional-branding scene. They were the gatekeepers in this pre-social-media era when "Page Six" was all powerful and the New York Observer a must read. They anointed clubs, made various journalists' careers by dispensing access and tidbits, and controlled door lists in an endless exchange of favors and fees. They became famous in the process. None more so than Grubman.
She had a head start. Her father is Allen Grubman, a big music-business lawyer. She grew up on the Upper East Side, bounced around high schools, and dropped out of college. But that didn't slow her down. As Madonna (one of her dad's clients) told Grigoriadis, "She's had balls ever since she was a little kid."
But then, in 2001, Grubman literally crashed. While out partying in the Hamptons at a club called, of all things, Conscience Point Inn, she reversed her father's black Mercedes-Benz M320 SUV into a knot of people. Some witnesses said they heard her shout, "Fuck you, white trash!" at a bouncer. Grubman always denied saying that, and she insisted it was all an accident. The ensuing Schadenfreude was like Lindsay Lohan's line at the end of Mean Girls: "Some people swear they saw me push her in front of the bus. That was an even worse rumor."
Nobody died, but there were lawsuits and broken limbs, and the tabloids swarmed. Grubman spent 38 days in jail but soon came roaring back, starring in a 2005 MTV reality show called PoweR Girls (that capitalized R is for PR, okay?), which was basically The Apprentice but for aspiring flacks. It lasted one season.
Grubman and that magazine piece, if not the TV show, have become iconic to a certain kind of ambitious young city person (Kaitlin Phillips, the well-publicized publicist, has it on display in her apartment). That cover went semi-viral again recently after Substacker Gabrielle Moss tweeted out, "time for the annual re-read of my favorite religious text."
Grubman is 52 today and still in the PR game. She's got a staff of five, does some corporate-communications work, and has dabbled in crisis PR, too. "No one knows better than me, okay?" she cracks while sipping sparkling water at the Grill. (She says she doesn't drink.)
She and creative director Chris Stern (when they met, he worked for Sean John) have two sons, and Grubman was a bit late to our lunch because she had to get her youngest on the Hampton Jitney to go see his father. These days, she calls herself a "homebody."
Grubman punctuates many of her sentences by adding "You know what I'm saying?" I don't, in fact, always know what she's saying, but it sure is fun talking about rap music with her. Back in the day, she says, "I had Lil' Kim, I had Foxy Brown. You name it, I had it." Whoa, I love Lil' Kim. "She's super-talented, okay? I live for her, and she's a great girl. I can relate to her, I really can." Really? In what way? "I love her music, okay?" (I couldn't help but think of Lil' Kim's verse on "Quiet," featuring the Game, "I know a federal case from a publicity charge.")
Grubman oversaw Diddy's famous White Party — there was a dress code — and premieres for Sex and the City and Entourage. One time, she says, "We had the release party at the Chateau Marmont for, was it Backstreet Boys or 'N Sync? I think it was Backstreet. One of those." That night, she says, Ol' Dirty Bastard got confused and thought the paparazzi flashbulbs were gunshots.
Many of her past associates would raise a couple of eyebrows today. She worked with Harvey Weinstein and, for a while, had a business with Peggy Siegal, who went on to be Jeffrey Epstein's social fixer. Grubman worked for Donald Trump when he was doing The Apprentice. When Trump became president, she says, "I thought it was a joke." Still, "Honestly, I liked him," she admits when we go out front for a Marlboro Light. "I liked Ivanka. I fixed up Don Jr. with Vanessa," she says, referring to his ex-wife.
Hers "was the era of Soho," she says. "Cipriani Downtown was opening. I did restaurants then. It's hard to explain. I was young, and I just had innocent fun."
These days, "'It' girls now are influencers, you know what I'm saying?" she says. "An influencer who is making hand-over-fist money, $100,000 per sponsored post. Come on. What are they going to do when they get to be 40?" Grubman herself is only on TikTok to monitor her sons. "I really don't understand it," she says, laughing. "I'm too old for this."