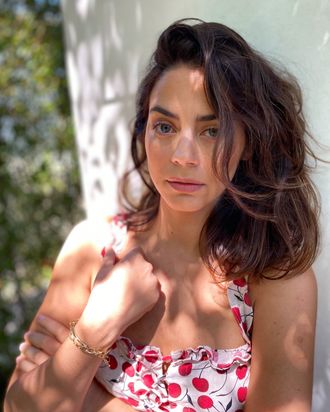 Photo: Sara Newman/Copyright 2020. All rights reserved. Creative Director: Sophie Tabet
If you don't recognize Lorenza Izzo from Quentin Tarantino's Once Upon a Time in Hollywood, she wouldn't blame you. The actress played Francesca Cappuci, Italian starlet and wife to Leonardo DiCaprio's Rick Dalton. The role called for heavy makeup — intense eye shadow, heavy blush, stark contouring, and dramatic eyebrows — to emulate Italian bombshells like Sophia Loren, Virna Lisi, and Claudia Cardinale. It was a big departure from her everyday makeup and skin-care routines, both of which she's worked to pare down significantly.
Izzo's brush with skin-care maximalism came after she moved to Los Angeles from Chile. All of a sudden, she was exposed to new blogs and publications with stories about celebrities' long and varied skin-care routines, many of which named products that weren't sold at all in her home country. "It was a bit overwhelming at the beginning to learn I wasn't doing my brows right, that I didn't know what retinol was, or any of these scary-sounding procedures people use to be 'beautiful,'" she says. "I went on a whirlwind trying to copy everything I was seeing, and, well, trying to be perfect." Years passed before she stopped trying to emulate the routines of others and began to interpret the needs of her own combination skin.
"I'm privileged enough to have access to a lot of information and experts now, but there really isn't one clear way to do skin care, and it can get very confusing," Izzo says, pointing to the "massive" learning curve she faced when treating her cystic and hormonal acne. Dr. Dennis Gross's Alpha Beta Universal Daily Peel Pads have been helpful, but what's made the biggest difference has been a change in her point of view. She won't pretend that looks aren't important — as an actress, her face is constantly in front of a camera — but she knows they're not everything. "My attitude is very much of self-love and forgiveness," she explains. "I now know that I may not be able to fully get rid of my acne, and I'm learning to be okay with that, as I am with stretch marks, cellulite, wrinkles, and all the awesome 'imperfections' we have."
Below, a look at her current product line-up, including her "secret weapon for all things aging," her go-to spot treatment for cysts, and the ingredient she wished she knew about at age 25.
The Cleanser
"I discovered this incredible, hydrating cleanser on the set of Once Upon a Time in Hollywood. I don't wear a lot of makeup, but when I'm on film sets, I can't avoid it. After a long, 14-hour workday, this is what I look forward to. It has a balm-scrub-like texture, and it cleans all the makeup and impurities away, leaving your skin cleansed but also hydrated. It smells DIVINE, like fresh picked mandarins that just slept with jasmine flowers, and it comes with a soft cloth for washing it off.
I personally think cleansers ingredients are very important, and since you're using them ideally every day, I try to avoid intense, drying ones. On the set of OUATIH, the head makeup artist Heba Thorisdottir, who is a master of her art, would without fail at the end of our day cleanse my skin with this balm. I had to wear heavy makeup for my role, and rather than going through many steps, she would apply this balm with upward motions and then put a hot towel on my face to gently remove it."
The Serums
"My secret weapon for all things aging. My friend the facial magician Joanna Vargas, who is known for her incredible face masks, came up with this serum that leaves my skin like it just had a lift the next morning. It's really a dullness cure. This is my favorite retinol serum, as it has key healing ingredients like fatty acids and chamomile that are soothing while the vitamin A works its magic.
My go-to facial at her spa is the Triple Crown. It's a non-invasive way of stimulating the lymphatic system and tightening the skin with electro-currents. It's great for de-puffing, contouring, and making the skin glow."
"I've gone through literally all the cult fave acne spot treatments — all of them. And this serum has been the one that I can always count on. It dries up pimples even when they are forming. I have a tendency toward cystic acne, which is a whole different world of acne, and this guy can do the job.
This serum also has a cult following, and rightfully so. Its natural active ingredients are powerful exfoliants: white willow bark, bilberry extract, and sugar cane extract. The arbutin and mushroom assist uneven skin tone and brighten. The combo gives a tingly sensation once on your skin, and you feel it working."
The Moisturizer
"I use this moisturizer at night. It's ideal for sensitive and dry skin, particularly if you have eczema, psoriasis, and acne. It also has an anti-aging kick.
It's got probiotics in it, which I can feel feeding the microbiome in my skin and helping my skin glow. I'm no scientist, but the way you take probiotics (live bacteria cultures) for your gut to be balanced and get all the yummy benefits — they've shown to support a healthy immune system — works just as well for your skin. It's essentially putting healthy bacteria directly on your skin that work like a superman shield against damaging free-radicals. They're like little soldiers protecting your skin from inflammation and flare-ups."
The Face Oil
"I love to put this on before SPF and makeup. It gives me the perfect dewy look while working to brighten my skin with its vitamin C. Vitamin C has been the biggest discovery as of late for me. I WISH I had known about it when I was 25, but hey, here we are. Turns out vitamin C is a powerful antioxidant, and protects your skin cells from damaging free-radicals a.k.a the sun rays. It also evens out skin tone and brightens it, like magic. This oil was recommended by a friend of mine after I noticed her shiny, dewy skin. I use one dropper or less for makeup prep, and one to two in my actual routine."
The Sunscreen
"I'm always up for trying new SPFs, as they are constantly coming up with new technologies and formulas. I'm currently loving Renée Rouleau. Weirdly, I need SPF to feel like SPF. It has to be white, but it's just a personal preference. I think it's because it gives me the illusion that it works and it reminds me of my childhood summers. But being that I'm now a grown up and not particularly into having a white cast, I like this one because it leaves no trail, and it's smooth yet thicker than the more water-based ones. It absorbs quite quickly into my skin, and I can layer it easily. It's not scented which I also appreciate, as all my other serums are scented. I apply once a day no matter what, and if I'm out in the sun, I try to remember to put it on every few hours."
The Face Mask
"You can leave on this mask till the next day. It's the ultimate hydration mask. I've never tried anything like it. It feels like a cooling aloe vera gel that seeps into your skin. I used to do it on airplanes, and it was my biggest skin health hack. In these times, I'll use it once a week."