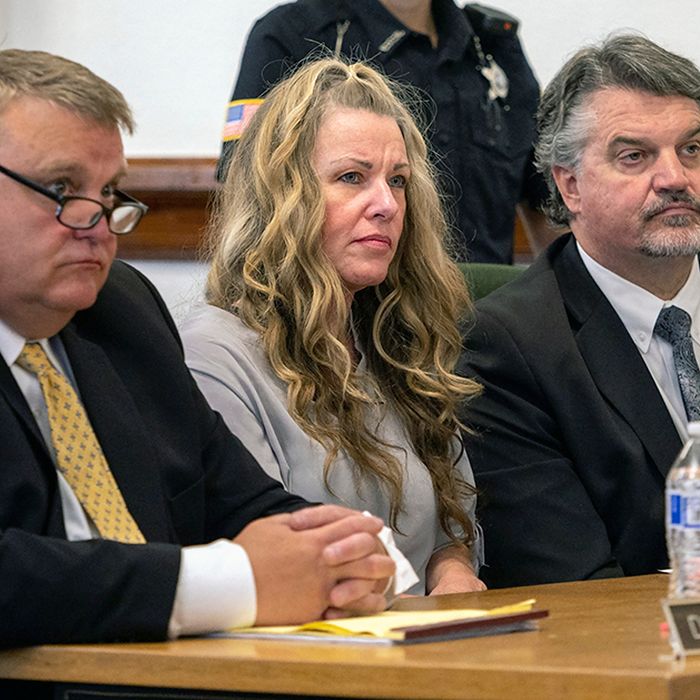 Lori Vallow in court for allegedly having her two children murdered.
Photo: Tony Blakeslee/East Idaho News via AP, Pool, File/AP
After a monthlong trial marked by visceral evidence and disturbing testimony, an Idaho jury found "doomsday mom" Lori Vallow guilty of murdering her two children. Jurors returned their verdict on May 12, two days after Vallow's team rested their case without calling a single witness. In addition to murder, they deemed Vallow guilty of conspiring with her fifth husband, Chad Daybell, to carry out the killings, and of grand theft — pocketing her children's Social Security benefits after she disappeared them.
The couple envisioned themselves as godlike figures, prosecutors argued at trial; high priests tasked with ridding the world of "zombie" spirits, a category into which she eventually placed her own children. Vallow was also accused of helping architect the murder of Daybell's wife, Tammy: Prosecutors said she became another obstacle in the way of Vallow and Daybell's relationship, and the jury agreed, finding Vallow guilty of conspiracy in Tammy's death as well.
"The defendant used money, power, and sex to get what she wanted. It didn't matter what it was," Fremont County prosecuting attorney Lindsey Blake told the jury in opening arguments, according to East Idaho News. "Money, power, and sex — that's what this case is about."
It was also about Vallow and Daybell's extreme religious views: Specifically, their participation on the far-right fringes of the Church of Latter-day Saints as part of a group preparing for the second coming of Christ and the end of days. The couple developed a rubric by which they would "rate people as light and dark," Blake told the court, and when the evil couldn't be driven out of a person, "a common theme was the body had to be destroyed." Vallow may not have destroyed those bodies herself, the prosecutor said, but that didn't mean she hadn't committed the crime.
According to CNN, Vallow showed no reaction upon hearing the verdict in court. She faces life in prison, though the judge reportedly indicated that setting her sentencing date may take up to three months. She has also been charged with conspiracy to commit murder in Arizona, in connection with her fourth husband's death. Daybell, meanwhile, was also charged with murder and conspiracy but is being tried separately. He faces the death penalty if convicted.
Here are key moments from the trial. Warning: The testimony and evidence often has been grisly.
Lori Vallow and Chad Daybell are accused of killing their previous partners, then Vallow's children with the help of an accomplice.
When they met in 2018, Vallow and Daybell were married to other people and living in different states: Vallow was married to her fourth husband, Charles Vallow, and Daybell, to Tammy Daybell. The Vallows were raising two kids in Arizona at that point: Tylee — Lori's biological daughter from a previous relationship — and JJ, whom they'd adopted from Charles's sister, Kay Woodcock. According to CBS, friends described Lori Vallow as a "patient" and loving mother to both children — at least until she met Daybell.
Vallow appears to have encountered Daybell by name before she met him in real life. She reportedly got to know him through the doomsday novels he wrote, which both of them took more as real-life prophecies, according to Sins of Our Mother, a Netflix documentary about the case. The pair met at a conference for Preparing a People, a fringe offshoot of the Church of Latter-day Saints that focused on preparing members for the end-times through means former adherents have described as "extremist."
It was around this time that friends and family noticed a change in Vallow. She started talking about "demons" and "dark spirits" replacing people's souls and leaving them as "zombies." By 2019, Charles Vallow had taken his concerns about his wife's warping spirituality to the police, telling them that she had become "unhinged," believed she was a "god," and threatened to murder him. He filed for divorce in February of that year.
A few months later, Charles Vallow died in his estranged wife's home. He'd gone to pick up JJ from Lori's house in July 2019, and Lori's brother, Alex Cox, shot him. Cox (who died soon after of purportedly naturally causes) claimed he'd killed Charles Vallow in self-defense, but prosecutors now believe Lori and Daybell deputized him as a hit man.
When Vallow had moved to Rexburg, Idaho, to be closer to Daybell, Cox moved with her into the same apartment building. Later that month — September 2019 — the kids disappeared. In October, Tammy Daybell died, and days later, Vallow and Chad Daybell married in Hawaii.
But by then, Woodcock had grown suspicious about JJ's silence. She called in a welfare check, and when Vallow blew past a deadline to report to the state's health department with the kids, police arrested her on Kauai. JJ and Tylee remained missing until June 2020, when investigators showed up at Daybell's Idaho home with a search warrant. There, they found the mangled remains of the children's bodies. Police arrested Daybell and, the following year, charged both him and Vallow with first-degree murder.
JJ's grandmother took the stand first.
Kay Woodcock took over custody of JJ from her daughter after he was born — prematurely at 30 weeks — because he had drugs in his system, she testified, according to East Idaho News. She said JJ had autism and required special care. Lori and Charles Vallow offered to adopt him, but even after they moved JJ to Arizona, Woodcock and her husband, Larry, went to see him "every chance they could."
Woodcock told the court that Lori "was a doting mom; she was engaged," according to KTVB 7, and that she and Lori were friends. But things changed in 2019, Woodcock said. Lori disappeared, leaving Charles "distraught." According to East Idaho News, Woodcock said Lori "never reached out to JJ; she never reached out to Charles." Woodcock explained that she'd helped take care of JJ off and on for months until, ultimately, JJ went to live with Lori after Charles Vallow's death. She told the court that contact dwindled after Lori found out Charles had replaced her with his sister as the beneficiary on his life-insurance policy. At that point, Woodcock testified, she was only allowed to FaceTime with her grandson for about 45 seconds at a time. "He just said, 'Hi Mama, hi Papa,'" Woodcock recalled of their final conversation — in August 2019. "'Gotta go, Mama. Gotta go, Papa. Bye!'" She said she tried to talk to him many times over the next few months but never received a reply from Lori.
In November 2019, Woodcock said, she checked her late brother's email (he had given her his passwords) and saw a notification from Amazon that an order had shipped. When she checked the receipt, she saw a wedding dress, wedding rings, and a men's white-linen suit on the invoice. It was dated October 2 — about two weeks before Tammy Daybell died. "I think it was divine intervention because of what I found when I logged on," Woodcock said on the stand, according to KTVB.
Officers who found the children's bodies painted a graphic picture of the crime scene.
On the second day of testimony, Detective Ray Hermosillo of the Rexburg, Idaho, police department recalled the day officers showed up to Daybell's home with a search warrant. It wasn't Hermosillo's first time meeting the doomsday author. He had already spoken with him while attempting to track down Vallow, whose apartment he'd searched in November 2019. He said he found it stripped of Vallow's clothing and personal belongings — even as dishes still sat in the sink. She left behind multiple guns and silencers, a camouflage suit, and two Tyvek suits, Hermosillo said, but "there was nothing that indicated minor children were living or had been living there."
According to the Daily Beast, police and FBI agents swept Daybell's property on June 9, 2020, while Daybell sat in his car. Hermosillo noticed Daybell's eye repeatedly drawn to the area where investigators would disinter the bodies: "An area of concern," as the detective described it, according to KTVB, because of its spotty grass coverage and uneven dirt. "A strong odor" of decay hit investigators shortly after they began digging, Hermosillo said. They found a body wrapped in a trash bag and buried in a shallow grave: JJ wearing red pajamas, both his arms and head wrapped in duct tape. Prosecutors displayed autopsy photos for the court, where people in the gallery — including JJ's grandfather — could reportedly be heard weeping.
Police found Tylee's remains near a fire pit in a section of the yard Daybell had referred to in text messages as the pet cemetery. Investigators had to dig it up with their hands in order not to "disturb potential evidence," KTVB reports. "We had to take turns digging," Hermosillo testified, "because the smell was so bad."
"Eventually we uncovered bits and pieces of … whom we assumed was Tylee, that had been burned," Hermosillo said. Her remains were mostly housed in a melted green bucket. "There were pieces of bone, charred flesh, just globs of flesh that were falling apart," the detective said, apologizing to jurors, one of whom reportedly cried during his testimony. Vallow herself asked to leave for the testimony, a request the judge denied.
Later on, medical examiners who conducted autopsies on the bodies testified to the supposed cause of each child's death. The local M.E., Garth Warren, said he believed JJ died by asphyxiation, based on the bruising duct tape left on his neck, and the scratch marks still visible on the skin. When it came to Tylee, Warren said he wasn't able to draw any definitive conclusions. "This autopsy was different, the vast majority of the times I get an entire body," he said, according to KTVB. "Tylee's remains were received in three separate sealed bags," which allegedly contained bits of major organs and bone fragments — some identifiable, some not, and all of them charred. Warren believes Tylee's body was burned postmortem and that she was dismembered. Douglas Halepaska, an FBI forensic examiner, said casts of her bones indicated injury via stabbing and chopping actions, the latter possibly inflicted by a cleaver, hatchet, or machete. Other experts indicated in their testimony that tools taken from Daybell's property, including a pickax and a shovel, tested positive for Tylee's DNA. Meanwhile, Cox's fingerprints were allegedly found on the trash bags encasing JJ's body.
Lori Vallow's former best friend described Vallow's radicalizing in her relationship with Daybell.
Melanie Gibb testified that she met Vallow at church in 2018 and was there the day Vallow met Daybell. The pair were immediately "flirty," Gibb recalled, according to the Daily Beast. Vallow "shared with me that [Daybell] told her that they had been married in another time period," she said, and Vallow believed him. According to Gibb, Vallow shifted her views to line up with Daybell's. She testified that Vallow claimed to have been "sealed" together with Daybell by Jesus and the angel Moroni in a secret ceremony weeks after meeting him.
Vallow filled Gibb in on the couple's increasingly extreme ideology. They claimed they were among the 144,000 chosen ones to remain on earth for the second coming and could judge people on a scale of light to dark. Too dark and a person became a "zombie" — a body taken over by evil spirits. According to KTVB, Vallow named Charles Vallow (whom she believed was inhabited by a demon named "Ned"), Tylee, and JJ as "dark" people. Gibb testified that Vallow wasn't sad when her brother, Alex Cox, shot her husband. She said the only problem was that, without her late husband, Vallow found it hard to take care of JJ and "be with Chad" at the same time.
When Gibb visited her friend in Rexburg in September 2019, Tylee wasn't there. "She's at BYU, I moved her in a dorm with some female friends," Vallow purportedly told Gibb. (Later on, BYU-Idaho's dean of students testified that Tylee never enrolled at the school.) As for JJ, Vallow "said he would say things like, 'I love Satan' and climb up on the cabinets and refrigerator," Gibb testified. She said that she last saw JJ that month, when Vallow's brother, Alex Cox, carried him upstairs to bed — she thought the boy was sleeping at the time. But Gibb spent the night in the children's bedroom, and JJ wasn't there, according to KTVB. She testified that she never saw him again.
Two months later, Gibb recalled, Daybell warned her not to answer the phone if the Rexburg police called, because Vallow had told investigators that JJ was with Gibb. Later, when Gibb called Vallow to ask where the boy was, Vallow wouldn't answer beyond saying that JJ was "happy and safe." "I believe you have been deceived by Satan, he has tricked you," Gibb said she told her friend. "Tammy dies, and then your husband died, and then he's missing. It doesn't sound like God's plan to me. In my gut, it feels weird."
According to Gibb, Vallow responded, "This doesn't sound like you. This sounds like you're being influenced by somebody dark."
Gibb's husband, David Warwick, was also present during her Rexburg visit, and testified that he also witnessed Cox carrying JJ upstairs on the last night the boy was seen in person. Warwick said he went to Idaho for a Book of Mormon conference and planned to record a podcast with Gibb and Vallow while he was there, East Idaho News reports. During his stay, Warwick told the court, he had a couple of memorable interactions with Daybell: One, in which Daybell allegedly attempted to convince Warwick he was charged with gathering the 144,000 so-called chosen ones, which Warwick said he didn't buy. In another, Daybell supposedly told Warwick that Tammy — still alive at this point — had been a "good wife" but her "time was coming up, and he and Lori were going to do the things they needed to do for God." (Chad allegedly said he had dreamed that Tammy would die before he turned 50.) Warwick recalled having a terrible nightmare that felt "very real" while sleeping in JJ's room, and said that the morning after he saw JJ in Cox's arms, Vallow told him and Gibb that he had an "episode" and she'd called Cox to come get him. Vallow allegedly told the couple that JJ had climbed the cabinets and gotten on top of the fridge and knocked over a picture of Jesus, but Warwick said he didn't see any damage to the kitchen or smudges on the steel fridge.
Cox's wife said he came to believe Daybell and Vallow were setting him up as their "fall guy."
Detective Nathan Duncan of the Chandler, Arizona, police department said he responded to a 911 call from Cox after he'd shot Charles Vallow. According to KTVB, Duncan said he had never seen a fatal shooting with so little blood, particularly given Cox's claim that he performed CPR on the victim after the shooting. (Police did find blood on a faucet elsewhere in the house.) To Duncan, the most probable explanation for Vallow's wounds was that he had been shot while he was already on the ground.
In her testimony, Zulema Pastenes, who married Cox months after meeting him, spoke to the influence Daybell and Vallow supposedly had on Cox. "Whenever he wanted to do anything, he had to have Lori or Chad's permission," she told the court, according to East Idaho News. Pastenes said she sincerely believed in the religious ideology Daybell and Vallow fed her, whether they were attempting to "cast out" evil spirits from allegedly possessed people in their orbit (for example: Charles Vallow) or their purportedly God-given "missions" on Earth. "I had faith they were telling us the truth," she said. "I trusted and believed what Lori and Chad were saying." So, she added, did Cox: According to Pastenes, the couple told him that he was an "angel" and "a very powerful warrior" who had "unmasked Satan in another creation" and that "his sole purpose was to protect Lori."
But the night before Cox died, Pastenes testified, he seemed to be reaching a different conclusion about his relationship to the couple. Pastenes said that when she came home after work on December 11, 2019, Cox was on the phone with Daybell and Vallow. They told Cox that police planned to exhume Tammy Daybell's body, a development Pastenes said "confused" her. "I was asking why would they be exhuming her body if she died of natural causes," she told the jury, according to People. "And I asked him if he was involved in anything to do with Tammy's death. He said no." Pastenes said that she pressed the issue and that her new husband stayed silent for a long time. Finally, "he said, 'I think I am being their fall guy,'" she recalled. Cox wouldn't say for what, but the next day, Pastenes found him dead in their bathroom. The official cause of death was ruled a pulmonary embolism.
The court heard an incriminating phone call between Vallow and her only living child.
Colby Ryan is Vallow's child from her second marriage and an older brother to Tylee and JJ. During his April 18 testimony, the court heard an emotional phone call he had with his mother after police found his siblings' bodies on Daybell's property. Colby said he had been suspicious about their whereabouts in the months prior because texts from Tylee's phone didn't sound like her and because his mother wouldn't give him a straight answer when he asked her where they were. In the call, recorded while Vallow was already in jail, Ryan accuses Vallow of having murdered her kids. Per the East Idaho News, Ryan said to Vallow:
I prayed, I trusted you, I gave you every chance I could past my own limitations of a human being. I pushed back all of everything to try and get to you to help my own mother. You lied to me specifically to me more times than I can count about this. To know that they're gone and you knew, and my phone's being texted by my little sister who is not even alive. My little brother, who is the sweetest little kid ever … you tell me this is God's will for my whole family, including my stepfather to be dead, after everything that you'd tried to tell me — you can tell me right now that Jesus Christ, the Savior of the world, is on your side? You tell me that with all the conviction of your heart that Jesus Christ is on your side right now. Please.
According to the East Idaho News, Vallow responded, "I can tell you that."
Laughing, she also told Ryan that Tylee and JJ understood what had happened. "They love me, and they are fine, and they know the truth," she said in the recording. "We are the only people that do."
Financial records suggest Vallow continued to receive her children's Social Security benefits even after they died.
Following the deaths of their fathers, Tylee and JJ received monthly direct deposits of $1,859 and $1,951, respectively, until police declared them missing, East Idaho News reports. According to Social Security Administration special agent Mark Saari, however, Vallow never notified the agency of any change of status — not of her remarriage, not of her moves, and certainly not of the children's deaths — even though she switched the deposits to land in one of her own bank accounts before the kids disappeared. But as explained by Rexburg police detective Chuck Kunsaitis, who testified after Saari, activity on Tylee's account indicates that Vallow may have kept using it even after Tylee was killed. The records show that Lori was sending money to Tylee's account, which was immediately Venmoed out to Colby. Kunsaitis also said someone made purchases linked to Tylee's bank account in late September and early October, weeks after she is believed to have died.
Another Rexburg police officer, David Stubbs, testified to inconsistencies in Vallow's accounts when he showed up to do a welfare check on JJ on November 26, 2019. At that point, investigators had been following Vallow and Daybell for weeks; they knew the pair was in a relationship. For that reason, Stubbs said, he found it odd that Vallow described Daybell as "her brother's friend."
"I had seen them affectionate together," Stubbs told the jury. "We also knew they were married." Vallow's "evasive" answers and "lying heightened our awareness of our own safety," he testified. When he and his colleagues served a no-knock warrant on Vallow's apartment the next day, they found it empty of clothing, computers, and personal belongings — save for a duffel bag and two Samurai swords left in a closet.
Another friend of Vallow's said she claimed to be "done with JJ" months before he disappeared.
April Raymond met Vallow through the LDS church when Vallow lived in Hawaii, and testified that she let Vallow and Tylee stay with her in February 2019. When Vallow arrived at her friend's place, according to East Idaho News, she told Raymond she'd come to Hawaii to "gather" her, and that Charles had been replaced by a demon named Ned Schneider. Raymond testified that Vallow said she was divorcing Charles and didn't bring JJ with her to Hawaii because "she was done with him." She told the court that Vallow claimed to be a "goddess," and that she began talking about the light and dark scale for the first time.
Tammy Daybell's sister recalled Chad Daybell making ominous remarks about Vallow's kids.
When she took the witness stand, Samantha Gwilliam said she was taken aback when she heard about her ostensibly healthy sister, Tammy Daybell's, sudden death in October 2019 — and shocked when she learned, one month after Tammy's burial, that Chad had remarried. "You don't get married four weeks after you just buried your wife of almost 30 years," Gwilliam said. Suspicious, she started researching Vallow — whom Chad was purportedly calling Lori Ryan — online. Chad "told us she had lots of money," possibly from a life-insurance payout, Gwilliam testified; he allegedly also said the pair had bonded over their shared grief at "the loss of their spouses." But the details weren't lining up, Gwilliam explained. Chad had told her Vallow's husband had died from a heart attack, but Gwilliam discovered he'd been shot to death by Vallow's brother. She reportedly also saw JJ mentioned in a statement by Kay Woodcock, and asked Chad if he and his new wife planned to raise any kids. "He told me, no, there were no children," Gwilliam recalled. "They were going to be empty-nesters."
Vallow's sister said she believed Vallow knew where the kids were.
According to KTVB, Vallow's sister, Summer Shiflet, told the court that she didn't learn Tylee and JJ were missing until December 2019. When she asked Vallow about them, Vallow allegedly replied that the kids were safe and she knew where they were. Initially, Shiflet believed her, but after their bodies turned up on Daybell's property, "I felt lied to," she testified. "And my trust in my sister was broken." Prosecutors then played an emotional video call between Shiflet and Vallow from June 2020, in which Shiflet sobbed and shouted, per KTVB, and Vallow largely remained composed. Vallow reportedly wouldn't answer when Shiflet asked her if she knew her kids were in Daybell's yard. Shiflet reportedly asked Vallow why she didn't call her about JJ and Tylee's deaths, nor about Cox's. "You didn't think this was gonna cause pain throughout our entire family?" Shiflet asked, according to KTVB. She questioned why Vallow was "dancing on a beach, having a great time, getting married," when her children had just been killed, Tylee tossed "in a pet cemetery like a piece of garbage." Vallow told her sister on the call: "You have no idea what happened … Nobody knows. I'm sorry."
A friend of the Daybells' said Vallow talked about recently having lost her daughter in October 2019.
In addition to being a friend of the couple's through the LDS church, Alice Gilbert lived next door, according to KTVB. Gilbert told the court that she went over to their home hours after Tammy had died. At that point, she said, Chad asked her "not to tell anybody," Gilbert testified. One week later, she recalled, Chad told her he was already dating someone new and planned to marry her. "We were shocked," Gilbert told the court. When Chad brought Vallow to a church event shortly thereafter, Gilbert remembered him mentioning that Vallow had "recently lost a daughter." When she asked how many children Vallow had, "she stammered," Gilbert said, according to KTVB. "I was under the impression she had no other children, that she was an empty nester. I thought the daughter who died was an older daughter, maybe of cancer or illness."
Months later, after Vallow had been arrested and the children had been missing for some time, Gilbert remembered asking Chad, "Where are the kids?" she testified. Referring to Tylee, she recalled pressing him, "Didn't she deserve a life, a car, a boyfriend?" In response, Chad allegedly told her that Tylee "didn't like people, and she didn't like me."
Meanwhile, another of Lori's friends, Audrey Barratarrio, told the court about Vallow's alleged plans to rid the people around her of evil spirits. In June or July of 2019, Barratarrio said, Vallow told her she was "working on" her then-husband, Charles, and allegedly talked about using "knives and fire and weapons" to excise the negative energy. Barratarrio testified that she left the conversation but that Vallow subsequently brought up needing to "work on" Tammy and "highly pressured" Barratarrio to help her, which Barratarrio refused to do, having realized, she said, that when the couple spoke about intervening in a supposed possession, they "didn't intend for the person to be helped — they didn't want the person to live." After Tammy died, Barratarrio said she ended her friendship with Vallow, who allegedly replied that "she would cut me up, and something about she wasn't in the mental place to do that now but she would get herself in the mental place to do it."
"And it would be so messy," Barratarrio recalled Vallow threatening, "with so much blood. And she mentioned bleach, trash bags … and she would bury me where no one would ever find me."
A DNA analyst said one of Vallow's hairs was found on the tape on JJ's body.
Keeley Coleman, a DNA analyst for Bode Technology, testified that investigators found a hair stuck to the tape used to wrap JJ's body in trash bags. Although they were not able to run the hair through the FBI database, they were able to compare it to samples taken from Tylee, Vallow, and Gibb. "The partial DNA profile matched the DNA profile provided from Lori Vallow Daybell," Coleman said, according to CBS. "The probability of randomly selecting a random individual in relation to that profile is 1 in 71 billion."
An FBI agent recalled text messages between Vallow and Daybell referring to JJ and Tylee's deaths.
Douglas Hart, a former special agent with the FBI and currently the chief deputy for the Canyon County Sheriff's Office, testified that he spent more than 200 hours combing through Vallow's iCloud records, according to KTVB. On two accounts registered to her, lori4style and lollytime, Hart said he found "several communications regarding Tylee and JJ that were relevant to their deaths. They discussed their deaths." It wasn't just the children, either. Many of Vallow's texts were displayed in court as Hart testified, and in some, Vallow appeared to refer to Charles as well. For example, Vallow wrote her niece, Melani Boudreaux (now Pawlowski), that she had "an absolute plan" for Charles two days before Cox had killed him. "I could take all the babies with and drive? And take our stuff," Pawlowski allegedly replied.
"You can't go at all, we both need to stay here to defend ourselves," Vallow texted back, per KTVB. "It's all coming to a head! This week will change everything."
After Charles's killing, Vallow texted his sons to let them know — in a manner that did not, in Hart's opinion, convey sympathy or sorrow — he'd died. After telling them she'd keep them posted on plans, she allegedly stopped replying to their texts. "Lori what the fuck happened," one wrote her. "You can't just tell us our dad died and disappear. You're not too busy to let us know he died and disappear." "What happened, when did it happen, how did it happen? Where is he now? Is there any funeral plans?" another asked a few days later. "He was our dad and we love him very much. We deserve answers." During this time, Vallow was still texting Daybell.
That summer, Vallow and Daybell repeatedly referenced a percentage-based system they used to rank the people around them, KTVB reports. The closer the assigned number was to zero, Hart explained, the closer the person was to death. "She is at 0.13. I turned up the pain to 10 and placed a spiritual virus in her," Daybell texted Vallow on July 18, after she had asked about Tylee's percentage. "One question," Daybell texted Vallow on July 29, 2019, while she was on a trip with Pawlowski, Pawlowski's children, and JJ. "Do you want me to cause pain yet to those two 3s you're riding with?" Vallow allegedly advised him to "hold off" but said she would text "if they start acting up and we can zap them." "Sounds great," Daybell replied, per records displayed in court. "Yes, if they are going to act up, we'll at least give them a reason to scream." On July 30, Vallow again checked in on her children's percentages, and according to East Idaho News, Daybell told her JJ was at 2 percent, while his wife, Tammy, was at 3. "Not zero?" Vallow responded, according to the court docs. "Ok. Still feeling hot for you."
Still, according to KTVB, it wasn't until August 2019 that Vallow and Daybell began talking about "a plan to take the children." In one text exchange presented to the court, from August 10, Vallow told Daybell that JJ was "saying crazy stuff" and wouldn't "go back to sleep." According to East Idaho News, Vallow asked Daybell if JJ was "at zero yet," and Daybell responded, "Yes, he's at zero. He probably was partly through the veil, talking to people both light and dark." Daybell then assured her that he had been shown the plan and that Vallow was doing "everything right" so far. "You're so incredible in many ways, your mission has barely begun," he wrote, to which Vallow replied, "As long as it ends with you … It's all good."
"Yes, cheek to cheek, loin to loin," Daybell responded, per KTVB. "It isn't very far away my love."
The defense rested without calling any witnesses.
After prosecutors rested their case on May 9, having called a total of 60 witnesses, defense attorneys followed suit. They called not a single person to the stand, instead claiming the state had not adequately proved its case. On those grounds, defense attorney Jim Archibald asked the judge to acquit before he rested, arguing there wasn't sufficient evidence to support the charges. "No one here thinks Lori actually killed anyone; that's why she's being charged with conspiracy," he said, according to CNN, but the judge denied his motion.
In closing statements, Archibald painted Vallow as a loving, devoted mother taken in by a "weird" would-be cult leader, and said that nothing prosecutors presented implicated Vallow directly in the murders. "Of the 15,000 texts you have in evidence, show me one where Lori is part of that conspiracy," he told the court, according to NBC. His point seemed to be that Vallow had herself been targeted by Daybell: "Why can't people escape religious cult figures, why can't they break out, why can't they break away from that mind control?" he asked. "Promises are marvelous to some people even if they sound like stupid gibberish to the rest of us."
Prosecutors heartily disagreed with Archibald's interpretation, reminding jurors that Vallow never reported her children missing, even as she collected their checks. She wanted her life with Daybell to be "unencumbered by obstacles," Madison County prosecutor Rob Wood argued, per NBC. Wood reminded the court of the violent ends JJ, Tylee, and Tammy met. "What does justice for these victims require? It requires a conviction on each and every count," he said, reiterating prosecutors' original slate of motives: "Money, power, and sex."
This article has been updated.