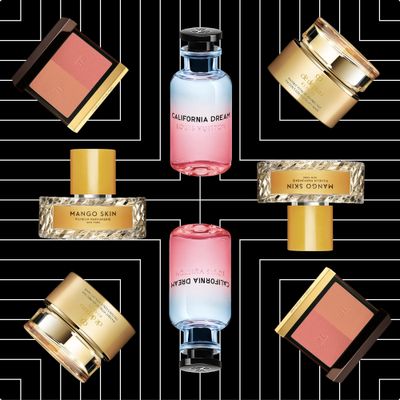 Photo-Illustration: by The Cut; Photos: Retailers
For more of the Cut's favorite fashion, beauty, and home finds, sign up for the weekly Cut Shop Newsletter.
So you want to gift your loved one a luxury beauty item this holiday season? We subscribe to the belief that the best gifts are ones that a person would be happy to have, but wouldn't necessarily buy for themselves. A decadent self-care product fits that bill. But if you're not a beauty expert or zillionaire, you may not have much experience with the pricier beauty buys, and it can be hard to know which are worth your coin and which are just well-packaged snake oil.
What's considered "luxury" is widely subjective, but what separates most prestige products from the rest are the high-quality, science-backed ingredients and exquisitely produced packaging. Sure, you can search TikTok and easily find a dupe in the drugstore or on Amazon, but oftentimes with beauty budget shopping you can't beat the true quality of the spendier product, which constitutes the high price point. So we tested a ton and are sharing our favorites so that you can shop with confidence.
SO, WHAT ARE YOU SHOPPING FOR?
➼ Skin Care
➼ Makeup
➼ Wellness
➼ Candles
➼ Hair Care
➼ Fragrance
.

Luxury Skin Care
For the holidays, give the gift of a viral scent: the amber-and-floral-blended Maison Francis Kurkdjian fragrance, which now comes in a gold shimmering body oil. The glistening oil is a mix of apricot, macadamia, and argan oils finished off with 24-karat gold powder so it'll have the skin lusciously shining like gold while nourishing it, too.
Mutha's products have enhanced my shower routine, from the body bar that smooths skin to the lathering of the body butter and beloved body oil that work together to not only hydrate but also soothe irritated skin.
This trio is the ultimate at-home spa-day luxury kit with a revitalizing scent. I use the scrub to exfoliate and follow it up with the rich body oil, which gives my skin a glow; then I seal it all in with the antioxidant balm that melts in for an ultranourished finish.
Bond No. 9 is known for its distinct New York City–inspired perfumes sold in its signature star-shaped bottle. Little-known fact: Each fragrance also comes in a scented Body Silk. The velvety-smooth cream soothes my skin and leaves it smelling heavenly. If you don't want to splurge on a bottle but still want to gift the scent of Bond, a Body Silk is a great option.
Once you put your friends onto Dior skin care, there's no turning back. The brand uses ingredients like longoza flower, which quickly becomes a routine holy grail. This set includes four key products to target hydrating the skin and treating fine lines and wrinkles. It comes with a travel pouch that can be used even when the products run out, so it's truly the gift that keeps on giving.
La Mer is mostly known for its heavy moisturizer: the Crème de la Mer, a rich cream that deeply moisturizes my complexion while eliminating dryness. Any skin-care lover would enjoy opening a gift of La Mer for the holidays. This duo, valued at $505, includes the brand's treatment lotion, which is beloved by editors and makeup artists. The plumping formula paired with the rich cream really makes my skin look dewy in those cold winter months.
Chanel's firming eye-revitalizer patches restore the firmness of the under eye while reducing dark circles and puffiness and also look incredibly chic in a selfie. To top off the experience, the anti-wrinkles roll-on serum comes with a set of ten hydro-gel patches that are adorned with Chanel all over them. Basking in luxury and treating stubborn under-eye bags is a great gift.
You can't go wrong with passing along the gift of glowing skin, made possible by one of the most advanced LED Light Masks on the market. This one's for the skin-care-obsessed, tech-y person who will happily sit in their home wearing an otherworldly looking face mask. It also comes with Dr. Gross's product for brightening and exfoliating, the Alpha Beta Peels.
La Prairie's Skin Caviar collection infuses caviar extract into each product. Talk about the ultimate luxury. This velvety cream retextures my skin while reducing fine lines. It's worth the price tag. While using it, I saw my complexion transform from dull and dry to nourished and smooth.
Kim Kardashian, Jennifer Aniston, and Kate Hudson are some of the celebrities you can see walking out of Joanna Czech's esthetician practice with a more toned and lifted face. Czech transforms skin with her special lifting and massaging techniques. This facial collection of masks and a massager combines she and 111Skin's Dr. Yannis's skin-care philosophies to provide at-home results.
Augustinus Bader uses stem-cell research to repair skin with unique, innovative formulas that are proven to really work. Yes, we know this price is a lot for a mask, but I noticed my skin was still hydrated and glowy days after using it. I usually smooth it on postflight or pre–big event, and it's worth every penny.
This holiday season, celebrity facialist Dr. Barbara Sturm created a set with four of her best-selling serums including the cult-favorite glow drops, the moisture-boosting hyaluronic acid, an anti-aging serum, and a night serum. It is quite the gift for the friend that has serums for their serums, and they'll have one of the healthiest complexions you've ever seen by combining these.
We can't talk about dewy skin without talking about Tatcha, the brand that uses Japanese ritualistic ingredients like rice and botanical extracts to nourish and enhance the skin. This set not only includes their dewy skin cream but also other amazing products like a serum birthed from the cream and their classic rice polish that gently exfoliates the skin. This set is an entire skin-care routine as a one-stop shop, and perfect for the person who wants to upgrade their skin-care routine and doesn't know where to start.
Sisley's Black Rose Line is legendary among skin-care lovers and celebrities for a reason: The products are efficacious, enjoyable to apply (thanks to the luxurious-feeling creamy textures), and packed with nourishing ingredients. The most famous product in this set is unequivocally the Black Rose Cream Mask, the ultimate glow-up in a tube that only takes ten minutes to do the job. The star ingredient throughout the line, Black Rose, hydrates, plumps, and brightens the skin.
We're all searching for the secret to increasing the collagen in our skin. Products that speed up its cellular production, such as this Vitality Mask, are ideal for skin that has lost definition or has increased sagging. The 24K gold-infused mask is packed with antioxidants to reverse the look of stressed skin. While using it, I see it visibly lift and brighten my skin, and it's perfect for a selfie moment because the mask is literally gold.
In the 1970s, SK-II scientists discovered Pitera in Japan, a unique naturally derived ingredient credited for what the brand coins "crystal clear skin." SK-II has been a household name in Asian skin care since the 1980s with its most notable product, the Facial Treatment Essence. Introduce a loved one in your life to this set, complete with a toner, face mask, and essence.
Do you have someone in your life who can never make it to the spa? Relieve their stress by giving them this indulgent face mask. The Switzerland-born beauty brand has been a staple in spas worldwide for years thanks to the creamy, rich texture made up of shea butter and other hydrating ingredients. After each use, you can expect super-smooth, supple skin.
The texture of this lightweight, watery oil may confuse you, but the results won't. It's as rich as a regular oil but as light as a serum that lusciously drips down the skin.
I've used this lightweight serum, which hydrates my skin and leaves it smooth, radiant, and even. It's the one you gift to the person trying to find their stride in skin care because it effectively addresses multiple concerns at once.
This mask is the one I turn to when I have intensely clogged skin. The yeast-extract, cucumber, and witch-hazel ingredients work together to soothe my skin while purifying it. (Yes, it does have a bit of a smell, but trust us, it's worth it.) Aestheticians like Rescue Spa's Danuta Mieloch agree.
Renowned Brooklyn plastic surgeon Dr. Chaneve Jeanniton is known for innovations in the key ingredient of growth factor. This serum promises to repair the skin while increasing collagen density. After using it, I can attest that it keeps its promises.
This body hydrator is a must-have product for dehydrated skin. With hyaluronic acid, shea butter, and peptides, it quickly absorbs into my skin for really good hydration. It's like a serum for your entire body.
Eye creams can be tricky because the eye area has many targeted concerns, including puffiness and dark circles. Element Eight's caffeine-packed serum is made using a special technology that delivers oxygen deep into the skin. In layman's terms: It stimulates blood flow to intensely hydrate the under eye while reducing puffiness and evening out skin tone.
.

Luxury Makeup
Hermès's shades look great on multiple skin tones and the packaging is a chic accessory to throw into a purse. From the perfect reds with blue undertones to the bright oranges that my co-worker and shopping editor Bianca Nieves absolutely obsesses over, there's a shade for every lipstick lover. It's a main-character lipstick without a doubt.
Whether they're in the mood for a sultry metallic eye or a soft pastel, this 18-shade palette will allow them to play and create an array of looks. When it comes to the best eyeshadow palettes, Pat McGrath a.k.a. the "Mother of Makeup" reigns supreme. The rich pigments and easy-to-blend textures are suitable for all skin tones and types. Plus, owning a Pat McGrath palette is the ultimate rite of passage for any makeup lover.
For the person who needs an easier approach to eyeshadow palettes, this YSL Beauty quad collects seamlessly blendable shades for you. It includes one of each finish: a satin, a matte, a metallic, and a shimmer. They're highly pigmented and show up on all skin tones for all-day comfortable wear sans smearing.
This matte-finish duo completes any makeup routine with a natural highlighter and a subtle, flushed blush. The sheer yet buildable formula shows up on skin tones from fair to deep and leaves the complexion radiant and glowy.
.

Luxury Wellness
If they love a bath, this addition will completely elevate their tub time. The salt is sustainably sourced from the Amazon (fancy) and combines mineral sea and epsom salts, Brazilian white clay, vetiver oil, and more. Plus: It smells great and leaves your skin feeling smooth. Deputy style editor Joanna Nikas swears by it.
No sauna at the gym or your go-to workout or wellness spot? No problem. This at-home sauna blanket heats up to between 68 and 158 degrees Fahrenheit and has all the benefits of a traditional sauna. I've used it and can say it definitely relaxes my body after the gym.
.

Luxury Candles
Candle lovers will appreciate the unexpected warm and fresh notes of raspberry, oud, and palo santo, created to evoke the aroma of a cozy fireplace. Rather than the overwhelming and heady fragrant winter candle you might expect, this slow-burner has a more subtle, soft scent.
This four-wick candle smells like a delicious garden of mint and eucalyptus.
This set is inspired by the Aman hotels, which, if you've ever walked into one, radiate peace and tranquility. Why not bring their aromatherapy spa experience to your home?
This Loewe kit is the ultimate luxury: The brass chains attach a candle trimmer, a snuffer, and a dipper to a signature charm.
.

Luxury Hair Care
One of TikTok's luxury-on-a-budget hacks is buying scents in the form of a hair mist because it's a fraction of the price. The Delina scent from Parfum de Marly is a best seller and beloved amongst the fragrance community for its rosy aroma. It's a powerful yet feminine blend that your fragrance-obsessed friend would love.
This limited-edition Dyson will definitely help you win Gift Giver of the Year. It's arguably the most TikTok-viral hair tool of the year and worth every coin. For the holidays, the brand released this royal-blue colorway that not only has the sexiest shelf appeal but will also be an absolute game-changer in their hair-care routine. It's highly engineered, made with heat technology and several speed functions to ensure the fasting drying time for all hair types.
Give the gift of sleek, straight hair to a loved one who has thick and/or curly hair that can take hours to straighten. This wide-plate flat iron gets the job done quickly and leaves hair with a luster so they can skip an influx of oils or sheen products.
.

Luxury Fragrance
All that shines isn't gold, but with the latest addition to the J'adore perfume family, you may as well smell like it. With its floral notes of orange blossom, jasmine grandiflorum, and centifolia rose absolutes, Francis Kurkdjian, creative director for Parfums Christian Dior, wants you to feel as if you're enveloping yourself in liquid gold with each spritz.
Mojave Ghost's musky yet sweet floral is a tried-and-true favorite of mine for a reason. While fragrance is hard to gift because of each recipient's personal taste, we can confidently say Mojave Ghost is a crowd-pleaser. For the holiday season, there's a limited-edition 250-milliliter size, 200 more than the traditional bottle, so it will last longer.
A scent that doubles as décor? Always a good gift idea, especially when it's embellished with a golden pearl pompom. Once it's diffused, a whiff of woody blackcurrant and fresh moss will envelop the air. This collectible item will make any luxury lover happy.
If sitting by the fireplace is their ideal setting, this set will help friends and family feel comforted by the notes of vanilla and chestnut accords. This fragrance is long-lasting and will linger on the skin throughout the day.
Burberry's latest is a layerable, long-lasting vanilla-based fragrance. This gourmand scent comes in a gold bottle that's a great addition to a perfume collection.
If you're looking to gift a scent that will bring in the compliments all day long, Nishane's Hundred Silent Ways is it. The fragrance juxtaposes a blend of peach and cozy vanilla notes, no reapplication necessary.
With notes of mandarin and ambrette, this Louis Vuitton scent will metaphorically teleport you to your favorite place to watch the sunset. Plus, the bottle can be engraved for perfect gift personalization.
Mind Games fragrances are all inspired by chess. Sound strange? We agree, but this plays off the complexity of the game — and the scents are like nothing you've ever experienced. J'Adoube includes notes of patchouli and mandarin oils and vintage leather. While it's very woody, it's also slightly fruity.
The first whiff of this may remind you of mangoes, but with longer wear, you'll detect black pepper, jasmine, and vanilla. Maybe even a whiff of patchouli. It's an excellent gift for the person who loves exploring a fragrance's complexities.
While this scent is very rosy, it's not your traditional floral. The feminine fragrance blends multiple rose ingredients with musk for a graceful finish.
This sophisticated, intense fragrance is an ode to the oud lover. It marries oud with warm ambrette for a bold, woody scent.