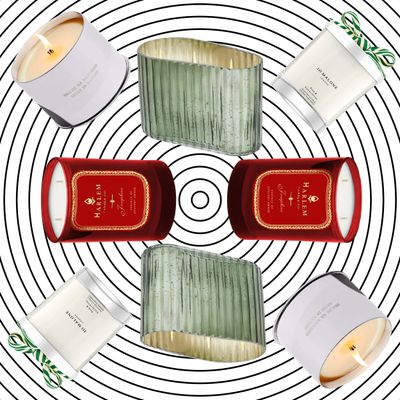 Photo-Illustration: by The Cut; Photos: Retailers
For more of the Cut's favorite fashion, beauty, and home finds, sign up for the weekly Cut Shop Newsletter.
Does your seasonal shopping list include candles, or are you simply a collector of stylish sconces? If so, you've come to the right place. Below, you'll find a curated a selection of Cut editor-approved candles for you to add to your cart — whether you're fond of a certain fragrance, love a tranquil ambience, or you're just looking for a thoughtful home décor gift.
You'll also find tips on how to prolong the life of your candle from Eduardo Valadez, director of marketing at Diptyque (because when you've spent a small fortune on a candle that smells like the most expensive place you've ever set foot in, you want it to last).
First off, candle prep is key. Before you even grab your lighter you need to trim the wick to about a quarter-inch length. "By shortening the wick, you allow it to burn more slowly and also avoid unsightly black smoke marks around the edge of the glass," Valadez explains.
Do I need to cut the wick?
Valadez suggests that the first time you burn it, keep it lit for at least two hours until the whole top is liquid wax. "This will help your candle burn more evenly the next time and prevent the wax from tunneling down around the wick. After you've put your candle out, you should be sure to realign the wick and trim it before use to prevent smoking and keep the wick from falling. Valadez recommends burning your candles for no longer than four hours.
Pro tip: Buy a chic wick trimmer that will ensure you'll get the most time out of your candles, a candle-warmer lamp for when you don't burn your candle evenly (it happens!), and an electric lighter so you can keep collecting your match boxes without using them up.
Now that you know how to properly take care of your overly expensive candle, here are some that are worth the hype and double as great holiday gifts.
The best-smelling candle
This is a personal favorite because it smells very, very good even if you don't light it. The scent has notes of rose de Mai, Moroccan rose absolute, geranium, leather, and amber. What sets it apart is the container made of Limoges porcelain and brass, instead of the usual glass, which makes a prettier piece to reuse when you're done. With this, you'll get around 60 hours of burn time. If this is a little too minimalist for you, check out their maximalist options with similar scents.
The cult-favorite-fragrance alternative
Replica candles are very chic and minimal with scents that get straight to the point. Beach Vibes smells beachy with notes of exactly what you'd expect, a fresh scent with notes of coconut milk and bergamot.
The unique option
If you're a fan of Costa Brazil's famed products, like their luxe body oils and fragrances, then you'll love the brand's sleek candles. One of our favorite fragrances is this Vela Jungle candle with notes of wild jungle flora, cypress root, and Brazilian vetiver. The 16-ounce size has a solid burn time of 60 hours.
The classic option
Byredo's candles are another favorite you'll find in the home of any lover of candles or fine fragrances. "I've been a fan of these candles for a long time. The jar and the candle wax are sleek and black and the scents are soft but bold," Willis explains. Her favorite is this woody blend of patchouli, vanilla, and violet. The 2.5-ounce size has a burn time of 24 hours, while the 8.5-ounce size has an approximate burn time of 60 hours.
Another classic choice
Photo: Courtesy of the Retailer
Like Diptyique's Baies candle, Le Labo's candles have garnered quite the fan base. Offering about 60 hours burn time, you can opt for the soy wax candle in one of your favorite scents, including the Santal 26, a smoky, leathery blend.
The minimalist option
Fans of the cult-favorite fragrance can buy the scent in its far more affordable candle form. With the same floral, woody notes of jasmine, saffron, and cedar wood, you'll get around 55 hours of burn time of this subtle but luxe scent.
The Carrie Bradshaw candle
This candle is a favorite of style director Jess Willis because Carrie burned it in the fourth episode of season four of Sex in the City. "When I got my first NY apartment, this was the first candle I bought to feel the essence of Carrie," she says. One of their most popular scents, Baies, is a blend of notes of blackcurrant berries and rose. The smaller size (70 grams) will give you about 20 hours of burn time. There is also a large version.
The one loved by moms
My mom swears by this candle. She never wants it to end, so she only lights it up for special occasions — the holidays being one of them. If you are struggling on what to gift your motherly figure, I highly suggest this one, which, lucky for you, is currently on sale at Nordstrom.
The reusable one
Nette is one of our favorite AAPI-owned brands. Carol Han has really developed candles that not only smell heavenly but are made with clean ingredients. Not only that, but once you finish burning your candle, you can reuse the vase, since it's microwave- and dishwasher-safe. Think chic drinking glass or cute mini-bowl.
If you want your room to smell clean
Boy Smells' Kush candle line is by far our favorite. However, Cashmere Kush always comes on top. The fragrance is incredibly subtle, so it's ideal to light up after your weekend cleaning spree — or if you skipped the cleaning, but still want your space to feel as if you did leave it pristine.
The prettiest option
I bought this solely for the packaging, and a year later it holds a handful of makeup brushes on a shelf. In fact, many of Overose's candles are just ridiculously pretty and come housed in cool packaging. That aside, this is a stronger floral scent with notes of blackcurrant berries, dewy rose petals, and fresh lychee fruit, the rose scent being the most apparent. The candle, which has an approximate burn time of 60 hours, is also cruelty free and vegan.
Another fragrance alternative
Similar to the Baccarat Rouge 540, this is a steal, when you consider that a Tom Ford fragrance can run you anywhere from $200 to $500 for a standard size. This is a spicier floral scent with notes of rose de Mai, Bulgarian rose, and Sichuan pepper, if that's what you're into. As someone who personally loves Tom Ford's fragrances but not how they smell on me, I think the candles are worth the splurge. The seven-ounce candle offers about 50 hours of burn time.
The one that's actually affordable
Chic, minimal, and affordable, these candles are a favorite among many staffers. Most of the scents, like this one with notes of bergamot and white ginger, are light and have a burn time of about 60 hours.
The alternative candle
These candles from Loewe are both the candle stick and the holder. Willis says they're a fun option for outdoor dinner parties and have a soft scent that transforms as it burns. The candle has notes of ivy and about ten hours of burn time.
The ceramic candle
These London-based candles come highly recommended by deputy style editor and candle enthusiast Joanna Nikas. Featuring a blend of paraffin-free waxes, these are hand-poured into a reusable ceramic container. August & Piers's standard candles give about 60 hours of burn time and have a beautiful scent; this one has notes of vanilla, bergamot, and geranium.
The modern option
Very few brands have an energy healer involved in the creation process, but that's pretty much the norm for Vyrao founder Yasmin Sewell. With notes of Turkish rose oil, violet leaf, and patchouli, this one is meant to promote self-love, and you'll get about 40 hours of that good energy supercharged by the company's go-to healer, Louise Mita.
The designer one
Another pick from Nikas are these handcrafted scents from Dior. Created by the company's top perfumers, these candles are every bit as luxurious as you'd expect. There are several scents with varying intensities to choose from, and they're all housed in these minimal containers. To keep your wax light investment shiny and bright, Dior recommends burning this candle for two to three hours at a time in order to get the full release of the fragrance's notes and ambience. And to protect the candle's ceramic jar from overheating, don't burn the candle for longer than the recommended time.
The double wick option
For those who like double the fragrance and want to ensure that a candle aroma fills a large room, this is the product you've been looking for. The 100 percent soy wax candle features double wicks that will burn for approximately 55 to 65 hours. What's more, it's made from simple, high-quality ingredients that are vegan and cruelty free.
The one with some history
The Harlem Candle Company honors the rich culture of Harlem with its selection of decadent products. The "Josephine" candle, named after the illustrious Josephine Baker, features notes of lush Moroccan rose and Indian jasmine along with liquid amber and sandalwood. It's available as both a one-wick and a two-wick candle, so if you love the idea of an 80-hour burn time, treat yourself to that second wick.
The candle you can design yourself
If you're into the idea of customizing a candle that also happens to smell divine, make sure to check out Taja. The brand has a variety of scents to choose from, and you can inscribe pretty much anything you want on these giftable candles — from the "Casa" caption to slogans like "The Future Is Female." Not to mention Taja candles are also available in an array of colors and sizes.
The California cool option
You may know Jenni Kayne for its cozy cardigans and versatile knits, but the clothing brand also has a selection of chic and ethereal home-décor products. This fresh-smelling candle has notes of green leaves, vanilla, eucalyptus, moss wood, and grapefruit.
The cozy one
There are a lot of basic holiday candles on the market, and it can be hard to find one that doesn't smell like a gingerbread house. For a more elevated holiday scent, try this candle, which mimics the scent of fireplace logs burning while a spicy cake is cooking in the oven. The smokey yet sweet smell is a personal favorite for Cut Shop contributor Morgan Evans. But don't wait too long to purchase, because the candle is a limited Lola James Harper item that is, of course, extremely popular for the season.
The one that smells like the holidays
There's a lot of basic Christmas candles out there, and it can be hard to find one that doesn't smell too literal. If you're looking for a more elevated festive scent, add this candle that captures the essence of the holiday season to your cart. With a blend of aromatic pine and enlivening eucalyptus, it will make a great gift for anyone on your list. (But if you want to keep it for yourself, we wouldn't blame you.)
The candle that's made with clean ingredients
If you are looking for a good holiday candle feeling and overwhelmed by all the options that are out there, cut the search short and add the Holiday Scented Candle by Nest New York to your cart. One of the most classic holiday scents there is, you can't go wrong with this festive candle featuring notes of pine, cinnamon, cloves, and mandarin orange. You can also purchase various candle gift sets from Nest if you're in the mood for giving, or the popular reed diffuser version of the holiday fragrance.
This boozy option
Those who prefer woody scents will appreciate this Malin+Goetz candle that has notes of leather, ripe plum, rum, amber, and creamy milk. It has a burn time of 60 hours, plus it has a full-bodied scent that will lend a sensual yet warm feel to any room.
This extra-large candle
Is it a candle or is it art? Fill your space with the aromatic scents and luxurious look of this large candle by Illume. The glass vessel has a gold-foil effect, which makes it feel more modern than the standard holiday candle. It features the typical notes of cedarwood, cinnamon, and eucalyptus, as well as top notes of balsam and rich oakmoss.