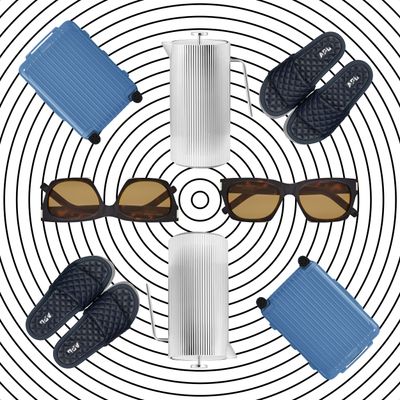 Photo-Illustration: by The Cut; Photos: Retailers
The best luxury Father's Day gift ideas are truly the hardest to come up with (sorry Mom!). What do you get the dad who has everything, including the honor of being related to the most luxury being of them all, you?
Seriously though, he probably already has enough fancy pens and designer ties. So if you're stumped on what to gift him this year, we've rounded a few luxury gifts we're sure he doesn't have. Even if he doesn't identify as a fancy man, deep down, who doesn't love the finer things life has to offer?
From Tiffany-blue table-tennis paddles and luxe earbuds to a fancy coffee maker and a fragrance just for his hair, here are the best luxury gifts to give Dad for Father's Day.
For the Dad Who Loves the Classics
Basic without being too basic. This pure-cashmere cardigan is perfect for throwing on with any outfit on chillier days.
For the Dad Who Loves Coffee
Nothing is more luxurious than leisurely mornings with a cup of coffee. He can use this fancy press to brew up hot cups of his favorite coffee blends.
For the Dad Who Needs a Skin-Care Routine
Luxe and deeply hydrating, this moisturizing cream helps nourish skin with snow-mushroom extract and marula oil.
For the Dad Who Wants a Signature Scent
Switch up his cologne with Bleu de Chanel, a lighter eau de toilette with notes of cedar, grapefruit, and sandalwood.
For the Dad Who Loves Fitness
If your dad is a fitness expert or he's just looking to move his body more often, consider WHOOP. Thanks to its data and coaching, your dad can optimize his workouts, recover faster, and even sleep better.
For the Dad Who Needs New Slides
If anything can convince him to toss his age-old slides, it's these. Made of buttery leather, these are for more than quick trips to the car.
For the Frequent Flyer
This sturdy and luxe suitcase comes in a number of colors and makes the perfect carry-on for weekend getaways and business trips.
For the Dad Who Loves Fragrances
How about you consider a fragrance that's just for his hair? I mean, it doesn't get more luxurious than that. This one from Balmain is scented with notes of bergamot and sandalwood.
For the Dad Who Truly Appreciates Comfort
For the Casual Dad
Say hello to the slip-on loafers that he'll want to wear more than his favorite sneakers. This canvas pair features a classic Gucci logo and colors that are neutral without being boring.
For the Dad Who Needs a New Wallet
Simple and chic with plenty of space for family photos and, of course, some cards and cash.
For the Dad Who's a Minimalist
Sneakers that are plain but not boring that will match with all his classic tees and jeans. They come in white and black, but he'll be summer-ready in this white pair.
For the Dad Who's Serious About Music
The tiny wireless speaker to end all tiny wireless speakers — plus, it's pretty.
For the Dad Whose Dress Code Is Formal
Understated and chic, he'll want to wear these cufflinks any chance he gets.
For the Stylish Dad
He'll know exactly how to style and wear this luxe silk and cotton scarf from Hermès.
For the Dad Who Needs Sunglasses
Stylish and not too trendy, this class pair of sunglasses has these very cool brown, tinted lenses, and subtle square frames.
For the Dad Who's Back in the Office
He'll need a fancy briefcase. Get him a Gucci embossed briefcase; it'll become his everyday bag.
For the Dad Who Loves Games
A classic table game made fancy. This set will look good even when he isn't challenging everyone to a game.
For the Dad Who Needs New Summer Clothes
You can't go wrong with a lightweight seersucker shirt. This cotton top from Thom Browne is perfect for layering over white tees and tanks.
For the Dad Who Loves Peace and Quiet
Gift Dad what he really wants with these noise-canceling headphones. Not only are they waterproof, but they also get about 20 hours of playtime.
If you buy something through our links, New York may earn an affiliate commission.