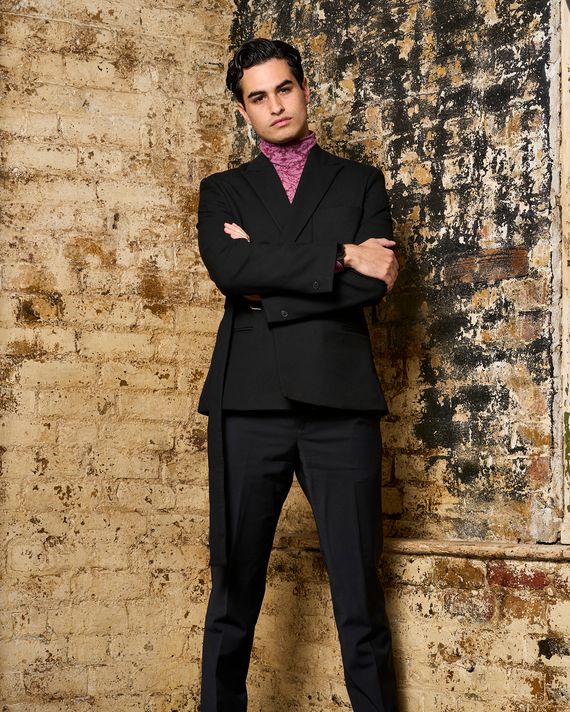 Photo: Channel 4 / Rachel Joseph
It's been 11 years since Made in Chelsea first graced our screens, introducing us to a cast of wealthy socialites who treated London's Chelsea area like their posh playground. And whilst many of the show's original faces have since moved on, MIC's newest cast members are still packing a punch.
Newcomer Robbie Mullett may have only made his debut last year but the UCL law student has already made a big name for himself. Viewers were moved when Robbie — who joined the show in series 21 as Paris Smith's best pal — broke down in tears when opening up about his coming out journey to co-star Ollie Locke.
Admitting he was initially terrified of his parents' reaction, he said: "I felt as though I'd internalised some sort of notion that it was wrong. And so, you know, I hated myself." The scene was especially poignant as it marked 10 years since Ollie had come out to his best friend, Binky Felstead, on the show.
Following the episode, Robbie told fans: "There is an immense privilege that comes with being on national television and being able to share these moments makes it so worthwhile. It is not a privilege that I take lightly."
He was also praised for discussing his journey with PrEP — a vital medicine taken to reduce the risk of catching HIV — in a conversation with co-stars and close friends Olivia Bentley and Inga Valentiner in series 22. Becoming emotional as he discussed a family member who had died from AIDS, he explained: "It's such a privilege for me to be able to take this."
In series 23, Robbie introduced his boyfriend, Joel — and in series 24 we've already seen them tested by the possibility of welcoming a third person into the bedroom. Later on this series, viewers will also see the pair recover from a terrifying attack whilst on holiday and watch Robbie try to navigate the conservative world of law firms whilst remaining true to his identity.
Five new cast members are also joining the 24th series, promising to deliver the drama. Here's everything you need to know about the newbies:
Charlie Wicks, 27
Based in Fulham and a trader in the city, Charlie is joining the show following a break-up last year. He admits that the end of that relationship has caused him to become a "yes man" and take every opportunity life throws at him. Charlie claims he's a chilled out guy but admits he often finds himself at the centre of drama. He also has a family claim to fame as his father is Steve Wicks, the ex-professional footballer who played for Queen Park Rangers and captained Chelsea Football Club back in the '70s and '80s.
Lily Ludovici Gray, 29
As the ex-marketing manager of notorious hotspot Raffles, Lily is well-versed in the Chelsea social scene. She's already got strong connections to MIC cast members and was most recently a bridesmaid at Tiffany Watson's wedding. Viewers may remember Lily making a brief appearance on the show in series 10 when she threatened to come between Tiffany's sister, Lucy and her boyfriend, James Dunmore. Lily was also close pals with Inga but fell out over her romance with Sam Prince. Could the girls be set for a fiery showdown?
Yasmine Zweegers, 23
Born and bred in the royal borough, Yasmine lives a lavish Chelsea lifestyle with her parents and their two dogs Picasso and Paolo. She became an overnight sensation on TikTok back in 2020 and posts funny videos to her 200,000 followers. She's already made an impression on the Chelsea boys and has enjoyed a coffee date with Miles Nazaire (and the two agreed to go on a second date). She's also good pals with Reza Amiri-Garroussi and Paris and lives next door to former cast member Stephanie Pratt. The pair pop over to each other's houses regularly and walk their dogs in Battersea Park.
Georgia May Salamat, 27
No stranger to TV screens, Georgia has already enjoyed TV fame as she starred on Mary Berry's cooking show, Best Home Cook. During the pandemic, she set up the healthy eating concept The Acai Girls with her sister and they opened their first deli in Fulham, situated next to the Ride Republic spinning studio, where Julius Cowdrey runs classes. She used to be very close to Jamie, Mytton, and Proudlock back in the day and is friendly with Miles, Emily, Tristan, and Verity today.
Angus De Kirby, 26
Angus set up his eponymous couture fashion brand during the pandemic and his designs have since been worn by stars such as Paris Hilton. Angus is close pals with Paris Smith and she can often be seen wearing his clothes too. He describes himself as pompous, judgmental, and kind. He admits when first meeting people, he judges them on their clothing choices, general appearance, and how well spoken they are. His dry sense of humour has often landed him in hot water and we're sure he's set to ruffle some feathers.
This advertising content was produced in collaboration between Vox Creative and our sponsor, without involvement from Vox Media editorial staff.