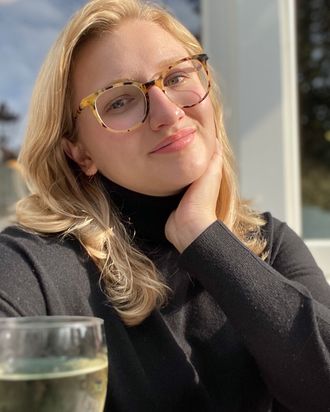 Photo: Courtesy of Madison Malone Kircher
Want more skin care? Join The Beauty Group.
Madison Malone Kircher is always looking for products for her very dry skin and started building a routine because she wanted her skin to "calm the f*ck down." "My first question is always something like, 'How long will this moisturizer last before my nose dries up entirely and falls off?'" she says. The Vulture writer and occasional Cut contributor also describes her skin as incredibly reactive. She jokes, "It turns red if you so much as look at it the wrong way."
Kircher is particularly mindful of cost. "I prefer to find products that are reasonably priced, or at least not exorbitantly priced," she explains. "I don't mind shelling out for quality products that work, but there's also no world where I can regularly afford them for my entire process." Her bathroom cabinet is stocked with a combination of drugstore products and some "fancier" products she thinks are worth the splurge. She also treats herself to regular facials from Glowbar, co-founded by fellow Why Is Your Skin So Good contributor Rachel Liverman. Below, the products she found that really work, including her favorite sunscreen and affordable hyaluronic acid.
The Micellar Water
"I buy the cheapest drugstore micellar water I find on the shelf. It's just a generic cleansing water that takes off dirt from the day, which is why I use it as the first step in my routine. My current bottle is from Beauty 360, which is the CVS generic brand. I use this with a cotton pad or two for removing my makeup. Admittedly, if I'm really tired, I'll give up after this step, but if you tell my dermatologist, I'll deny it."
The Cleanser
"An esthetician at HeyDay turned me onto this cream cleanser. It's really gentle, which is great because my skin turns red and stays red if you so much as look at it the wrong way. I cleanse with this and then remove it with warm water and cotton pads. (The pads feel like a cleaner choice than wiping off my freshly cleansed face with a washcloth I haven't washed as frequently as I ought to wash it.) Sometimes in the winter, I skip the water entirely and just wipe it off to keep the extra moisture. I usually shop around online and buy it wherever is selling the cheapest salon-sized bottle."
The Alternate Cleanser
"An esthetician recently recommended I introduce a little salicylic acid into my regimen so I use this once a week to really clear out my pores. It's cheap. It works. My colleague Hunter Harris also uses it and have you seen her skin??? That's all the evidence you need."
The Face Polish
"Most exfoliants make my face turn bright red, but this is gentle enough for me to use regularly. I'll use it twice a week in the winter and three to four times in the summer when New York is disgusting, and I'm a sweaty monster. It makes for a good calming mask, too, if you've got a little more time. I like how my skin feels noticeably smoother after I use it, and I feel like my moisturizer absorbs better when I do."
The Serum
"I have no idea if this actually helps my skin that much, but I can't prove it's not not helping my skin look dewy. Plus, it's only $7 for a bottle from The Ordinary, which keeps me coming back. Hyaluronic acid helps your skin better hold onto water. I started using it after I walked into The Ordinary shop in Brooklyn and asked for product recommendations for dry skin. I apply a few drops of it across my face before my moisturizer. I skip it on nights when I use my prescription topical."
The Prescription
Photo: Ridofranz/Getty Images
"Tretinoin is a prescription topical cream. After years of trying to control my adult acne, I finally went and saw a dermatologist this year for the first time since I was a teen. I use this cream at night every two to three days, after I cleanse and before I moisturize. I've been using it consistently for a year now, and it has been a friendly reminder that nice skin-care products are great but can also be kind of a sham compared to actual science.
It's really drying, so sometimes I'll use a thicker moisturizer, like Weleda Skin Food, over it. I also use it on my back. It doesn't do anything for my old acne scars, but it's good for preempting future damage. I also find that my birth control helps with my acne."
The Moisturizer
"If anybody can find me a good dupe for this, please get at me immediately. It's really gentle and very hydrating and smells like a light breeze wafting off an orange grove. It is also $35 bucks for a small bottle, which is admittedly far more money than I'd ideally pay to moisturize my face multiple times a day. Every time I switch to something else though, I break out immediately, so here I am living my life as well-moisturized sucker. Well played, Image Skincare."
The Sunscreen
"I'm madly in love with Glossier's sunscreen, but it's $25 for a single ounce, which ha! (Glossier, please! fix! this!) Right now I'm using this one from La Roche-Posay, which is still pricey but you get nearly double the product for a similar price. It, like the Glossier Invisible Shield, doesn't leave my face feeling greasy, and as a bonus, has a markedly higher SPF. I had a bunch of FSA dollars I needed to spend down at the end of last year before they expired, so buying a bunch of bottles of this at Duane Reade was my solution. I'll be on the hunt for something even cheaper when my current stash runs out."
The Facials
"I'm obsessed with Glowbar in Tribeca — book your appointment with Marjorie, she's the best. You're in and out in 30 minutes, which is really convenient. When you arrive, you wash your own face in the lobby using their products and all the clean muslin cloths you could ever want, and then you get down to business. The treatments are customized for each person, and mine usually consist of a peel, some light extractions or dermaplaning, and some LED light therapy. I'm a member, so I get a facial once a month.
Author's Note: Glowbar launched eight months ago, but due to the coronavirus outbreak, the facial spot is currently closed. You can support their studio team by donating to the company's GoFundMe or purchasing e-gift cards for future use through their site."