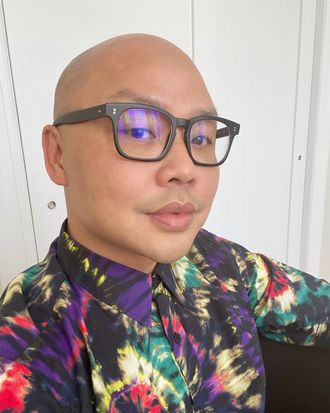 Photo: Courtesy of Daniel Martin
When Meghan Markle married Prince Harry in 2018, Daniel Martin was responsible for her glowing skin, which he achieved through layers and layers of hydration. It turns out he uses a similar approach on his own skin.
Over the years, Martin has developed eczema and melasma as a result of sun damage sustained in his 30s. With expert help from his dermatologist Dr. Shari Marchbein and the aesthetician Joanna Vargas (a close friend), he's learned to use water-based products, rather than ones with oil-based ingredients, and to avoid high concentrations of lactic acid, zinc oxide, synthetic fragrances, parabens, and mineral oil.
Skin care is all a game of "semi-calculated risk," Martin says. If you're looking to build — or improve — your skin-care routine, he suggests doing extensive research, reading lots of product reviews, and trusting your own judgment. "There's truly no such thing as a stupid question when it comes to skin care," he notes. "Our skin is our body's biggest organ, yet it gets put through the wringer every day. You should never skimp on your skin care — if a product seems too cheap or too good to be true, it usually is."
Below, a look at Martin's full skin-care routine, including the moisturizer that keeps his eczema in check, the sunscreen that changed his mind about sun protection, and the LED-light gadget worth the investment.
The Cleanser
"Living in NYC, I'm neurotic about cleansing twice a day. I have a small patch of melasma on my forehead and my friend (and facialist) Joanna Vargas recently gave me her Vitamin C Face Wash to use to brighten and even out my skin. The texture is really nice and it doesn't have a funky smell like other vitamin C products do. I've been using it for about two weeks, and I've already seen amazing results. I'm less red, and my overall skin tone has balanced itself out."
The Face Mask
"I discovered this mask a few years ago, and it's now part of my permanent product rotation. The main ingredient is volcanic ash from Jeju Island in Korea, and my pores always look noticeably smaller and clearer after I wash it off. I'll apply it for ten minutes every other day to my T-zone to help keep my pores in check. Bonus points for it being only $21, too."
The Mist
"I found this atomizer at Monoprix (France's answer to Target) when I was in Paris for fashion week right before we quarantined. My skin can get irritated and itchy when it's dry, so I use this to help calm it all down after I use anything that might strip my skin or upset its pH balance (such as a face mask or a cleanser). I'll spray it on my skin after using a clearing face mask (like the Innisfree one), after cleansing, and before I apply The Essence (below). It feels incredibly soothing, and it also doesn't have a fragrance, which I like because I'm super-sensitive to smells."
The Essence
"When Tatcha founder Vicky Tsai first gave me this product to try, it did not agree at all with my skin (I still don't know why). However, as I've gotten older, my skin and its needs have changed, and now I can't live without it. It's liquid in texture, almost like water, and I apply it after cleansing and before I put anything else on my skin. It makes any product you use after work so much better, and I immediately see a noticeable difference in my skin tone and hydration — it's more supple, even in tone, and feels overall much healthier."
The Booster
"Sarah is my go-to facialist in London, and my skin drinks up this product when it's dehydrated or parched. I also suffer from seasonal allergies, and the medication I take to keep them in check tends to dry out my skin. This helps add that moisture back, and because it's super-lightweight and absorbs quickly, it doesn't leave me feeling like I have too many products on my skin."
The Moisturizer
"I have mild eczema, and this moisturizer is one of the only skin-care products that helps keep my flare-ups in check (it's also great to calm skin after a sunburn). It has a really soothing scent and is incredibly calming. I've been using it for years and recommend it to any clients or friends who also have eczema or psoriasis. It's also certified by the National Eczema Association, and it has colloidal oatmeal and Japanese indigo in the formula, which gives the cream a really cool bluish tint that disappears on the skin. A fun fact: Because of indigo's antibacterial and antimicrobial properties, Japanese samurai would wear indigo-dyed clothes under their metal armor to help heal wounds they sustained during battle."
The Sunscreen
"For someone who is extremely particular about taking care of their sensitive skin, I'm ashamed to admit that I was a jerk about not wearing sunscreen … until I found this one! It's incredible and super-hydrating. I have an adverse reaction to a lot of formulas currently on the market because they either have too much fragrance or the zinc oxide gives my skin a whitish tint. I apply this one after my moisturizer, and it feels like another layer of moisture when you have it on. Now that I'm beginning to deal with melasma popping up on my bald head, sunscreen is nonnegotiable in my skin-care routine. Sun spots are not chic!"
The Lip Balm
"This lip treatment hydrates (and tastes great) when I apply it, which I love."
The Concealer
"My approach to makeup has always been to emphasize the skin's radiance rather than covering it up, and I've found that using skin-care and complexion formulas that complement each other allow for the most natural-looking results, whether it's for a red carpet or in a photo. This is, in my opinion, the best two-in-one product on the market to balance out your complexion. Even though it's technically a concealer, it can also be used as a foundation because of its 24-hour-long wear and matte finish on the skin, and it's perfect for spot-treating any problem areas, cutting down redness, or blurring large pores. After I finish my skin care, I'll use it to spot treat my face and buff it into the skin using a foundation brush. It's the perfect product for anyone who wants to even out their skin tone without looking like they have makeup on."
The LED Gadget
"Joanna [Vargas] is a big advocate of using LED light to help with skin-cell renewal, and this Tri-Light is amazing. It has five different LED color settings, and it only takes ten minutes to see results. I go back and forth between using the red light to help with fine lines and uneven skin tone and the blue light to target acne spots. It's a little on the pricier side, but it's been an incredible investment."