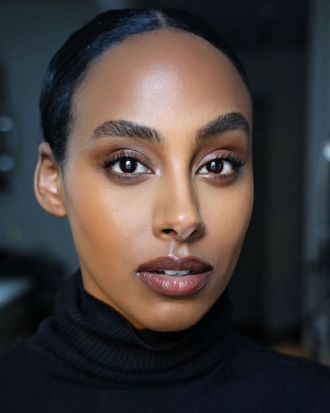 Photo: Courtesy of Delina Medhin
If you recognize Delina Medhin's name, chances are you've seen the makeup artist's work in Elle, Vogue, or Essence. She's also the resident beauty expert on the Today show and The Wendy Williams Show, and she's worked as a makeup artist on The Photograph with Issa Rae and The Planet Is Burning with Ilana Glazer. These career highs were a long time in the making, Medhin says, dating back to when she couldn't wear any makeup at all as a teen. "It was a no-go for my mom — she thinks that's why the 'forbidden' became so enticing to me," she says.
Now, with more than 12 years of experience under her belt, Medhin says doing makeup also meant reexamining her relationship with her skin. "It's so easy for me to tell my clients to do face masks and go see an aesthetician, but for a long time, I put that on the back burner for myself because I was always focused on the next job and the next thing," she remembers, thinking back to when "full-on" acne suddenly became a part of her life after college. "The texture of my skin was really intense, and I never left the house without makeup on. It's why I have so much compassion for people that have acne; I tried to hide from the world, and I know how much it can wreck self-esteem."
What ultimately helped the most was hiring dietician Lauren Cadillac. "I realized that our skin is a reflection of our gut health as well as hormonal things happening in the body," Medhin says. Together, Medhin and Cadillac began a three-month journey of healing her gut by cutting out foods that caused allergic reactions and imbalances. "She helped me put the dots together," Medhin explains. "And in about a month, I noticed a huge difference. It was actually the best I've ever felt energy-wise and the best my skin has ever looked."
Seeing aesthetician Mamie McDonald also changed the way Medhin saw her skin. She was assisting fellow makeup artist Monifa Mortis on set when a model told her she only trusts one person in the world with her skin. "Once the model said Mamie does everyone in Hollywood's skin, like Jay-Z, Tina Fey, and Angela Bassett, I knew I had to go see her," Medhin says. "[When I saw Mamie] she kept telling me how beautiful my skin was. I didn't see that at the time, and I'm forever grateful for the love she gave me and how she helped guide me to healthier skin!"
Below, Medhin breaks down the products she uses in between facials with McDonald, including the $5 lip balm she loves, the serum that cuts down on a pimple's healing time, and the moisturizer she generously applies on both herself and her clients.
The Double Cleanse
"I always, always, always double cleanse, and this just makes sure your skin is really clean, but it also avoids using too much pressure or using anything that's too harsh on your skin. While double cleansing is typically done at night, I love double cleansing in the morning because it allows me to subtly reintroduce an oil to my skin. This is a great way to rehydrate the skin, make it appear more plump and ready to go for makeup, and it also is a little bit of a massage.
I like this balm by Farmacy because it's solid, and if you're traveling somewhere, you don't have to worry about it spilling in your bag. It has a light and fresh scent — not sure exactly what it smells like, honestly. You take it in your hands, you work it back and forth, it warms up, and it becomes an oil. It's really gentle, and when I rinse it off, it actually turns into a cream. Then, I take a washcloth and dry my skin before I start doing my second cleanse."
"I use the Farmacy Whipped Greens Cleanser for my second cleanse. I was introduced to this about three months ago by the chemist who designed it at Farmacy — I attended a Zoom with them, and the chemist shared how to apply it! One of the reasons why I like it is because when you add a little bit of water, it becomes so rich. You want to try and be as gentle as possible when cleansing. I know it's hard, especially when you have makeup already on your skin, but try and be as gentle as you can — we only get one skin. My mom always reminds me of that. She's like, 'Don't be too aggressive with your skin!' I work it for about a minute or so and just really get the skin super-clean. It has moringa (which is anti-fungal and anti-inflammatory) and papaya (which helps to exfoliate the skin for a good glow)."
The Eye Cream
"This is a really good eye cream, especially if you typically wear makeup, because it's great for prepping underneath the eye. It is hydrating, nourishing, and visibly plumps the skin. It smooths fine lines and all that, but it also provides a grip because it's a primer for your makeup. I like to pat it underneath the eye, and the pressure I use is very light so it's not moving the skin around too much, which is very important because, if you think about it, you're applying eye cream every day and night. That's a lot of touching that you're doing to your eye area, so it's important to try and use as light of a pressure as you can. This is something I had to grow into, though, if I'm completely honest. I've always been very light-handed on my clients, but on myself, until I actually watched videos of myself doing my own makeup, I was like, Oh girl, you're going in."
The Serums
"I like to apply my serums before I apply my moisturizer, and I love Double Serum by Clarins. The thing about this serum is that it's actually separated into two different chambers. The iconic dual-chamber houses the perfect ratio of water-soluble (hydric) and oil-soluble (lipidic) ingredients, similar to the skin's hydrolipidic film. It gives you an exact mix of what you need for your skin. It kind of feels like water for your skin — like, as soon as you put it on, it feels moisturizing. You're supposed to press it into your skin. Did you know that you're not supposed to rub your serums in? I learned that from Clarins."
"Next, we have the depigmentation serum. This is by my aesthetician. Her name is Mamie McDonald — she is also Angela Bassett's aesthetician. If you don't already have this, you need this in your life. I take six drops, I rub it in my hands, and then I press it into the skin. The goal here is to help even out the skin tone. You can put it everywhere — you don't have to just put it on the spots that you have. It helps lighten up spots a little bit faster than your skin typically would. Normally when I get spots, they stay for like four months sometimes, so this is a nice way to accelerate that and make it to be one, two, or three months. That said, I'm a makeup artist, so I always cover my skin, but you know, I want to look good even when I have no makeup on at all."
The Acne Treatment
"This says 'overnight spot treatment,' but the really dope thing about this is that it's for active acne and it's clear, so I use it both in the evening and in the morning. Isn't that amazing? A lot of treatments that you use, especially during the day, have some kind of cast to them, and this does not have that. I just kind of feel around the areas that I know have raised acne or it seems like it's coming in. This is my second or third bottle of the stuff. It is amazing."
The Moisturizer
"Once you put on all of your serums, you want to go in and put on your moisturizer because it locks everything in. I love putting on a good amount of moisturizer. I'm not one of those people that's really skimpy with it. Even with my clients, I'll put on a lot — they'll be shining before I start doing makeup. I find that it just makes makeup look better, and it makes your skin look healthier; glowy skin looks healthy and just attractive. When I was younger, my mom used to tell me to make sure to put a bunch of moisturizer on my skin. She'd always be like, 'Go put cream on your face!' So when I leave the house now, and I don't, if I'm not shining, I'm like, I didn't do it right.
I was actually introduced to this moisturizer by Bobbi Brown. I used it and loved it. It has a clean and fresh scent — think grapefruit and geranium. The oil-free formula combines the moisturizing power of shea butter with vitamins B, C, and E for antioxidant protection. It's rich in feel but never greasy."
The Sunscreen
"Sunscreen is something that, even if you're in your house, you definitely want to make sure that you wear it, because we sit in front of windows all day. Every single day, if the sun is rising where you live, you should be wearing sunscreen. Supergoop! makes a lot of different things that I like, but this one in particular is something that I've been pretty in love with. The thing I like about this is that it goes on completely clear. It's also really nice because it adds hydration to the skin — it's great if you have dry skin, oily skin, combo skin — whatever kind of skin you have, this is really fantastic to use.
Make sure you get on top of the eyes, get those brows, get that forehead, the ears, the neck, the chin, all these good areas. I kind of work it into my hairline a little bit too because you've got those areas with your hair where it's a little bit more sparse and you need some coverage there, too. I just put it everywhere as much as I can."
The Lip Balm
"The last thing I do is use a little bit of lip balm. This one by Aquaphor is an oldie but goodie. I love the feeling of it. They call it a healing ointment, and whenever I use it, I feel like my lips are moisturized, but they also stay moisturized for a long period of time and I don't feel like I need to lick them, because I always do that — I don't know why I do that. It's just a bad habit."