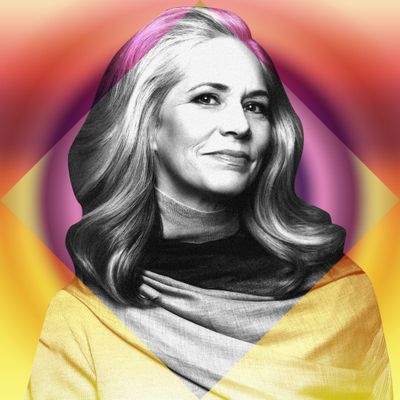 Photo-Illustration: by The Cut; Photo: Getty Images
I was struck by an article I read recently called "Can Menopause Ever Be Sexy?" If you're in menopause, or you've been through it, you know the answer to that question. (Please pass the fan, the lube, the meditation app, the body oil, the dog-eared copy of When Things Fall Apart.) So the question is not "Is menopause sexy?" but "Can we make the selling of menopause sexy?" And for the answer to that question turn to the photo of Gwyneth Paltrow at 50, naked but for a skin of gold dust, in which she looks, not incidentally, like the nubile, ill-fated victim of bullion dealer Auric Goldfinger.
If more attention to menopause means more medical research into managing it, then I am all for it. Time will tell. For now, the surge of interest in menopause seems motivated not by a deep desire to improve women's lives — much of the product offered isn't new or cutting edge — but to see how much money can be generated from this previously ignored opportunity. It's a shimmery marketing extravaganza made to order for those of us feeling our way through the sometimes shadowy passage we may as well now call "the dollars and change of life."
According to the North American Menopause Society, there's no scientific evidence menopause is responsible for midlife weight gain, but there's no question many of us tend to gain weight before, during, and after that transition. A makeup-loving reader wonders if that means a change in her makeup choices.
I've worn makeup everyday since I was a teenager because I love it. I've gained a lot of weight the past few years — I'm 42 — and I feel like I'm no longer highlighting my features or maybe wearing enough makeup. I've played around with wearing super dark eyes, which seems to help but in general this issue isn't something you can find addressed on YouTube or social media. I've looked!




What do you think?
I turned for some advice to makeup artist Barbara Stone, who said the magic is in the details: "There are a few things you can do to bring the balance back to your look," she said.
According to Stone, your new shape gives you opportunities to do your makeup in a new way. Without having to use fillers, all of the sudden lines around your eyes and mouth are softened. "There are people who're getting fillers to mimic the plumpness and the volume you're seeing in your skin," she said. (I hope we're all done with the stupid idea, attributed to Catherine Deneuve, of having to choose between your ass and your face.)
Stone suggested doing your makeup similar to how your did before: By starting with a foundation that gives coverage without being obvious, blending it lightly all over (on those areas where skin tone might be more uneven or where the makeup wears off quickly like around the nose; on the chin, you can add an extra dab of coverage), and dusting translucent powder to help it stay put.
"I think the foundation match becomes more important when you're heavier because the jaw is often less defined, so it's more obvious if your foundation color is different from your neck. You can run a bronzer brush along the jawline for the barest inkling of definition or foundation-edge blurring, but less is absolutely more," said Stone. "I'm obsessed with Monika Blunder Blunder Cover right now; it doubles as a concealer."
Find a blush close to the color you actually blush and use just enough to warm you up, Stone said. Apply it to the middle of the apples of the cheeks: "I think the old Bobbi Brown technique of using two shades is really effective because you can do a kind of blurred-edge feathered application over most of the blush-cheek area with a subtle color first and then, standing at arm's length from the mirror, add a hint of a brighter pop of color in the middle of the cheek."
Highlight or glow isn't a total no-no, Stone said, but many highlighters are so frosty that they're hard to manage. Charlotte Tilbury's Cheek to Chic is a good one for someone with a full face who wants a softer glow because it's not disco-ball shiny. Edward Bess's All Over Seduction creams are good, too, she said.
Contrary to what's being Tik Tok-ed, skip contouring altogether — it's a lot unless you're in low light or a club.
"I think accentuating the eyes is the easiest way to feel beautiful," said Stone. Brows are key for lifting the face. If they need love on a regular basis, find a pro to shape them and follow that shape between visits. Use a pale, softly shimmery shade of shadow on the inner half of the lid above the lash line with a dark, clean eyeliner line (she always reaches for black liner) lightly smudged as it reaches the outer corner. With a lighter color on the lower half of the lid, whatever deeper shade you apply in the crease and corner of the lids will add more definition. The liner under the eye should be soft-edged — too strong and it'll be harsh; too smudgy and it can look messy. A quick pump with a lash curler before mascara will open the eyes too.
For lips, you want to balance the choice you've made for your eyes. A soft neutral eye? Choose a deep or vibrant lip color. A smoky dark eye? Choose a more neutral lip shade that still emphasizes your natural lip color, said Stone. All this is to say, if you've put on weight, you may now have a smoother canvas to work on — perfect for adventures in makeup.
Valerie Monroe was beauty director at O, The Oprah Magazine, where she wrote the monthly "Ask Val" column for nearly 16 years. Now she writes the weekly newsletter How Not to F*ck Up Your Face. Her goal continues to be to shift our thinking in the beauty arena from self-criticism to self-compassion and to learn how to be loving witnesses to ourselves and one another as we age.