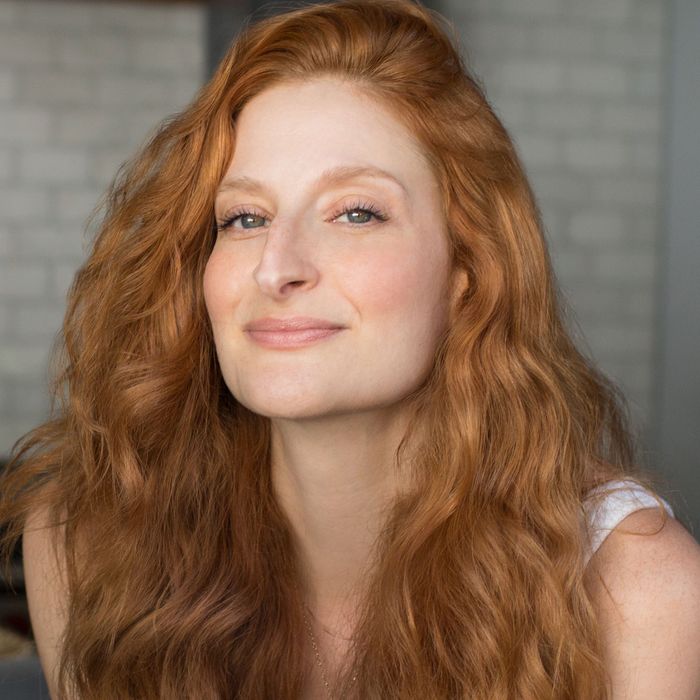 Photo: Courtesy of Katey Denno
Want more skin care? Join The Beauty Group on Facebook.
Katey Denno was not immune to the allure of St. Ives as a teen. Like many of us, the makeup artist — who has worked with the likes of Olivia Wilde, Beanie Feldstein, and Lizzy Caplan — was a fan of the Apricot Scrub, which has become infamous for causing irritation. She would also wash off her eye makeup with St. Ives's hand soap in her parents' bathroom. "It was super-drying and not great, but I didn't know any different," she remembers. "My skin-care routine's evolved a lot over the years."
Denno has faced down acne since she was 15. Back then, she says, it was "really intense. Deep cysts, under-the-skin bumps — basically I've had every kind of awful pimple you can imagine," she recalls. Her dermatologist prescribed a topical retinol with a percentage so high that "my face cracked when I smiled." In her 20s, she relied on spironolactone and birth control to keep her acne in check. The only problem was that "I didn't want that crap in my system," she says. "It took nearly two decades and lots of experimenting for me to realize that it's truly at least 75 percent what I put into my mouth that keeps my skin in check. Dairy and sugar are huge culprits for me. I also need regular microderm and/or acid masks to take off the top layer of skin, which holds in the breakouts."
Now, she favors nontoxic products in ecofriendly packaging. She's a fan of clean beauty shops like Credo Beauty, the Detox Market, Follain, and Onda. Below, a look at the products she relies on, including not one but four serums, the best spot treatment she's ever used, and a gentle face oil with squalane.
The Cleansers
"I do two pumps, then massage it into my skin from hairline to chest. It's a rich blend of oils that helps unclog pores and washes away, leaving my skin feeling really great. It feels silky, like oil mixed with water — it doesn't change into a milk, exactly. It depends on what makeup you have on, of course, but it does begin to break it all down. I use a washcloth, usually a fine-grain muslin one, to take it all off. I'll massage down to my chest, especially if I was wearing a low-cut top and sunscreen — why not wash the day away and hydrate all at the same time?"
"I love this soap for the ease of use. It's not actually made with sugar — it's a blend of oils, raw organic cacao, and Chinese and Korean herbs — and it doesn't create suds. I rub it all over my face, or rub it in my palms and then rub them on my face, on top of the oil. It's so easy to travel with; I just put it in a little cloth bag that a compact came in. Hello, repurposing!"
The Toner
"In a mist, the blend of scents is what's most important to me. This mist has sandalwood and lavender, and it's heavenly. Plus it makes my skin glow. I use it morning, noon, and night!"
The Serums
"I love the formula. It's not sticky, drying, or stinging. It's hydrating and brightening at the same time, with exceptional ingredients like kakadu plum (to brighten), kangaroo paw (to protect against UV damage), and quandong (to balance the skin)."
"Beauty Heroes turned me on to this product. Retinol is a highly concentrated vitamin A, and this is best I've tried. It has hyaluronic acid, oligopeptides, and anti-inflammatory blue tansy. It's so effective that I can't use it every day. It turns over skin cells so quickly that I can get flaky if I'm not careful. "
"This is the best spot treatment I've ever used. Doesn't dry you out, leaving a crusty ring around your zit. I use it at least two to four times a month. If I see or feel a breakout coming, I dab it on one to four times a day, and 75 percent of the time, it keeps it from coming on. I also put it on after I've picked the crap out of a pending breakout, and it helps."
"A super-well-formulated, calming, hydrating moisturizer that I put on at the end of my routine. It has vitanol (a form of vitamin A), copper tripeptide-1 (which improves elasticity and reduces hyperpigmentation), and astaxantin (a serious antioxidant), and it's in a base of organic jojoba, olive, and rosehip oil."
The Face Oil
"This is one of the most gentle hydrators around. I love that the squalane comes from a renewable resource (sugarcane), and if I run out when I'm traveling, I can pop into a Sephora to pick up a new one."
The Balms
"I put this everywhere because it has such a delicious, cocoa-y, buttery kind of scent and leaves my skin feeling luxuriously hydrated. I love the texture at room temperature — it's really rich and creamy and melty upon touch. It has pearl to regenerate collagen, matcha green tea for its anti-inflammatory properties, and coffee, which is an antioxidant for the skin and helps improve circulation. All of that comes in a base of organic shea and cocoa butter. Plus it smells delicious because of the vanilla-bean and mandarin-oil extracts."
"They spent years making this product, and it shows. It stays on my lips throughout the night. Nothing else does that! They look plump and not greasy, so I like to use it during the day, too."
The Cream
"When I want a lighter product around my eyes and lips, this is a good sheer option. I'll use it both day and night. I like to use it to seal in all of my oils and serums before bed."
If you buy something through our links, New York may earn an affiliate commission.