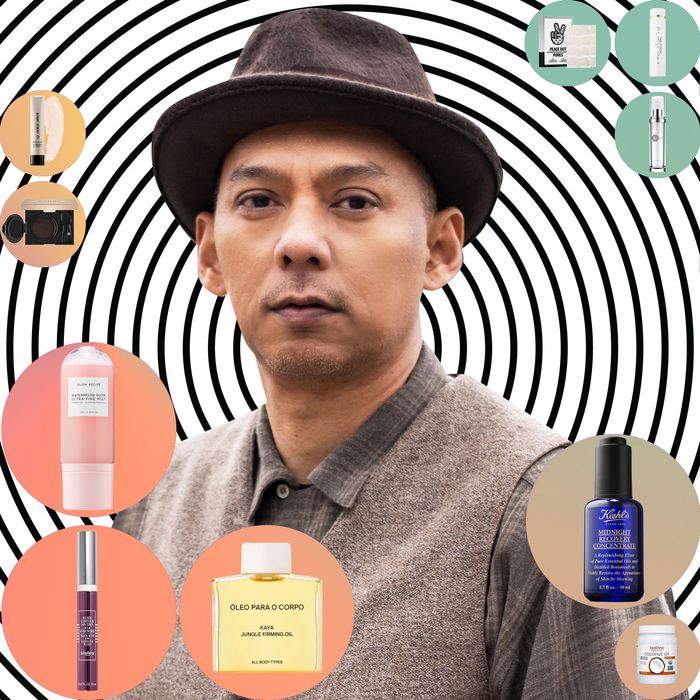 Photo-Illustration: Rodolphe Felix; Image by the Cut
What beauty products do you buy over and over? On The Beauty Group, a Facebook community co-founded by the Cut and the Strategist, beauty obsessives chat all day long about the products they love — the ones so good they'll make you hit that little "auto-refill" box at checkout. So we decided to turn the question to some of our favorite beauty pros.
Celebrity makeup artist Nick Barose works with stars like Lupita Nyong'o, Gugu Mbatha-Raw, and Tracee Ellis Ross, but he's always happy to lend his expertise to Cut readers. He's taught us how to apply perfect red lipstick, how to seamlessly cover a pimple with makeup, how you should really apply foundation, and now, he's sharing his favorite products — the ones that help him prep stars for the red carpet.
Barose has been a makeup artist for 25 years; he got his start as personal assistant to beauty legend Kevyn Aucoin. "Beauty is partly about how products make you feel," he says. "Some days you don't wake up feeling great, and applying a luxurious, gorgeous face cream can lift your spirits."
One of his skills is immediately knowing what products will work on his clients, and perhaps most importantly, which won't. "I am always looking at photos and videos to see if a product stays, if my client is shiny, and if there are creases," he explains. "I keep all of this in mind and remember what products are ideal for what clients. For example, mascara is not one-size-fits-all — one long-wearing product might work on one person, and because of their body chemistry, might smudge on another."
In Barose's makeup kit, you'll find Armani's Luminous Silk Concealer ("The formula is not heavy and it doesn't build up, so it won't bring out fine lines or creases"), Fenty Beauty's Bronzing Powder ("Matte without being shimmery, and the tan shades look believable and convincing, like a real tan"), and Glossier's Brow Flick Pen ("The super-fine pen point lets you mimic real hair so you can really work on filling in fine feathery strokes.") One thing you won't find in the mix: fixing spray. "I prefer to use long-wearing makeup so if I have to touch up the skin later, I know I'll still be able to," he explains. "With a fixing spray, it can sometimes dry out the makeup, so when you add more makeup on top, it can crease or cake, and I prefer fresh, touchable-looking skin."
Below, read about Barose's musts-haves, including the ZIIP GX ("It's perfect to give myself a facial massage while watching TV"), Erno Laszlo's Mud Cleansing Bar ("This was the favorite brand for movie stars like Marilyn Monroe!"), and Srichand's SPF 50 PA++++ ("It's lightweight and not sticky, which makes it perfect for applying makeup on top"). For exclusive discounts to shop his picks, make sure to join the Cut's Beauty Group on Facebook.
If you buy something through our links, New York may earn an affiliate commission.