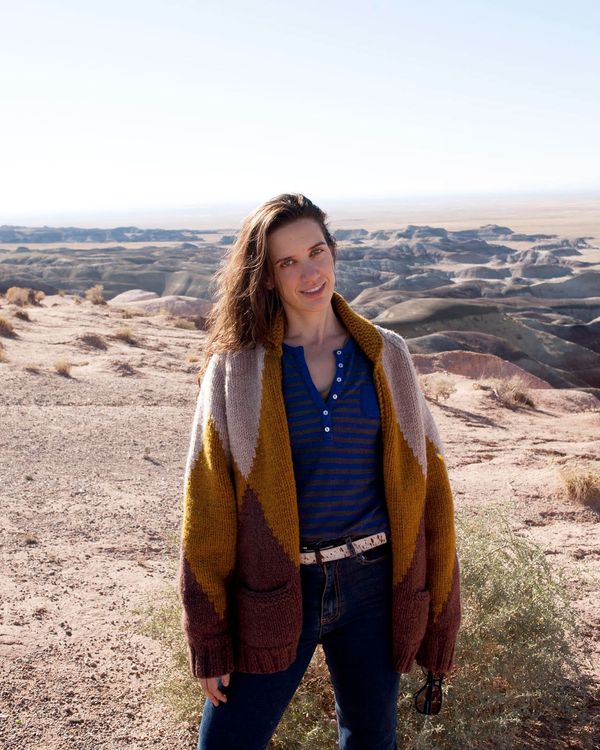 Photo: Courtesy of Suzy Gerstein
Want more skin care? Join our Facebook Group, the Beauty of It All.
"My skin-care routine is as clean as possible," says makeup artist Suzy Gerstein. "I am a thyroid cancer survivor (five years cancer-free this April). But I started nearly seven years ago, beginning when I was pregnant with my first baby." Gerstein, who has worked with the likes of Millie Bobby Brown and Troye Sivan, approaches skin care the same way she approaches her diet. "I want it to be good for me and make me feel good, but I also want it to be realistic and allow room for indulgence," she says.
Along with avoiding known carcinogens, like formaldehyde, she avoids potential endocrine disruptors — chemicals that some people think could interfere with your hormone system — like parabens, synthetic fragrances, and synthetic colors. Her go to-resource is the Environmental Working Group's website. She stresses, "I don't drive myself super crazy about the purity of my products. I educate myself, reference EWG, read up on ingredients, but the bottom line is that I do my best and bless the rest." Below, Gerstein talks about the beauty entrepreneur who reminds her of a Michelin Star chef, the practice that has helped with her scars, and the cream that's definitely worth its hefty price tag.
"I am a big fan of The Gold Bar by Jillian Dempsey. It's a vibrating facial tool that I use on my clients and myself, and it always draws oohs and ahhhs because it feels so good. I watched Jillian use it on herself at an event and the side she used it on looked notably more toned and lifted. It's a great one to have in your arsenal. Ten minutes before bed and you feel calmer and more vibrant, and somehow your bone structure looks more chiseled."
"There are so many interesting devices on the market for boosting circulation, toning, and plumping the skin. As I approach my 40s and sleep less than ever with a new baby and work, I will take all the help I can get to increase radiance. (I love the word radiance because it implies the eminence of beauty from within.)
I have been seeing impressive results from regular use of the ZIIP facial device. It uses nanocurrent and microcurrent, and I love that you can download the app, follow along with its creator, Melanie Simon, and customize the routine to your skin's needs with the time you have to devote that particular day. Some days I'm flying solo with two kids and it's barely four minutes. Other days, I may have 12 to devote."
Photo: Photographer: Andrey Popov/Getty Images/iStockphoto
"I would say that after my health issues and especially after becoming a mom, I became more interested in skin care as self-care, welcoming anti-stress modalities like acupuncture into my life. I see Kelly Duignan of Within Chinese Medicine in NYC. I went to her when I threw my back out. She'd come highly recommended by my internist when I was first diagnosed with thyroid cancer and I'd kept her number in my phone but for whatever reason hadn't been ready to try acupuncture yet.
One day, years later, I'd had enough and realized I was holding a lot of stress in my body that was manifesting itself in many different ways. In addition to relieving my back pain, an unexpected bonus even after a few treatments was that I saw my overall circulation and blood flow improved dramatically. My thyroidectomy and eye surgery scars have faded almost to imperceptibility, and my face always looks more balanced, relaxed, and open when I leave. She is a true healer and a gem."
"La Bella Figura The Clean Slate is another beautiful clean formula that feels like a treat to use. It goes from balm to milky cleanser, rinses off completely clean, removes all manner of makeup and leaves my skin soft and supple. Its creator, Victoria [Fantauzzi], is so passionate about producing quality skin-care gems that she reminds me of a Michelin star chef. This product started as a part of her capsule collection and gained such a cult following that it earned a spot in her permanent lineup."
"This is a new addition to my routine. I'd been feeling like the NYC heaters were doing a number on my normally combination skin, and it was starting to feel dry. I came across this line at Credo Beauty and was immediately impressed with the efficacy of Marie's products. Marie knows her stuff about skin. This is an oil-based cleanser but it has really good traction. I mean that in the sense that it has some drag so you can get a good facial massage in and really get the circulation going. It gets my skin feeling clean but never stripped."
"Pai Bioregenerate is a must. I met the founder, Sarah Brown, at an event and she was so down-to-earth despite a gaggle of beauty editors obsessing over her product. She uses a unique extraction method to cold press the rosehip oil and the result is simple, clean, and evens my skin out like no other. I love to apply it right after cleansing and toning, and I've really seen a difference in the tone and texture of my skin since I began using it. I've also been dabbing it on my eye and thyroid surgery scars. Will report back if I see a difference."
"The Rich Cream is pricey but really does feel like a wonderful indulgence. I love how pillowy soft it feels and how makeup sticks to it, kind of like a primer. I'll apply it for the day, including under my eyes, and use my Retrouvé Intensive Replenishing Facial moisturizer, which is even thicker and more emollient at night. I use it at night, too but try to pump sparingly so I can stretch it."
"I love layering my skin care and usually go from the thinnest to the most viscous products (kind of like you would layer a wardrobe). After my toner (I am currently into BE HAPPY Brightening Toner by Jeanette All Natural Skincare as I find it very balancing and refreshing) and pai, I will apply an emulsion of a few drops of Kypris antioxodant dew, mixed up with whatever face oil I currently have in rotation. The dew's stunning bottle drew me in, and the feather-light formula inside has kept me around. It helps the oil really sink into my skin, like magic. I would describe it as an antioxidant-rich hydrator.
Some favorite oils at the moment are Mūn Aknari Serum (loaded with prickly pear seed oil), and The Khus+Khus Sen Face Serum. The latter was introduced to me by Credo Beauty and is awesome because combines the power of Eco-Certified hemp extract with Ayurvedic and Western botanicals and resins. Key ingredients include ruh khus oil, rhododendron, Somalian frankincense, wild french lavender and (non-psychotropic) hemp-derived CBD. I definitely feel calmer after applying."
"I finish with 8 Faces beauty Boundless Solid Oil as a face balm. It also works beautifully as a gentle highlight, brow groomer, and lip balm. I can't get enough of the scent, a mix of soothing lavender and invigorating citrus. I would eat it if I could (and with its ingredient deck, I bet that wouldn't be a bad thing). The other lip balms I currently have in rotation (when my 6-year-old doesn't get a hold of them): Weleda Skin Food Lip Butter, Olio E Osso balm, LanoLips 101, and Henne V2, which is the same formula as the original but comes in handy stick form."
"I use CBD oil from a Colorado company called on Apothecanna on my jaw and neck because I find it releases jaw tension. They make a lovely range of body lotions as well, and oftentimes, I'll mix the oil with the lotion for extra hydration and absorption."
"The Eye Achiever is a great pick-me-up in the morning. It gets the under eye area nice and smooth and feels therapeutic going on thanks to the roller ball it applies with. Works even better straight out of the fridge."
"I rarely notice a difference with masks but this one does what the name says. I also love the dual sided muslin cloth it comes with for exfoliating. Oftentimes, I'll start in the shower with this on, let the steam take action, shave my legs or whatever and then by the time I'm ready to rinse off my conditioner and get out, it's done its job. Multi-tasking is especially key these days with two kids."
"I love having the minty eyedrops from Fiona Stiles's website, Reed Clarke, in my skin-care regime and makeup kit. Besides coming in an incredibly chic Chanel No. 5–esque bottle, they get the whites of my eyes super white. I don't use them every day but love them for a special occasion."
"Last but not least, lighting is everything, particularly for we makeup artists who are quite particular and want to see every detail. I am really into doing my skin-care regime in the Riki Skinny mirror by Glamcor. It is super lightweight and portable and has lots of exciting features that set my makeup artist heart aflutter, including customized HD daylight lighting, five-stage dimming, Bluetooth selfie function, an adjustable stand, magnetic phone clip, magnetic 3x mirror and a dual USB power supply for recharging its internal battery. It's basically like having daylight wherever you go so that you can get the best out of your skin-care and makeup and there are no surprises."
If you buy something through our links, New York may earn an affiliate commission.