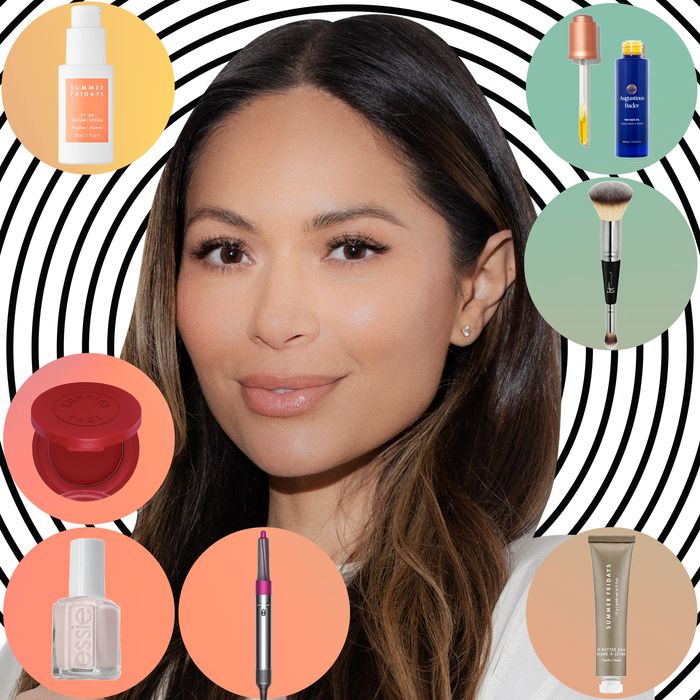 Photo-Illustration: by The Cut; Photo by Audrey Ma
On the Beauty Group, a Facebook community co-founded by the Cut and the Strategist, people chat all day long about the products they love — the ones so good they'll make you hit that little "auto-refill" box at checkout. Below, we asked one of our favorite beauty pros to share her own selections.
In the two short years since it launched, Summer Fridays' Jet Lag Mask has cemented its status as Instagram's favorite face mask. Founder Marianna Hewitt launched the brand alongside her friend and fellow influencer Lauren Gores Ireland. "When we started Summer Fridays, we set out to make clean skin-care products with effective ingredients, all while being Instagrammable," says Hewitt. "As influencers, we really think about how a product looks online and in photographs, and launching with Jet Lag Mask, the blue tube really stood out in a time when a lot of new products coming out were blush pink." The brand's subsequent launches, from its pumpkin Overtime Mask to its collaboration with Ouai, can all be found in shelfies across Instagram.
After years of sorting through the hundreds of launches that end up on her desk, Hewitt's become a pretty tough critic. "With makeup or hair products, I can almost instantly decide if I like it or not. With skin care, it takes a bit more time to really know if I love something. I have sensitive skin, so I patch-test first," she says. "If I love a product, I find myself repurchasing it after it was sent to me." She's especially come to rely on Augustinus Bader for the skin-care products Summer Fridays doesn't make (yet). "It's one of those brands that is worth the investment; their line is pricey." For her, their Face Oil is an automatic repurchase.
Read on for more of the products Hewitt uses to the very last drop, including the makeup brush she can't live without, the nail polish she's used for 12 years, and the device that's helped thicken and lengthen her hair.
The Serum
"This was the first product born out of our two-way relationship with the Summer Fridays community. Shortly after we launched, they kept telling us they wanted a product for hyperpigmentation and dark spots. We formulated it with them in mind. It was our first product we launched outside of masks, and we wanted it to be easy to add into your skin-care routine. In addition to vitamin C, we added squalane to this formula to give you an instant glow. You should see results after just a few weeks of use, but after three months, you can really tell a difference in your skin."
The Face Oil
"I discovered this product when it launched. A lot of face oils seem similar to me, but this one had a different consistency — it felt much more light than other oils. Now, I wake up the next morning to firm, glowing, and plump skin. I only need two to three drops for my entire face and neck, and if I have any left over, I rub my hands and cuticles so none of it goes to waste. If you want to try it out, it is still expensive, but you can get 10ml for $85."
The Sleep Mask
"In the days of frequent travel, I couldn't get on a plane without an eye mask. I got so used to the Slip Silk eye mask, that I couldn't use any other one because they felt so rough on my skin and eyes. This one feels so gentle in comparison."
The Blush
"I follow a few of the Sunnies Face founders on Instagram, and I love the aesthetic of their brand; it's so playful and colorful in the most stylish way. Their packaging alone makes you want the products, but the formulas are just as good. Airblush is the perfect mix of pigment and creaminess, and being a Filipino beauty brand, their shades are a great match for my skin tone. My favorite shades are Doll and Biscuit."
The Lip Balm
"We started working on this product shortly after launching the brand, and it took us so long to formulate because we wanted it to be a vegan formula, which meant we couldn't use ingredients like beeswax or lanolin that are found in many lip products. We are lip-balm obsessed, so it had to be the perfect mix of ingredients like shea butter and murumuru-seed butter to moisturize your lips with the perfect natural scent and flavor. When you try it on for the first time, you'll smell and taste the most beautiful, natural vanilla flavor."
The Makeup Brush
"Hands down, I think this is the best makeup brush ever. If you took a peek into my makeup drawers, I have multiple of them because I cannot do my makeup without it. I wear a ton of cream products, so I use this to apply foundation, tinted moisturizer, blend creamy contour, and apply cream blushes."
The Lip Liner
"The KKW Beauty lip liners are just the best. I prefer liners that are more nude/brown and pinky because I use them to contour and shape my lips. Because this formula is really creamy, it allows me to blend it into my lip for the perfect shape. I usually apply the lip liner once in the morning and then a second time in the afternoon following lunch."
The Styling Tool
"When this first came out, it was sold out at Sephora, and as soon as it came back in stock, I picked it up. At first, I had to learn how to properly use it, but once I got the hang of it, it has become my all-time favorite hair tool. I can dry and style my hair, everything from straight hair, a bouncy blowout, or beachy waves. And it dries my hair so fast! Just remember to use this on damp hair, and allow each section to completely dry before moving on to the next section."
The Nail Polish
"I have been wearing Ballet Slippers since December of 2008, and I haven't looked back. I saw a girl wearing this shade on her hands and toes, and at this time, I was rocking a pink-and-white acrylic manicure. She looked so chic that I was so influenced to make the switch! This is a holy grail product and shade for me — sometimes I try other shades, but I always come back to this one. It is the perfect pale pink; it's almost white but not quite. I wear three coats, and I feel most like myself when I get a fresh manicure and have a fresh coat on."
The Shampoo
"I use a lot of hair products from volumizing sprays and dry shampoo, so I get a lot of buildup in my hair. When Ouai came out with the Detox shampoo, I gave it a try, and it has become a staple in my shower ever since. I use it a few times a week to remove any buildup from styling products."
The Hair Brush
"My dermatologist has such thick beautiful hair. I asked what she uses and she told me that she uses the Hairmax brush every day. So I went to Amazon and picked it up. It is pricey, but after consistent use, I absolutely saw results. Currently, my hair is the longest and thickest it's ever been, and I owe it to this brush, along with some hair supplements and scalp treatments."