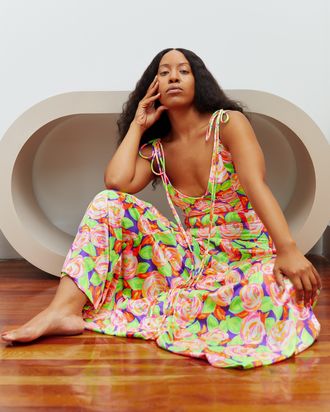 Photo: Shana Jade Trajanoska
Want more skin care? Join the Beauty Group on Facebook.
Marjon Carlos has a theory: "The first time you buy a product is based on the packaging, and the second time you buy the product is based on effectiveness — I can be easily influenced, but I really try not to be." So the journalist and host of the Instagram show Your Favorite Auntie constantly finds herself asking, "Am I trying something that's 'cool' or is it actually effective?"
When Carlos wants to cut out the guesswork, she turns to brands like Dr. Barbara Sturm's eponymous line and Epi.Logic, which was founded by New York–based, board-certified oculofacial plastic surgeon Dr. Chaneve Jeanniton. As she has gotten older, Carlos is no longer necessarily looking to treat conditions like acne but rather to manage her eczema and rosacea, which she only realized she was dealing with in 2019 after her friend (designer Mara Hoffman) suggested she might have it after a trip to Turkey caused a flare-up — an aesthetician later confirmed Hoffman's suspicions.
"When my esthetician was like, 'Hey, you have rosacea,' I was like, 'What? Black people don't have rosacea!' That really flipped my whole lid," she remembers. "I learned that I burn easily pretty early on cause I'm from Texas. But my idea of rosacea is a ruddy-faced, pale white person — it's not me, who is a medium-brown complexion. It's just the imagery that's put out in culture — all of the information in skin care is targeted toward white people and lighter skin people so you don't know that, actually, all these issues can affect so many different groups."
Carlos has now learned through trial-and-error that she should avoid witch hazel. And she admits that, despite fragrances not always mixing well with eczema and rosacea, she loves the experience that scents add to a product. Instead, she tries to strike a balance with the other ingredients in her line-up. Her skin particularly loves niacinamide, hyaluronic acid, vitamin C, and aloe, and her friend Sean Garrette, who is an aesthetician and Fenty Beauty ambassador, also suggested that she add Paula's Choice Azelaic Acid during flare-ups, which has proven useful when face masks irritated her skin during the COVID-19 pandemic.
Ultimately, Carlos says, "I guess I have a more holistic approach to beauty. I know that if I was on a plant-based diet, I would have like the skin of a goddess and hair down to my ass. I get that, but I also love nachos. You know, I put on 20 pounds — I've gone up three jean sizes, so my body looks completely different. I am kind of going through my thick Rihanna moment, and I think this is where I'm supposed to be — I don't think I'm gonna lose this weight. And obviously, this was brought on by COVID, but I just feel like this is the body that got me through a pandemic, so I should just respect it and not beat up on it so much. So if I want to have the nachos, and I'm going through a panny, I'm gonna have the nachos."
Below, Marjon walks us through her product rotation, what she believes will be the next big thing in skin care, and who she goes to for Botox.
The Cleansers
The Toner
The Serums
The Moisturizer
The Eye Cream
The Face Oil
The Body Wash
The Body Lotion
The Body Oil
The Treatments
"I had done treatments before lockdown. I got filler in my temples — no one noticed except me. [Laughs] And like most people after a year inside, I decided I wanted to try undereye fillers and Botox along my eyebrows. I went to Dr. Jeanniton. She's incredible. It was a really harmless process — I think it took about 45 minutes. Dr. Jeanniton's not someone who wants to super pump you up either. Actually, she's very conservative, and she wants you to look like yourself, but just a better version of yourself.
I didn't feel like I was 'cheating.' I didn't feel any type of way about it really. To be honest, I felt like, 'Yeah, I look like shit, because I've been a recluse and I survived a pandemic. I survived a Capitol insurrection. I've survived the onslaught of violence against people that look like me, and I have a lot of trauma over it, and it wears on you.' So I didn't really see any problem in going to get some treatments done, and I'm gonna do it again.
And then with the Botox, I was like, 'Oh, I want an eyebrow lift,' and Dr. Jeanniton was like, 'Well, you kind of have a larger forehead, and what happens with that is that a lift will widen the forehead. Why don't we just do Botox along your eyebrows?' After you get it done, you have to be really careful about how you sleep. Your skin is just so precious, and you don't want the filler to settle in the wrong place. I would say everything settled and coalesced a week in, and I remember putting on makeup and being like, 'Well, damn.' The effect is so different because you look vibrant. You look sharp and awake."