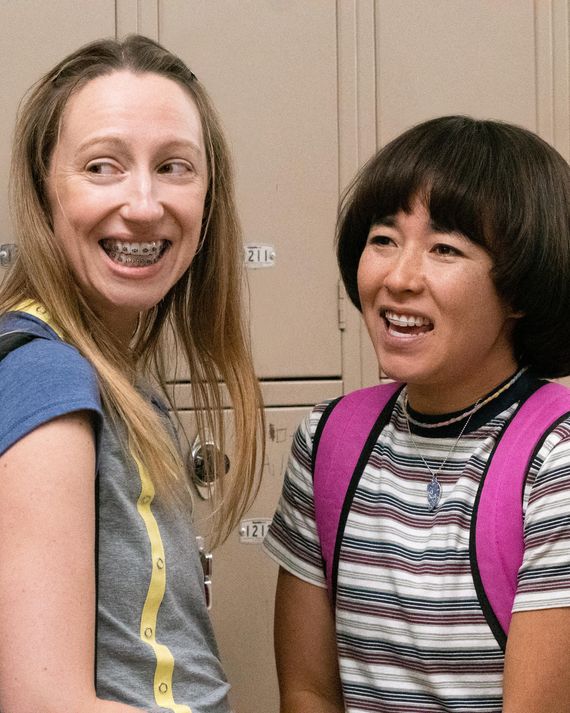 Playing MASH was a way for '90s teens to engage with the future. Would you marry Jonathan Taylor Thomas or your crush from math? Would you be a veterinarian or a movie star? Would you live in a mansion or in a house by the beach? For PEN15 creators and stars Maya Erskine and Anna Konkle, a present-day game of MASH is a way to experience their 13-year-old and 33-year-old selves simultaneously. It's not an unfamiliar mode for the pair, who lean into playing their middle-school selves even harder in their show's second season, which is available now on Hulu.
Like teens in the '90s, the three of us are talking from separate homes, preparing to play a customized game of chance. (For those unfamiliar or just rusty: MASH is a pencil-and-paper game that determines each player's future as dictated by categories like spouse, dwelling, car, and career.) "Could we do three good options and then we have to do one shitty one?," Erskine asks. As we ready our boards, we each put Denise Richards in our marriage category — an homage to Wild Things and Anna's first kiss in PEN15's debut season.
The show follows the misadventures of Maya and Anna, who are navigating their periods, first kisses, and the minefield that is junior high. What separates PEN15 from other coming-of-age shows is that Erskine and Konkle, 33-year-old adult women, play their 2000-era 13-year-old selves with a primarily teen cast surrounding them. "We know what we're getting into," Konkle explains. "But with the teen cast, it's like, we're constantly going between 33 and 13, and they have to act with these weird teen aliens." Somehow, the age discrepancies work. PEN15 is an authentic-feeling time capsule filled with thongs, Tommy Hilfiger T-shirts, and the embarrassment that can be caused only by a terrible bowl cut.
After PEN15's critically acclaimed first season, Erskine and Konkle have pushed the show darker, deeper, and weirder by putting their characters through slut shaming, divorce, and toxic friendships. The second season also deepens some season-one secondary characters (like Gabe and Sam) and introduces new ones (like Maura, maybe the scariest character on TV). "They stay in seventh grade forever; they're in this limbo," says Erskine. "But they grow up as they get exposed to more adult content and things that can happen in a year in seventh grade or in a whole middle-school period."
The show's serious themes — like divorce, racism, and misogyny — ratchet up its emotional stakes. But they're also a way for Erskine and Konkle, who met in New York as adults, to reimagine their lives the way they wish they had happened. "You kept it behind closed doors," Erskine says to her co-star, whose parents divorced when she was young. "[But] to have an actual friend to go through it with you? That's what a gift PEN15 can be: We can rewrite history."
Season two puts Maya and Anna's bond to its scariest test yet, in the form of a fellow seventh-grader named Maura. Intent on inserting herself into Maya and Anna's friendship, she has all the qualities of the girls who bullied people at sleepovers or on three-way calls. In keeping with other aspects of the show, however, Erskine and Konkle do humanize her. She's clearly lonely, and her relationship with her mother seems complicated; still, she looms uneasily over the episodes she's in. Memes about Maura have already cropped up, and viewers seem so worried about her presence that Erskine asks me, "Did you at any point think this was going to be a new show with three best friends?" (The answer is no).
While viewers may see more of Maura in the future, Konkle and Erskine plan to continue deepening the depictions of season-one characters. The second half of season two, which will be released next year, includes an episode from Yuki's point of view, directed by Erskine. "We always wanted to have other perspectives and be able to jump into their shoes," Erskine says. "So that was a challenge in many ways to balance that."
Between the three of us, Konkle ends up with the most exciting MASH life — married to Freddie Prinze Jr., making a living as a singer, and residing in Hawaii with their three kids, a completely 13-year-old dream. Erskine is married to Denise Richards and is an interior designer who lives child free in the basement of her middle school. "I think we just have great sex in the basement," Erskine laughs. They sign their names on their MASH "futures," just like they're 13 all over again.