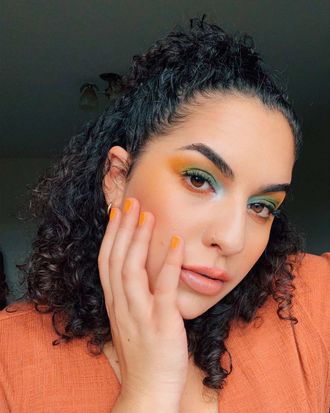 Photo: Courtesy of Sarah Mendelsohn
Want more skin care? Join the Beauty Group on Facebook.
"Smooth skin is my priority," says Sarah Mendelsohn. "Makeup can hide any hyperpigmentation, but it can't really hide texture." The Maybelline digital content and social media manager has eczema, so when she's looking to create new makeup looks for her more than 13,000 Instagram followers, she first reaches for hydrating skin-care products that won't trigger her condition. She's always looking for ingredients like ceramides to keep her skin well-moisturized, and avoiding others like fragrances and carmine.
Mendelsohn admits she didn't have a skin-care routine at all until age 23, when she began working for L'Oreal's roster of skin-care brands, including Kiehl's, SkinCeuticals, Vichy, and La Roche-Posay. Teaching herself about the company's portfolio, she started experimenting with its products, but it wasn't until she began going on set for photo shoots and backstage at fashion shows that she really got into it. "I noticed that makeup artists always start every face with skin-care prep and that it made a dramatic difference in how makeup wore," she says. "Skin that was clearly taken care of looked better on-camera and on runways."
Over the last few years, Mendelsohn has gleaned recommendations from the artists, models, and influencers she works with on photo shoots. She picked up Weleda Food Skin from makeup artist Katie Jane Hughes. She's been a religious user of Embryolisse Lait Creme Concentre after noticing it in Erin Parsons's makeup kit. And makeup artist Nam Vo, who's famous for her "dewy dumpling" look, introduced her to face oils, Face Gym, and Tatcha's Dewy Skin Mist. Read on for her day routine.
The Cleanser
Photo: Courtesy the vendor
"I cleanse with the CeraVe hydrating facial cleanser. Even drugstore products can really transform the skin without breaking the bank. I love this cleanser for the price. You can get a huge size of it for really cheap so it doesn't run out immediately. It also has hyaluronic acid and ceramides in it so your skin doesn't feel tight after using it. My dermatologist is actually the person who initially recommended this one to me when I came in for eczema treatment."
The Exfoliants
"Three times a week, I follow up my CeraVe cleanser by exfoliating with Dermalogica daily microfoliant — I get it from Dermalogica PR. It's a gentle exfoliator, and it also is so fun to use as it comes out as powder in your hand, activated by water. I sometimes even use it on my hands to soften them."
"If my skin is especially textured, I'll use the Biologique Recherche P50 to exfoliate instead. They have a version that's for sensitive skin and this product has always really transformed my skin when it's been at its worst. The salicylic acid in it combats acne in an incredibly powerful way. When I first started using this, my skin broke out, which I was told is normal when you first start to use it. After the breakout, the texture on my skin was dramatically reduced, and the longer I've used this, the more I've seen my skin smooth out."
The Vitamin C
"When I first started working at L'Oreal, all of my co-workers insisted on this serum and how much it had improved their skin. I tried it myself and couldn't agree more. It's a vitamin C serum that brightens and firms your skin, but it also protects your skin from environmental damage, and since I live in New York, that is so necessary for me to have."
The Serums
"I visit Paris on a yearly basis and always stock up on French skin-care brands there, especially Cadaulíe. A friend of mine asked me to pick up this serum for her from a discount skincare store there, City Pharma in Saint Germain, and I decided to grab one for myself. After seeing how amazing this serum was, I realized it runs for about $80 in New York, but I bought it in Paris for $20. Wish I got more then! This product has truly given my skin the glow it has. I've put SO many people onto this product since. It's incredible!"
"The SkinCeuticals hyaluronic intensifier serum has made my skin plump and smooth like butter! As a girl with eczema, I know how much hyaluronic acid helps my skin and seeing 'intensifier' on the packaging sold me on it. This product keeps me hydrated all day, too. I can't live without it! I use three to four drops of the product … and I pat it into the skin, focusing most of the product where my skin is driest."
The Eye Cream
Photo: Courtesy the vendor
"After my serums, I use the Skinfix Barrier+ Triple Lipid-Boost 360 healthy eye treatment (sent in by PR). Darkness under the eyes is hereditary, but this is the only under-eye cream I've ever used that I feel dramatically reduced their appearance. It also tightens and moisturizes the under-eye area. I've seen incredible results with it."
The Moisturizer
"On a cold, winter day, weather which often triggers my eczema, I use a heavier moisturizer. I love the Weleda Skin Food, which is a heavy moisturizer but also a great primer for makeup as it's somewhat tacky and gives your skin a beautiful glow. Like most people, I learned about this incredible moisturizer from Instagram beauty queen and makeup artist Katie Jane Hughes."
The SPF
Photo: Courtesy the vendor
"After moisturizer, I always follow up with SPF. I love Paula's Choice Youth-Extending Daily Hydrating Fluid. PR gifted me this product, and I haven't been able to use anything else since. It doesn't smell like the typical SPF smell, which I appreciate — this one has no discernible scent. It's SPF 50, which is great coverage. It also doesn't leave a white cast, and I feel like it also reduces the appearance of pores so it wears beautifully under makeup.
I don't reapply this product throughout the day, but when I'm outdoors, I use the Supergoop! Defense Refresh (Re)setting Mist, and it also works over top of makeup. I also use CC and BB creams, which have SPF in them, sometimes."
The Dewy Highlighter
"The last step in my skin-care routine is Glossier's Futuredew. I apply this to the high points of my face, and it gives my skin a natural highlight that wears even under makeup. I also wear it on no-makeup days for a beautiful, natural-looking glow. Their marketing of this product truly sold me on it."