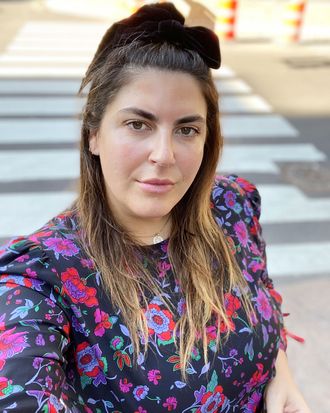 Photo: Courtesy of Katie Sturino
Katie Sturino is the entrepreneur behind the size-inclusive fashion blog The 12ish Style and has been the manager of several internet-famous dogs — Muppet, Cheese, Crumb, and the late Toast, a puppy mill rescue turned Instagram star. She's also the brains behind Megababe's Rosy Pits, a deodorant so hotly anticipated back in 2018 that it developed an 8,000-person-strong waiting list and sold out within eight minutes.
Sturino's mission, and her guiding principle in founding the Megababe beauty brand, is to address "taboo topics." She wants to make women feel less alone in their experiences with their bodies. The brand's latest Le Tush mask, for example, tackles body acne. As the brand says, "Our butts need facials, too!"
Now that she has an insider view of the beauty industry, Sturino says she prizes effective products more than ever. "I'm really wary when brands say a product will change everything. I see product launches promising miracles, then when I look at the ingredients, there's nothing in there that will actually do anything." There's no straightforward way to decipher the industry's marketing, but she urges people to begin with a product's ingredient list. "You don't need to be a beauty expert to do this," Sturino says. "Look for acids, natural oils, and extracts — these are among the more expensive ingredients to manufacture with."
As for the ingredients she avoids, the list includes "big offenders" like parabens, phthalates, sulfates, aluminum, and talc. "I think everyone should try to avoid toxins, but I don't believe you need to have a 100 percent natural beauty routine," she reassures. "Things aren't so black and white — science is incredible, and there are lots of safe synthetics available today."
The entrepreneur also admits she's "kind of an instant gratification girl." It's why she reacted well to Biologique Recherche's P50 and to Augustinus Bader's The Cream. It's also why she doesn't care for sheet masks. "They feel like a paper towel with serum on it." She's results driven, and sheet masks never did anything for her.
Below, a look at Sturino's approved skin-care products and a look at her current routine, which includes an investment cleanser, the toner dubbed "Jesus in a bottle," and a face mask that truly delivers on its promises.
The Cleanser
"This is truly just a great cleanser! I've been using it for a while, and it's an integral first step in my process. I discovered it through my friend Ryan who loves to splurge on skin care — he's a dangerous friend to have. In the past, I found that cleansers could be really stripping or they left a residue. This one doesn't do that.
The combination of l-serine and hyaluronic acid leaves my skin soft. In this case, l-serine acts as a conditioning agent and helps skin stay strong and smooth. It has great moisturizing benefits and leaves skin supple. And everyone knows hyaluronic acid is having a moment, and for good reason! It helps reduce the visibility of wrinkles and fine lines, so together, these are great.
It's hard to describe the smell. It's light yet feels high-end? A bottle lasts me a really long time — about three months — so it's a worthy investment. "
The Cotton Pads
"These are just one of life's little indulgences. Made of high-quality cotton and silk woven together (chic!), they are designed to deposit the maximum amount of product into the skin instead of absorbing it. They're certainly not necessary, but they do feel extra nice."
The Exfoliating Toner
"P50 has been called 'Jesus in a bottle' for a reason! When I don't use this product, my skin looks far more congested. It's the workhorse exfoliator my skin needs. I see Karen at Sia's Beauty in Soho and she swears by Biologique Recherche products and uses them in her treatments. You can pick one up there if you are in NYC.
To be frank, it smells like something you left in the refrigerator too long, but it's worth it. I truly have no clue what's in here or how it works, but I know that it changed my skin! Currently, I am testing one from Inn Beauty which I have heard does a similar thing without the phenol."
The Face Cream
"Grace Atwood and Marquita Pring recommended Augustinus Bader to me. The brand makes two versions of their cream, and I alternate between both The Cream and The Rich Cream. The brand advises that you simplify your routine. This has allowed me to take steps out of my process, which is awesome for me because I'm lazy and don't want to spend 40 minutes in the bathroom putting shit on my face.
I have actually seen my overall skin quality improve and fine lines decrease. That's not something you can say about every cream on the market. I've been using it for about a year, and trust me, I didn't want to like it. The key in both creams is TFC8, which contains over 40 different ingredients including vitamins, synthesized molecules, and amino acids."
The Face Oil
"This serum includes the pure oils of 600 Bulgarian roses, I kid you not. It smells really incredible. It is extremely moisturizing on my skin, leaves me glowing, and is anti-inflammatory. When I am feeling dehydrated, this is my go-to."
The Facial
Photo: Getty Images
"Facials are key for cleansing, exfoliating, and fighting aging. I go to Karen at Sia's beauty about once a month, and I love her because she's a great technical facialist. She does amazing extractions that never leave marks on my face, she knows my skin because I've been seeing her for so long (for ten years!), and she doesn't pull any punches if she sees me slacking on my routine.
At first, I would go as often as I could afford to go, which was about two to three times a year. And she has such joy for her job, you can really feel it. I think that despite all of my personal routines, going to Karen does a deep clean and resets my skin. Because I do so much with my skin, it's never really crazy anymore, but that's also because I do everything I can for it!"
The Masks
"Body acne affects so many people, and I didn't love any of the solutions on the market. Butt acne is real, people! Whether you're developing breakouts from staying in workout clothes all day or you have dry, itching skin down there, your butt needs a facial, too. Megababe's Le Tush is a facial-grade mask that combines glycolic, malic, and azelaic acids along with willow bark extract to exfoliate and clarify your booty. In addition, it has squalane and kelp extract to leave skin soft and bouncy. This combination can help restore your bottom and lock in moisture. I put mine on right before I hop in the shower.
As soon as I started testing Le Tush, I wanted to put it all over the place — chest, arms, face, and even neck. It's one of my favorite ways to exfoliate, and I love making my husband do it, too! So although it's called Le Tush, you can really put it everywhere. I did my best to make it smell like a fancy spa."
"I am a mask person, and this one is just such a great exfoliator. As I mentioned before, I love instant results, and Goop is not lying when they call this the Instant Facial. It really does instantly brighten the tone and texture of my skin, leaving it super soft. I've been using it for over a year and keep picking it back up. The full line really marries high-performance and clean ingredients seamlessly."
"Another mask that I love. The VIP 02 Mask really moisturizes me. Pro tip: You can leave it in the fridge, so it feels super cool when you apply it to your skin. You can also use it around your eyes."
If you buy something through our links, New York may earn an affiliate commission.