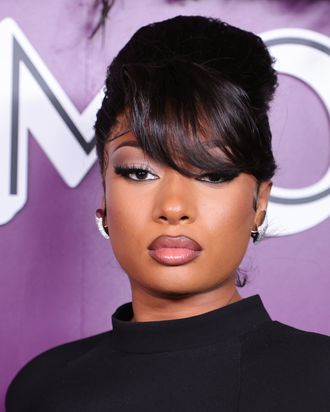 Photo: Theo Wargo/Getty Images
In January, after a nearly two-week-long trial, a Los Angeles jury found rapper Tory Lanez guilty of shooting rapper Megan Thee Stallion in the feet in the summer of 2020. Lanez was convicted of three felony charges: assault with a semi-automatic handgun; carrying a loaded, unregistered firearm in a vehicle; and discharging a firearm with gross negligence.
Throughout the course of the trial and leading up to it, Lanez, a Canadian whose legal name is Daystar Peterson, adamantly denied the allegations against him and pleaded not guilty. After his conviction, Lanez filed a motion arguing that he had been deprived of a fair trial and lobbied for a do-over — but that request was denied. He faced more than 20 years in prison and potential deportation, though prosecutors asked that he be sentenced to 13 years in prison.
On Tuesday, following a two-day sentencing hearing, Lanez was sentenced to ten years in prison. Lanez addressed the court ahead of the sentencing, per TMZ. He referred to Megan as his "friend" and "someone I still care for dearly to this day," according to legal affairs reporter Meghann Cuniff, who was in the courtroom.
Since the shooting, both Megan, whose legal name is Megan Pete, and Lanez have shared allegations on social media, and misinformation about the case has spread widely. Let's run down how we got here in the first place.
In the summer of 2020, Megan accused Lanez of shooting her in the feet.
In July 2020, Megan was seen getting into a police car with bloody feet, and was subsequently taken to the hospital. Reports initially suggested she sustained the injuries from broken glass and had been arrested after a night of partying with friends. But shortly thereafter, it emerged that Lanez, who was also in the car, had been arrested for possession of an unregistered firearm.
A few days later, Megan claimed in a since-deleted Instagram post that she had suffered gunshot wounds to her feet "as a result of a crime that was committed against me and done with the intention to physically harm me." At the time, she did not specify who shot her.
During an Instagram Live the next month, however, Megan named her alleged assailant, claiming it was Lanez. She did not initially tell police that she had been shot, explaining that, in the moment, she hadn't trusted them to protect her. "Why the fuck would I tell [the police] somebody got a gun in this car and this n- - - - shot me?" she said. "So I can get shot, you can get shot, she can get shot, he can get shot?"
In his own Instagram Live, Lanez denied the allegations and cast doubt on whether Megan had even been shot in the first place. He also suggested that if she had been shot, she couldn't have seen who was shooting if she were walking away from the car at the time she sustained her injuries.
Lanez was officially charged in October 2020 with one count of assault with a semiautomatic firearm and one count of carrying an unregistered weapon. According to the charges, he, Megan (who was not explicitly named in the charges), and two other individuals were driving in the Hollywood Hills when an argument broke out. Eventually, the car stopped and Megan got out, which is when Lanez allegedly fired several shots at her feet.
Megan released texts she says Lanez sent her after the shooting.
In February 2022, Megan posted (then deleted) images of texts she claimed Lanez had sent her the day after the shooting. They included one that appears to have been sent on the night of July 12, which read, "I genuinely want u to know I'm sorry from the bottom of my heart." At the time of his arrest, Lanez reportedly called Megan's friend, saying, "What happened happened already. I can't take it back. I'm just telling y'all I'm sorry."
Lanez appeared to respond to Megan's post on Twitter, writing "Good D*ick had me fucking 2 best friends … and I got caught 🤷🏾‍♂️ … that's what I apologized 4. … it's sick how u Spun it tho …" His attorney, Shawn Holley, claimed that it was Megan and her former friend and assistant, Kelsey Nicole Harris, who were fighting on the night of the shooting. Holley further suggested that Lanez fired the gun to protect Megan from Harris.
Both Harris and Megan denied this version of events. After Lanez sent his tweet, Megan again took to her Instagram Stories, writing, in part: "You keep putting a narrative out that me and my friend fell out about you and that's not true! Why are you skipping over the shooting." She continued, "You think its okay to shoot me then harass me online and make it like this was some weird cat fight what the actual fuck is wrong with you."
During a hearing in April 2022, a judge ruled that Lanez violated his protective order against Megan by tweeting about her. Lanez was handcuffed in court and his bail was increased to $350,000. The judge added a new condition to Lanez's release: that he was "not to mention the complaining witness in this case in any social media." In October, a Los Angeles judge put Lanez under house arrest after he violated the conditions of his bail, allegedly assaulting rapper August Alsina in Chicago. Deadline reported that Lanez did not face criminal charges over the incident.
Megan said Lanez told her, 'Dance, bitch,' before he started shooting at her.
In an April 2022 interview with CBS Mornings co-host Gayle King, Megan detailed the shooting publicly for the first time. She said the argument started over "normal friend stuff" — "I was ready to go, and everybody else wasn't ready to go," she explained.
When things escalated, Megan claimed she got out of the car, and that's when the shooting started. "All I hear is this man screaming," she recalled, speaking through tears. "He said, 'Dance, bitch.' And he started shooting. And I'm just like, Oh my God. Like, he shot a couple of times. And I was so scared."
Megan clarified that Lanez was "standing up over the window shooting" and said she was afraid to move too quickly to get away: "I don't know if he could shoot me and kill me." Describing the physical shock of being shot, she said: "The adrenaline is pumping so hard — I'm not sure if he hit me. I feel it, but I don't understand what's happening. So I looked down at my feet. I'm like, Oh my God. Like, I'm really bleeding."
In the interview, Megan again denied Lanez's claims that the two had a sexual relationship prior to the incident, telling King that they were close friends who bonded over the deaths of their mothers. (In her testimony at trial, she admitted she and Lanez had slept together.) In the immediate aftermath of the shooting, Megan claimed Lanez apologized to her and Harris, offering them "a million dollars" in exchange for their silence.
In an interview with Rolling Stone, Megan revealed that the night of the shooting she had surgery to remove bullet fragments in her feet and was in the hospital for four days before going home with two injured feet. "Both of my legs wrapped up. I could not walk," she said. "I was worried that I was not able to be Megan Thee Stallion no more." The rapper is now able to walk again thanks to physical therapy, but she says she still has nightmares about the shooting.
Megan went on to say that she felt "shame" about her initial reaction to the shooting, noting that she lied to the police in an effort to protect the people she thought were her friends, though "that's not how they thought of me." She confirmed that she and Harris, her former best friend who was in the car that night, were no longer close. According to the rapper, Harris met with Lanez days after the shooting because Megan wasn't answering her phone and Harris felt her "back was against the wall." Megan claimed that Lanez thanked Harris for not speaking about the shooting and immediately offered to invest in her business. "All I know was, from that day on, she never said nothing else about the whole situation online," Megan said.
Speaking of the press coverage of the shooting, Megan said she felt like "the villain" in the story. "I don't know if people don't take it seriously because I seem strong. I wonder if it's because of the way I look," she said. "Is it because I'm not light enough? Is it that I'm not white enough? Am I not the shape? The height? Because I'm not petite? Do I not seem like I'm worth being treated like a woman?"
As for her hopes regarding Lanez, Megan said, "I want him to go to jail."
Lanez's trial began in December.
As reported by ABC News, prosecutors added another charge against Lanez — discharging a firearm with gross negligence — one week before the trial started. He pleaded not guilty.
Opening statements began on December 12. According to tweets from the Los Angeles Times's James Queally, the prosecution shared plans to bring in texts and voice-mails allegedly sent by Lanez, including the one Megan previously claimed he sent her as an apology. Rolling Stone's Nancy Dillon reported that Deputy District Attorney Alexander Bott revealed texts allegedly sent by Harris to Megan's body guard minutes after the shooting, including one that read, "Tory shot Meg." Per Queally, the prosecutor claimed that Megan and Lanez got into an argument after she questioned his musical talent, which eventually escalated to the shooting.
The defense painted a different picture. Per Queally, Lanez's attorney George Mgdesyan said in his opening statement that the incident actually began due to an argument between Megan and Harris. Mgdesyan claims that Harris was mad about an intimate relationship between Megan and Lanez. The defense attorney reportedly alleged that Megan and Harris previously argued over romantic entanglements with Da Baby and Ben Simmons, and claimed that Megan and Harris had a physical fight at the scene of the shooting. According to Dillon, Mgdesyan claimed that in a phone call from jail, Lanez apologized to Megan— not for the shooting, but for "cheating on her." Mgdesyan also told the jury that Lanez's DNA was not found on the gun, and suggested Harris could have been the shooter.
Megan testified that Lanez offered her $1 million not to tell anyone he shot her.
Asked if she was nervous after taking the stand, Megan told the court, "I can't believe I have to come in here and do this," per the Los Angeles Times. Megan reiterated her version of events, saying that she, Lanez, his bodyguard, and Harris were in the car after leaving a party at Kylie Jenner's house when an argument broke out. In her testimony, Megan claimed that Lanez was angry that she had asked him to leave the party, and, along the way, told her to "stop lying" to Harris about their relationship. The Times reported that the rapper and Lanez were friends who occasionally had a sexual relationship, which Megan said Harris found out about at the time of the argument.
While on the stand, Megan again explained her decision not to immediately report the incident to police. "At the time, we are at the height of police brutality," she explained. "I felt like if I said this man has just shot me, they might shoot first and ask questions later." She added that she didn't "feel safe with the police officers." Megan told the court that she hesitated to speak about the shooting for fear that it might hurt her career. "This whole situation in the industry is like a big boys' club," she said, per Queally. "Like I'm telling on one of y'all friends, now you're all about to hate me."
According to Queally, Megan said that the argument escalated, with the two insulting each other's careers before she was able to get out of the car. It was then that Lanez fired at her five times while yelling, "Dance, bitch," she said. "I'm in shock. I'm scared. I hear the gun going off. I can't believe he's shooting at me." She clarified that she never saw Harris holding a gun. She said she got back into the car and the group drove off before being stopped by police. She told the court that Lanez offered both her and Harris $1 million each if they didn't report the shooting. (She said Lanez claimed that he was on probation at the time, though the Times reports he was not.)
Megan also explained why she initially denied having a sexual relationship with Lanez. "This whole story was about who I'm having sex with, and I don't understand why that matters," she said, adding that she was embarrassed. "It's disgusting at this point. How can I share my body with somebody who could shoot me?" The rapper told the jury how difficult it has been for her to be "turned into some kind of villain," saying that it has "messed up my whole life." She testified that, two years later, she still has nerve damage. "I can't really feel the side of my left foot," she said, per NBC News. "The back of my feet are always sore, but I just push through it."
During her testimony, Megan said she regretted coming forward about the shooting. "I can't even be happy," she said. "I can't hold conversations with people for a long time. I don't feel like I want to be on this earth. I wish he would have just shot and killed me if I knew I would have to go through this torture."
Kelsey Harris testified that she did not shoot Megan.
Megan's former friend and assistant, Kelsey Harris, also took the stand at trial. After several attempts to assert her Fifth Amendment right against self-incrimination, Harris was granted immunity for her testimony and took the stand. "I don't care to be here today," she told Deputy District Attorney Kathy Ta, as reported by Rolling Stone. Harris denied taking "hush money" and refuted the defense's suggestions that she was the one who shot Megan, calling it "ridiculous."
Harris told the court that she attended the party at Jenner's house with Megan, whom she described as "drunk" and "a little off." She claimed that Lanez was flirting with Jenner at the party. Contrary to Megan's version of events, Harris told the jury that she and the rapper initially left without Lanez but turned around because Megan said she had forgotten a "slipper" at the house. "Apparently a fight or something happened," Harris continued, because when Megan and Lanez came back to the car, "she was like, 'Bitch, Kylie said we got to get the fuck out.'" According to Harris, whatever disagreement Megan and Lanez were having continued in the car. "There was so much going back and forth, name-calling (between) me and Megan, Tory and Megan, Tory and me, Megan and Tory," she said.
At one point during the questioning, Deputy District Attorney Ta asked Harris if she recalled telling her in a previously recorded interview that Lanez had threatened to shoot Harris when they were all still in the car. While she acknowledged having made those statements, she did not want to elaborate, asking if she could "take my Fifth" when pressed about the details of the supposed threat. Later in her testimony, according to Rolling Stone's Dillon, she said that she didn't remember what she had said exactly, but "some of those things I stated, they weren't accurate."
In another deviation from her recorded interview — taped in September — Harris did not confirm that she saw Lanez holding a gun, per tweets from Queally. Law & Crime News reporter Meghann Cuniff reported that Harris cast some doubt as to the nature of the $1 million Megan said that Lanez offered her to keep quiet. Though she admitted that $1 million was "mentioned," she hesitated to call it a "bribe." When Ta asked if Lanez had offered her $1 million to "keep quiet," she reportedly responded, "That's not the exact wording."
The judge denied witness-tampering charges against Lanez.
After hearing from Megan and Harris, prosecutors attempted to bring two new charges against Lanez for witness tampering. The charges, per DDA Ta, were based on Megan and Harris's testimonies, in which they both claimed Lanez mentioned offers for $1 million. Per Rolling Stone, Judge David Herriford questioned why prosecutors waited to file charges, to which Ta responded that she wanted to see if Harris's testimony would support Megan's. The motion to bring the two additional charges was denied, with the judge saying that it would be "unfair at this juncture."
Lanez's driver, Jauquan Smith, who was present at the time of the shooting, did not testify, nor did Megan's former bodyguard, nor did Lanez himself. According to Rolling Stone, DDA Bott told the jury that the case was simple: "A guy … shot a girl, people saw it, and then he apologized for it." Mgdesyan, Lanez's attorney, reportedly argued in his closing statement that Lanez was "trying to save" Megan from Harris, and cast doubt on Megan's version of events. "My client is being falsely accused. Megan Pete is a liar," he said, per Law & Crime.
Lanez was found guilty.
Jury deliberations began on December 22, and after almost seven hours of deliberation, jurors returned Lanez's guilty verdict the next day. The rapper — who had been free on bail following a period of house arrest — was immediately taken into custody, according to the New York Times. An attorney for Lanez noted that the rapper's legal team would be "exploring all options, including an appeal."
Meanwhile, district attorney George Gascón praised Megan for coming forward with her initial allegations. "You showed incredible courage and vulnerability with your testimony despite repeated and grotesque attacks that you did not deserve," he said in a statement. "You faced unjust and despicable scrutiny that no woman should ever face."
Lanez's motion for a new trial was denied.
Three months after the jury found him guilty, Lanez filed a motion for a new trial. In documents first obtained by Rolling Stone, Lanez's lawyers argued that jurors in the trial were "erroneously allowed" to see an Instagram comment, made by Lanez's account, that claimed Harris was not the shooter. After the Shade Room shared a post claiming that "People saying Kelsey shot her," Lanez's account commented, "That's not true."
Lanez's attorneys said the comment was introduced as evidence in the middle of the trial and therefore did not allow the defense enough time to determine whether Lanez had posted it himself. The documents obtained by Rolling Stone reportedly include a declaration from Joshua Farias, a content creator who claims he was logged into Lanez's account and responded to the Shade Room's post. "The court erred on numerous questions of law in allowing the People to introduce this post," the motion reportedly reads, "depriving defendant of a fair trial."
The prosecution responded to the motion for a new trial, saying it lacked substance and the guilty verdict should remain, according to NBC News. Lanez's request was denied in a ruling that the exclusion of the disputed evidence wouldn't have made a difference.
Lanez's sentencing was originally scheduled for June 13 but was delayed until August, giving his attorneys more time to get their recommendation together. Though he faced up to 22 years and eight months behind bars, prosecutors recommended he serve 13 years. In a memo first reported by Cuniff, prosecutors cited the "campaign of misinformation" lodged by Lanez against Megan, which they said had re-traumatized her for the better part of three years. They also claimed his violation of three court orders prior to trial had warranted the sentence. Afterward, Lanez could be deported to Canada.
Megan asked for a strict sentence, while Lanez's father asked for mercy.
In a statement Ta read at Lanez's sentencing hearing on August 7, Megan asked the judge to hand down a harsh sentence, according to the AP. "Since I was viciously shot by the defendant, I have not experienced a single day of peace," Megan's statement read. "Slowly but surely, I'm healing and coming back, but I will never be the same."
Meanwhile, Lanez's father asked for a lenient sentence for his son: Lanez was 11 when his mother died, his dad explained, adding, "I don't think anybody ever gets over that." Additionally, more than 76 people wrote letters in support of Lanez, including his 6-year-old son, per the AP. Rapper Iggy Azalea asked the judge to give Lanez a "transformative, not life-destroying" sentence, while a Los Angeles County jail chaplain told the court that Lanez has been leading daily prayer groups in prison, which have purportedly been impactful for his fellow inmates. Other letters of support came from law-enforcement figures, family, friends, and politicians who spoke of Lanez's charitable donations.
Lanez was sentenced to ten years in prison.
On August 8, the second day of Lanez's sentencing hearing, Judge Herriford sentenced Lanez to ten years in prison. Before his sentencing, Lanez addressed the court and expressed some regrets ("I said some very immature things that I shouldn't have said," he explained, as quoted by Cunniff who was in the courtroom. "I revealed some secrets I shouldn't have revealed") and referred to Megan as his "friend" and "someone I still care for dearly to this day."
In a statement posted to his Instagram two days after being sentenced, Lanez said that he is innocent and remains "on the stance that I refuse to apologize for something I did not do." He said his courtroom apology earlier in the week was not for committing any crime but for "verbal and intimate moments that I shared with the parties involved … That's it. In no way shape or form was I apologizing for the charges I'm being wrongfully convicted of."
This post has been updated.