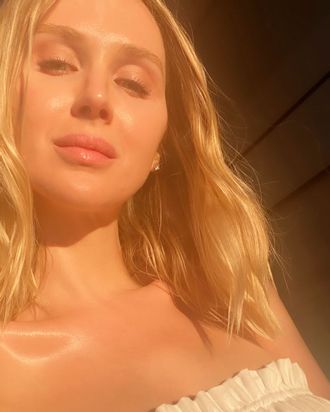 Photo: Courtesy of Melanie Grant
If you follow Victoria Beckham, Nicole Warne, or Joan Smalls on Instagram, you might be familiar with Melanie Grant — or at least her hands. After all, it's the aesthetician's hands that guide celebrities and influencers through her facials in Australia (where she has two studios in Sydney and Melbourne), Los Angeles (where she set up shop in West Hollywood), and Paris (where she holds a residency during every Paris Fashion Week as Chanel's Skin Expert).
In addition to planning her studio expansion — New Yorkers, she's coming to you next — Grant has recently taken on the role of brand ambassador for Resoré, which launched with antibacterial, hypoallergenic, and ecofriendly towels and washcloths last October. "I'm a firm believer in keeping things simple but ensuring that whatever you use is high performing — quality over quantity is key," Grant says. "Achieving optimal skin health is not always about having an overly complicated home care regimen or trying every treatment on the market. It's about being strategic."
Grant's willing to be adventurous with makeup and hair — "I've tried it all. Pencil thin browns, over-lined lips, low lights, you name it" — but her skin-care routine has remained fairly streamlined over the years, taking a preventative approach and focusing on antioxidants, hydration, and sun care. Spoken like a true sun-obsessed Aussie, she says, "It's so important to preserve your cells from environmental aggressors, pollution, stress, blue light, and above all UVA and UVB radiation." She especially relies on vitamin C, ferulic acid, vitamin B, and resveratrol.
The other key is incorporating facial massage in her routines. "For such little effort, the payoff is so worth it, especially in terms of lifting, toning, improving blood flow, and flushing stagnant lymph," she explains.
Below, a look at Grant's morning and night routines for her dry, rosacea-prone, and easily sensitized skin. Read on for her favorite luxury products, including the "decadent" cleansing balm worth every dime, the resurfacing treatment with no adverse side effects, and the moisturizer she's never without.
Morning
The Micellar Water
"I like to use a gentle micellar water to refresh my complexion in the morning and remove any residual product from the night before. I prefer micellar water in the morning, as opposed to a cleanser, for efficiency: One quick swipe cleanses my skin of any residual product from my evening regime along with any sweat, oil, and debris from overnight, plus it prepares the skin to best receive my serums and hydrators.
This organic fluid is hydrating and contains anti-inflammatory Ayurvedic herbs like holy basil and turmeric to boost skin immunity. Simply saturate your cotton rounds and sweep over the face, neck, and décolleté in an upward and outward motion."
The Serum
"This serum has been a mainstay in my morning routine for over a year now. It's super plumping, quenching, and brightening with multi-molecular hyaluronic acid. HA is such a buzzword nowadays, but there's different qualities and different weights. Multi-molecular, in a nutshell, means that you have different weights of the acid — lower weight HAs will offer surface hydration, which gives you that beautiful, instant plumpness. The heavier weight HAs will penetrate deeper, giving you deeper hydration.
This serum also has niacinamide and Augustinus Bader's patented TFC8 complex, which is a unique formulation that stimulates the skin's own cells to produce collagen and elastin, both of which are essential in the healing and regenerative functions of the skin. The skin is left plump, hydrated, and deeply nourished with an improvement in tone, firmness, brightness, density, and reduction in redness and sensitivity.
Results from this serum are both instant and cumulative. There is an instant plumping effect from the hyaluronic acid upon application, where the TFC8 complex, peptides, and niacinamide work to firm, strengthen, and brighten the skin over a couple of months. When applying, gently press six to eight drops into the complexion and allow it to absorb before applying your creams overtop."
The Eye Cream
"I love a really rich eye cream; I'm quite traditional like that. A lot of people don't believe in eye creams, and I can see both sides. If you're really after a streamlined regime, as long as you're wearing a good quality moisturizer and you have one that doesn't have a fragrance or too many actives, then you can take it over the eye area. But the eye area, especially after the age of 30, has little-to-no sebaceous glands, and oil glands are what keeps this area supple and plump. As you age, you have the loss of the fat pad underneath the area, and you have the thinning of the skin, so as you start to lose collagen. I love to apply an eye treatment because I feel like (a) it offers that really nice plumpness so when that when you apply your foundation or concealer, two or three hours later, it doesn't start to look cakey, and (b) eye cream prevents lines from appearing because it keeps your skin malleable.
I do like the Sublimage because it's quite rich, but it sits really well under makeup — my mascara doesn't break down. There are other rich eye creams that I love that I use in the evening because my makeup doesn't wear well over the top. But with the Sublimage, you only need the tiniest, tiniest amount, but you still get that nourishment to give you that nice plump, comforted feeling without having your makeup break down.
Take a pea-sized amount and tap it around the orbital bone, starting at the outer corner and working your way up over the brow bone. Always use your ring fingers as you'll naturally apply the least amount of pressure and pull when using them. And the pot's quite small, but you would get about six months out of it, if you use it properly. The problem with using too much product, especially with eye cream, is that the product moves. When you apply too much, it will go into the eye; it causes puffiness, irritation, all of those issues. Less is more."
The Moisturizer
"A quenching, plumping, and hydrating cream that adds a healthful glow to the complexion without leaving behind greasy residue, shiny skin, or blocked pores. I use this most days underneath my makeup as a primer. It's sheer, universally tinted, and offers broad spectrum SPF 50+, as well as being enriched with beta glucan to soothe and calm delicate or sensitive skins. Layer a generous amount over your serums and creams as the final step in your morning regime and top up throughout the day as desired."
Evening
The Cleansing Balm
"This cleanser is so decadent. It completely melts away your makeup and pollution, dirt, and grime from the day. I love to take this moment to give my face and neck a firm massage, to get a little blood pumping, and to flush stagnant lymph before going to bed. Warm a walnut-sized amount between your hands and work over the face, neck and décolleté using circular motions in upwards movements."
The Face Towel
"This innovative cleansing cloth offers antibacterial and anti-inflammatory properties ideal for those concerned with congestion and sensitivity, and those who want to elevate their cleansing regime. I love to use mine in the evenings to remove my cleansers and facial masks for an added layer of efficacy, while also being able to gently buff and polish trouble areas like the nose, chin, and forehead. Soak it in tepid water before pressing it into the complexion to break down product, dirt, and grime within the pores, before gently sweeping over the face, neck, and décolleté until clean.
Due to its antibacterial Silverbac technology, you are able to use the face towel more than once before washing it. This means less water consumption as you don't have to wash the towel after every use and can simply hang it dry in between washes. Every couple of days, I do like to wash my Resorè towel in a gentle machine cycle with detergent and warm water."
The Exfoliator
"I'm a firm believer in consistency when it comes to long term skin health, and applying this exfoliating lotion nightly has done wonders for my complexion in terms of clarity, texture, and strengthening the acid mantle of the skin. It's the gentlest iteration of the cult-favorite P50 range, so I find most skins can tolerate it nightly, in conjunction with other actives like retinol to yield optimal results.
P50 PIGM 400 includes a range of key ingredients including poly-, alpha- and beta-hydroxy acids, which resurface and refine the skin. It encourages cellular turnover, which is ideal for breaking down existing pigment and preventing future pigment from surfacing. The addition of red algae lightens and brightens the complexion while yeasts, vitamins, and sulphur balance the pH and microbiome to improve barrier function.
Simply dampen your cotton rounds with a generous amount of the product, and press into the face, neck and décolleté, starting at the forehead and working over the cheeks, nose, chin, neck and finally sweeping over the décolleté. Allow it to absorb before applying your serums."
The Serum
"This is a multitasking treatment for myriad concerns like congestion and dullness to dryness, fine lines, scarring, and loss of elasticity. This complex serum calls on a host of actives like retinol, AHAs, hyaluronic acid, vitamin C and E, peptides, and amino acids to refine and resurface the complexion.
When Tina Craig, U Beauty's founder, told me about the product, I was thinking, You're crazy. This is too much. Especially when there's AHAs, BHAs, vitamin c, and retinoid mixed into one formula, I thought this serum would be a recipe for disaster. And to my detriment, I try everything on my skin before bringing it into the studios, no matter if it's a blemish or anti-aging product, and I thought, Oh, here we go … I have sensitive skin anyway, and I'm really conservative with actives. With my clients, and even with my own skin, it's about building up to using retinoids.
And I won't lie, I don't completely understand the SIREN technology in it. It is meant to work through a magnetic effect that seeks outs unhealthy cells and only delivers the product to the unhealthy cells. I still can't quite get my head around that, but I think it's super-interesting technology, and for me, to be able to use a product like this every night after my P50 and not have any irritation is amazing. We've been stocking it in my studio for maybe six months, maybe more, and haven't had really any issues with clients. Normally with retinoids, there's a few people who come back with a reaction or aren't using it properly, and they need that guidance and the support to be able to incorporate those products into their routine.
I do use both P50 and the U Beauty serum together, but I've used P50 for maybe 10 or 15 years. I wouldn't prescribe that to a client who's starting out with those types of products, but my skin tolerates it quite well. For beginners: Gently press a pea-sized amount into the face, neck, and décolleté after cleansing. Apply on alternate nights and build up to nightly use as tolerated."
The Eye Cream
"Another long-term favorite of mine, this eye cream contains a micro-encapsulated retinol that releases slowly and gently into the delicate eye contour. It's ideal for dark circles, fine lines, and loss of density, as well as adding a beautiful luminosity when you're feeling particularly puffy or fatigued.
I've been using it for more than ten years now, and when I don't use it is when I see the biggest difference. A retinoid for the eye is so important because we're never going to go and use an exfoliant or a scrub, but it's important to resurface this area to make sure that your hydrators and your creams penetrate. It gives a brightness and a really nice sheen and radiance when you remove those dead skin cells. But you need an eye treatment. You wouldn't go in and use a cream with a retinoid that's designed for the face because it's going to be too harsh. The skin around my eyes is ultra-fine and crepey, and the retinol promotes density and fullness.
Gently tap a tiny rice-sized amount under the eye contour starting at the outer corner and working your way in, using your fingertips."

The Moisturizer
"My favorite night cream, this rich and luxurious formula cocoons the complexion with EFAs, peptides, ceramides and TFC8 to tone, firm, strengthen and reduce inflammation. I always have a couple of bottles on hand so I'm never without it.
The value of The Cream and The Rich Cream is in the patented TFC8 complex by Augustinus Bader. This technology is unparalleled when it comes to skin rejuvenation and repair. Because the formula doesn't include fillers, synthetic fragrance, or unnecessary ingredients, it's potent and concentrated, which means a little goes a long way. The bottle is quite heavy so you can never know when it's running out, but it comes down to usage. I'm quite heavy-handed with my night cream because I apply it on my face down to my entire bust so I go through a bottle probably every six to eight weeks. A lot of my clients are quite careful with how much they apply, and they probably get 10 to 12 weeks out of a bottle."