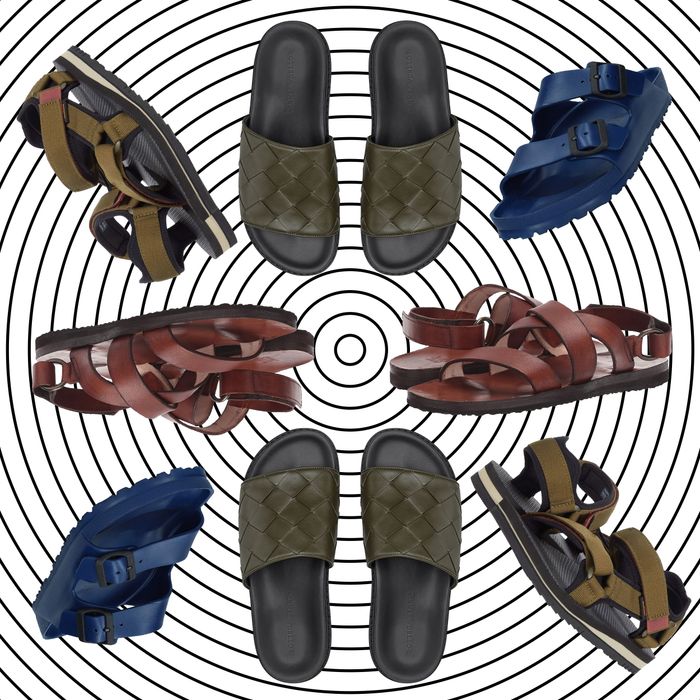 A man wearing sandals invites debate between those who believe toes should be free and those who believe feet should remain caged. If you fall into the former camp, you'll be excited to check out our top picks for the season. From shower slides by familiar brands like Nike and Adidas to more advanced styles like gladiators and gorpcore-friendly Tevas, here are 29 pairs of men's sandals to wear this summer.
A Sporty Pair for Just $20
The slime-green fabric on these is fun but still very wearable.
A Bright, Affordable Find
Simple, comfortable, and inexpensive enough that you won't mind if they expire before the end of the summer.
An Italian-Style Bargain
Slip these on under a linen suit and pretend you bought them somewhere along the Amalfi coast.
Because Birkenstocks Are a No-Brainer
The black-and-brown combo is always a safe bet, but why not go out on a limb and try this navy-blue style instead?
For the Advanced Sandal Wearer
Some men may shy away from huaraches, but if you're ready for them, here's a handsome leather pair to kick around in.
If You're Feeling Nostalgic
The college-dorm-room classic still feels relevant and fresh in 2020.
An Inexpensive, Sophisticated Option
For when you're ready to graduate from slides but aren't ready for the full-on fisherman sandal.
If You're Dreaming About Vacation
Even if you're not spending August in Santorini, at least you can dress like it.
For the Gorpcore Lover
Suicoke, founded by an anonymous Japanese creative collective, is known for its functional outdoor footwear.
If You Love Minimalism
These toe-ring slides have a similar vibe to designer Phoebe Philo's spring 2017 runway style for Celine — a touchstone for fans of minimalist fashion.
If You Want an Updated Throwback
Gladiator sandals are about as old-school as you can get, but the combination of sleek black leather and a chunky sole makes this pair feel more 2020 than 20 B.C.
For the Urban Hiker
If you're looking for a city-appropriate spin on Tevas, here's a pair that's stylish for the streets. They'll work on a hiking trail for your upstate getaways, too.
For the Purist
Clean black-and-white with just a hint of branding.
A Stylish Flip-Flop Alternative
Flip-flops are probably the most divisive sandal of them all. These are just as easy to slip on and off, but they feel a little more substantial.
For the Trail
Chaco is known for its comfortable, high-performance outdoor footwear. These were made for even the most extreme of hikes!
If You Wear Only Black
Of course you'll want these black-on-black sandals.
For the Teva Lover Who Needs Something Fancier
Take a pair of Tevas, get rid of the Velcro, add a toe loop, and you'll get these — a pair of practical sandals you can wear with dressier clothes.
For the Mandal Newbie
Frye's a pretty familiar brand for men and women alike, so this brown leather pair shouldn't raise any alarms.
If You Want Your Feet to Make a Statement
These are flashier than your average outdoorsy sandals but quite restrained and masculine.
For the Hypebeast
Anything Virgil Abloh touches still turns to gold, and these slides are no exception. They're sold out at a bunch of retailers, but SSENSE happens to have them in stock — for now.
If You Want to Experiment With Color
Step a little out of your comfort zone with this cheery combo of navy, teal, and yellow.
The Dapper Pair
An exceedingly chic design shows that men, too, can be influenced by Parisian style.
The Instagram-Friendly Pair
Multicolor camouflage isn't exactly subtle, but it's the sort of look that'll go over well with the social-media app's fussy algorithm.
If You Are Particular About Good Design
The attention to detail in these thin-strapped leather sandals is pleasing to the discerning eye.
The Clout Label to Know
Buscemi gained infamy for selling a pair of sneakers at a whopping $132,000. These cost less but still use the soft leather the brand is known for.
If You Like Logos
Fendi's signature F's on each strap are a nod to the return of logo-mania without being overwhelming.
For the Fashion-Forward Man
Marni's sandal is one way to tell everyone you're paying attention to fashion.
For the Modern Dandy
Creative director Alessandro Michele's off-kilter touch is present in the block heel and gold hardware logo details.
For the Man Who Desires a Splurge
This buttery leather in rich forest green is discretely stylish.
If you buy something through our links, New York may earn an affiliate commission.