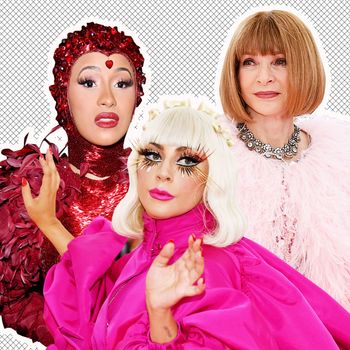 Photo-Illustration: The Cut; Photos: Getty Images
Unlike the 365-day calendar used by most people, the year in fashion begins every February, ends in September, and includes the Met Gala: also referred to as the fashion world's Oscar Night, which usually falls on the first Monday of May. After a year off because of the pandemic, the event returns on the second Monday of September in 2021 as an even more exclusive affair than before.
Let's start at the very beginning: How can I watch the Met Gala?
The red carpet was on Monday night, September 13, starting at 5:30 p.m. and ending with Rihanna showing up around 10 P.M.
See all the Met Gala looks here.
So what is the Met Gala?
The Met Gala is a nickname for the Metropolitan Museum of Art's Costume Institute Gala. It's essentially an opening-night party and fundraiser for an annual fashion exhibit curated by the Costume Institute, the museum's fashion department, and the only curatorial department at the Met that has to fund itself.
Each year there's a "theme" for the clothes featured in the museum exhibit, which is also the dress code for the party. In 2019, the dress code was "camp," inspired by Susan Sontag's 1964 essay, "Notes on Camp." Other themes have centered on people like Alexander McQueen and Rei Kawakubo or styles like punk and "Sunday best" for an exhibit about Catholic dress.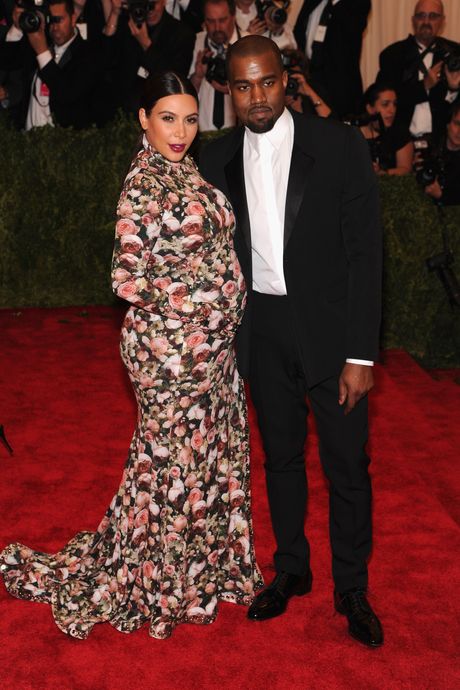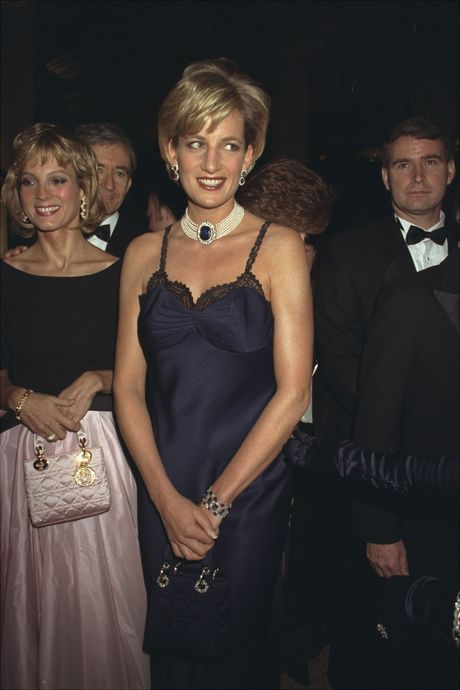 What is this year's Met Gala theme and exhibit?
This year the theme is "American Independence." The exhibit will be presented in two-parts. The first, "In America: A Lexicon of Fashion," will open in the Anna Wintour Costume Center on September 18 (a few days after the party … because somebody's gotta clean it up) to celebrate The Costume Institute's 75th anniversary. Part one of the exhibit is inspired by a patchwork quilt, with about 100 individual looks encased and arranged as squares. Pieces from designers including Christopher John Rogers, Eckhaus Latta, Telfar, Imitation of Christ, and No Sesso will be featured.
The second part, "In America: An Anthology of Fashion," opens on May 5, 2022, and the museum's curatorial team will work with notable American film directors to create cinematic vignettes depicting fashion dating from the 18th century to the present.
Both shows will run through September 5, 2022.
Why did they choose that theme?
The exhibition hopes to present a diverse range of perspectives on how fashion reflects the evolving notions of identity in the country. "In looking at the past through this lens, we can consider the aesthetic and cultural impact of fashion on historical aspects of American life," said Max Hollein, the Marina Kellen French director of the Met.
Andrew Bolton, the Wendy Yu Curator in Charge of the Costume Institute, added that over the past year, because of the pandemic, the connections to what we wear have become more emotional.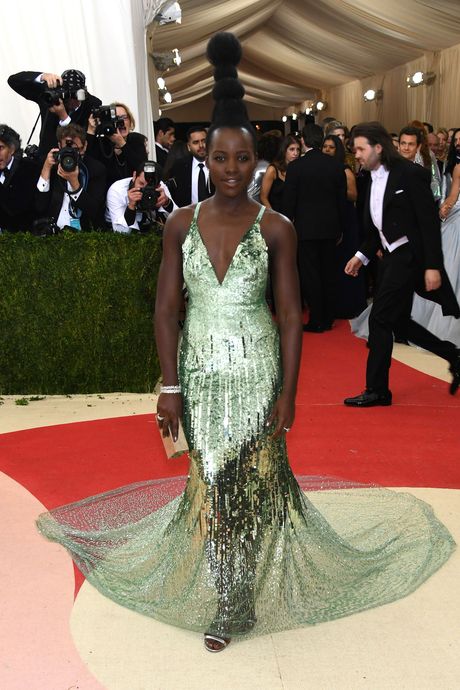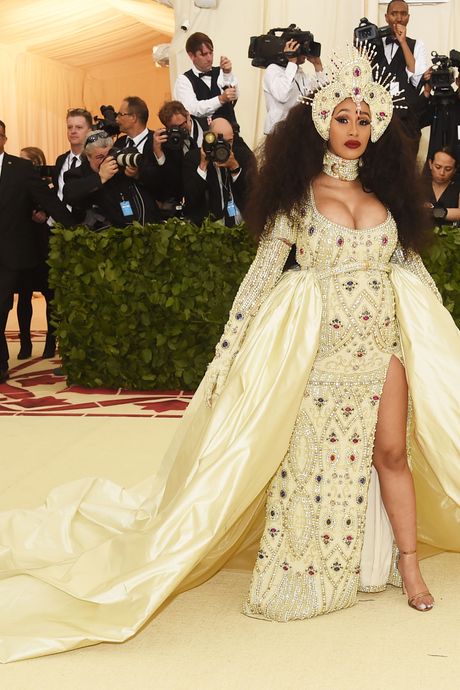 Who gets to go to the Met Gala?
Whomever Anna Wintour wants. This year, Timothée Chalamet, Billie Eilish, Amanda Gorman, and Naomi Osaka will co-chair and help host the affair, while Tom Ford, Instagram's Adam Mosseri (Instagram is a sponsor of this year's event and exhibit), and Anna Wintour will serve as the honorary chairs. Rihanna recently posted that she is hosting this year's annual Met Gala after-party, so there is a good chance she will be in attendance. For a long time, Wintour reportedly had a Kardashian boycott. Now, Kim, Kanye, Kendall, and Kylie are pretty much Met Gala staples.
How has COVID-19 changed things this year?
Both 2020 and 2021's galas were postponed. While the 2020 exhibition, "About Time: Fashion and Duration," did end up happening, there was no red carpet soirée. Now the celebration is back, albeit in a more intimate way, and the Met is enforcing a COVID-19 vaccination mandate and that guests wear masks while they are not eating.
Some people, aka Nicki Minaj, were not happy with the vaccination mandate.
How much does a Met Gala ticket cost?
Tickets cost $50 each back in 1948, when publicist Eleanor Lambert came up with the idea to host a big fundraising party for the Costume Institute. In 2019, tickets reportedly cost about $35,000 per person. As for how many people get to go … it's generally between 500 and 600. Brands and companies like Apple buy tables for $200,000 to $300,000 and invite guests, and Wintour gives the final word. Some museum guests get to attend for free, but the goal is to sell as many seats and tables as possible. Both the 2018 and 2019 Met Galas raised over $13 million, according to a rep for the museum.
Why is the Met Gala such a big deal?
Well, it's big money and a lot of celebrities. Even if you can afford a $35,000 ticket, you have to be approved by Wintour and placed by Vogue at a table. The seating chart is normally drafted in December, a full five months before. They take into account where people and their exes are sitting, and who can see whom, and place everyone individually.
From a fashion perspective, it is a chance for designers to work closely with celebrities on outfits, and people are generally encouraged to dress in capital-F Fashion rather than play it safe. This has resulted in some outrageous dresses, the most famous of which is probably Rihanna's "omelet dress" at the gala in 2015: exquisite, unexpected, and true to herself and the theme. 2019's "camp" theme brought out dramatic outfits and entrances: In over-the-top fashion, Lady Gaga had not one, not two, but three outfit changes on the red carpet, while Billy Porter's accessory of choice was six shirtless men to carry him. But not everyone has to be in the biggest boldest outfit to stand out — The Gentlewoman editor Penny Jane Martin wore a well-received nunlike outfit to the 2018 Met Gala. The worst outfits are boring or off-theme. It really is a case for "Go big or go home."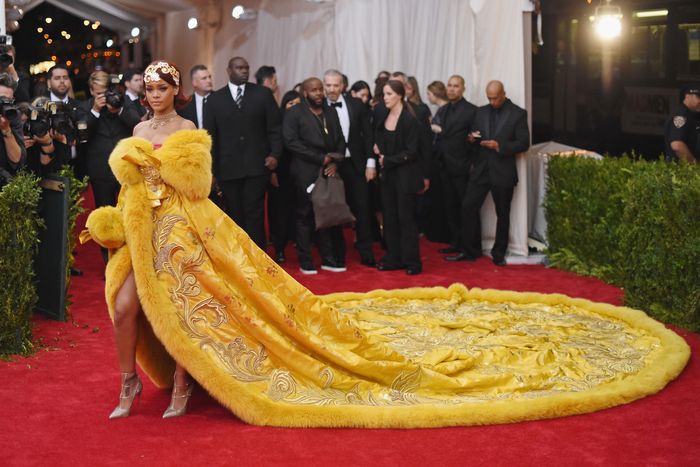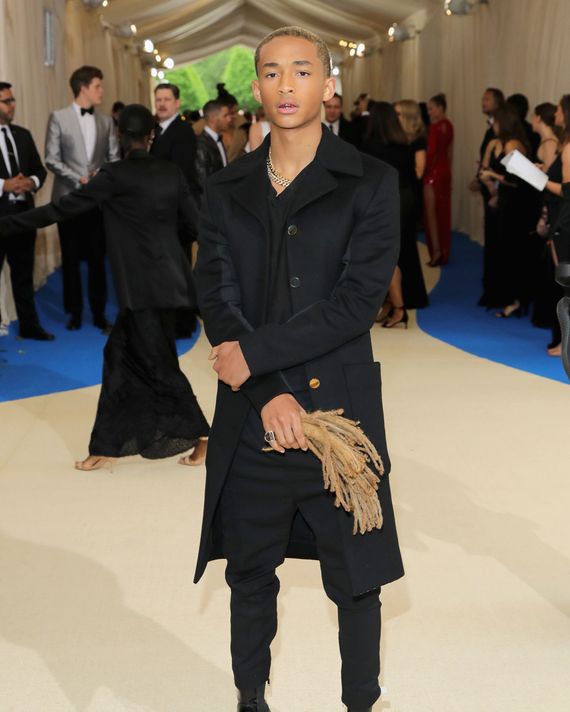 And what do all these celebrities do at the Met Gala?
Because the night revolves around the fashion exhibit, guests arrive on the red carpet and explore the gallery first before dinner. Then there areperformances from major acts. Katy Perry and Madonna performed at the Catholicism-themed gala (can you guess what song Madonna sang?). Sometimes cultural touchstones like Solange and Jay-Z's elevator fight or Donald Trump's proposal to Melania have happened during or after the Met Gala.
Why is Anna Wintour in charge?
Vogue's history with the Met Gala actually begins with Wintour's predecessor, Diana Vreeland, who became a consultant to the Costume Institute after leaving the magazine in 1972. Vreeland is the one who decided that it needed a theme and lots of celebrity attendees, not just fashion-industry people and socialites. But Wintour took things to the next level after she became a co-chair in 1995, turning it into a red-carpet event to rival the Oscars. It's raised so much money that the Costume Institute wing has her name on it (Forbes has reported the gala consistently raiseseight-figure amounts).
The partnership is handy. Since photographers from the press aren't generally allowed inside the event and social media inside the event is verboten, Vogue has exclusive access to photos from the actual party. Which is what people care about, because it's celebrities being celebrities in very fancy outfits.
And what will celebrities be wearing this year?
Are there any Met Gala abstainers?
Amy Schumer once said the people there were "dressed up like a bunch of fucking assholes." She's not alone in disliking the Met Gala. Tina Fey called it a "jerk parade," and Gwyneth Paltrow said she didn't "enjoy it at all" (but went back for another year). Oh, and Zayn Malik would rather sit at home. And and Nicki Minaj.