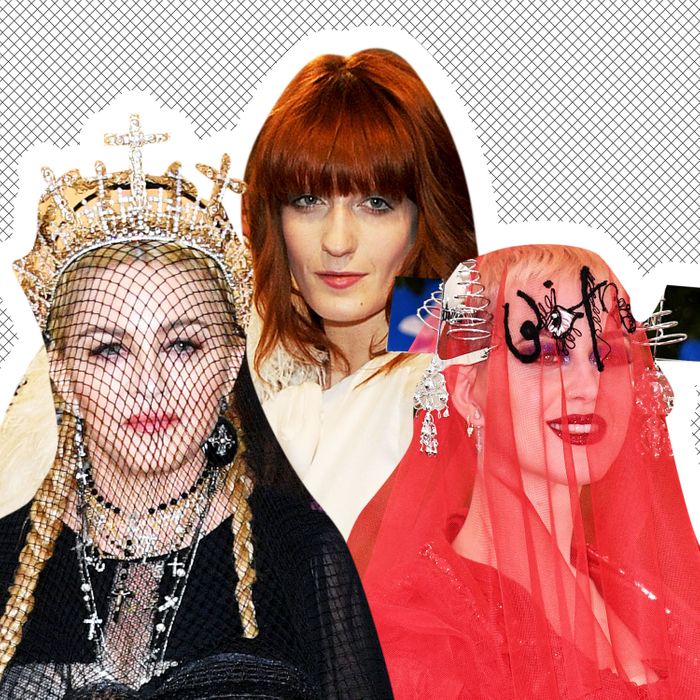 Photo: Getty Images, Shutterstock
It's that time of the year when we wish we knew what was happening behind closed doors at the Met Gala, where celebrities are forbidden to use their phones … but almost always, they do. Illicit videos of the night's surprise performance are a highlight every year — below, the Cut found nearly all of them from 2010 to 2018. Scroll to remember Kanye West's primal screaming and Rihanna strutting down a long dinner table.
2010: Lady Gaga, 'Bad Romance'
The same year "Bad Romance" became the most watched YouTube video of all time, Lady Gaga performed the song at the Met Gala in classic Gaga fashion. She plays the piano and dances full-on "paws up" choreography wearing 6-inch platform heels (because she is Lady-freaking-Gaga!!!). The exhibition theme seems apt: "American Woman: Fashioning a National Identity."
2011: Florence + the Machine, 'Rebel Rebel (David Bowie Cover)'
Florence + the Machine must have mesmerized Met Gala guests into a dreamlike state, away from their phones, because there are no videos of her actual performance online. Luckily, this rehearsal video offers a preview — in which Florence enters stage left in a regal-looking caftan. Given her own hippie-goth style and the goth designer who inspired the 2011 theme ("Alexander McQueen: Savage Beauty"), she was the ideal performer for this specific night.
2012: Bruno Mars and Vittorio Grigolo, 'Runaway Baby'
Probably succumbing to all the illicit iPhone videos online, in 2012 Vogue released its own edited clip of the performance. Italian opera singer Vittorio Grigolo belted the aria "Nessun Dorma" before Bruno Mars joined him onstage for a swingin' good time — a very Italian tribute to two Italian designers honored in the year's theme, "Schiaparelli and Prada: Impossible Conversations."
2013: Kanye West, 'I Am a God'
After Debbie Harry rocked out to "Call Me" for the night's theme ("Punk: Chaos to Couture"), Kanye West gave a surprise performance of "I Am a God" from the Yeezus album, which came out the next month. "Kind of screaming primally" is how Daft Punk described the song in another context, but that's what happened here … and he sang about how Kim Kardashian is awesome, to which she replied, on Instagram, "Baby you're AWESOME." Ah, young love.
2014: Frank Ocean, 'Super Rich Kids'
Looking dapper in a white tuxedo, Frank Ocean performed in a breathtaking ball room, with an orchestra, under some incredible chandeliers. The elegant setting fit perfectly with the year's exhibition and theme honoring the English-American fashion designer Charles James, who was known for making opulent ball gowns.
2015: Rihanna, 'Bitch Better Have My Money'
After Rihanna simultaneously won best-dressed and made the internet hungry for pizza with her yellow gown on the red carpet, she belted "Bitch Better Have My Money" while wearing another Chinese-inspired look for the year's theme, "China: Through the Looking Glass." Spotted in this clip: Beyoncé, Charlize Theron, Katy Perry, and Bradley Cooper dancing.
2016: The Weeknd and Nas, 'Tell Your Friends (Remix)'
This was also the year Taylor Swift and Tom Hiddleston were taped with boogie fever on the dance floor. The Weeknd likes robot restaurants, so it was only fitting for him to perform for the year's technology-centric theme, "Manus x Machina: Fashion in an Age of Technology." This clip offers a sighting of the singer's infamous dreadlocks before he got a haircut to "wear fucking hats again" (and he hid the hair in a safe). At the Met Gala he sang some of the top songs from his album, Beauty Behind the Madness, before hip-hop legend Nas took the stage to rap some '90s hits.
2017: Katy Perry, 'Chained to the Rhythm'
For this year's avant-garde theme ("Rei Kawakubo/Comme des Garçons: Art of the In-Between"), Katy Perry promoted her Witness album first on the red carpet in a red veil embroidered with the word "Witness" — in true over-the-top fashion. Inside, she performed classic songs like "Teenage Dream" and "Chained to the Rhythm" in a steamy latex look, while floating limbs protruded from a stage backdrop that would make artist Yayoi Kusama proud.
2018: Madonna, 'Like a Prayer'
Last but certainly not least: for the Catholic-themed 2018 Met Gala, "Heavenly Bodies: Fashion and the Catholic Imagination," the queen of pop gave a surprise performance of "Like a Prayer," entering the Met's Great Hall in a giant cloak while haunting Gregorian chants played in the background.
What will this year's performance bring? One can only hope for someone like Cher to emerge in a full Bob Mackie outfit and get the audience on their feet. That's my guess, but given the year's theme, no matter who it is, it'll be a whole lot of fun.