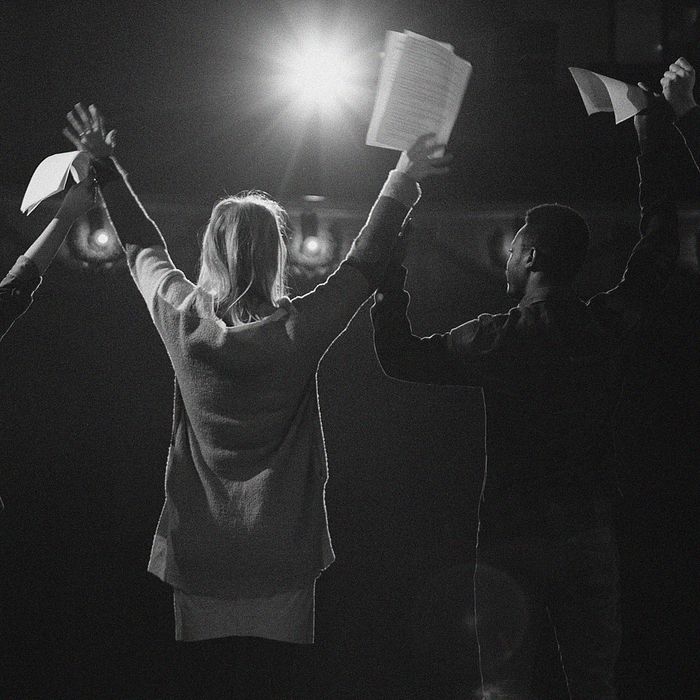 Photo-Illustration: the Cut; Photo Getty/Evgeniy Shkolenko
This article was featured in One Great Story, New York's reading recommendation newsletter. Sign up here to get it nightly.
The 20-something students of the Lonsdale Smith & Company acting studio (LS&CO) lay on the ground in their fourth hour of class, hyperventilating. Or as their dogmatic leader-slash-guru Michèle Lonsdale-Smith coined it: relaxation. Their chests rose and fell uneasily as she stood over them, instructing them to take more air in. The students continued to fight their baser instincts — to pee, to move, to think clearly — to satisfy their mentor.
In the original exercise developed by Konstantin Stanislavski, relaxation is a body scan where an actor looks for tension in silence. But at LS&CO classes in Los Angeles and across Canada, students were expected to engage with one another while sitting in chairs or lying on the ground — with the caveat that they do it "truthfully." To be a good actor, one had to fully submerge oneself in Lonsdale-Smith's approach, referred to as The Work. Disobedience and poor performance were seen as signs of resistance holding an actor back. Those who were in resistance were allegedly punished.
Lonsdale-Smith, a thin woman in her 60s, often singled out a student for what some students called a "verbal stoning." "She's killing me today. She's in resistance. She is holding all of you back. She is the reason why I am so sick," she declared, pointing to her chest. She didn't mean it metaphorically. Lonsdale-Smith wanted Jo — who, like several other students whom we spoke to for this story, asked to be identified with a pseudonym for fear of retaliation — and the rest of the class to acknowledge that her bad work is the cause of her mysterious, unnamed sickness.
"I believe you," Jo recalls saying. The other students watched in equal reverence and fear. Lonsdale-Smith called them one by one, disparaging them on their performance, using knowledge of their personal lives against them, and insisting only she could guide them to their full potential. Many of them broke down in tears. Lonsdale-Smith reprimanded those who didn't, according to the students I spoke to.
During the relaxation exercise, she encouraged students to interact with one another in an uninhibited way. But without guardrails, students say, they frequently experienced unwanted sexual contact. Former student Cat Ramos began studying at LS&CO when she was 26. She was classically trained in voice and theater and was impressed that award-winning Orphan Black star Tatiana Maslany had studied with Lonsdale-Smith. One day in the middle of a relaxation exercise, a male student told Ramos, "I want to fuck you." He proceeded to get up, call her derogatory names, and climb on top of her, grabbing and kissing her. Ramos, who was seeing a trauma therapist for sexual assault she'd previously experienced, was horrified. But in relaxation, anything went.
One of the tentpoles of The Work was the act of confession. Actors were expected to reveal a dark truth about themselves that they wouldn't have known without her guidance, confessions that they now say were often pure fiction. According to the former students who spoke with me, Lonsdale-Smith berated students by saying that they were lying about their sexuality, that they should break up with their partners, that they didn't love their families, that they were sexual predators, that they were liars and cheaters — and the rest of the class joined her.
"There was a strange combination of woo-woo guru language and groupthink," Ramos says. "If she didn't think you sounded like you were telling the truth, she would say that you were lying and then have the rest of the class jump in to shame you, saying, 'Why are you lying? Why are you trying to hold the group back?' I was getting verbally beat up every class, and I was spiraling." She continues, "My therapist told me, 'The things you're describing to me do not sound normal and okay. You're taking the wrong acting class and you're running the risk of retraumatizing yourself and you need to leave.' And then I didn't listen."
It may seem strange to those outside the entertainment business that anyone would pay to be treated this way. But former LS&CO students say they would have done almost anything to get ahead in the famously competitive acting world. "I was so desperate to get my career going, to get my life to change," says another actor who began working with Lonsdale-Smith in his mid-20s, "and she said, 'If you do this, you will get whatever you want.'"
The 26 former students I spoke to described cutting off family members, sabotaging their relationships, turning down job opportunities, and relying on Lonsdale-Smith for a sense of identity. Fifteen of them are still working actors and at least four are series regulars on prime-time shows. Yet despite their success, they have kept their complaints to a whisper, afraid of retaliation from the former teacher. It's only now, after a mass exodus, that her ex-students are finally comfortable speaking publicly about what they experienced at the studio. "We were lucky enough to get out, but there's still talented people trapped in that vortex," says another former student. "It wasn't enough to just move on."
Hollywood's codependent relationship with acting studios — and the coaches who run them — is as old as it is common. The dynamic between a teacher and their pupil in acting training is one that is rarely equal and oftentimes reverent. Famously, Marilyn Monroe was so close to Lee Strasberg that she left much of her estate to the Strasbergs when she died.
Other relationships have been far more nefarious. Dr. Mark Seton, a researcher at the University of Sydney, has studied abuses in the acting training spaces for decades. For artists looking to deepen their relationship with the craft, it's understandable why they would turn to mentors who seemingly can take them to the next level of their artistry.
"Human beings will tolerate a lot of pain and discomfort if they believe that the relationship is worth it. The guru-follower dynamic is a codependency — each needs the other, but each can abuse the other, although often the teacher does all the abusing. But the students who willingly accept the abuse will go along with it in the belief that it will make them a better actor," Seton says. "In the wider culture of actor training, sadly, there is the mantra of 'The show must go on.' It's how myths that circulate about 'Whatever doesn't kill you makes you stronger' will help you develop your craft — that pain will transform and liberate you as an actor."
In the past decade, Hollywood has been forced to reckon with some of its abuses. But this revolution has yet to reach the studios where green actors — many of them new to the business and still hoping to earn a SAG card — learn their craft. There is no one to advocate on their behalf and no union, like SAG-AFTRA, to report to. Instead, Hollywood hopefuls have started to rely on whisper networks, such as Keep Actors Safe, to caution one another from exploitative individuals and studios.
"There's no regulation, and anybody can be a teacher," the founders of Keep Actors Safe say, adding that they have received many submissions about Lonsdale-Smith's training over the years. "You don't need any experience. There's no background checks."
Word of mouth is often how prospective students found LS&CO. Like many acting coaches, Lonsdale-Smith relied on the testimony of star pupils like Maslany. (The Sex Lives of College Girls actor Amrit Kaur is a current student; she recently told Glamour magazine that she considered Lonsdale-Smith her "feminist icon" alongside Amal Clooney, Malala Yousafzai, and Greta Thunberg. Neither representatives for Maslany nor Kaur returned requests for comment.) At 65, Lonsdale-Smith has taught all over North America. A late-'80s graduate of the Lee Strasberg Theatre Institute, she said in an interview she has coached actors for 25 years. Studying acting, she explained in the same interview, depended on looking deeply inward. "I think actors have to learn to teach themselves to grow," she said. "The success of an actor's development is wholly dependent on how well they know themselves and the world around them, how much they love to learn, and whether they're constantly evolving as human beings. And so I believe the best formal actor training mimics this process." (Lonsdale-Smith did not respond to multiple interview requests or a detailed list of the allegations in this story.)
A typical class at LS&CO costs students $425 for a month, or $800 for a special two-week intensive course. For private coaching, Lonsdale-Smith charged around $150 an hour. The expense felt worth it, even for a broke young actor. (Maya, a former student, showed me an email she wrote that reflected her priorities at the time: "I have $1,000 in my bank. Perfect amount for coaching, an eye exam, and a teeth cleaning!") Prior to enrolling in the studio, students were expected to audit a class before diving in. The approach blended Meisner (the approach rooted in environment, repetition, and the subconscious) and the Alexander Technique (the study of an actor's physicality and movement).
In 2014, Neil was referred to the studio by a co-star who had studied with Lonsdale-Smith. He had been a working actor since he was a teenager, but had never formally studied and was impressed with his colleague's artistry. "She said that Michèle had far and away the most profound impact on her work and told me that I should audit. And she said, 'Good or bad, you will have a very strong opinion about The Work.'"
He remembers in his initial audit the teacher claiming that what her students were doing was so transformative that no therapy could compare. "It felt like we were doing something more profound than what we do when we step into a room to audition or we step onto a film or television set. It felt like we were doing the acting equivalent of Picasso. And that's how she sold it," Neil says.
Lonsdale-Smith warned auditors that her studio was not for the faint of heart, which made it all the more enticing for a certain kind of would-be actor who saw the warning as a challenge. For some students, their new teacher's attitude was familiar. Prior to studying acting, Emilia, another former student, had come from the rigid world of ballet. "I was used to ballet teachers telling me to 'suck it in' and stabbing me with knitting needles," Emilia says. "Lonsdale-Smith would say to me, 'You're a thoroughbred, you're used to this, you thrive on hard notes.'"
Classes at LS&CO were often unstructured and demanded high emotional, mental, and physical labor. In the Los Angeles studio, a single class was typically scheduled for five-hour blocks, but it wasn't unusual for students to have eight-hour classes. Lonsdale-Smith paired students together for scenes and assigned them material to perform in class. Her roster of go-tos were almost exclusively dark dramas, such as Doubt, by John Patrick Shanley; Race, by David Mamet; and Raised in Captivity, by Nicky Silver. She was pointed about choosing material she believed drew on her students' lives, things she thought that they needed to work on and that these characters could help them illuminate.
The assignments could feel cruel. "She brought my weight up over and over again to the point that every scene was reduced to it," says Ramos. When Lonsdale-Smith asked the class what their dream roles would be, Ramos replied that she wanted to be cast as the lead in Nick Payne's Constellations. "And she said, 'No, your dream is to be cast in Neil LaBute's Fat Pig.'" Ramos says Lonsdale-Smith would accuse her of binge-eating and paired her for scene work with male students who would say things like, "'I'm too self-conscious to show that I want to be intimate with you in front of the class because you're overweight.' And when I would cry, the teacher would tell me I was overreacting." All the while, Ramos was starving herself and was later diagnosed with restrictive eating disorder.
"According to Michèle, it was my inability to stomach the reactions of my male scene partners to my fatness that was going to make me ineffective as an actor," Ramos says.
Students say that in pursuit of the "truth," Lonsdale-Smith routinely tried to get gay students to admit they were straight and vice versa. "She was hyperfixated on our sexuality," Neil says. "I identify as gay, and I made that expressly clear in the class. Michèle would imply that I was sexually attracted to this woman, and if I tried to say, 'No, Michèle, I'm not, I'm a gay man, I'm not sexually attracted to this woman,' then it would become an entire discussion about how I was trying to hijack the exercise, how I was stalling art, how I was hurting my scene partner and the entire class by denying something that they could all see was plainly true. And that if I didn't acknowledge it, she would have to shut down the exercise and we would have to have a conversation about how serious I was about being a student and studying there." Neil recalls multiple instances where he was forced into sexual positions during relaxation. One day in class, a former female student grinded on him. When Lonsdale-Smith noticed his discomfort, he remembers her telling him to "stop pretending he wasn't enjoying it."
A few months into studying with Lonsdale-Smith, Maya arranged for a private coaching session. Still new to the studio, Maya had noticed that Lonsdale-Smith frequently gave sex-related feedback to her pupils, either instructing them to have more or less sex. When she asked Lonsdale-Smith what she should do, Lonsdale-Smith allegedly told Maya that she would be more free and a better actor if she weren't a virgin anymore. Looking back, she can't believe she thought this was an appropriate way for teacher and pupil to interact, but at the time it felt completely normal. Maya says that, as time went on, she observed that Lonsdale-Smith, a Black woman, gave especially cruel feedback to students of color. "She said that I didn't know I was Black, whatever the fuck that meant, and I hated that part of myself," Maya says. "She was so obsessed with our Blackness and this idea that all of us hate ourselves for being Black."
Not all students went along with the program. One former student, Chris Kalhoon, had been studying with Lonsdale-Smith since the late '90s. He had built a career in radio and wanted to move into acting. When Lonsdale-Smith gave Kalhoon the in-class note in 2017 that he was "too close to his daughter" during an exercise, Kalhoon argued back in a rare moment of defiance.
He remembers telling Lonsdale-Smith to "leave his fucking family out of it" and that she didn't know anything about kids. This had been an ongoing theme for weeks, and when he finally set the boundary, he says Lonsdale-Smith promptly burst into tears and ran across the room to sit on his lap. Kalhoon remembers her tearfully exclaiming, "Oh, Chris, I love you, I just want you to be the best."
In another class two weeks later, he injured his hand. He had been doing a scene where his character was expressing anger, and on impulse, he had started hitting a chair hard, over and over. "I can look outside my body on it and see it perfectly," Kalhoon says. "I could just see her salivating. She should have said, 'Okay, stop, Chris, stop, play it safe here.' But there was nothing." When he went to a doctor days later, they informed him that he had a fracture. He still went back to the studio one more time before finally working up the courage to quit. When he showed up in a cast, he says Lonsdale-Smith told him, "That happens."
"It's a total cult atmosphere," he says now. "She's somebody who should not be a teacher. She's damaged a lot of people, and she's wrecked a lot of lives."
Physical discomfort wasn't just the norm at LS&CO, it was the expectation. Alice, another former student, remembers once hitting her face on a chair during one relaxation and bleeding for the duration of the class. Rather than stopping the class, Alice says the class members praised her for pushing through the exercise despite the pain.
Four students I spoke to remember a peer fainting during an exercise. Some of her classmates jumped up to help her — which they say Lonsdale-Smith later reprimanded them for. "She passed out," says Kalhoon, claiming that Lonsdale-Smith had "pushed her and pushed her." Meanwhile, they say the students who didn't try to help the fainter were applauded by Lonsdale-Smith. "In retrospect, it was like torture. Why would you pass out in an acting class?"
One of the studio's rules was that students were not allowed to take bathroom breaks unless it was on Lonsdale-Smith's designated time. "If you had to pee outside of those times, it's because your ego is trying to resist work that your body wants to do," Neil recalls. Once, when Neil timidly told Lonsdale-Smith that he needed to go to the bathroom, he says the teacher asked the class how many of them needed to go as well. When all hands went up, he says she berated him for thinking he was special.
Humiliated, Neil continued on with the rest of the class without a break. "I had to pee so badly I couldn't lift my legs. I was in such pain that I couldn't move my body. She told me I had never looked more beautiful," he says.
Prior to enrolling in the studio, Jeremy had already found success in Hollywood. He had over 35 film and television credits (including a handful of recurring and guest roles on network and cable shows), but Lonsdale-Smith told him that he had "never really acted" until he met her. He hoped the class would take him to the next level in his career. Instead, he says, he describes his teacher as being obsessed with sex and pushing his boundaries. "I grew up very religious," he says, and still struggled with the feeling that he had betrayed his faith and community by coming out as gay. "Through the church, I was familiar with feeling like I'm a terrible person, and here's this wise, wonderful person who is here to drudge up all my ugliness and make me better."
Lonsdale-Smith frequently gave a first-day assignment at the start of each month; for Jeremy one month, it was to share something with the class that he had never said out loud before. It needed to be deeply personal and "cost him something" to share. Jeremy confessed that he had been sexting other people while in a monogamous relationship. She latched onto his admission, insisting that all of his acting impulses were sexual and later she added that they were violent, too.
During one class, he alleges Lonsdale-Smith told him, "You're a sexual predator; go up to the stage and show us all how you like to fuck using that chair. And don't pretend that you're some sort of bottom; you're a dominant top — we all know that." While Jeremy was following her instructions, she told him to name who in the room he was most sexually attracted to. Jeremy named a student he was attracted to, and Lonsdale-Smith instructed that student to sit on a chair while Jeremy mimed penetrating the chair from behind. At the time, Jeremy felt brave doing The Work. (Another classmate who was present at the time recalled this interaction.) Now, he doesn't understand what the point of it was at all. "It had nothing to do with any scene I was practicing. I don't really know what the exercise was for except to bring down my boundaries."
In another class, Jeremy remembers a former female student straddling his lap while Lonsdale-Smith urged her to "do what [she] wants to do." (The student corroborated Jeremy's account.) Jeremy says he wasn't asked if he consented to the encounter but didn't say "no." Jeremy noticed that anytime a student would try to rebuff physical contact, Lonsdale-Smith would tell them, "Not a chance. Don't pretend you aren't loving this attention." The other student in the scene whispered "sorry" into Jeremy's ear before forcibly making out with him in front of the whole class.
Another time, Jeremy remembers a girl talking about being sexually assaulted as a kid. "Michèle was like, 'Okay, how many of you have been sexually assaulted?' Almost every hand went up, including her own," says Jeremy. "And she said, 'All right, so you're not special. Let's move on.'"
Former students say they were punished for getting acting jobs. When Halle booked a recurring role in a popular Netflix series, she was forced to sit out of class for the summer, barely able to participate despite paying. "I remember [the other students] saying, 'You don't deserve the work you've gotten.' They told me that the only reason why I worked was because I was pretty and I didn't deserve the opportunities that I did get, and sooner or later, it was going to catch up with me. I was devastated. Then Michèle told me that one day I would be a good actor, but I would have to trust her and be willing to do whatever she said if I wanted to get to that place."
Similarly, when Jeremy booked a recurring guest role on a CW show, he let LS&CO know that he would have to miss class to shoot. Lonsdale-Smith called him. She told him she was worried about him; did he know why? To appease her, he told her that he was a sycophant obsessed with celebrity. Later in a private coaching session, Lonsdale-Smith said that without her guidance, Jeremy would open himself up to cheating on his partner while he was on set.
In addition to studio time, students say Lonsdale-Smith often handpicked students to run personal errands — such as taking her to appointments, cooking for her, massaging her feet, even carrying her to a bed in the studio. Nina learned about the studio through a friend. She started as a student in 2003 and went on to become Lonsdale-Smith's personal assistant in 2015. The largely unpaid labor, as Lonsdale-Smith positioned it, was an opportunity to serve her. The relationship was, Nina reflects now, like a codependent relationship. She catered to Lonsdale-Smith's every whim, even going as far as flying across the country to carry Lonsdale-Smith's luggage through an airport. When she rubbed Lonsdale-Smith's feet, Nina says the teacher told her that she wasn't "doing it with enough love." After her time at the studio, Nina says she spent a year living at her father's home, deeply depressed and fantasizing about killing herself. "I just really wanted to be a great actor. I wanted to really do that," says Nina.
Lonsdale-Smith referred to anyone who wasn't part of the studio as a "civilian" and encouraged her students to limit their relationships with non-studio members. One student reported receiving a note from Lonsdale-Smith that he needed to be more mindful of the company he was keeping. "We were encouraged to socialize mostly with each other. Sometimes only and exclusively. We would just talk about her all the time. She was referenced in every conversation," says Neil.
Meanwhile, Jeremy's sister had started to worry about his relationship with Lonsdale-Smith. They had always been close, but suddenly he was pulling away and focusing all his energy on his studies: "Everything would link back to Michèle being a guru. Everything she said was gospel."
Jeremy insisted that his sister audit a class with him to see his new life. She says alarm bells started going off immediately. "I wanted to run out of the room as fast as I could," she says. "It felt like watching people try to talk in tongues. It felt very contrived with folks trying to get to a place that wasn't a natural state of being or acting."
The alarm was sounding among industry colleagues as well. Alberta Bligh was a theater actor in her late 20s who wanted to deepen her craft. She studied with Lonsdale-Smith for seven years and says her time in the studio sabotaged rather than furthered her career. Concerned about Bligh's reports of being berated during class and doing unpaid personal tasks for the teacher outside it, her agent told her to quit. What Lonsdale-Smith was doing, her agent said, "wasn't teaching; it just sounds abusive." Bligh alleges that Lonsdale-Smith convinced her to drop her agent, saying that her agent didn't understand the type of artist she was.
Maya's representatives also grew concerned. Her then-manager recalls Maya cutting out her entire first paycheck to give to Lonsdale-Smith as a gift to say "thank you" for all she had taught Maya. "That was the first time I thought, This is a little strange," the manager told me. Then she heard from another client who claimed that Lonsdale-Smith had asked a sober actor to drink in class. "You can't push a student to put their own life in danger," she says now. "It can be a confusing headspace so many actors fall into when the people they trust to care for them instead abuse them."
Emilia also experienced a push and pull between succeeding in class and succeeding in the industry. Once, when her manager was trying to get ahold of her to do press promoting a career-making project, Emilia was in days-long class sessions without access to her phone.
"Emilia," her manager told her. "She's got a hold on you."
Around 2017, there was a palpable change at LS&CO. Later, former students would refer to this period as the "Mass Exodus," when several longtime students would leave the studio and begin a reckoning with what, exactly, they had gotten out of their time in class. Four actors who quit the studio during that period say Lonsdale-Smith's behavior had grown increasingly erratic. In August 2017, for example, Emilia booked a private session to prepare for a new film role. She was eager to develop her character. But instead, she says, Lonsdale-Smith told her the project was "so bad she couldn't read past the first five pages." She then spent the rest of the session alternatively crying and berating Emilia for not inviting her to her birthday dinner the night before. Emilia remembers her teacher then saying that no one wanted to invite her to birthdays because "her aura was so big that she steals all the attention." Emilia was charged $600 for the three-hour session.
On Neil's last day at the studio in 2017, he says, Lonsdale-Smith arrived an hour late in an especially foul mood. The students were already in relaxation mode. "She berated us for our untruthful work. She told us that she had been throwing up all morning and the work that we were doing that day was making her ill," Neil says. He says she then picked on the students one by one, insulting them and guilting them into apologizing to her.
In November, both Jeremy and Emilia attended what would be their final class. Lonsdale-Smith asked Jeremy if he wanted to be a woman (he didn't) and said that if her students really respected her, they should be paying their deposit well in advance of the deadline. Lonsdale-Smith allegedly told students that she had "received the worst results on a blood test that you can get," yet she was still there to teach. ("They won't say it's the C-word," Emilia remembers her teacher telling her privately, "but we know what it is.") She accused the students of doing bad work intentionally — so she would get sick — because they were all trying to "diminish her light." Multiple actors broke down in tears. Afterward, Jo told Jeremy that she was "in an abusive relationship" with LS&CO.
A few months later, Jeremy watched the documentary Holy Hell, about the Buddhafield cult, with his partner. There was a scene where one of the members had joked, "If it is a cult, it's a good one." It was a statement that Jeremy and many other LS&CO students had said themselves.
On the other side of Los Angeles, Maya met Ramos for coffee. Both women had left the studio a few months prior and wanted to meet up and reconnect as friends. Ramos had studied cults in college and begun to realize that she might have fallen into one herself.  When the two of them started talking about Lonsdale-Smith, something clicked for Maya. Maya decided to host a dinner at her home with other former students to discuss their time in the studio. The January 2018 dinner turned into a highly emotional meeting of more than 20 actors who had once studied with Lonsdale-Smith.
Armed with newfound awareness, they wanted to prevent more actors from being sucked into Lonsdale-Smith's orbit. They created a private Facebook group called the Resistance to strategize and share their stories. They had considered reaching out to SAG-AFTRA but quickly realized that in-class issues fall outside its purview. The group left reviews on the LS&CO Yelp page describing their experiences in great detail, calling the class an "unsafe" "cult" and encouraging current students to "GET OUT!"; a couple current students added their own comments in her defense. The Los Angeles branch of LS&CO closed later that year, Neil says, as attendance dropped.
In 2020, three students filed a complaint with the Canadian Actors' Equity Association about loss of wages, broken labor protocols, and general mistreatment when they had worked on one of Lonsdale-Smith's Canadian stage productions. In Lonsdale-Smith's 14-page reply, she denied many of the allegations and insisted that she was merely passionate about the art. Ultimately, the CAEA stated that it had found evidence of bullying. (A representative for CAEA said they could not comment on "any disciplinary process under Equity's bylaws.") Despite the investigation, or the stray complaint posted on Reddit, the studio continued to flourish after the L.A. branch closed down.
Virtual classes during the pandemic brought The Work to students around the globe, and this spring LS&CO offered sold-out training sessions in New York, Rome, Tobago, and Toronto. In a fickle industry, there will always be hopeful actors who find themselves preyed on, whether by a studio, an agency, or an acting coach.
For some former students, the toll of what they endured at the studio led them to quit acting altogether. Many more say that, despite their teacher's insistence that they needed her to succeed, their lives and careers improved without her. Weeks after leaving the studio, Maya booked her first series-regular role on a major network. In the years since she last spoke to Lonsdale-Smith, she has gone on to star in a high-grossing film and a critically acclaimed television show. "I'm just so much lighter, much more present, and carefree," Maya says. "I'm surrounding myself with people who actually respect me and believe me and want to know what I have to say." Since quitting LS&CO, the longest Maya has gone without being on a set is a few months.