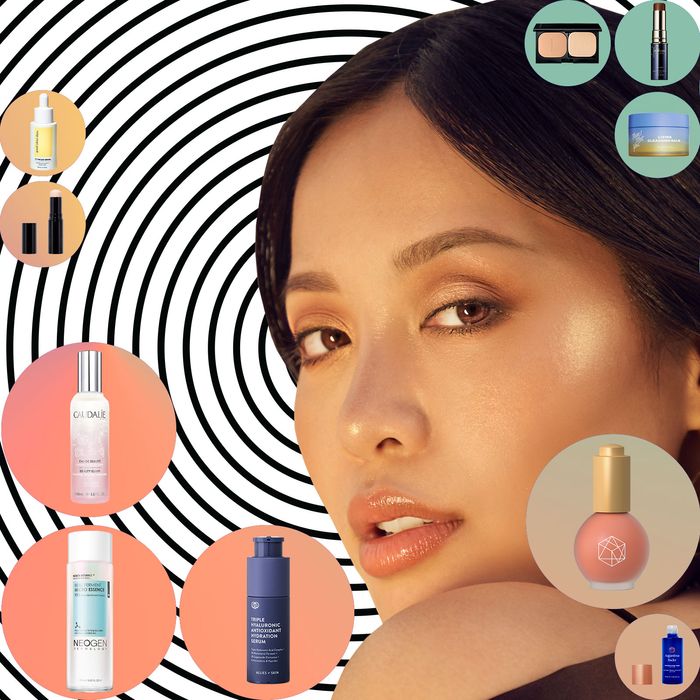 Photo: Luis Trujillo, Photo Illustration: Courtesy of Retailers
On the Beauty Group, a Facebook community co-founded by the Cut and the Strategist, people chat all day long about the products they love — the ones so good they'll make you hit that little "auto-refill" box at checkout. Below, we asked one of our favorite beauty pros to share her own selections.
With its seemingly never-ending product launches and contradictory philosophies, the beauty industry can make anyone jaded. No one knows this better than Michelle Phan, YouTube's biggest beauty star, who — after ten years, 385 videos, and over a billion views — abruptly disappeared from the platform in 2015. "Once, I was a girl with dreams who eventually became a product, selling, smiling, and selling … Somewhere along the journey I lost myself," she told her nearly 9 million YouTube followers two years later in a video called "Why I Left." But she never lost interest in beauty, and that same year, she bought back her company Em Cosmetics from L'Oreal.
Phan says she looks for elegant textures and formulations in a product. Every ingredient should have a purpose, and the texture has to feel silky, weightless, and not at all sticky on her combination skin. "If I'm applying it to the skin, and I feel like it's just floating on top, it's an automatic no-no for me," she explains.
Still, she doesn't have a "hard no" for any ingredient out there, and she's okay with "non-clean beauty." "I know some people say mineral oil is a no. I used to believe that, too," she admits. "But if you source your mineral oil, and the quality is on a pharmaceutical grade, it can be amazing. It doesn't clog my pores." She also stands by preservatives, which have recently gotten a bad reputation. Phan points out, "I know that I can just leave a product open, and it's not going to get moldy." Ultimately, it all comes down to nuance.
"If I really needed to, I could live without a cleanser," she says. Sunscreen, lactic acid, and moisturizer, however, are nonnegotiable. "An acid helps reveal the freshness of skin; it helps speed up your skin-cell turnover rate faster, and it's not like retinol which can be irritating — the lactic acid molecule is bigger, so it's a little more gentle to use every day." She is partial to Sunday Riley's Good Genes All-In-One Lactic Acid Treatment, which works for all skin types, even those prone to sensitivity. "My skin just glows beautifully with it."
Below, Phan lists her beauty essentials, including Em Cosmetics' new serum-infused Daydream Cushion SPF PA+++ ("I stopped wearing foundation four years ago, but I have days where I want my skin to look fresh and even"); Son and Park's Beauty Water ("I found this through my friend Charlotte Cho — she is so impactful!"); SkinCeuticals' A.G.E. Eye Complex ("For some reason, I was tagged in a post that listed this product, and I looked at it and was like, Ooh, that does look good, so I bought it, and I loved it"); and Laneige's Cream Skin Toner & Moisturizer ("People raved about it on Instagram, so I had to try it for myself — now I use every last drop"). Scroll down for the rest, and be sure to join The Beauty Group for exclusive discount codes to shop her picks.