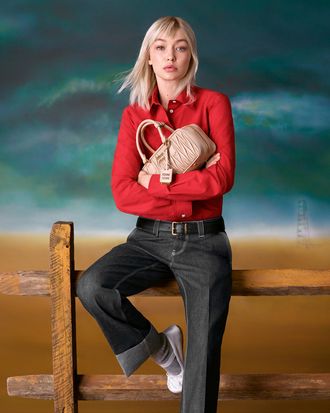 Photo: Steven Meisel for Miu Miu
For more of the Cut's favorite fashion, beauty, and home finds, sign up for the weekly Cut Shop Newsletter.
What is it?
2022 was the year of Miu Miu. Its viral micro-miniskirt became inescapable after gracing many magazine covers. Now, Miu Miu hopes to re-create the same viral moment with its new Arcadie bag. Its latest campaign features Gigi Hadid sporting the bags that pay homage to the work of Margaret Keane, an esteemed American artist celebrated for her women-centric paintings, and are made from the distinctive brushstroke-like textured leather known as matelassé, which has become a defining feature of former styles, such as the Wander bag.
Do I need this?
Yes. Like the Miu Miu miniskirt, we predict that this bag is stepping up to the throne as the newest "It" bag. Like previous bags, the matelassé material adds texture and depth, while the array of earth-toned colorways makes it timeless and easy to pair with every outfit.
Where can I get it?
The collection — with prices that range from $2,650 to $3,300 — is available at MiuMiu.com and in stores.
What are people saying?
People were excited to see that model Gigi Hadid was the face of this newest campaign. Commenters said, "Omg Gigi Hadid, the queen," and "Supermodel in Miu Miu." The campaign star herself told Miu Miu that she loves how the Arcadie bag is a "seemingly simple bag from afar but has so much detail and character." Hadid also shared that her favorite colorway is the pink one, and that she keeps her wallet, lip liner, lipstick, moisturizer, sunglasses, phone, and sometimes a camera inside.