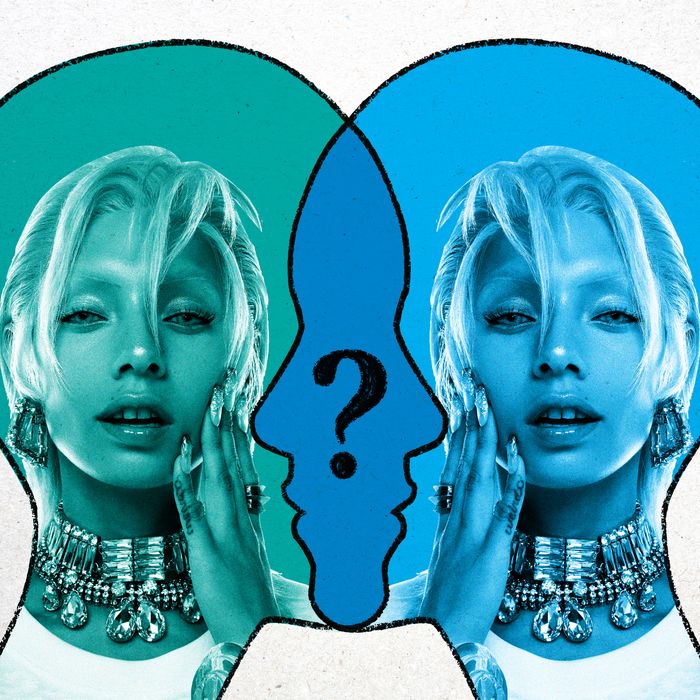 Photo-Illustration: by The Cut; Photo: Fenty
Born in the suburbs of Detroit, Jazzelle Zanaughtti, also known as @Uglyworldwide, has been in beauty campaigns for Fenty Beauty (she's one of Rihanna's muses) and on the covers of Paper and i-D magazines. She moved to Chicago at the age of 17 to start modeling, and along the way found a community: "While I was there, I ended up meeting some friends on the street of Boystown in Chicago and they took me under their wing," she tells the Cut. "I started doing drag and I was a club kid, that was the world I lived in, which is a big part of how I started experimenting a lot with makeup." She's bleached her brows bright blue, shaved her hair off, and worn lashes dipped in glitter — so basically, nothing in the beauty world is off-limits to Zanaughtti.
Her next venture? A first-of-its-kind collaboration with Fenty Beauty. The line features eye, face, and lip sets with shades and finishes dreamed up by Zanaughtti. The XXXtra Hawt set comes with warm, orange, and golden tones, while the XXXtra Icy set has cool, blue, and silver metallic hues. "I really wanted to create a concept with polar opposites of each other to reflect that you don't have to just be one thing," says Zanaughtti of the fire-and-ice-inspired collection. "And even with these polar opposite colors, if you get both of the kits, there's so many ways in which you can apply them together to experiment."
Ahead, the model shares more about her relationship with Rihanna and why she believes in anti-beauty standards.
Coming up in the industry as a club kid in Chicago, how did you get into modeling and what inspired you to start sharing your looks on Instagram? 
I was out every single night with a different look. I was grabbing whatever materials I could get my hands on and just trying to make something pop with it. I was dropped from my first modeling agency because they weren't with anything that I was doing. They said it was too weird. And, you know, it was kind of like, All right, well, do you want to continue to book these little commercial jobs or do you want to do whatever the hell it is that you're doing? And naturally, I wanted to continue living my life. I think that's where I really got started in makeup and anti-beauty. While I was living in Chicago, I had a light mental breakdown and shaved off all my hair and eyebrows.
And then shortly after doing that, fashion photographer Nick Knight found me on Instagram and he flew me out to London for the first time. I'd never been outside the country. And we did a really big shoot. I had also just so happened to be on my way to New York. So then when I got here, I figured that I should ask him to sign me to an agency, which seemed very far from a possibility for me at that time, because there wasn't anyone like me in the industry at that time. It ended up working out, and that's where it all started.
I love the phrase "anti-beauty" that you use. What's your personal interpretation of that? 
There's the obvious standard of beauty, which is smooth skin, perfect eyebrows, pretty long hair, like all of this stuff that is concealing "flaws" or "dark circles." To me, it's a very small-minded, cookie-cutter sense of what's beautiful. And that is something that I've always been actively trying to protest. Especially with the community in which I grew up in, being queer and Black, there are plenty of things that we think is normal, that it's still not accepted in other parts of culture. It's just inherent for me to be against these normal standards of beauty that we have. Even the language used in beauty is a crop of bullshit. I like shaving off my eyebrows and drawing on weirder eyebrows, cutting off all my hair, accentuating my dark circles and just playing with beauty. And just doing the opposite of what is expected of me as a model. I'm not out here trying to make anybody think that I'm beautiful. I'm just doing what I think is fun and expressing myself.
How did you meet Rihanna? 
I met Rihanna years ago when I first moved to New York. I was going to a casting at Milk Studios and someone gave me the wrong directions. So I went up some back stairwell into a fitting area, and then, boom, Rihanna was right there. And I was like, "Oops, I went to the wrong door, but hey, queen!" So it was very surprising first meeting her. I didn't know how I even ended up there. I went back to the casting area, did my little walk, did a fitting, and got confirmed later on that day and booked the Puma show. That was amazing. There were all these dirt bikes flying over our heads and motocross stuff. I've worked with her over the years, walking runways for Savage and doing Fenty Beauty campaigns. She's always just been a really big supporter of mine, which, it's crazy to even say that. She'll shoot me a little message if I did a new shoot or or posted a new look. And the support has gone all the way up to me having a collaboration with her. I really am inspired by Rihanna because she is a woman who lives by her own rules. She's always been that girl.
What's your No. 1 rule for a good face beat? 
I honestly just like to make sure I have my skin care on and that I'm moisturized because everything else is really just up to you, you know? I could sit here and say "make sure everything should be perfectly blended and symmetrical," but I don't think we should strive for perfection with our makeup. I feel like the perfect makeup look is one that conveys a feeling, an energy, a vibe, or a character.
What's your No. 1 rule for taking a really fierce photo? 
Good lighting, always. It doesn't need to be like full sunshine golden-hour lighting, but good enough to highlight certain parts of your face. And to get into my vibe on set, it's always about the drama and fantasy of it all. You have to think about something that will give life behind your eyes. The key to getting the shot is immersing yourself in the moment and invoking a feeling.
What's your No. 1 rule for getting yourself ready? 
I like to do face masks and exfoliation the night before to make sure my skin looks nice and moisturized. I make sure to pluck my eyebrows, which is my favorite activity because it's so satisfying. I try to get good sleep. I'll make sure that I'm up early in the morning to make a matcha latte, take a long bath, and have time to chill first, because rushing out of the door before a big shoot is stressful.
What's your No. 1 rule for addressing pushback to your creative ideas? 
Definitely hold your ground; that's just the motto of my life. Keep ten toes down, sweetie! It's important to hear about why there's pushback and elaborate on exactly what you're trying to do and why. And sometimes you'll have to meet in the middle with certain jobs, and then other times, if you're able to state your case in a good way, things will work out in your favor. It's always a collaboration, but my No. 1 rule is to be communicative.
What's your No.1 rule when you're negotiating a contract for a big campaign? 
My No. 1 rule is to call a lawyer because these people are talking all types of crazy legal jargon. Not to sound paranoid, but people will try to fuck you out of things that you deserve. So read your contracts and make sure to get a lawyer. Also ask around if you have friends in the same industry; do your research on the company and look at similar projects that they've done to make sure that no one's taking advantage of you.
What's your No. 1 rule for a date? 
I don't date too much, and I break my own rules all the time. But I think it's about actually listening. I like to ask questions to genuinely get to know someone beyond the surface level. Not just "Where are you from? What do you do?" But I like to actually see what people are about in their lives, who are their friends, where do they come from, what's their family giving? Not to be too nosy, but a little nosy.
What's your No. 1 dinner-party rule? 
Have a good playlist and good drinks. And try to not stay in a place where your neighbors are evil and have something to say about every noise that you're making. It's really all about good cocktails and good vibes.