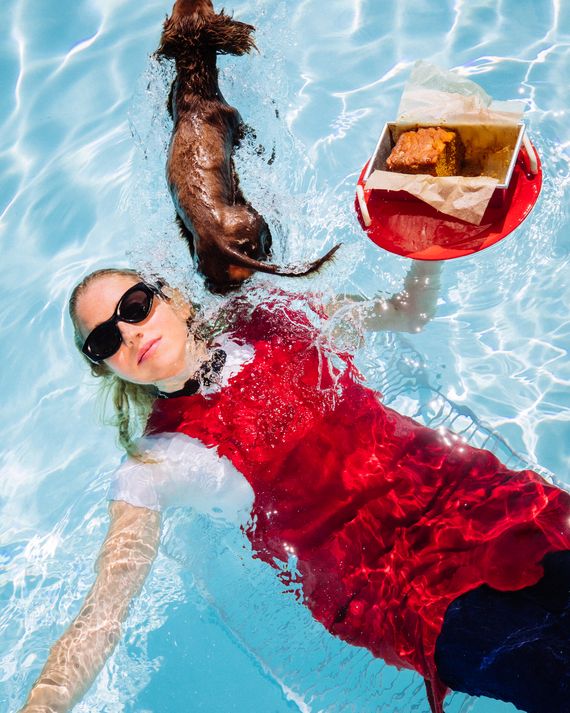 This article was featured in One Great Story, New York's reading recommendation newsletter. Sign up here to get it nightly.
When the Caesar-salad cart rolls up at the Dal Rae steakhouse, Molly Baz whips out her phone and starts recording. "I'm sometimes an annoying person to go to dinner with?" she says. But it's part of the job. She's self-aware enough about what life as a social-media-famous chef requires. "It's like I'm trying to sell me, not just my recipes," Baz says. "What I look like, what I sound like, what I'm eating. It's trippy."
I'd insisted Baz, 35, take charge of the ordering. She's the one with a best-selling cookbook, a subscribers-only recipe club, and 720,000 Instagram followers who fangirl in the comments whenever she posts a cooking Reel. If, a century ago, Betty Crocker marketed the idea of the perfect housewife, baking the day away for her husband and children, Baz is offering the chill wife in her airy, Gen-Z-yellow kitchen (featured, naturally, in Domino) hosting pool parties for her furniture-designer husband and effortlessly cool friends. It's a few weeks out from the publication of her second cookbook, More Is More, and Baz is a bona fide celebrity. At least in some circles. No one has come up to her tonight, but we're also the youngest people here by at least 20 years. "If I go to Bub and Grandma's in Eagle Rock, there will be four encounters in one lunch," she says. Tonight is a nice change of pace: "No one has any fucking clue who I am. It's epic."
Baz has been meaning to come to the Los Angeles institution since she left New York with her husband, Ben Willett, and dachshund, Tuna (both featured players in her videos), at the start of the pandemic. The restaurant is one of the only places in L.A. that does a tableside Caesar salad — "Cae Sal" in Bazspeak — which is one of her favorite dishes. Other Mollyisms: Meatballs are "Meaty-B's," a mortadella sandwich is a "Morty-D Sando," and cooking chicken thighs in a cast-iron skillet makes their skin "Crispy McCrisperson." (An Instagram caption for a biscuit recipe pushes the bounds of the English language: "i'm na gunna lie, i've developed a lotttttt of bangin biscuit recipes in my day. these ones take the ding dang 🍰.") To follow Baz means becoming so fluent in Bazspeak that you may even cease to notice it … that is, until you want to send the recipe to a friend and find yourself apologizing for the baby talk. Cae Sal, for the record, is pronounced see-sal, not say-sal. "I probably should have just originally spelled it C-Sal and then everyone would've said it right," she tells me. "But now it's too late. It's become branded that way."
At the beginning of the evening, she warns me, "Sorry, this conversation is already jumping around a bit, but that's probably how it's going to be." She is a whirlwind in person, just as she is online, sweeping me from topic to topic without breaking stride and mostly showering effusive praise: There's Willett ("I love him so much"); canned tuna ("Tuna fish for life"); the dog, Tuna ("Light of my world"); and living in California ("Ten out of ten. Twenty out of ten. Everything about it matches my soul"). The only thing she can't abide is The Bear. It's too anxiety-inducing and reminiscent of her early days working back of house. Plus there's Jeremy Allen White's character: "He reminds me of a boy I dated who was the sous-chef where I was a line cook. Unavailable emotionally and scheduling-wise."
Baz is fun. Bubbly. A crop-top-wearing good time who makes saucy, meaty sandwiches. That's pretty much been her calling card from the beginning, helping her break through the crowded and competitive field at Bon Appétit, where she began working in 2016. In her wildly popular test-kitchen videos, her personality garnered as many compliments ("You are so adorable!" "Love every single one of her Mollyisms!" "Molly definitely has the spirit of Phoebe Buffay in her") as the recipes themselves. She left Bon Appétit in 2020 after the staff was rocked by accusations of pay inequity and racism. At the time, Baz had already sold her first cookbook, but it wasn't out for nine months and she had no plans to leave the brand. The revelations about pay changed that. "I wasn't sure that leadership at Bon Appétit would be able to pull this out in the way that I hoped they would," she says, uncharacteristically solemn. "I definitely had the first panic attacks of my life in that period of time."
She decided to strike, posting on Instagram that she would no longer appear in test-kitchen videos until the inequities were addressed. The Bon App implosion became international news. There was even a much-hyped podcast about it that was canceled as a result of its own workplace reckoning before it finished airing. "This isn't something I've ever really talked about," she says. "I was so overcome with urgency that I didn't run the 'I'm going to strike' plan by any of my test-kitchen comrades. I wish that I had. People knew and loved us as a family, and we should've made a decision together as a family. Instead, I was like, 'Here's what I want to do and I'm going to do it and I hope you guys are on board.'" Baz's exit made Bon App's loyal fans freak out. But it also made Baz stand out, departing the magazine with her reputation intact.
Then came the brand extensions, including a line of dishware at Crate & Barrel and even her own wine, called Drink This Wine. Baz has brought along a bottle of chilled red blend for us to share, presenting it as a romantic little gift, not self-promotion. When our waiter puts the bottle on ice, he asks us what we're celebrating. Baz leans into me and coos, "It's our first date!"
When she is not charming me, our waiter, and seemingly every person within a five-mile radius, Baz is getting serious about the food. Take the Cae Sal. "The curveball for me is the Pecorino," she says, explaining that typically Caesars use Parmesan. "Just a very different vibe." Is she already
imagining a recipe? She gives a little smile. Maybe. It's impossible for her to turn off the recipe-developing part of her brain. Every bite is potential inspiration. She can sometimes disappear into herself during date nights with Willett. "He knows the look in my eyes," Baz says, laughing. "And he's just like, 'Dude, you're so vacant. I know you're not with me. You're staring at that shrimp and looking into its soul.'"
Our T-bone lands on the table looking like what Wile E. Coyote sees when he looks at the Road Runner. Cutting into the thick slab, she's reminded of an unfortunate accident. She was 28 years old, working as a freelance food stylist. After a cookie shoot for Epicurious, Baz hurriedly wrapped her knives in dish towels, threw them in her tote, and ran downstairs to jump in a car. But when Baz tried to yank the door open, it was locked, and she fell against its side. One of the knives pierced through her tote bag and went straight into her left thigh. "The orthopedist was like, 'You may have hit a nerve. We don't know if you're going to be able to walk again,'" Baz says. "It was like my life was over." She pauses to try the steak — "Butter! Okay, Dal Rae's!" — then continues, "I was literally standing there with a knife in my leg. So I pull it out …" She pauses for a second. "I'm sorry. I know it's dinnertime, but it was projectile. I hit a vein and was just spurting blood like out of a cartoon on the street. Everyone was so stunned. They did nothing. Which, in retrospect, I was like, Thanks, guys."
Baz is good at moving on, though. "I'm not a dweller," she says. "​I feel a lot of things, but I bounce back easily." That might just be her greatest skill: She's easy-breezy. Always ready to have a good time — and then let her fans know all about it. It's past 10 p.m. when I get home. Before bed, I check Baz's Instagram. Our night is all there in her Stories: the video of our Caesar being constructed, pictures of the cottage potatoes and creamed spinach, and a shot of Baz looking pleased in the bathroom mirror with the caption "portrait of a girl who found her tableside cae sal."
More Is More: Get Loose in the Kitchen, by Molly Baz is out October 10 from Clarkson Potter.