Because no two paths to parenthood look the same, the Cut's How I Got This Baby invites parents to share their stories. Want to share yours? Email gotbaby@thecut.com and tell us a bit about how you became a parent.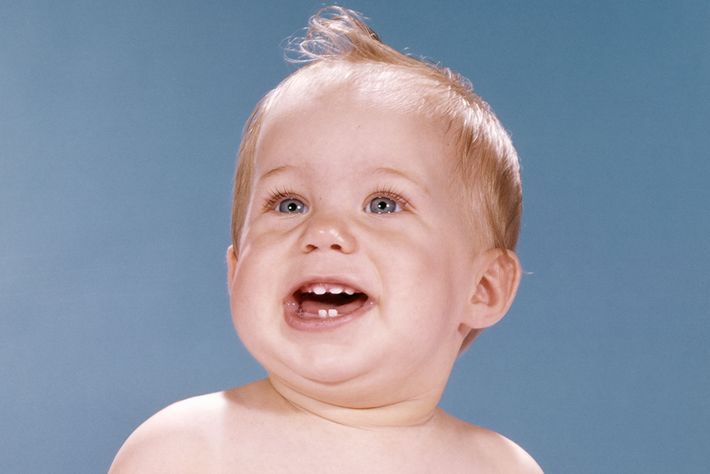 On their third date, Katrina's husband asked if she could have children. She explained that her genetic condition — spinal muscular atrophy, which is neuromuscular — didn't make it impossible, but does make it risky. After marrying, the couple soon started researching adoption; while Katrina was drawn to the idea of adopting a child with a disability, she thought it might be too much of an undertaking to adopt a child who needs a wheelchair, like she does. All that changed when she saw a picture of her son.
Katrina discusses the reasons she didn't think a birth mother would choose her profile, which online retailer she used to buy her son a wheelchair, decorating a hospital bed to look like a race car, and how she thinks practical knowledge will go a long way in parenting her son.
On imagining children without pregnancy. When I was pretty young, like early elementary school, I had imaginary friends, who were my kids. I think I just always imagined myself as a mother, but I never really thought I would be pregnant.
I have spinal muscular atrophy, SMA. It's a genetic, neuromuscular condition. It affects the nerves running to the muscles. The nerves don't send a signal as strongly as they should, which means the muscles don't get used as much as they should, so they atrophy. It affects all voluntary muscles.
As a baby, I never crawled, never walked. I rolled, but that was it. I got my first power wheelchair when I was 3. I've relied on help to do all my daily care my whole life. My parents helped when I was younger, and when I went to college, I hired other students to help me.
I have three sisters. Two are biological, and my younger sister is adopted. After my diagnosis, my parents decided not to have another biological baby — there was a 25 percent chance of them having a baby with SMA, so they just decided not to take that risk.
I could get pregnant and have a baby, but it's certainly much more risky than it is for other women. For me, the risk isn't worth taking. I could die, and I really don't want to abandon a baby as soon as I have that baby.
On investigating adoption. On our third date, my husband asked whether I was able to have children, because of SMA. I explained the situation and he said, "But you could adopt or use a surrogate, right?" Even at that stage, we were thinking about adoption as a way to become parents.
When we'd been married about six months, I started doing some investigative work into adoption. I started looking into the different routes to adoption, how much everything cost. About a year and a half ago, my husband and I were hanging out with my nephew, who was about a year old at the time. That definitely gave him the baby bug — he told me that we should start looking at specific kids available for adoption.
We looked at all the different ways to adopt. We decided against domestic adoption pretty early, and the reason for that is the birth mother has to choose your family. It sounds sad, but it's just a fact: When the mother has an obvious disability, she's probably not the mother you would pick for your child. If someone had to choose us, we felt like we'd be waiting a very long time. I know healthy, financially stable couples who waited years and years to be picked. It felt like we were behind them.
We decided to look at adoption options where you're considered from more of an overall perspective, like foster-to-adopt or international adoption. But I just knew I'd have a tough time in any situation where we were fostering a child and then that child was reunited with their family. I think fostering is such an important thing to do, and I'm so thankful people do it. But I just could not imagine falling in love with a child and having to hand them back. This meant that we were only looking at foster children who were already available for adoption. Unfortunately, there were not a lot available.
Countries all have their own rules for who can adopt from other countries. Some have minimum-length marriage requirements, which was one issue we ran into — we'd only been married a year, which was not long enough for some countries. Other countries have health requirements that I can't meet, like excluding parents who use wheelchairs. Bulgaria seemed like it had the most flexible requirements.
On finding a "mini me." I went to a site called RainbowKids, for children who are waiting to be adopted. These are older children, sibling groups, children with disabilities — any child having a bit of a harder time getting adopted.
I was thinking we might adopt a child who could walk and do some of their own daily care, so I wouldn't be asking my husband to do all of that. Maybe we could adopt a child with a missing limb, I thought, or another issue that's not quite as challenging on the physical side. Ahead of time, I had zero plans of finding a child with SMA; it was not what I set out to do. Ultimately, that's not how it turned out.
I looked at probably 100 children from Bulgaria, still thinking about the country's flexible requirements. I was on the last page when I came across the profile for our child.
It was a little boy. He was described as helping another little boy who was blind, helping him get his toys. I read on, and found out he has SMA. I was hooked. It was almost like he was a little mini me.
I requested his full file, with photos. I showed them all to my husband, and told him I knew it was a lot for him to think about. He thought he was really cute, but still, we took a weekend to consider the practical reality of adopting a child with SMA. Because I was asking my husband to take on a caring for a child with a lot of physical needs, who would need help his entire childhood. I didn't want him to jump into it without thinking about whether he could do that without a co-parent who could help him physically.
My husband decided he'd become a stay-at-home dad at this point, so he'd have the time and ability to help with all our son's needs — to get up, get going, go to the bathroom. It was important for him to think about whether that was what he was willing to take on. There aren't a lot of people who knowingly and voluntarily take on parenting a disabled child, but some people are particularly cut out for it.
We needed to talk about whether we were ready for it. I felt I was. I felt perfectly suited for helping a child with SMA, because I know what he's going through. But just because I knew I could and wanted to do it, I didn't want to force the experience on someone else. We knew that parenting a disabled child can be hard on a marriage — there's extra care, day-to-day, extra medical decisions to make. But we know this going into it, so we're going to try to anticipate those stressors and work through them.
After a weekend of thinking about it, we knew: He's our son.
On immigration and preparation. Our next step was to do a home study, to make sure that our home was going to be suitable for a child. A social worker from a local agency came over and met with us about parenting styles, our upbringings, our family background. We had to do a lot of paperwork. We had to put together a 100-page binder, full of background checks for every state we've ever lived in, fingerprinting, get letters from doctors. We also had to take online classes about raising a 5-year-old, including issues relating to adoption and attachment. There wasn't anything specifically about raising a child with a disability, but luckily, I feel very prepared.
There were a lot of administrative steps with both governments and immigration, but everything went through. In October of this year, we went to Bulgaria.
On meeting her son. It was crazy. I'm sure it's similar to meeting your brand-new baby after he's born: It's like, You're this child who I've been waiting for. In my case, the time frame was similar, even — it had been about nine months since I'd seen his profile for the first time.
I had seen pictures, I had seen videos, but it's just not real until you're there. We knew that our meeting might not go smoothly: It's a lot, meeting someone you've never met before. We were lucky; our son was all for hanging out with us. We knew he'd been told a little bit about who we were, but we didn't know exactly what he had been told. But when we got there, he was calling us "mama" and "tate" (Bulgarian for daddy) from the start.
When we were leaving, our translator told him that we were going to go get his room ready — because you have to have a gap between the visit and the actual adoption. It's hard to explain this to a child: We're here, we are your family, but we have to go now and we'll be back. He had a much easier time than I did. I did my best and didn't cry until we left the room, but I did cry once we got into the hall. It was so hard to leave him, after meeting him.
On getting ready to bring home her child. After we got home, we were able to send him some care packages. We also got permission to get him a wheelchair; he didn't have his own, before — he mostly sat in comfortable chairs or got around by kind of scooting on the floor or being carried. I wanted him to have more mobility.
We could have bought a wheelchair in the U.S. and sent it over, but I realized it made more sense to buy one in Europe. I tried to get one on Amazon in Europe, but it wasn't possible. I ended up going on eBay and that's how I did it: I ordered my son a wheelchair on European eBay and sent it to his orphanage.
Right now, my husband and my mom are in Bulgaria, getting ready to take him home. I watched a video of him and my husband reuniting last Monday — our son reached his arms out as soon as he saw him. That same day, they applied for his passport. Last week, he had a doctor's appointment. This week, he had a visa interview. I have no idea what they ask a 5-year-old at a visa interview, but I'll find out.
His room's all ready. There's one thing I'm especially proud of: I wanted him to have a hospital bed, so he'll be able to sit up and so my husband wouldn't have to bend over so far to help him. But I didn't want him to have a boring old hospital bed. So I bought a race-car bed and attached it to the hospital bed — there's race-car panels on the safety rails, it just looks really neat.
I don't know if you call it a baby shower when you're bringing home a 5-year-old, but we had three of them: we had them with family and friends, with co-workers, and with a comedy group that I perform with. We got lots of fun toys and clothes. His room is quite loaded up — hopefully it's not too overwhelming.
I think we'll spend the first few weeks adjusting to each other. We're going to keep to a routine as much as we can. He's been living in an institution; routines are his life. We won't do too many field trips or see too many family members or friends. We'll hang out at home, cuddle and play with toys. I get ten weeks paid from my firm, Faegre Baker Daniels, which is very nice — I feel really lucky. They even gave money toward our adoption costs.
On being her son's mother. I haven't ever encountered another mother with SMA who has a child with SMA. It could certainly happen, genetically. I kind of feel like we're in uncharted territory, with this particular situation. But everyone we've encountered has been very supportive. My mom did have some concerns, early on — just because she knew. She's done it. She knows about the challenges. We haven't had any kids before, and she wanted to talk to us about everything we might encounter. But she's been very, very supportive. I'm sure there are other people who might have concerns about what we're doing, but they did not express them to us. Most people seem to think it's very cool.
When he needs physical therapy, help with going to the bathroom, I'll have an understanding of what that feels like, to have to do that. How it can be frustrating. You know you have to do it, but you want to just go hang out with your friends instead of going to the physical therapist. I think I can empathize in a way that's unique.
I can also give him a very direct source of pride in who he is. It's not that other parents aren't proud of their kids with disabilities or help equip them with pride in themselves, but that I'm a direct role model. I've done what I've set out to do, what I've wanted to do, without letting SMA prevent me from doing things like becoming a lawyer, becoming a mother.
There are also small details, like making a hospital bed look like a race car. When I was thinking about what I would have wanted to have as a kid, I thought about my hospital bed — it was fine, but it was boring. I would have loved to have something fun. When we were setting up his room, I thought about how he'd access his toys: as a child I couldn't lift a heavy lid off a toy chest, or reach into a deep bin, so we found some shallow, tilted containers that he'll be able to reach into without help. This is a practical knowledge, little things that will help him do things that every other kid does, things that really matter.