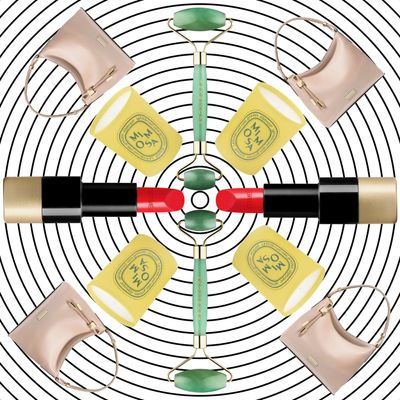 Photo: Photo: Courtesy of the retailers.
Mother's Day is right around the corner (ahem, it's May 9), and there's never been a better time to tell your mom how much she means to you — especially if you're lucky enough to deliver the sentiment in person. Rather than showing up empty-handed, why not show your mother (or the mom figure in your life) that you spent at least part of your time in quarantine choosing the perfect present for her? We've made it easy on you by rounding up a slew of great gifts for every type of mom, no matter your budget. Scroll ahead to shop our favorites, all of which are nice enough to please her but not so pricey that you'll go into credit-card debt.
For the Mom Who Likes to Treat Herself
You can't get her a gift certificate to a spa this year, but she can always relax at home with this jade roller.
For the Mom Who Loves Shiny Things
A delicate necklace that can be worn every day or used to jazz up a special dress.
For the Hands-on Mom
A smooth, rich hand cream that doubles as an art object.
For the Sporty Mom
These timeless kicks are a great way to keep your athleisure-loving mama feeling comfy and current.
For the Mom Who Says She Doesn't Need Anything
Go traditional and get her a bouquet of flowers and some classic chocolates. She'll appreciate it.
For the Capsule-Wardrobe Mom
An investment dress made from a drapey blend of organic cotton, linen, and recycled poly is just what she needs for the transition to outdoor-brunch season.
Available in sizes XS to XL.
For the Mom Who Believes in Being Prompt
A fancy watch with a smattering of diamonds will keep her on schedule.
For the Mom Who Loves Lipstick
There's nothing more luxurious than Hermès's first-ever lipstick, especially in its signature red, Rouge Casaque.
For the SPF-Obsessed Mom
When you were little, she kept you covered in Banana Boat. Thank her now with this cult-favorite formula, which delivers a subtle sheen along with powerful UV protection.
For the Mom Who Needs a New Bag
Sleek, but roomy enough to fit whatever she's carrying with her.
For the Heels-Free Mom
These buttery-soft flats come in ten colors — though this warm caramel shade is an ideal neutral if she's picky.
For the Barre-Class Mom
Support her fitness goals and ensure she's showered with compliments in class with this set of functional, fashionable tie-dye grippy socks.
For the Mom Who Loves a Fruit Bowl
This pale wood bowl is a centerpiece worthy of her carefully chosen produce—and would do excellent double duty as a salad vessel.
For the Mom Who Loves Fancy Cookware
Ninety-three percent of reviewers gave this set five stars, with several noting that the pieces look like art.
For the Mom With a Green Thumb
Regardless if she's an expert in the garden or not, she'll be growing her own herbs in no time with this self-watering kit.
For the Mom Who Loves a Gallery Night
This forgiving, incredibly chic dress is just right for your mom's Thursday-night meetup at her friend's art show.
Available in sizes XXS to 3X.
For the Fashionable Minimalist Mom
Perfect for the chic mom who likes to pack light.
For the Mom Who Loves Mimosas
If you can't drink a mimosa with your mom this Mother's Day, send her this mood-lifting candle of the same name. It smells like spring in the south of France.
For the Mom Who's Tired of Washing Her Hands
Help break up the monotony of endless handwashing with a fancy formula that leaves a heavenly scent of bergamot and pear, even after you rinse.
For the Mom Who Can't Resist an Accessory
Dyed in watercolor stripes, this scarf is a crowd-pleaser.
For the Mom Who Loves Color
A classic button-down is an easy win—but the color blocking and pattern mixing make this an ideal pick for a parental figure who likes to keep things vibrant.
Available in size XS to 3X.
For the Mom Who (Literally) Burns Through Scented Candles
Keep her well-stocked with this candle subscription company that offers three different plans: once a month, once every two months, or, if she's the slow and steady type, every three months.
For the Mom Who Loves Her Slow Cooker
The Wonderbag is a specially insulated bag that lets you slow-cook meals in a more environmentally friendly way. All you have to do is bring whatever you're making to a boil and place it in the bag, and it'll keep cooking until you're ready to eat.
For the Mom Getting Into Bathing Culture
Help her break into a solid bath routine with this coconut-milk powder that guarantees soft skin.
For Your Beach-Loving Mom
This lightweight update on the classic (and mom-approved) Arizona sandal is made from molded EVA, which makes it perfect for wading into the water.
For the Mom Who's All About Robe Life
She'll love lounging in it while catching up on her favorite TV shows.
Available in sizes 1X–4X.
For the Mom Who's Always Prepared
A cute, casual, and spacious bag for all of her beach trips and picnics this summer.
For the Barefoot Contessa–Fangirl Mom
Is Ina Garten your mom's idol? Lucky you. Celebrate her culinary accomplishments with this luxe — and lovely — bottle of EVOO.
For the Classic Mom
Help her discover a new signature scent with this collection of Le Labo's most iconic fragrances.
For the No-Makeup-Makeup Mom
A simple but rich moisturizer to keep her comfortable in her skin.
For the Mom With a Better Shelfie Than You
Artis makes fancy brushes, and this is one of the largest and most dense. It'll make applying everything from body lotion to foundation suddenly feel luxurious.
For the Happy-Hour Mom
Make martini hour even more fun with this retro-modern cocktail shaker.
For the Mom Who Takes Tea
This delicately embroidered towel will make all of her kitchen endeavors a little bit cuter.
For the Mom Who Wants To Glow
This travel-size version of the NuFACE microcurrent device is a fun way for her to dip a toe into facial toning.
For the Ecoconscious Mom
Is she trying to eliminate single-use plastic from her life? She'll love these reusable straws.
For the Old-School Skin-Care Mom
Upgrade her decades-old routine with this luxe, gentle AHA resurfacing treatment.
For the Mom Who Needs a Nap
Pay her back for all those sleepless nights with this cozy mulberry silk sleep mask.
For the Mom With a Sweet Tooth
A big box of assorted chocolates from this iconic Milanese restaurant will satisfy her sweet tooth in a luxurious way.
For the Interior-Design Mom
A dreamy throw pillow worthy of her vision.
For the Statement Mom
Perfect for pairing with a tunic — a.k.a. irresistible to a certain genre of mom.
If you buy something through our links, New York may earn an affiliate commission.