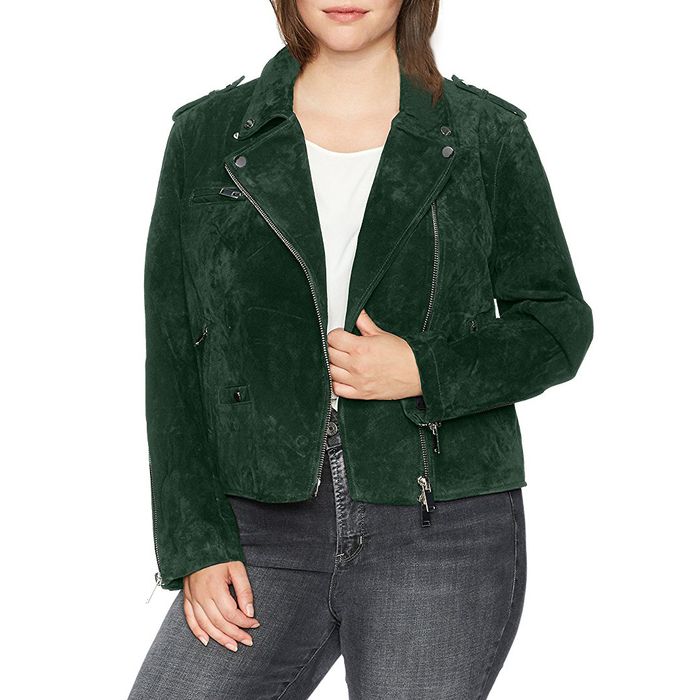 Finding a good plus-size moto jacket has been a challenge in the past. Despite how trendy it is, clunky cuts and cheap fabrics like plastic have plagued our racks for far too long. Thankfully things have changed and we may finally be getting our sartorial dues. Below, jackets that will make you feel bad, except in a good way.
The Best Faux Option in Black
It's versatile, cute and just under $60. You can't beat that.
Because You Love Acne Studios
The modern boyish cut gives it that Scandinavian cool vibe.
The Classic, Affordable Option
This real leather jacket goes with everything (and costs half as much as a Schott).
A Chic Alternative to Black
The perfect complement to wine-stained lips.
When You're Really Feeling Spring
Pale blue faux suede is nice and lightweight after a winter spent in all-black.
When You Want Something Flashy
"Dark Champagne" faux leather on a beer budget.
Because color is highly overrated.
When You Want Genuine Leather
Ain't nothing like the real thing — especially when it's on sale.
Because You Still Love Pink
The most popular millennial color isn't going anywhere.
Rich camel suede is stunning and goes with everything in your closet.
The One You Can Wear Year-Long
Forest green is especially timely in the fall but you can lighten it up in the spring by mixing in pastels.
Red has been a trendy color both on and off the runway and this one looks especially luxurious.
If you buy something through our links, New York may earn an affiliate commission.