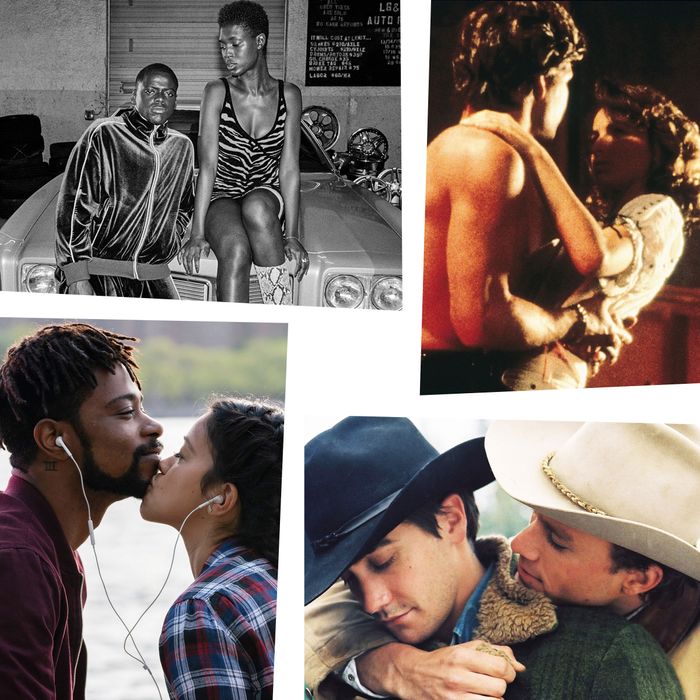 Photo: Shutterstock, Universal Pictures
The best movies are horny movies — that's just a rule. Is there anything better than watching two hot actors do unspeakable things to each other? Even if these scenes are fake, they're still pretty fun to watch.
The best sex scenes are surprising and even boundary pushing. The best sex scenes can be downright sexy or thought-provoking or iconic or even kind of weird (in a hot way). There's no set definition for what makes a movie sex scene the best, but you know it when you see it. In no particular order, here are 25 of the best sex scenes from movies.
1. Atonement
2007; Keira Knightley and James McAvoy
Maybe this sex scene is so hot because you can tell there's impending danger, or maybe any sex scene involving green silk and being slammed up against a bookcase would be.
2. Dirty Dancing
1987; Jennifer Grey and Patrick Swayze
This kind of foreplay is enough to make anyone wish they could dance.
3. Black Swan
2010; Natalie Portman and Mila Kunis
This supercharged scene is undeniably hot. The chemistry here is electric, and both characters clearly have a can't-get-enough-of-each-other attitude.
4. The Notebook
2004; Ryan Gosling and Rachel McAdams
The characters waited years for this moment, and based on the passion in this scene, it shows.
5. Queen & Slim
2019; Daniel Kaluuya and Jodie Turner-Smith
A movie that makes car sex actually look enjoyable is a well-done movie. This scene comes after tons of buildup, making it even hotter.
6. Mr. & Mrs. Smith
2005; Angelina Jolie and Brad Pitt
The raw desire in this scene is off the charts. The characters have extremely, uh, vocal sex all over the house. After tons of tension, the lust here definitely hits.
7. Anna Karenina
2012; Keira Knightley and Aaron Taylor-Johnson
This dreamlike sequence is pure eroticism. The scene flashes back and forth from the buildup between the characters to the actual sex scene, making it even sexier and more intimate.
8. Blue Valentine
2010; Ryan Gosling and Michelle Williams
While the depicted relationship turns out to be pretty tumultuous [spoiler], this scene is anything but. Singing along to "their song" and staring at his partner like she hung the moon makes for an extremely tender moment.
9. Seven Pounds
2008; Will Smith and Rosario Dawson
This scene definitely lays on the drama, but it works — it might be the sweetest scene on the list. The passion between these two characters is palpable, and they both go slow, taking their time with each other. Bonus points for silk sheets.
10. Marie Antoinette
2006; Kirsten Dunst and Jamie Dornan
While this was before Dornan took up the role of Christian Grey, these sex scenes are much better. There's always something sexy about a forbidden affair, and the sneaking-around aspect is thrilling.
11. Titanic
1997; Leonardo DiCaprio and Kate Winslet
When I first saw this movie, I couldn't help but wonder if sex was really so …steamy? The foggy windows are the perfect canvas for the streaky handprint, a clear indicator of enjoyment.
12. Revolutionary Road
2008; Leonardo DiCaprio and Kate Winslet
Over ten years later, Leo and Kate are back — this time on a kitchen counter. Anyone who has ever fantasized about doing it in the kitchen, this one's for you.
13. Crazy, Stupid, Love
2011; Ryan Gosling and Emma Stone
While this is more of a lead-up than a sex scene, it's hot because it feels real. Gosling and Stone have great onscreen chemistry, and their banter shows it.
14. Someone Great
2019; Gina Rodriguez and Lakeith Stanfield
Maybe it's just because of how I feel about Stanfield, but there's something undeniably sexy and playful about this scene. The neon lighting; the fact that "Saturdays," by Twin Shadow, is playing; the obvious enjoyment from both sides — perfect.
15. Pretty Woman
1990; Richard Gere and Julia Roberts
The fact that there's no kissing makes this scene even better. Bonus points for the piano.
16. Ghost
1990; Patrick Swayze and Demi Moore
In reality, this would probably be really messy and not arousing at all, but on a screen, it plays out perfectly.
17. Twilight
2011; Robert Pattinson and Kristen Stewart
Yes, it's Twilight, but it's also bed-breaking sex. Plus, the ridiculous rumors swirling around at the time about Stewart and Pattinson actually having sex on-camera make it even more interesting (even if they're not true).
18. Top Gun
1986; Tom Cruise and Kelly McGillis
Looking back now, I find this scene kind of cheesy. Still!
19. Fifty Shades Darker
2017; Dakota Johnson and Jamie Dornan
Another scene for anyone who fantasizes about public sex. Plus, unlike so many Fifty Shades scenes, you can tell this one is all about her.
20. Monster's Ball
2002; Halle Berry and Billy Bob Thornton
This is entirely about Thornton's character going down on Berry's. Yes.
21. Brokeback Mountain
2005; Heath Ledger and Jake Gyllenhaal
Brokeback Mountain walked so that Call Me By Your Name could run. There is so much obvious longing between the two characters, and this scene is a thrilling culmination of that.
22. Friends With Benefits
2011; Mila Kunis and Justin Timberlake
Kunis's and Timberlake's characters explicitly tell each other what they need to get off, which is something everyone can take notes from.
23. The Mountain Between Us
2017; Kate Winslet and Idris Elba
What an incredibly sexy pairing. The speed that they're taking each other's clothes off, the way he grabs her neck to kiss her, the way it looks like they can't get enough of each other … that's cinema.
24. Across the Universe
2007; Evan Rachel Wood and Jim Sturgess
An ethereal, underwater scene for all Beatles lovers.
25. Eyes Wide Shut
1999; Tom Cruise and Nicole Kidman
This scene feels strangely voyeuristic, particularly because Kidman is watching herself in a mirror.
26. Disobedience
2017; Rachel Weisz and Rachel McAdams
Best known as the scene where one actress spits in the other's mouth, this sequence is also an intense emotional climax to a slow-burning tale of forbidden love.
Additional reporting by Jordan Larson.