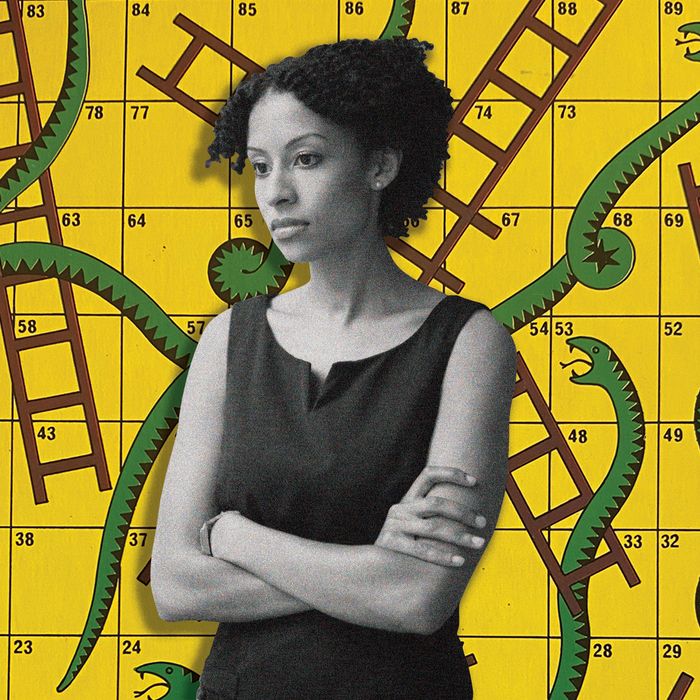 Photo-Illustration: by The Cut; Photos: Getty Images
Hello Kimberly,
I transitioned within my current organization to a new role as of January, and was offered this position because the team had experienced so much leadership turnover and because of my "recognized excellence for leading teams." The team had been without a director for six months, the current managers were not in a place to step into that level of position, and overall career development was lacking for all the team members.
By moving into this role, I stepped away from an expertise that I have long been acknowledged for within my industry. But I have a passion for people development and believed learning something new while applying that skill set would be fulfilling. And it has been, to an extent. The work the team does isn't very dynamic, but I felt a lot of joy in working with my team members to grow their capabilities, put structure into place to manage their business, and identify efficiencies in the process.
I noticed an open role on LinkedIn (within my prior expertise) that had interested me in the past at another organization. Someone in my network I consider a professional mentor had moved to this company. I inquired if the opportunity was what I thought it was going to be, and she immediately endorsed an application and encouraged me to apply. I had low expectations but I wanted to be respectful of my connection and her advocacy for me. I talked to one person, another, and then several more. Due to my excitement around the possibilities of this role — it suits every aspect of my education and resume — and knowing there is no way this unique opportunity would be available in the future, I felt I had to accept the position.
I have been at my current organization for quite some time. My supervisor and her supervisor are both very invested in me, and had such high hopes that I would bring stability to the team and eventually be in the succession plan for my boss to retire in two to five years. I was making myself sick with anxiety about telling them about my departure as a result. I know that business is business and they should be excited for me. But I also knew I would be disappointing them so much. When I told them, my supervisor even said, "The team is going to be crushed." My supervisor's boss told me how they were excited, but that I disappointed them for all the above reasons. It just really destroyed my excitement for the new role.
I have pushed through and the people happiest for me are my team members, even though they are sad to see me go so soon. I am fully confident I made a huge impact on the team and their development in a short period. But I am struggling with how badly I have let down my leadership team based on what they expected of me. I understand that this isn't my "fault," but wow, has this been difficult. I really hope that I can approach this differently in the future, but why has this been so hard?
A
Hi A,
First and foremost, let's celebrate you moving into a new role that is aligned with where you want to take your career in the future! One of the things I share with my clients is that only you can change the trajectory of your career.
It sounds like your managers had great intentions when they moved you into the role in January. Management was looking for a "unicorn" to fix the mess that was happening and they trusted you to do it. That speaks volumes about not only your workmanship, but your overall leadership capabilities. However, you'll notice that I'm only speaking about what your manager or company wants. Your needs have not been the focus in this situation. The needs of the distressed team and company came first.
It sounds like your needs may have been in alignment at first, when you felt that your passion for people development would be able to compensate for you not working in your area of expertise. But after being in the role for eight months, your desires changed, and it's okay to pursue a position that allows you to use the skills you're known for within your industry.
It's difficult to know whether you're going to love something until you actually do it. You can conduct all of the informational interviews, schedule time with mentors and peers, and read up on the day-to-day nuances of the job, but that will never supplement actually doing the job. In college, we had the opportunity to do internships to confirm our likes and dislikes. Over the course of a semester or summer break, you'd be able to experience a new work environment for six to ten weeks without having to commit to that company. As a seasoned professional, you don't have the ability to do a trial run; you have to make a semi-permanent move to try out a new industry or company.
You tried this new role and didn't like it.
It's okay to move on.
In my early training as a career coach, we used to tell clients that you needed to stay in the new role for a minimum of a year so it didn't look like you were "job-hopping." That's no longer the case, especially in a circumstance where you've been offered a position that better aligns with your expertise!
This decision seems radically hard because not only are you dealing with the usual weight of leaving a company, but the added pressure of your manager's expectations for your longevity at the company. While succession planning is a natural part of being a people leader in any organization, it's not your responsibility to adhere to the organization's plans for your career. The reality is that while you cared about your company and team, the work is no longer aligned with your own career goals. It would have been ideal if your manager balanced their disappointment with you leaving the team with their excitement for your next move, but that isn't always the case. Your manager's sentiments toward your next career move are not your responsibility to manage.
If you're looking to ease the blow, you can provide extended notice to help transition the team to a new manager. It's not uncommon for someone in a senior-level position to provide four to six weeks notice to ensure the transition goes smoothly, and even to help identify a backfill. However, if you're not interested in doing this, that's okay. I also recommend writing your own transition plan for the team to flag any outstanding projects, team norms, and other important information that will help the next manager get up to speed.
I can't promise that it will feel better the next time you make a career transition because when you're dedicated to your work, team, or company, there will always be some growing pains. Despite the hard conversations and feelings you may be having about your next career move, it's crucial that you celebrate yourself for acting in your own best interest.
Career and leadership-development expert Kimberly Brown helps readers make sure their next move is the best move. Listen to the Your Next Move podcast here and keep up with Kimberly on her website.