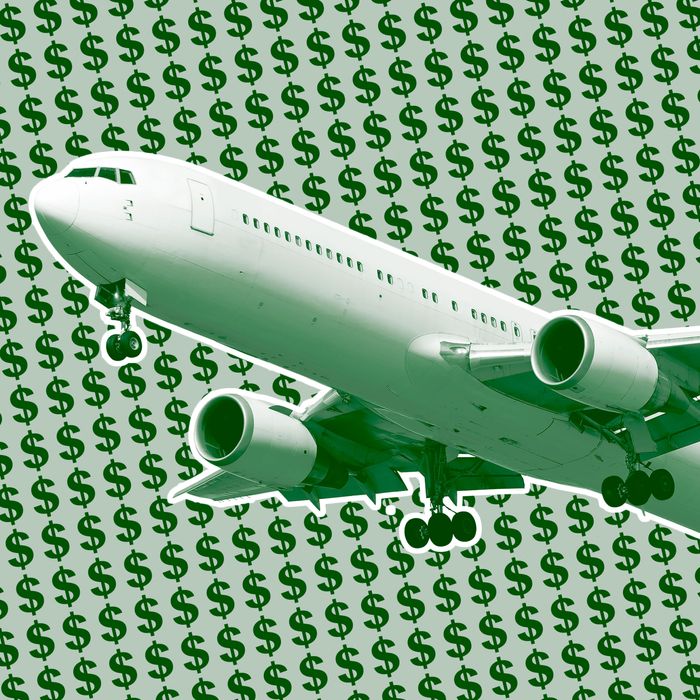 Photo-Illustration: by The Cut; Photo: Getty Images
Recently, I was flying through Denver when my connecting flight back to New York was canceled. The flight I was rebooked onto was then canceled, and the one after that, and the one after that. I was stuck there for days. I don't know anyone in Denver, and the customer service line at the airport had hundreds of people in it, so I bought my own hotel accommodations for two nights, which I'm hoping the airline will reimburse me for. I also switched airlines under the assumption that a different one would be able to get me home faster. In the end, I wound up flying into Washington, D.C., and then buying a train ticket to get back to New York. Between hotels, my new flight, meals, and the train ticket, I put almost a thousand dollars on my credit card that I was hoping to get reimbursed for. Now I'm worried that in my haste to get out of there, I didn't make the best financial decisions. I did get insurance on all my flights — will that help me? Should I do things differently next time?
First of all, this sucks! I have the utmost empathy for you, especially since I've been in a similar situation. I'll spare you the details, but when the gate agent announced that my flight — along with all other flights to New York — would be grounded for days, the crowd reacted with such outrage that someone's dog freaked out and pooped on the airport floor. Over a thousand dollars in hotel fees and Uber rides later, I was ready to do the same thing.
Being stranded at an airport is a special kind of hell, known to push even the most financially scrupulous person to the point of desperation where they'll spend whatever it takes to get out of there. I don't know if you'll be able to get reimbursed for everything; that will depend on your specific airline and what kind of travel protections you have. But here are some points to keep in mind as you try to claw at least some money back, as well as what to know if this ever happens again.
1. Know your rights under federal law.
The Department of Transportation states that if an airline cancels your flight, you have the option to get a full refund for that plane ticket and ancillary fees (baggage, upgrades, etc.). This is the case even for nonrefundable tickets. It also applies even if the flight was canceled for reasons outside of the airline's control, like blizzards, natural disasters, or a global pandemic. So at a minimum, you should be able to get back the cost of your original ticket for the canceled portion of your trip.
This gets a little tricky if the canceled flight is a connecting one, as yours was. In that case, the law only entitles you to a refund for "unused transportation." So you won't get the full cost of your ticket back — you'll just get some of it.
2. You also have the right to get rebooked by the airline on another flight without paying anything extra. 
If your flight is canceled, the airline is responsible for putting you on a different flight to the same destination at no additional cost. "This is not a law, but it's commonly stated in the 'contract of carriage' — the terms and conditions that you click to accept when you book your flight," says Scott Keyes, the founder of Going, a travel platform that helps members find cheap flights. It's up to you if you want to accept the rebooking or take a refund instead. In your case, you took a third option and booked your own flight with a different carrier. More on that in a minute.
3. In some rare cases, airlines will rebook you with another carrier. Remember this for next time.
If you're getting desperate and can't miss another day of work or handle one more meal from the airport food court, then you can (and should!) request to be rebooked on another airline. (Note that this is not the same thing as rebooking yourself.)
"It's not common, but in certain circumstances, an airline will say yes," says Keyes. "This only happens on full-service airlines like Delta or United, not budget airlines like Spirit or Frontier." The reason that full-service airlines can do this is that they have "interline agreements" with each other. "Even if these airlines are normally competitors, interline agreements say that in certain extenuating circumstances, they'll agree to exchange passengers to help them get where they're going," he explains.
4. If you've already paid for alternate transportation, it doesn't hurt to ask for reimbursement — just don't bank on getting it.
In your case, it might be a stretch to convince the airline to reimburse you for the plane ticket you booked on another airline or the train ticket you bought in D.C. But that shouldn't stop you from trying, says Sofia Markovich, a travel agent and founder of Sofia's Travel. "I once had a short flight canceled, and the airline couldn't get us on another one for 48 hours. So we rented a car and drove to where we were going instead," she says. "I wrote to the airline and requested a reimbursement of $280 for the car rental, and they didn't respond. So I emailed them again. Don't let them shake you off. They're going to get away with whatever they can get away with." In her case, the airline finally relented.
You could make the argument that your alternate travel expenses cost just as much as the hotel fees the airline would have had to cover if you stayed in Denver for another night or three. (Of course, the airline might not buy this logic, but it makes sense to me.) Finally, if the airline denies your claim, another option is to file a complaint with the Department of Transportation.
5. Most airlines voluntarily provide accommodations when a flight delay or cancellation forces you to stay somewhere overnight. 
Check this list to see which airlines offer hotel stays, meal vouchers, or other forms of compensation when their flights are delayed or canceled. The particulars are a little fuzzy, though; you may not get a full reimbursement, but rather, a flat fee that they've deemed appropriate for a hotel stay. It's usually determined on a case-by-case basis. Save all the receipts from your hotel stays and any other cancellation-related expenses and read the fine print on your airline's cancellation policy.
6. In the future, call the airline's international hotline for customer service. 
"If you need a customer service agent and the line is backed up, chances are the main U.S. hotline will be, too," says Keyes. "In that case, the quickest way to get ahold of someone is to call one of the airline's international offices. For example, American Airlines has offices in Canada, Mexico, the United Kingdom, Singapore, Australia, and all over the world. You can call any one of them and their agents will be able to help you." You might have to pay a couple extra cents a minute to make an international call, but it could save you hours (and, more importantly, get you rebooked on an earlier flight).
Alternatively, many airlines' mobile apps are surprisingly useful. "Often the quickest way to get rebooked on a different flight is directly through the airline's app," says Keyes. "The apps have gotten much, much better in the past year or two. So that's my first go-to, even before calling the international phone line."
6. File a claim with your insurance policy provider.
"If your airline will not reimburse you for hotels or alternate transportation, which they should because you had multiple cancellations, then you should file a claim with the insurance you purchased," says Markovich. "Without knowing further details about the policy, I can't say what they will cover, but it's worth a shot."
7. Check your credit card travel protections.
Google the travel protections offered by the credit card you used to buy your flights. "Even if you hadn't purchased travel insurance, you may have a significant amount of insurance automatically from the credit card you used to purchase your flight," says Keyes. "Many credit cards automatically provide things like compensation if your flight gets canceled or significantly delayed, or coverage if you're stranded at your connecting airport and you need to get a hotel for the night or find alternate transportation." These protections vary a lot from card to card, so it's not a slam dunk, but it's worth looking into — and worth considering next time you're buying plane tickets with a credit card.
8. Follow up.
This process requires persistence. "It never hurts to ask nicely, but I wouldn't assume that the airline will make you whole," says Keyes. "Typically in these situations, airlines have their own processes where they will give you a complimentary hotel accommodation or a new flight, but if you go and take matters into your own hands and make your own bookings, then you're less likely to see that money again." Still, if you patchwork in additional coverage from your credit card and travel insurance, then you'll get back more of what you spent. Hang in there and keep trying. Good luck!
Email your money conundrums to mytwocents@nymag.com.