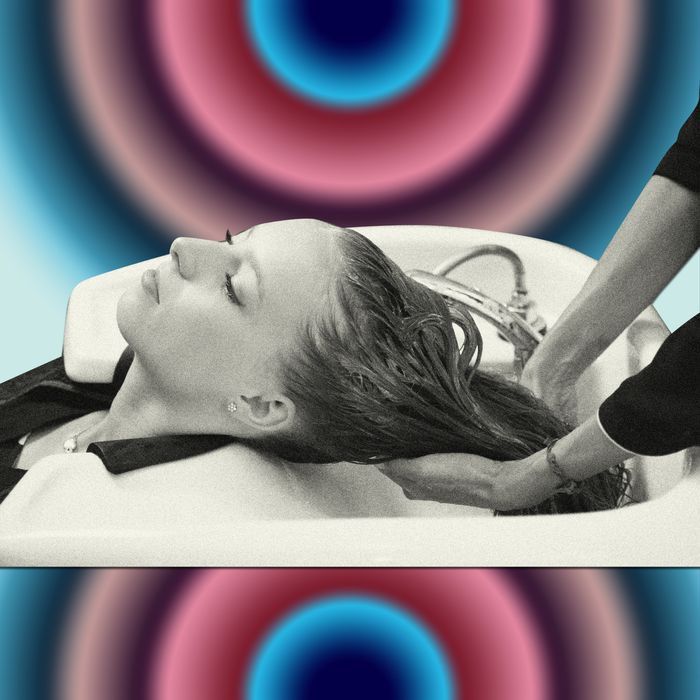 Photo-Illustration: by The Cut; Photo: Getty Images
Hey there,
I've had red hair my whole life. Naturally, I'm strawberry blonde. But it gets noticeably lighter in the summer and kind of seems darker in winter. Lately, I've been feeling my hair looks dull, and when I look for "best shampoo/conditioner for redheads," it's mostly for color-treated hair. I also have a (fraternal) twin sister, and her hair has always been a little bit darker red than mine, and now it's so auburn it's almost brown. Natural red hair has such a range. What are the best shampoos and conditioners for it?
Best,
Tori
Redheads may come in many varieties (as do most hair colors and textures), but the beauty industry tends to treat you all the same when they're creating products—that is, if they make products for you at all.I've heard more than a few makeup artists complain about the lack of natural-looking eyebrow pencils for those with red hair.. And that doesn't matter! Because you don't necessarily need to use a shampoo or conditioner designed for your shade to make it look less dull. But before we get into product recommendations, I have to ask one question: How natural of a redhead do you want to be?
I ask because there are two types of shampoos and conditioners you could use, those that deposit pigment and could potentially shift you away from your natural base color and those that don't. Color-depositing products leave behind a layer of pigment that "sort of nestles into the cuticle of the hair," says Genna Still, a hair colorist at Spoke & Weal in New York. They're different from actual hair dye, which has chemicals to open up the hair cuticle, allowing the pigment molecules to move deeper into the strands. But "they can still change your tone significantly," says Still.
The upside of using a color-depositing shampoo or conditioner is that you can really enhance your strawberry blonde, giving the summer-faded shade some of its winter depth or brightening it so that it looks more like it did when you were a kid. But the downside is that you have to select the right color to deposit. If you choose wrong, you could accidentally turn your hair pink or orange—or make it as dark as your sister's.  Moral of the story? Treat color-depositing shampoos and conditioner as if they were dyes.
If you want to try them, "do a test strand from underneath," says Still. "Strawberry blonde is such a range, and some of the color-depositing products are orange-forward, while some are more yellow-forward." If your shade is more orange or coppery, Still recommends testing out the Davines Alchemic Copper Shampoo ($34) and Conditioner ($37). If you're more yellow-forward or blonde-leaning, she suggests the Aveda Color Renewal Color & Shine Treatment in Warm Blonde ($42), which goes on like a hair mask (there isn't a matching shampoo or conditioner). If you like how the test strand looks, then you can use it on your whole head.
If you don't want to risk changing your natural tone, there are other options. "I know what this reader is talking about because my red has definitely changed over the years," says Los Angeles–based colorist Kayla Lister. She doesn't use anything that deposits color because she doesn't want to alter her hair's natural copper tone. "The only thing I do from time to time is a clear professional gloss treatment," she says. "I love the Redken Shades EQ in Crystal Clear." Clear glosses — which typically cost $30 and up as add-on services at salons or more if you get them done on their own — have ingredients that smooth the surface of your hair cuticle so it reflects more light. In your case, that can make your strawberry blonde appear brighter. There are even a few companies that make clear gloss treatments you can do at home; Still recommends the Kristin Ess Signature Hair Gloss in Crystal Quartz ($15).
Going forward, there's also plenty you can do to prevent fading, especially in the summer. Lister recommends covering your hair when you're in the sun and using a product with UV protectants, such as the IGK Anti-Social Dry Hair Mask ($30), which you spray on your hair before bed. You'll also want to avoid heat styling as much as possible, shampoo less frequently, and use sulfate-free products on wash day. "Red hair tends to be dryer than other hair colors, and dry hair looks more dull in general, so anything you can do to retain moisture will help," Lister says.
I asked the experts to recommend non-depositing shampoos and conditioners that could make your hair less dull, and there was one line that both Still and Lister recommended: Pureology's Hydrate Shampoo and Conditioner for Dry, Color Treated Hair ($36 each). "There's just something about that brand," says Still. "I have clients who use it, and they walk in and their hair is always really shiny with that childlike shine."
And don't let the fact that the Pureology label says "For Color-Treated Hair" deter you. Products marketed for colored hair are totally fine for undyed hair like yours, so long as they don't have any tone-adjusting ingredients, pigments, or color enhancers in the formula (rule of thumb: If the product is white, you should be good to go). In fact, products for colored hair are often formulated with added moisturizers and UV-protecting ingredients that will help your strawberry blonde stay hydrated, which will keep it from looking lackluster.
I get your hesitation to do anything that will change the natural hair color that sets you apart. But if it's any consolation, know that even if your shade has shifted, or continues to shift, you'll still be considered a redhead — you have a genetic variant that dates back thousands of years. The summer sun isn't going to change that.
Jennifer Sullivan answers all your beauty-related questions with practical advice and zero judgment. Send your questions to AskABeautyEditor@nymag.com. (By emailing, you agree to the terms here.)